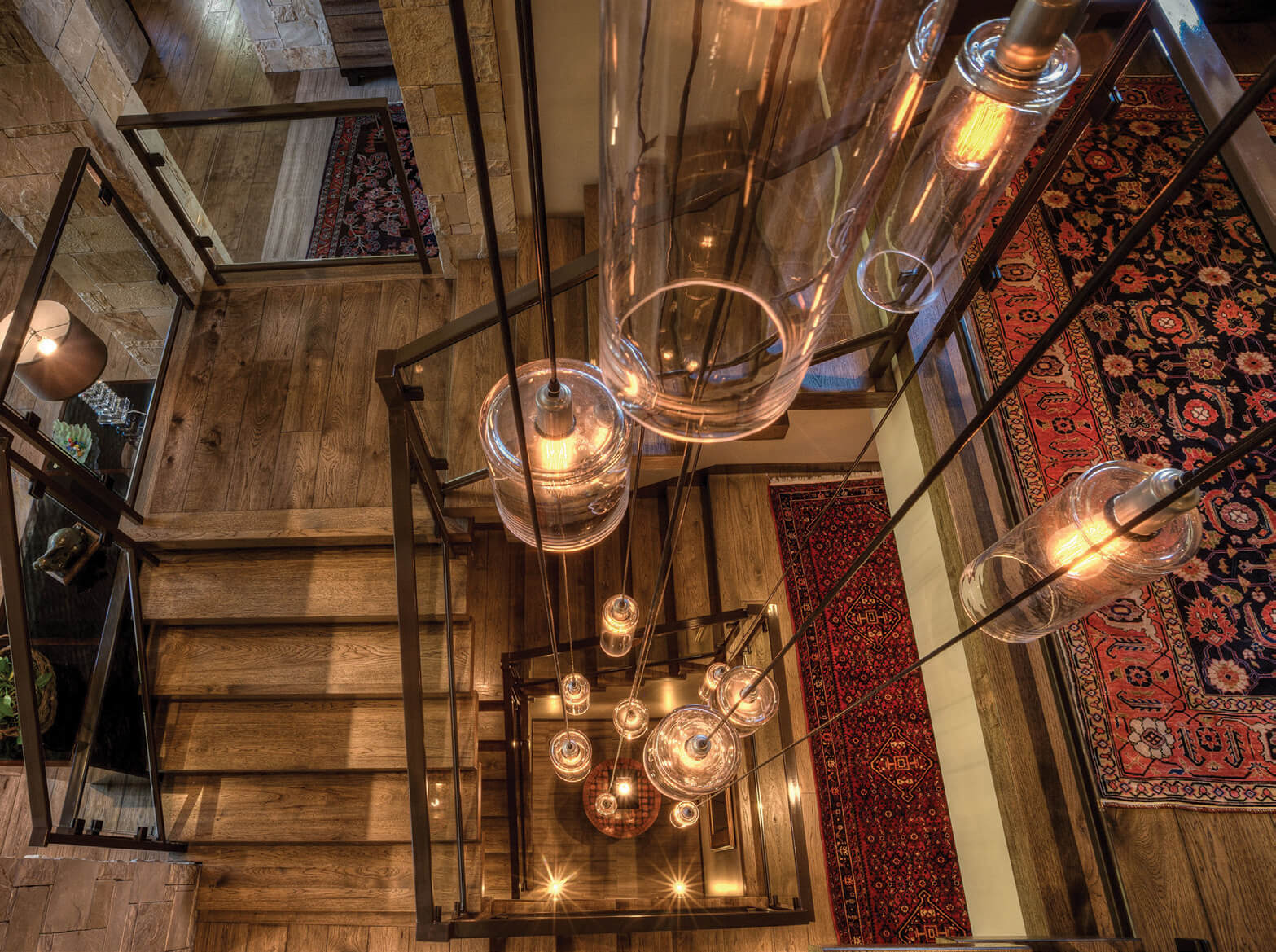 An Apothecary 12-Light Multi-Port Chandelier by Hammerton Studio adorns a three-level staircase. | Photo By SpringGate Photography | Courtesy of Hammerton Lighting
08 Apr

Hammerton Lighting

in

What began in 1995 as a modest two-person metal fabrication shop in a Salt Lake City garage is today known as Hammerton, a powerhouse in the luxury decorative lighting industry. At the company's 50,000-square-foot facility, teams of designers, engineers, and artisans collectively crank out hundreds of light fixtures, incorporating more than five tons of blown and cast glass per week. In one area, expert glassblowers carefully pull blooms of hot molten glass from furnaces, while metal fabricators a few yards away masterfully forge, sculpt, and weld steel fixtures to eventually hold the crystalline creations. In adjacent offices, Hammerton's industrial designers and engineers collaborate on creating the innovative molds and jigs that transform glass into one-of-a-kind fixtures.

If you were to tour the facility, you might notice the ease at which the Hammerton crew works. This can perhaps be attributed to the quality of the long-tenured team of employees and the company's dramatic evolution over the past 25 years.
Built on Rustic Sensibilities
After graduating from high school, Levi Wilson had intended on becoming an architect before a gap-year tour of Europe and the West Coast shifted his plans. "I was captivated by the beautiful ironwork in Europe, which had this almost baroque feel," Wilson says. "And then I came back here and was struck by the more rustic ironwork showcased in the famous Timberline Lodge on Mount Hood — such a contrast." Instead of going to architecture school, he started a business, determined to transform metal into functional works of art.
In 1995, Wilson launched Mountain Moose Designs, a metalwork company that fabricated products for the trades. "In the beginning, we were making roof racks for trucks, that sort of thing," he says. "When I was a kid, my father ran a blacksmith shop in Salt Lake City, so I learned metal fabrication techniques growing up. My mother was a seamstress, so I picked up the more delicate principles of that art as well." This dual background helped pave the way for Wilson to eventually meld the unyielding strength of metal with the finesse and fragility of glass.
In 1998, Salt Lake City landed the 2002 Winter Olympics and, with an influx of new homeowners to the nearby Wasatch range, Mountain Moose found itself flush with new custom design work in the growing Park City area. "That was also the beginning of the second-home boom," Wilson says, "when people were starting to build 5- to 10-million-dollar houses right on the ski slopes." He points out that these large homes often had immense great rooms with cathedral ceilings. "For example, take a space that's 30 by 40 feet, with a 30-foot-high ceiling: There was just no commercial outlet for appropriately sized light fixtures for a room that large. That was the insight that propelled us into lighting."
Since many of the structures lining the slopes of ski meccas like Park City and Vail were large log homes, design principles often reflected Western themes. "In those days, antler chandeliers were all the rage, but you can only do so much with antlers," Wilson says. "So we developed large custom iron fixtures that captured an authentic Western look — á la the Timberline Lodge."
Staying Ahead of the Design Curve
The company's timing was well aligned with demand. "Our Log and Timber Collection began with a rustic nature inspired look called Mountain Moose — that was our first big collection and the beginning of Hammerton," Wilson says.  "We were really sculpting metal, by which I mean the fixtures were basically functional metalwork sculptures."
And with that, Mountain Moose was rebranded as Hammerton, a name Wilson chose the same way he decides on names for many of his designs: by perusing maps of Europe leftover from his traveling days in search of interesting place names. "I just liked the 'ton' part, which means 'town,' and the 'hammer' part clearly references the most basic human tool — the hammer. It's used in practically every industry or craft in one way or another," Wilson says.
In the custom design world, Hammerton quickly became known for their artistry and attention to detail. For example, Wilson and his team designed pine cones that were laboriously crafted using small leaves of sheet metal. For realistic-looking pine needles, they tufted baling wire into life-like bundles. Wilson had developed a way to couple the weighty bulk of iron and steel with the delicate, fine features of the natural world, and interior designers were taking notice. "Each one of these fixtures can take a week or more to fabricate," Wilson says, which explains why a modest piece might sell in the low thousands, while larger chandeliers could sell for upwards of $40,000. "We were definitely catering to a luxury market," he acknowledges.
Hammerton soon carved out a niche as masters of, as they put it, "extraordinary custom decorative lighting." Even as Western architectural tastes began to shift, the company was again one step ahead of the trend. "The 'frontier rustic' look gave way to a more contemporary aesthetic," Wilson explains. "And since we were already working with top architects and designers, we were right there at the forefront."
Combining Innovation with Tradition
As more city dwellers moved to mountain resort markets and Western architectural and design tastes shifted to contemporary and modern styles, Hammerton expanded their lighting offerings to include simpler geometric forms and embraced an entirely new material that would soon dominate these homes: glass. While metalwork can provide a sculptural tableau for a range of lighting fixtures, almost any kind of lamp or chandelier involves some type of diffuser material such as linen, acrylic, rawhide, mica, or glass. Most lighting manufacturers rely on outside suppliers for these materials, but Hammerton saw an opportunity to vertically integrate around glass fabrication.
Paul Verbecky, a 15-year company veteran and the general manager of Hammerton's custom business, played a key role in bringing glass fabrication in-house. "Glass combines light, color, texture, and shape in a single medium, so it's the ideal diffuser material," Verbecky explains. "And it can be kiln-fused, blown, or cast, so it offers incredible design potential." Hammerton's new focus was to seamlessly integrate cutting-edge metalwork with state-of-the-art glass fabrication to produce unique, high-end lighting.
Many of Hammerton's unique glass fixtures result from collaborations with interior design customers. "Eight or nine years ago, a client we were working with picked up a rock and said, 'I want glass that looks like this,'" Verbecky explains. "Since nothing like that existed at the time, we developed a method of blowing glass into steel molds to produce the desired shape." Not long after, another client requested a family of custom fixtures for a large luxury home designed around an immense Dale Chihuly glass sculpture. "We needed to create glass lighting that would complement, but not distract from, that stunning Chihuly," says Verbecky.
Experiences like these resulted in the development of a wide range of lighting that expertly blends metalwork and artisan glass. Most notable is the Gem Collection, the company's initial foray into modern fixture designs, which sold under their Hammerton Studio brand. "The Gem collection was introduced in 2016 and is still our most popular line, for sure," Verbecky says. "We now employ 13 artisan glassblowers, but our foundation as metalworkers allows us to design and manufacture the unique molds and tooling required to achieve the shapes we're after. Really, it's our inclination to experiment with new things that makes us the company we are."
Because Hammerton makes the glass tooling requirements entirely in-house, they can readily explore new ideas and produce innovative glass designs more quickly and efficiently, and at a scale that few other manufacturers are able to achieve. A centerpiece of their Hammerton Signature brand, for instance, is the 500-pound Element Chandelier, a glass and steel sculpture that's roughly 8 feet tall and 5 feet wide. Making molds for such large and complex glass components requires extensive industrial design capabilities, which most lighting manufacturers can access only through external suppliers.
Wilson summarizes Hammerton's evolution and creative processes with characteristic precision: "We've developed a unique combination of deep design and fabrication capabilities in both metal and glass. We went this route because we could do it; we were uniquely poised to integrate these two. It's a symbiotic relationship." That's quite an accomplishment for what was once a humble metal fabrication shop tucked away in a Salt Lake City garage.
Based in Montana, Aaron Parrett is a professor of English at the University of Providence in Great Falls, and runs a letterpress shop called Territorial Press in Helena. He has been widely published in many fields, and his most recent book is a collection of short fiction called Maple & Lead. He lives with his wife and daughter in Helena.