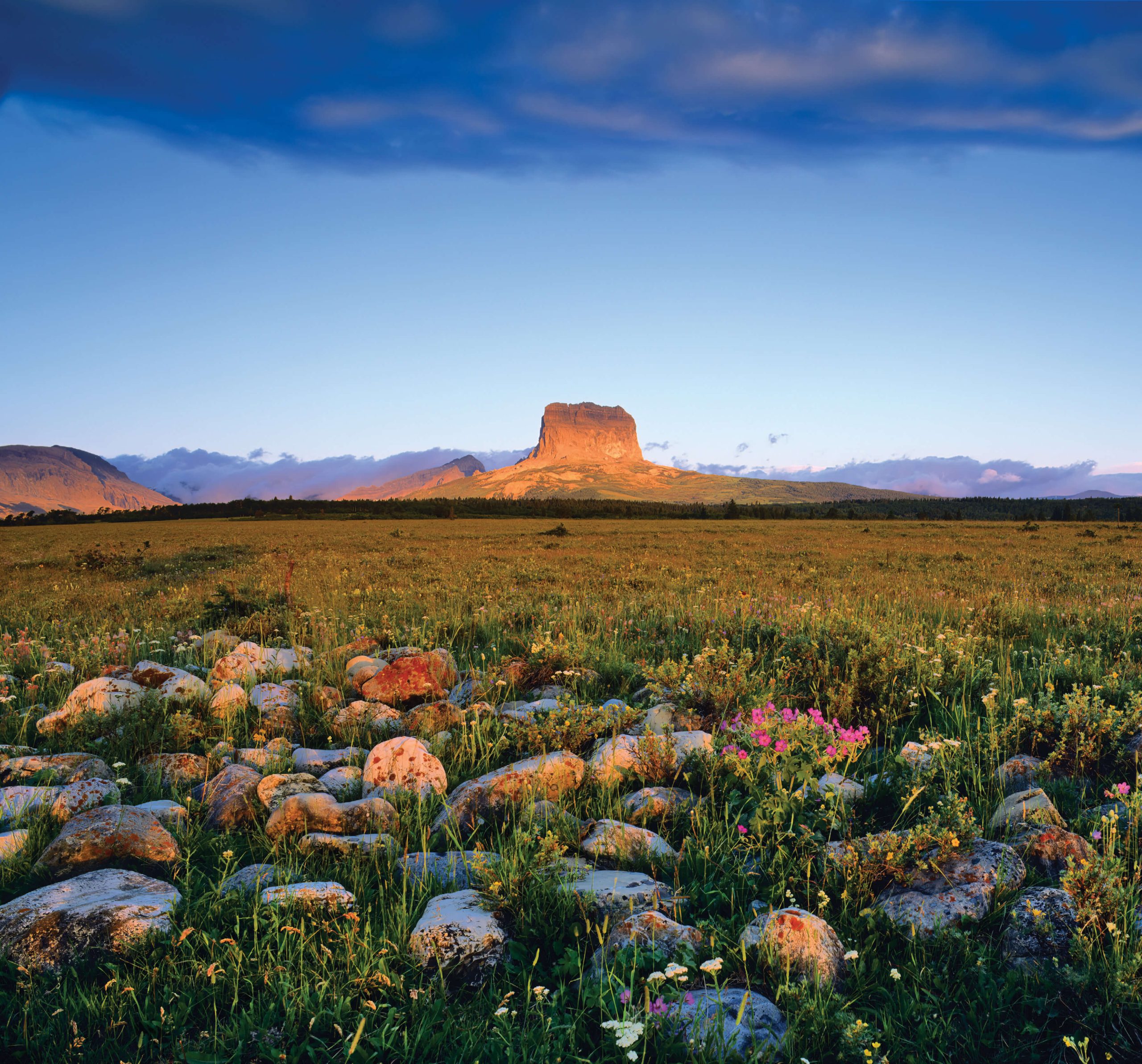 The sheer east face of Glacier National Park's Chief Mountain towers above the Northern Plains and is arguably the most recognizable landmark on the Rocky Mountain Front. Revered as a source of spiritual power, generations of Blackfeet tribesmen sought visions at Chief Mountain. Photographed by CHUCK HANEY
01 Jun

Grandeur of this Land

in

The quest for supernatural revelations or visions in wilderness environments has been chronicled in a variety of cultural contexts. One of the oldest expressions of human spirituality, this religious tradition was embraced in North America, particularly among Central and Northern Plains peoples, and especially in Big Sky Country. Such emphasis on this practice was rooted in a worldview that regarded all of creation as imbued with spiritual power. Vine Deloria Jr., author of God Is Red: A Native View of Religion, observes that sacred sites are "places of overwhelming holiness where the Higher Powers, on their own initiative, have revealed themselves to human beings. [These] are places of unquestionable, inherent sacredness, [sites] that are holy in and of themselves."

University of Montana anthropologists Gregory R. Campbell and Thomas A. Foor note specifically that "sacred sites among northwestern Plains Indians tend to be high or on dramatically up-thrusting landforms." For example, the Piikáni (Piegan) Blackfeet regard four areas in their homeland as concentrated reservoirs of sacred power: the Bow River and Porcupine Hills of southwestern Alberta, the Sweet Grass Hills of northern Montana, and, most importantly, Mistakis, the "Backbone," as they reverently describe the Rocky Mountains. Among peaks in the Rockies, the great rampart of Ninaistákis or Nínaiistáko (literally "the Chief Mountain") remains unrivaled as the holiest mountain in Blackfeet country. Its preeminence in Nitsitapii (Blackfeet) thought is underscored by the fact that, according to Canadian archaeologists Brian Reeves and Sandy Peacock, Ninaistákis is "the only mountain within Glacier National Park that is, without a doubt, an original Nitsitapii name."

Piikáni oral history and the ethnographic record provide a treasure trove of information about Blackfeet vision quests. However, the only physical signatures typically left by this spiritually transformative practice were the stone structures, commonly described as "fasting beds," created by supplicants. Reeves and Peacock have identified "five ancient structures on Chief Mountain, over 50 on both the nearby and distant mountain tops," and more than 100 such structures in Glacier and Waterton Lakes national parks. Collectively, these lines of inquiry clearly indicate that the Piikáni frequented a host of popular tourist destinations in both parks for ceremonial purposes.    Examples include Waterton Lakes, the Two Medicine area, the "Grand March of Mountains" — as Jack Holterman eloquently described peaks bordering St. Mary Lake — and Wild Goose Island.

Some Piikáni visionary experiences produced enduring legacies in the form of sacred bundles and complex religious rituals. For example, the spiritual genesis of medicine pipes is attributed to communications from Thunder, who resides high in the Rockies, most prominently at Chief Mountain. The Long Time Pipe and Red Eagle's Thunder Medicine Pipe, two of the oldest according to Piikáni oral history, were visioned during the pre-horse era at Ninaistákis and Two Medicine, respectively. The Beaver Bundle is believed to be much older and, based on the best available data, was probably visioned at or near Waterton Lakes. Similarly, the Okan (Sun Dance) and sweat lodge are rooted in revelations received in the Sweet Grass Hills, which are located approximately 110 miles east of Chief Mountain, near present-day Whitlash, Montana.

The Sweet Grass Hills have long been regarded as sacred by the Blackfeet, Gros Ventre, and Assiniboine, among other tribes. Before the area's designation as a Traditional Cultural Property by the Bureau of Land Management in 1995, the Montana State Historic Preservation Office conducted a cultural resource inventory. They identified 25 sites, at elevations between 4,300 and 6,900 feet, that provide "unusually dense clusters of vision-quest structures along the high ridges of all three buttes of the hills." Researchers interpreted this evidence as indicative of "continued ritual use extending from ancient times to the present day."

Indeed, some of the earliest primary-source accounts of Plains Indian visionary experiences corroborate the use of this area. Bull Lodge [ca. 1802 – 1886] — a Gros Ventre warrior, holy man, and healer — successfully sought visions on seven occasions from "the beginning of his seventeenth year [until] the end of his twenty-third year," which corresponds closely with the period from 1819 to 1825. A detailed record of Bull Lodge's experiences was communicated orally by his daughter, Garter Snake [1868 – 1953], to Fred P. Gone, a Gros Ventre tribesman, within the context of the Depression-era Works Progress Administration's writing project. George Horse Capture, also Gros Ventre, located the original manuscript around 1975 and published The Seven Visions of Bull Lodge: As Told by His Daughter, Garter Snake in 1980.

This priceless narrative reveals that Bull Lodge conducted his final two quests, respectively, at the middle and west buttes of the Sweet Grass Hills, which pushes the temporal boundary of the area's use as a sacred site back nearly 200 years. Accounts for two of his previous quests also indicate that Bull Lodge then built U-shaped rock shelters "about two feet high for a windbreak." This practical function is rarely mentioned in ethnographic analyses of vision-quest structures. Nevertheless, the modest relief that fasting beds would have provided in this capacity is not insignificant, particularly for supplicants exposed to the elements for days on end high in the mountains or along windswept ridgelines.

Alpine landscapes, particularly those perceived as sources of sacred power and consecrated by tribal history and cultural tradition, naturally attracted would-be visionaries. The Crazy Mountains, located in south-central Montana, are an island range that rises dramatically almost 7,000 feet without foothills. Known to the Apsáalooke (Crow) Nation as Awaxaawippiia, which means "treacherous" or "ominous mountains," the Crazies were, according to Burton Pretty on Top Sr., "always [the] holiest of all the Mountains used by our people for fasting and vision quests." Indeed, Crow supplicants received powerful dreams and even prophetic visions in the fastness of these lofty peaks. Around 1867, Medicine Crow received a vision high in the Crazy Mountains, one so mystifying that tribal elders could not interpret it. Many years would pass before the image of "wagons [traveling] in the air" became comprehensible.

One of the best-known and most significant Crow visionary experiences was also recorded by Frank Linderman in his biography of Plenty Coups. As a young boy, Plenty Coups received a vision on Crazy Peak that foretold the virtual extinction of bison and the end of the nomadic Plains Indian way of life. Yellow Bear, a Crow elder, interpreted this vision and emphasized one particularly apocalyptic image, which depicted the destruction of a vast forest, save for one tree that provided shelter to a lone chickadee. Trees felled by the four winds, according to Yellow Bear, symbolized the fate of Plains tribes that unsuccessfully resisted the encroaching tide of Euro-American expansion. By contrast, the chickadee's survival represented the lodges of the Crow Nation "pitched in the safety of peaceful relations with white men." The accommodationist strategy suggested by this vision informed Crow policy throughout their difficult transition from tribal autonomy to the constraints of reservation life.

Crow men also extensively utilized the Bighorns, Pryor Mountains, and occasionally even the Tetons to seek visions. The "Enclosure" site, located at 13,280 feet on the western spur of Grand Teton, was documented by Nathaniel Langford during his ascent of the mountain in 1872 and exhibits the hallmark characteristics of U-shaped stone "fasting beds" used traditionally by members of this tribe. With the assistance of Crow informants, archaeologists have identified dozens of these structures. One of the densest concentrations of fasting beds was found at Dryhead Overlook on East Pryor Mountain. Immortalized in Crow oral history as "Where They Saw the Rope," a supplicant was once spotted on the site's rim, where he was dragging a bison skull attached by ropes to skewers in his flesh. Blood trickling down those ropes glistened in the sunlight and inspired the incident's commemorative name.

Throughout the historic period, the Tukudika occupied territory immediately west of Mountain Crow country. Also known as Sheep Eaters because of their dietary emphasis on bighorn sheep, these Mountain Shoshone bands frequented the highlands of present-day Yellowstone National Park and the Absaroka and Wind River mountains. Among the pantheon of supernatural entities in their world, Sheep Eaters regarded the most powerful spirits, known as toyawo, as indigenous to the high country. Having lived among those spiritual forces, Sheep Eaters were ascribed great power as shamans and healers by their lowland relatives when the Tukudika settled on reservations in the 1870s.

One aspect of Tukudika spirituality was uniquely characteristic of sites they regarded as sacred. Sheep Eater supplicants sought visions at rock-art sites far more frequently than Plains groups. According to archaeologist Lawrence Loendorf, this practice was rooted in a belief that petroglyphs were "self-portraits of the spirits." The activity of these supernatural sculptors was also believed to be "audible, especially in [winter, but would cease] when a person approached." Within this category of vision-quest destinations, Sheep Eaters focused on sandstone formations etched in the Dinwoody petroglyph tradition. These sites were far removed from the high-altitude homeland of the Tukudika, who traveled significant distances to pursue their spiritual quests.

Areas described above exemplify sacred sites for which tribally specific patterns of use are documented. Other well-known sites were, and still are, widely visited, even by members of tribes not indigenous to Big Sky Country. Such sites include the Bighorn Medicine Wheel, Devils Tower, and Bear Butte, which Cheyenne traditionalists particularly revere.

Unfortunately, these sites and others sacred to Indigenous peoples are recurring flashpoints of controversy, which reflect seemingly irreconcilable differences between fundamental American principles and competing constituencies. Campbell and Foor note that protracted and often acrimonious debates over sacred-site access illustrate "the problem of weighing a value system based on inextricably associating a spiritual world and physical geography against a system that inherently separates the two." Historic preservation specialist Andrew Gulliford cuts more bluntly to the crux: "Defending Indian sacred sites is never easy in the West, especially when locals favor development dollars over First Amendment religious freedoms."

Devils Tower, for example, is the only National Park Service unit where the activities of climbers frequently and directly impact sacred-site use by Native Americans. As a compromise solution, the Park Service implemented a "voluntary closure [policy] for all climbing routes on the tower" in 1996, which is only applicable in June, a critically important period for the performance of many Plains Indian religious ceremonies. That policy was upheld in a 1998 court ruling that decreed that the ban served a legitimate secular purpose by accommodating, rather than promoting, Native American religious practices. By contrast, despite the passage of the American Indian Religious Freedom Act in 1978, a 1982 lawsuit resulted in the judgment that "full, unrestricted, and uninterrupted religious use of Bear Butte" could not be granted to Plains tribes because it would constitute the establishment of religion by the state.

On the other hand, negotiations over management of, and access to, the Bighorn Medicine Wheel and Medicine Mountain area persisted for more than 20 years and involved representatives of 16 Native tribes. In the final draft of its planning document, which was implemented in 1996, the Wyoming State Historic Preservation Office acknowledged importantly that "[t]he Medicine Wheel and [surrounding archaeological and cultural resources constitute] one of the very few historic reserves in the United States where the prehistoric past and ethnographic present are unequivocally linked." According to Gulliford, it also represents "one of the best models of cooperation among tribes and federal agencies," which demonstrates that sustained, open dialogue can produce significant results in preservation and management of sacred sites.

As the author, I hope that readers ultimately will retain one overarching message: As more and more people come to Montana and Wyoming, either as visitors or residents, it is important to understand that many of these breathtakingly beautiful landscapes, which hold such recreational appeal, are steeped in history. And much of that history is sacred, indeed rooted directly in the pursuit of supernatural revelations. In making that point, I hope that readers will gain an even deeper respect — dare I say reverence — for the grandeur of this land we call Big Sky Country.