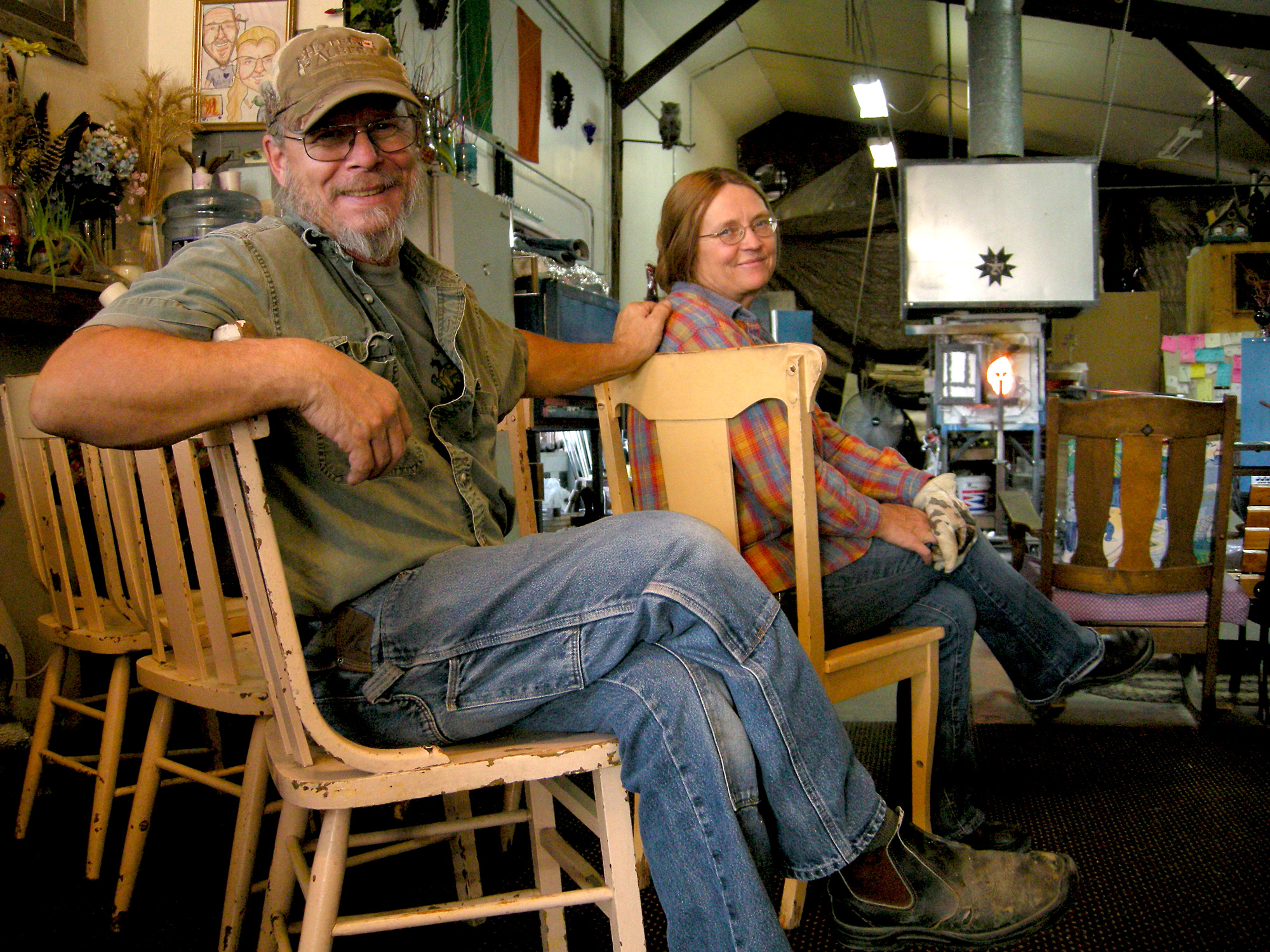 20 Aug

Local Knowledge: Goose Bay Glass

in
---
At the stop light in Townsend, Mont., I observed a yellow building, the color of French's mustard, with a hand-painted sign out front that read: Open, Glassblowing Daily, Visitors Welcome. With a tractor trailer full of cattle behind me, and a city of Empire State Building-size grain elevators to my left, I had to wonder, "Who's doing what in there?" This is the kind of small town with a Mint bar, an American Legion, an Ace Hardware, Valley Farm Implement, and a shuttered A&W Stand. This is an agricultural world that sprang up after Lewis and Clark passed through during the Voyage of Discovery in 1805, and the Northern Pacific Railroad laid tracks in 1883. This is the only stop light in 30 miles between Three Forks and Helena on Hwy 287. "This is great," I professed out loud.
I entered Goose Bay Glass, owned by Jim and Terry Gundersen, the only hot shop (glassblowing studio) and dedicated glass gallery in Montana. Shutting the door behind me I noticed how light ricocheted around, through, and off the numerous colored vases, bowls, pitchers, and glassware settled on shelves running the perimeter of the room. Their colors and the shapes called to me asking for a closer look. I heard my mother's voice echoing in my head a warning from my childhood: "DON'T TOUCH!" But I had always been willful so I didn't listen. I lifted up the brilliant blue water glass, the orange-red twisted vase that looked like a three-dimensional watercolor, the quirky yellow cruet perfect for dispensing olive oil or dish soap, and stood transfixed as light shifted and shadowed and changed the look of each object with every movement. The sound of a furnace, blowing like the wind in Livingston, drew my attention to a room beyond the showroom where two people moved in sync as in a dance. With drill team precision, Jim's wife, Terry, twirled a long pipe, with a campfire-orange ball glowing on the end of it. She swung it through the air, twirled it some more, rested it on a nearby table called a marver, where she pressed and rolled it through gritty bits of colored glass. Next she moved to the gaffer's bench to rest the pole on a rail and by carefully blowing through the pipe, assisted by a blowhose, she continuously rolled the rod working with gravity to keep everything evenly rounded. Suddenly a vase began to emerge from the scary hot blob she had pulled from the furnace only minutes before. I began to understand what I had taken for granted all my life: what glass really is and how it is made.
The ingredients of glass blowing seem simple enough: 2,000˚F of heat and a passion to work calmly and purposefully with a molten wad of melted sand that begs to become something beautiful and useful. Since the Bronze Age, man has found ways to magically manipulate the elements of glass to create everyday items. Before then, our caveman ancestors used obsidian (which is a natural glass created when volcanic activity melts certain types of rock) as spearheads, scraping tools, and knives. As the centuries continued to unfold, experiments blending silica (sand and quartz) with lead, sodium carbonate, calcium oxide, magnesium oxide, and other substances at high temperatures gave man a variety of glassware with various strengths, color, clarity and durability. While the history of glass goes back thousands of years, a modern movement emerged in the early 1960s that would take glass making in a brand new direction. By the 20th century, the world's demand for glass led to the development of massive industrial factories that required legions of employees to fill jobs as designers, glassblowers, cutters, and polishers. This way of producing glass held it captive as a manufactured utilitarian item. Companies such as Steuben, Waterford, and Orrefors may have produced limited edition pieces and were commissioned for works of great beauty, but generally speaking, these precious efforts were still bowls, vases, or exclusive crystal created by a team of people.
Individuals had little or no access to explore glass as an artistic medium, but all that changed in 1962 when Harvey Littleton, a ceramist at the University of Wisconsin-Madison, and Dominick Labino, a vice president and director of research at the Johns-Manville Fiber Glass Corp. in Ohio, held a glass workshop through the Toledo Museum of Art. Several years prior, Littleton had experimented with hot glass blowing techniques and Labino had designed a small furnace that safely produced the intense heat required to melt glass.
For the first time in history, the equipment and techniques required for an artist to create one-of-a-kind glass art from concept to finished product were made available. Credited as the "Fathers" of the American Studio Glass Movement, Littleton and Labino gave artists the ability to release glass from its former definitions which changed forever the way we observe and think about glass.
Followers and students of Littleton pioneered new methods, which gave glass even more cachet as an art form. One of the most famous of Littleton's students is Dale Chihuly, the rock star of modern glass blowers well known for his exotic and large installations of jungle-like forms and sea creature shapes. In 1967, Chihuly set up a glass school at the Rhode Island School of Design and two years later co-founded the Pilchuck Glass School near Seattle, Wash. Dale Chihuly, Marvin Lipofsky, Toots Zynsky, and those that followed Littleton and Labino blazed the trail for the next generation of glass artists.
Before founding Goose Bay Glass (named for the location of their home on Canyon Ferry Lake), Jim, an affable fellow with an easy laugh, was a farrier for 35 years in New Hampshire and Vermont. Terry's career path began as a registered nurse. Wear and tear on Jim's back from years of blacksmithing, and being kicked by and hunched over horse's hoofs, had given him pause to consider another line of work. "I liked reading the English mystery writer, Dick Francis. His plots usually centered on the horse racing world, but he wrote a book called, Shattered that took place in a glass shop and it really inspired me. From that point on I began looking for a way to learn how to work with glass," said Jim. At last they found Jack Doebler and Mary Kernan of New Morning Glass, a hot shop formerly located in Palouse, Wash., who agreed to take Jim and Terry on as students. "From the first bubble … I was just amazed," remembers Jim. They spent three days making paper weights and Jim recounts Terry's earliest attempt as perfect. Terry smiles and says, "Jim's first paperweight looked like a folded over boxing glove, but on the way back to Montana we talked the entire time about the experience. We had our glass shop named before we pulled into the driveway," laughs Terry.
Jim enclosed the back porch of their Goose Bay house and built a hot shop. Being familiar with how fire bends iron, and having kept his farrier equipment, Jim ingeniously constructed all the tools necessary for glass blowing including an impressive Glory Hole, the gas forced-air fired chamber where glass is heated and reheated keeping it pliable as the artist coaxes designs into being. "You can order furnaces and everything a hot shop needs, but that can cost up to $70,000, plus what it would take to ship. I realized I could do it myself," said Jim. And he did. Within two months of creating those first paperweights, Goose Bay Glass was up and running.
While Jim made the leap and dedicated himself full time to glass blowing, Terry kept her nursing job at St. Peter's Hospital in Helena. But in 2002 after growing their sales by attending craft fairs, and selling to a few select galleries, the building they are currently in came up for sale. The building was in terrible shape which helped them acquire it for a good price. Friends arrived to help sheet rock, paint, and the people of Townsend stopped in to introduce themselves and wish the Gundersens well. Terry continued to work the night shift at the hospital, and would arrive at the shop after work in the early morning light. She curled up with an electric blanket on one of the shelves in the office and slept until Jim arrived mid-morning. Together they spent the rest of the day creating colorful, whimsical, delicate, and fun glassware. Eventually, Terry got a job at the local Townsend hospital. They kept a police scanner in the shop because when Terry was on call she didn't want to start a piece if there was an accident or an emergency requiring her to make a hasty exit.
Now in their eighth year at Goose Bay Glass, both Jim and Terry are committed full time glass blowers. Their reputation has grown, making them a chamber of commerce point of interest and a favorite school field trip. Visitors are drawn to the yellow building that snagged my attention, and word-of-mouth brings in hundreds of other people. "What makes what we do here so gratifying is to meet and talk with the people who buy our glass," says Terry. "Everything we do is one-of-a-kind. We can only create about 16 pieces a day. In the past we have committed ourselves to custom orders of nearly 200 pieces, and that's about as big an order as we ever want to take on," says Jim. "We get a lot of requests to repair broken glass, reproduce antique glass, copy a Chihuly; it's not what we do. We are a studio producing our own art and sometimes the public gets confused and maybe a little annoyed when we turn them down. We don't mind when a customer gets home with one of our pieces and the neighbor admires it and wants the same style in another color. We accommodate those kinds of orders all the time," explains Terry. Having visited Goose Bay Glass several times in a two week period, I can assure you the turnover is swift, which is why you can't buy Goose Bay Glass from their Web site. By the time they photograph the work, write the copy and load the day's work into cyberspace, most likely it will have already sold. If you are not able to take a road trip to Townsend to observe Terry and Jim as they work their magic in a choreographed dance while turning stone into glass, give them a call and ask what they have in stock. They are happy to take photos via their cell phone and beam them back to you. Either way you can be certain of finding hot from the hot shop original hand-blown glass to enjoy for years to come.