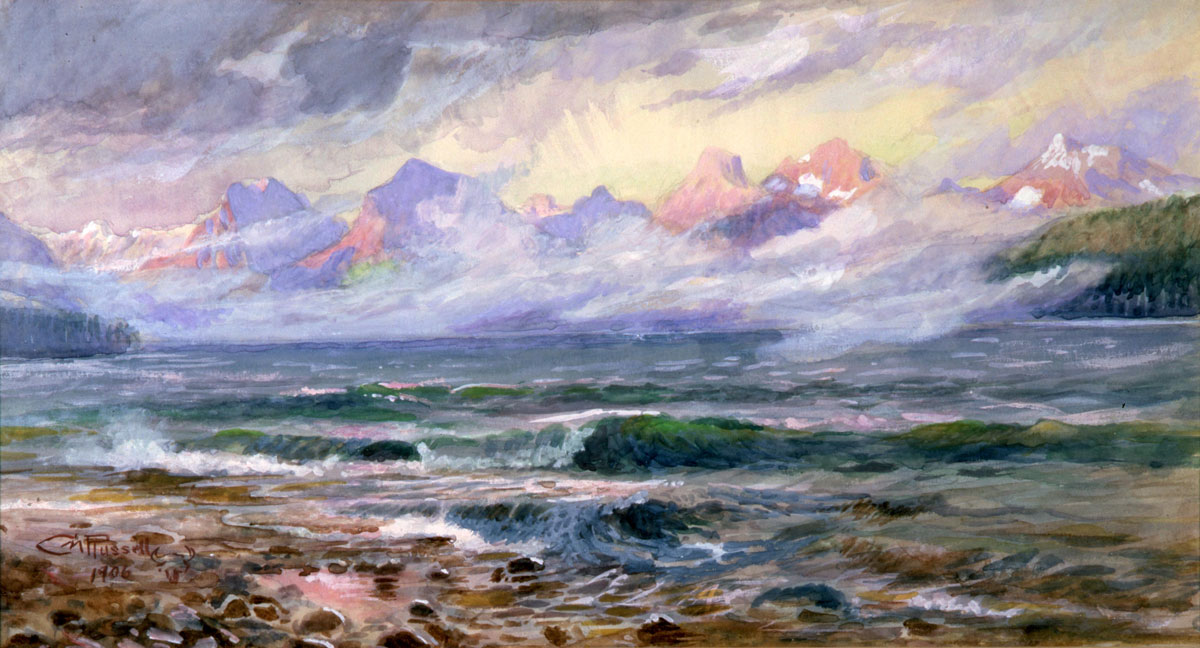 20 May

Going to the Sun Artists

in

The C.M. Russell Museum (CMRM) proudly presents a full-scale exhibition that pays tribute to artists who have captured the landscape and people of Glacier National Park. "Going to the Sun: Artists in Glacier National Park" brings together more than 140 objects to examine the distinct contributions of artists whose paintings and sculptures helped shape the visual iconography of the park that we know today.

"This exhibition achieves a new level of engagement for audiences," said CMRM Executive Director Michael Duchemin. "For art to remain relevant we know that audiences must be engaged, and we achieve that by activating a social media campaign for people to share their glacier story, offering a gallery guide that hikers can take with them to the park, and offering museum members a Glacier experience trip to the park in August. In addition to the breathtaking art on display, we invite our visitors to engage and interact."

An accompanying social media campaign titled "My Glacier Story" highlights people's personal stories and photographs from within Glacier National Park and the exhibition to create an ongoing visual and narrative dialogue connecting art with place and experience. To see more or to contribute your story, visit www.cmrussell.org or Facebook, Twitter, and Instagram using #myglacierstory.

The exhibition will be open to the public on Saturday, May 21. During opening weekend, complimentary tours will be provided by Wilson at 1 p.m. on Saturday and Sunday. A featured talk by visiting lecturer Lee Silliman will be given on John James Audubon and his illustrations of North American mammals.

The program is free with paid admission and open to the public, and will begin at 2 p.m. on Saturday. The Going to the Sun Exhibition will be on display from May 21 through September 11, 2016. "Going to the Sun: Artists in Glacier National Park" fills multiple galleries on the museum's main level. The show includes fine art paintings and sculpture, important park memorabilia, travelogues, and photographs that highlight Glacier's history and natural beauty. These works are drawn from the CMRM permanent collection and the collections of the Montana Historical Society, Glacier National Park, and private lenders.

Established in 1910 by the U.S. government as the nation's tenth national park, Glacier National Park has since confirmed its reputation as the "Crown of the Continent." A breathtaking haven for wildlife and a spiritual sanctuary for many American Indians, Glacier National Park offers a mecca of opportunity and inspiration for visiting artists. Charles M. Russell began painting and sculpting in the park as early as 1904, during his first documented visit to the region. In 1906, Russell built a cabin on the south side of Lake McDonald, christened Bull Head Lodge, which became a mainstay for visiting friends and artists who passed through and vacationed in the region. Along with Russell came many of his contemporaries, painters such as Maynard Dixon, John Fery, Winold Reiss, Julius Seyler, Philip Goodwin, photographers like N.A. Forsyth, and famed Blackfeet sculptor John Clarke. The works of these pioneering artists reached both regional and national audiences and created a demand for the type of sights, wildlife, and people that many visitors hoped to see.

"Many of us, often without knowing it, base much of our visual and cultural memory of the national parks on the images captured by artists that circulate again and again throughout history," said Wilson. "This is especially true with many park landmarks. Through art and visual repetition, landmarks achieve an iconic status. Generation after generation of artists repeat many of the same vantage points and visual perspectives in their artwork, while visitors and audiences position themselves within the landscape to come as close as possible to seeing the iconic landmarks through an artist's eyes. In this way, both artists and visitors shape the whole landscape of a park."

For more than a century, artists have shaped America's visual perception of the national parks through their paintings, photographs, and sculptures. Charles Russell's 20-year presence in Glacier National Park is a unique artistic phenomenon. His friendship with and encouragement of his contemporaries has helped shape the visual output of Glacier's iconic landscapes and wildlife that continues to inform audiences today. No other national park had such a present advocate for the need to preserve the inherent beauty of these protected lands through artistic output than Glacier National Park had in Russell.

The run of the exhibition coincides with the National Park Service 2016 Centennial Celebration honoring the agency's hundred years of commitment to the preservation and enjoyment of the national parks. In tribute to the National Parks Service anniversary, there will also be a section devoted to the park's history and its unique geological formation. It will feature artifacts that belonged to Glacier National Park's rangers and founders, displays of park memorabilia, advertising brochures, and souvenirs that will provide added context to the initial efforts of park leaders and the Great Northern Railroad to promote Glacier as a natural wonderland on par with Yellowstone National Park.

For more information, call 406-727-8787 or visit www.cmrussell.org.