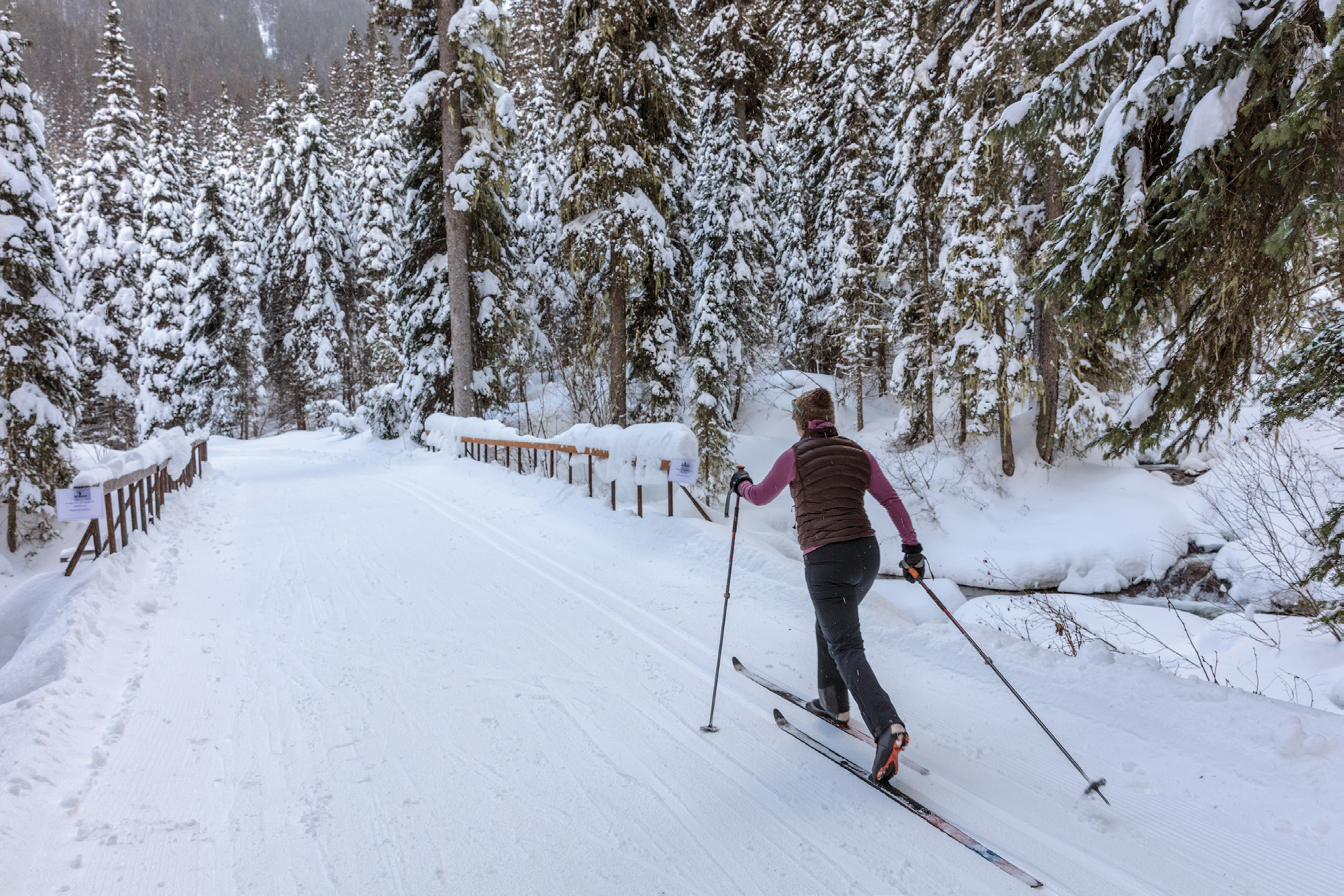 With 85 kilometers of maintained cross-country ski trails, Big Sky, Montana's Lone Mountain Ranch is a cozy escape for winter enthusiasts.
23 Nov

Gliding Getaways: Nordic Ski Getaways in the Northern Rockies

in

Last winter, during a family trip to Jackson Hole, Wyoming, we started the day by sitting in front of the fireplace in our hotel lobby and sipping steamy beverages before heading out to explore Grand Teton National Park on our cross-country skis. After a cozy morning, we arrived at the Taggart Lake Trailhead and found that it was surrounded by a thick soup of fog. Despite being at the foot of the Teton Range, we could see nary a Teton, but the parking lot was still packed with people getting ready to cross-country ski, snowshoe, or search for backcountry powder.

Many of the other adventurers took off on Teton Park Road toward Signal Mountain Lodge, which includes 14 miles of corduroy-like snow on a trail that's groomed three times a week for classic and skate skiing. Others skied and snowshoed the 4.7 miles of ungroomed trail to Taggart and Bradley lakes.

We followed the least popular option along the west side of Cottonwood Creek. While skiing on the 3.8-mile skier-tracked trail toward Jenny Lake, we still couldn't see much due to the fog. We quietly moved through aspens and then conifers, and around each turn, little tableaus of nature were revealed. The creek played a soundtrack of plinks, splooshes, and purls, and chickadees called out as we passed beneath their perches.

When we came out of the trees, the mist parted, and we had a stellar view of the Teton Range. I had almost forgotten it was there, right next to us. We skied closer to feel more immersed in the raw ruggedness of these mountains. I was torn between soaking in the sun and taking photos. I did both.

A few minutes later, the fog closed in and the mountain views were gone. We skied back into the trees, grateful for those five minutes of clarity. When our excursion was finished, we got back in the car and headed to Dornans in Moose, Wyoming, for lunch, beers, and hot cocoa. The location is known for the views, and while we were there, the sky cleared and the mountains stood out against a bluebird sky. Back at our hotel, we enjoyed a soak in the hot tub followed by a rousing board game.

Whether it's kicking and gliding on the trails in Yellowstone or Grand Teton national parks, meeting friends at Homestake Lodge on the Continental Divide above Butte, Montana, or mixing Nordic adventures in with some alpine skiing and hot spring soaking in Idaho, cross-country ski vacations have always been a favorite winter getaway for me and my family. And in my opinion, these types of winter trips should have a feeling of hygge — a Danish and Norwegian word that refers to coziness and conviviality. Staying in a lodge with a fireplace, board games, and hot drinks goes a long way, making a Nordic ski vacation that much more special.
Nordic Ski Destinations
Lone Mountain Ranch
Big Sky, Montana
For a quintessential Western vacation mixed with Nordic fun and located right near the world-class downhill skiing at Big Sky Resort, Lone Mountain Ranch fits the bill. With 85 kilometers of meticulously groomed trails, it's been called the Number One Nordic ski destination in North America by Cross Country Skier magazine. The ranch features 27 historic log cabins that range from one to six bedrooms to accommodate groups of all sizes, and most packages include dining at their signature restaurant, Horn & Cantle. The saloon often features live acoustic music, and with a hot drink in hand, that's one of the best parts of a Lone Mountain Ranch getaway.
Izaak Walton Inn
Essex, Montana
Built in 1939 and located about halfway between West Glacier and East Glacier, the Izaak Walton Inn originally served as lodging for railroad workers. Known as the "Inn Between," it's set among millions of acres of wilderness and serves as an ideal basecamp for cross-country ski missions. The original lodge features guest rooms, a restaurant, bar, game room, and gift shop. Across the tracks, cabins and renovated train cars provide additional accommodations. Izaak Walton Inn grooms 30 kilometers of classic and skate ski trails that can be accessed from the cabins or the lodge. Gear rentals and lessons are also available, and it's just a short drive to the many groomed ski trails in Glacier National Park.
McCall Ski Trails
McCall, Idaho
this idaho-based winter wonderland is much like the inside of a snow globe. There are several cozy hotels in town, along with access to three groomed ski areas. The McCall Activity Barn features 5 kilometers of groomed trails for classic and skate skiing, snowshoeing, and fat-tire biking, with some that wind over hills and through wide-open meadows. The Activity Barn loop connects to the groomed North Valley Rail Trail, which adds another 4 kilometers of ski touring. Ponderosa State Park offers trails that lead skiers through forests along the shore of Lake Payette, and many loops make up more than 18 kilometers along the peninsula, including one that allows dogs. And snowshoers will appreciate the 5.2 kilometers of trail designated just for them. In addition, the nearby Jug Mountain Ranch and Bear Basin also feature groomed trails.
East Fork Mink Creek Nordic Center
Pocatello, Idaho
Just 7 miles from Pocatello, the East Fork Mink Creek Nordic Center features about 20 kilometers of groomed classic and skate ski trails, as well as separate snowshoe trails and a sledding hill.
Here, you can travel through conifers, aspen groves, and sagebrush meadows while climbing and descending hills. A flatter trail runs along East Fork Mink Creek, and there are several ungroomed national forest ski trails in the same drainage. To make a weekend getaway out of it, stay in Pocatello and enjoy the breweries, restaurants, and nearby hot springs.
Grand Teton National Park
Wyoming
There's no shortage of places to stay near Grand Teton National Park, including lodging options in Jackson Hole, Teton Village, and Kelly, which all offer easy access. In addition to the trails off Taggart Lake Trailhead, there are skier-tracked trails around Colter Bay and to the top of Signal Mountain. It's also possible to ski or snowshoe the Moose-Wilson Road from the Granite Canyon Trailhead or the junction to the Death Canyon Road. The park service also offers "Snowshoe with a Ranger" programs, providing visitors an introduction to winter in the park.
Skyline Drive
Pinedale, Wyoming
Sublette County maintains 23 kilometers of Nordic trails along Skyline Drive, less than 10 miles from Pinedale. This popular trailhead serves as a hub to all of the area's groomed trails, including the Kelly Park Loop, Fortification Mountain Trail, Tie Trail, Sweeney Creek Trail, Old Road Trail, Grouse Mountain Trail, and Pole Creek Trail. Trails are accessed from four parking areas and tie into each other. After skiing through rolling terrain and climbing a few challenging hills, travelers can get cozy in Pinedale at one of the log rental cabins or bed and breakfasts. With the Wind River Range as a stunning backdrop and Fremont Lake for ice skating, Pinedale is a winter-lover's paradise.
Don't Forget Your Gear
Any winter adventure requires gear for inclement or changing weather. Nordic skiers are likely to warm up while skiing and then cool down quickly when stopping to admire the scenery. These recommended essentials fit easily into a daypack:
• Water, high-energy snack foods, and an optional insulated thermos of soup or hot drinks
• Map, compass, or other navigational aids
• First aid kit with an emergency blanket
• Ski wax (a gliding wax for waxless skis, grip wax for others)
• Extra warm layers, including hats, gloves, and socks
• Sunscreen and sunglasses
• A ski repair kit
• An insulated mat for sitting in the snow during breaks