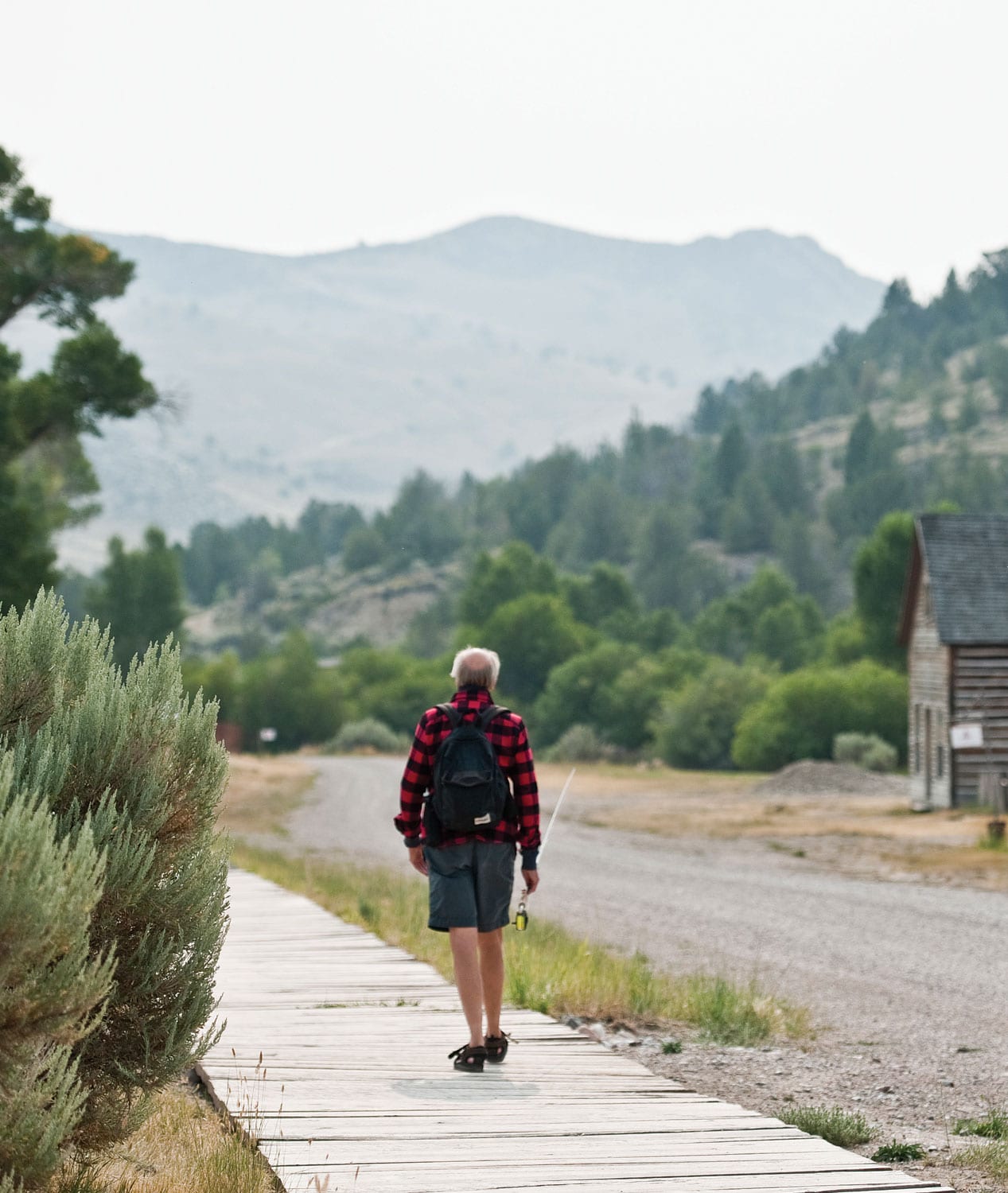 The author, Toby Thompson, walks down a deserted boardwalk in the Montana ghost town of Bannack.
13 Feb

Ghost Of A Chance

in
Fly fishing through Montana's Bannack State Park
My first cast into Grasshopper Creek was by the Bannack, Montana, jail. Beyond these dank and constricted pens stood the gallows where Sheriff Henry Plummer and his road-agent deputies, "The Innocents," were hanged in 1864. "Give me a good drop," Plummer had said. In his honor I tied on a rubber-legged Kicking Klink. 
A park ranger told me that 20-inch cutthroat had been shocked to the surface here. A 5-incher tapped my fly, a ghost trout in this ghost town, with a kisser too small for hooking.
We had arrived this August afternoon to find smoke cloaking the Pioneer Mountains and the moon in its gibbous phase. A family sluiced for gold in tanks filled for that purpose, as panning the creek has been disallowed. Few people were about. My friend, Daphne, and I had toured the deserted buildings, a bit subdued. There'd been tension in our relations. But our moods rose as we warmed to this celebrated ghost town. After gold had been discovered in its creek in 1862, outlawry became rampant, and vigilantes ruled the roost. In 1864, it was named the first territorial capital.
In Bannack's residences and in its Meade Hotel, Daphne had noted the small bedrooms and scarcity of closets. "Where did they keep clothes?" she said. "Wardrobes, armoires," I said. "Look," she said, "a bed could have gone there, a desk over here, a chair…" It was as if we were playing house.
At Glacier, we'd slept in separate tents. But here we chatted amiably, and even danced a measure. The town's ghosts seemed to energize us. Some were hurdy-gurdy girls, taxi dancers, and "ladies of negotiable virtue," here "to mine the miners," as an historical pamphlet read. "In Bannack's early days," it added, "many men suffered from the lack of female companionship." Daphne looked precious in her bright skirt and top, with her long hair down. She played "You'll Never Walk Alone" on a battered upright piano in the Ryburn House.
At Skinner's Saloon, we felt cautious but giddy, warned by placards that "Nice people did not wander into Skinner's. … So much shooting and violence occurred daily, that the barber in the corner wouldn't miss a stroke with a straight-edge razor when the bullets started flying." Of 1863 Bannack, a sign read that it was not safe to walk down the streets after dark, "and even sometimes in the daylight."
We retreated to the banks of Grasshopper Creek. Daphne read in a camp chair, while I hiked to a bridge at the east end of town. The creek here was narrow, slow, and thickly brushed. From the deck I watched a 12-inch trout fin lazily upstream. Feeling the need of stimulation, I tied on an Irresistible, then crashed through the willows. I stepped into the stream and sank ankle-deep in its muck. Ghost trout flushed from beneath strands of algae. I struggled upstream to a spit of sandy bottom.
That bottom was more typical of Grasshopper, whose gravels — between 1895 and 1902 — had been mercilessly pirated. The first electric dredges had been used, their barges idling as giant buckets ripped at the streambed. Before that, high-pressure hoses had washed tons of hillside into sluice and rocker boxes, the placer separated from gold fragments that were 99.5 percent pure. More than a ton of metal was mined during Bannack's first season. Its population of miners, shopkeepers, gamblers, prostitutes, and speculators rose to 10,000. By the 1870s, the bonanza had dwindled. During World War II, nonessential mining would be banned, and by the 1950s, everyone in Bannack would be gone. The town was designated a state park, and then in 1962, a National Historic Landmark.
Despite the miner's exploitation, Grasshopper's streamside vegetation was a breathtaking array of late-summer flowers, lavender horsemint, and towering sage. I waded to where rocks formed more promising channels and pools where cutthroat might hide. Small trout nudged my Irresistible, but failed to strike. Mary Smith, at Backcountry Angler in Dillion, had advised me to try caddis, pale morning duns, yellow sallies, streamers, and odd attractor patterns. I considered a hopper, but there were no grasshoppers on Grasshopper Creek. I looped on an elk-hair caddis.
The next evening — rodeo night at the Western Montana Fair in Missoula — a cowboy would two-step with Daphne, then tell me of the "huge browns" that were catchable in Grasshopper. "But you've got to fish after dark," he said. That was not feasible on this trip. I was relegated to small fry. Were there big ones even in Grasshopper? "Change your bait," Daphne suggested. I had and would, but felt as emotionally extracted as the creek.
The novelist Richard Brautigan had been wise about fishing and an expert in taking small trout for the table. He preferred them. One day, near Pray, Montana, he'd caught 25 cutthroat — then smirked the following night as he watched a half-dozen writers wolf the morsels down. In his novel Trout Fishing in America, he recalled an acquaintance who "had a way of describing trout as if they were precious and intelligent metal. …  Maybe trout steel. Steel made from trout. The clear snow-filled river acting as foundry and heat." Swap gold for steel, and you had Bannack.
This was not my first attempt at fishing with ghosts. In the summer of 1959, just before the Hebgen Lake earthquake, I'd worked at a ranch on the South Fork of the Madison River near West Yellowstone. I was 14 years old. A ghost ranch and attendant buildings survived upstream, and on weekends I would ride there and cast for browns. Often I took several, but on afternoons when I didn't, I'd shake my adolescent rocker box with pleasures cloaked by the darkness of the ravaged buildings. Fishing was old, but romance was new — a bonanza freshly mined. The pleasures have been linked in my psyche ever since. 
I was not alone in this. The online publication Anglers Mail, in an article titled "Is Catching Big Fish As Good As Sex?" reported that according to a survey, "three-quarters of anglers" — men and women — "confess that catching a big fish generates the same pleasure rush as sex." Fishing was compulsive, as romance could be. I knew at least one fisherman who enjoyed angling in the raw. If Isaac Walton had noted this in The Compleat Angler, I was unaware of the passage.
A doe crossed Grasshopper as I neared a meadow where Daphne read in her camp chair. Bannack's prostitutes and Innocents were dead, but even a hanged man was priapic and my collar felt tight. It was 6:30 p.m. I switched flies to one called a Bedroom Intruder. Near the territorial governor's house and below a footbridge to Yankee Flats was a stretch of Grasshopper, and at the far side the water moved against a cut bank, leading to a deep pool. Daphne watched from her chair.
On previous evenings, she'd questioned my skill at a dance called Western Swing, so to compensate, I inched toward the pool in a six-count step, my Intruder swinging ahead. On its first pass, nothing. On its second, water exploded and I hooked a 15-incher with a slash of vermillion at its throat.
"You brought me luck!" I shouted. The fish bucked, thrashed, then broke off. I was devastated. "I'm hopeless," I said.
"Change your bait," Daphne repeated. Then turned to her book.
That night, as if to conjure the spirit of Skinner's Saloon, we drove 25 miles east to the Moose Bar in Dillon. The Moose was legendary for its unpredictability. I first experienced it in 1972, four years after its owner, Steve Logan — who dressed in black like his hero, the Western movie star Lash LaRue — killed a man after an argument over last call. The man — described as a hippie — had dropped a dime in the jukebox after closing, and Logan had unplugged the machine. The man demanded his dime back. A tussle ensued and the man was shot three times. Logan was convicted of voluntary murder and received a 10-year prison sentence, with five years suspended. He'd served less than that.
In 1972, I'd been shocked by the sentence's laxity. And when I'd visited the Moose after fishing the Beaverhead, I'd tucked my hair beneath my hat and stepped gingerly around drunks lying comatose on the floor. The Moose now catered to students from the University of Montana's Western campus, but two or three old-timers recollected Logan. Daphne and I asked one whether, for a dime's worth of aggravation, she thought justice had been served.
"Five years for 10," the drinker said. "Three shots for a dime," she laughed. "That's fair. Steve always said, 'Keep the change.'"