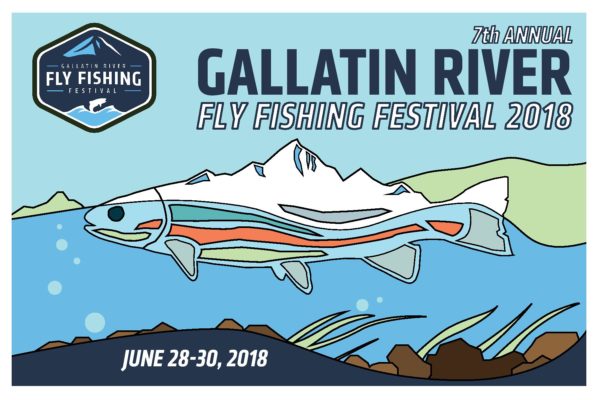 26 Jun

Gallatin River Fly Fishing Festival: June 28 – 30

in

The seventh annual Gallatin River Fly Fishing Festival will make a splash in Big Sky from June 28th to 30th, 2018.

After a watershed year in 2017, the Fly Fishing Festival is back in Big Sky with three action-packed days that celebrate river recreation and conservation. Last year, the festival invested $33,000 in a healthy Gallatin River for future generations.

"The Fly Fishing Festival is really coming into its own," remarked long-time committee chair, Ennion Williams. "In 2018, we're excited to welcome headlining band, The Last Revel, and a Montana distillery tasting garden to the festival. Don't miss the Gallatin River's biggest weekend!"

The fun will begin with a chance to spin fishing yarns and test new products at the Pesca Fiesta on Thursday, June 28 at Gallatin River Guides. The Guides will kick off the festival with free beer, drinks, and food at their annual storewide sale.

The Hooked on the Gallatin Banquet will land on the banks of the Gallatin River on Friday, June 29th at Gallatin RiverHouse Grill. The banquet features delicious barbecue, wine by Natalie's Estate Winery, live acoustic music, and auctions to benefit the Gallatin River Task Force.

Electrifying Minnesota-based string trio, The Last Revel, will return to the Big Sky Town Center Park on Saturday, June 30th to headline the final day of the festival which includes an outdoor fair complete with pony rides, a giant casting pond, fly tying, and conservation activities. During the outdoor fair, the casting doctor, Dok Arvanites, will host clinics to diagnose common casting ailments while Bozeman-based artist, Ben Miller, demonstrates the art of fly cast painting.

"The Gallatin River Fly Fishing Festival is a signature Big Sky event that provides our community with the opportunity to give back to the Gallatin River," commented Executive Director, Kristin Gardner.

Visit gallatinriverflyfishingfestival.com for more information, to purchase banquet tickets, or to support the festival as a vendor or sponsor.

The Gallatin River Task Force and a committee of dedicated volunteers host the Gallatin River Fly Fishing Festival. The Yellowstone Club Community Foundation presents the Gallatin River Fly Fishing Festival with Protector of the Blue Ribbon sponsors Cross Harbor Capital Partners, RMR Group, Snow Family, Spanish Peaks Community Foundation, Rocky Mountain Rooster Club, and Gallatin River Guides.