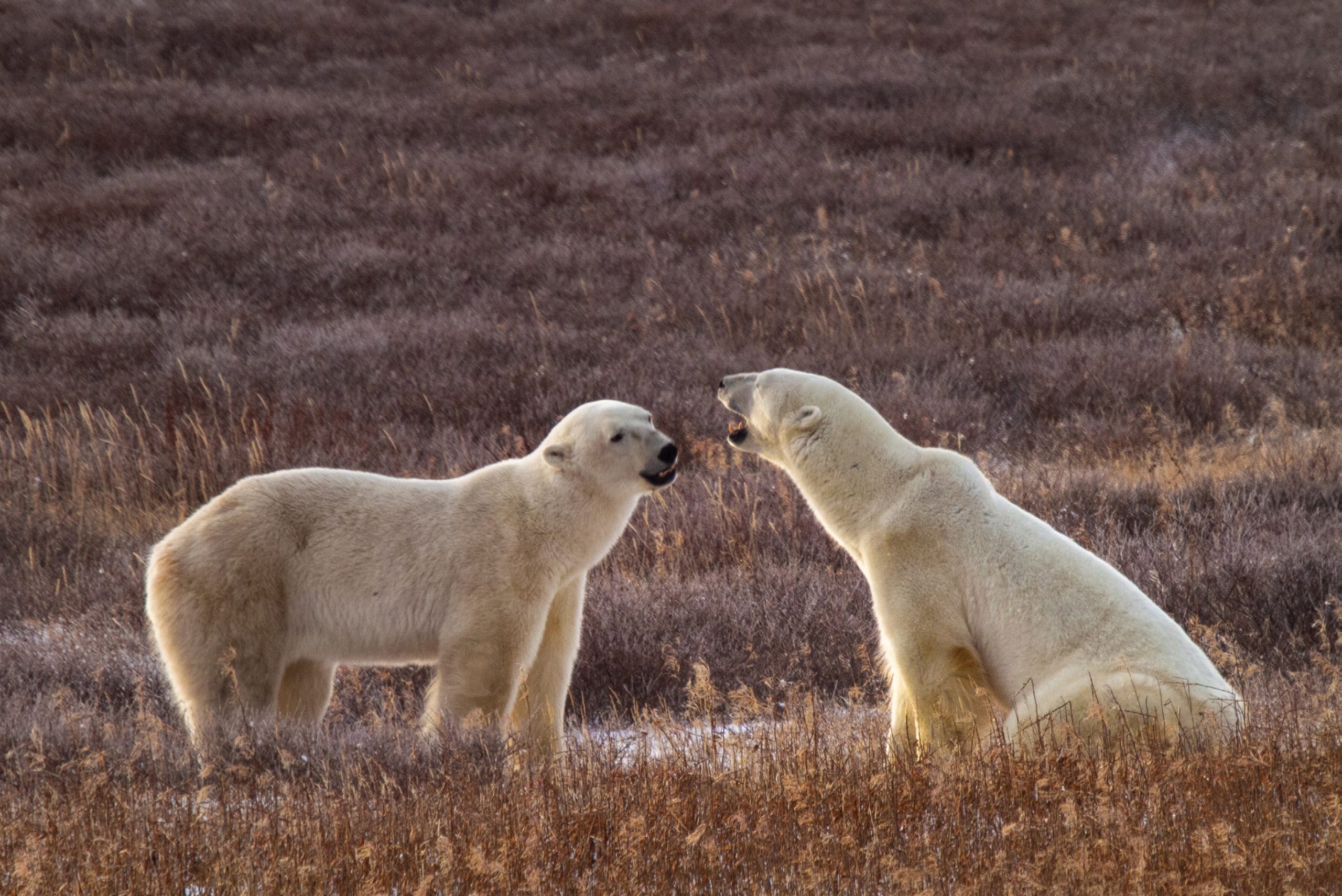 In order to survive, polar bears rely on a specific type of blubber that comes from the seals they hunt from the sea ice near Churchill, Manitoba. Many gather there each fall, waiting for the ice to form.
23 Nov

From the Tundra to the Treasure State

in

Everyone on the Tundra Buggy moved to one side to look out into the boreal forest near Churchill, on the western shore of the Hudson Bay in Manitoba, Canada. I was part of a group of 12 from Polar Bears International (PBI), a nonprofit organization based in Bozeman, Montana, and we were riding around the subarctic tundra in a specially designed vehicle that sits 12 feet above the ground. We were just high enough so that a polar bear standing on its hind legs wouldn't be able to reach us.

We quietly lowered the school bus-style windows and focused our binoculars and large camera lenses at a mother polar bear nursing a cub. Her back was turned to the Tundra Buggy, and our driver and guide from Frontiers North Adventures made sure we stayed far enough away to avoid bothering the bears as they went about their normal routine.

The mother bear sat upright with a cub on her lap and looked as if she was gazing across a frozen pond. She must have known this buggy full of conservationists, scientists, and PBI staff members and volunteers were watching. Each one of us had seen polar bears before, but this was special — catching a mom and cub in an intimate moment was not a typical sight. Serving as a volunteer, thanks to the connections I have with the organization in my home state of Montana, I was able to visit Churchill three years in a row. While there, I helped out with any needs, but also made memories to last a lifetime, and gained a greater appreciation for the challenges that face this species.

PBI is a conservation organization that focuses on polar bear science, research, and educational outreach. In other words, they study polar bears and communicate what they learn about the bears and the threats they face to the public. As an international organization that specializes in a species that inhabits five countries around the circumpolar north, PBI could have its office just about anywhere. But Bozeman made sense for a number of reasons.

It's a frequent refrain that there are more nonprofits in Bozeman than anywhere in the U.S., other than Washington, D.C. That may not be true, but there is a high concentration of them — specifically those that focus on wildlife and environmental conservation, such as The Wilderness Society, the Sierra Club, and The Nature Conservancy, among many others. And this means that there's a significant pool of potential employees in Bozeman who are familiar with this type of work. In addition, as most Montanans would agree, it's a lot nicer to live in Bozeman than in Washington, D.C.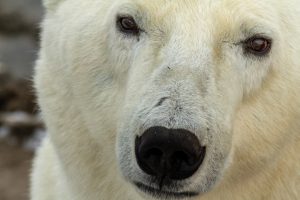 The home-based office is where many of PBI's employees work, and the staff consists of eight full-timers and four part-timers. They also have a presence in Winnipeg, Canada, along with a field house and interpretive center, and their Mars Arctic Region Conservation Center is located in Churchill.
Despite the unlikely occurrence of spotting a polar bear walking down Main Street in Bozeman or roaming through the city's nearby Bridger Range, PBI is involved in the community. From contributing to an Arctic exhibit and presenting scientific lectures at the Museum of the Rockies, to hosting talks about human-bear interactions at the public library and visiting schools both in person and virtually, PBI brings polar bears to Montana. The nonprofit has also collaborated with other bear conservation groups to host and attend workshops on human-bear conflicts, and worked with the Bozeman Film Society during their screening of "Chasing Ice," a film about the effects of global warming in the Arctic.
The organization also brings polar bears and glimpses of nature to the rest of the world. Through their partnership with Explore.org, PBI features live polar bear webcams that stream daily life from the Hudson Bay during "bear season" in October and November. In winter, viewers can watch the northern lights cam, and in the summer, a beluga cam catches the little white whales as they gather in the Churchill River and the Hudson Bay to calve.
Polar bears have become a poster child for the need for climate change action, due to the fact that their sea ice habitat is literally melting away as the planet warms. They hunt seals from the ice and depend on that specific type of blubber to survive. No sea ice, no polar bears. And once their habitat disappears, it's gone forever, as sea ice can't be replanted like a forest or restored like a wetland.
So, while polar bears live in the far north, the threats they face come from all over the globe. The outlook for the species "depends on what we as humans do, but you can't work in this field and not have hope," says PBI's executive director Krista Wright. "Aggressive action on reducing greenhouse gas emissions doesn't just benefit polar bears and the people who live in and around polar bear habitat." She explains that it also benefits Westerners who are sucking in wildfire smoke from more frequent and intense fires, islanders who are losing entire countries to rising seas, and farmers whose soil blows away after an extended drought, to name just a few.
On one of my visits to Churchill, I sat around the dinner table with scientists, PBI staff and volunteers, college professors, and students. As we passed around the family-style platters of lasagna and salad, everyone talked about their day.
One scientist and professor had flown over the shoreline of the Hudson Bay, counting polar bears as they gathered while waiting for sea ice to form. He was tallying numbers as part of a long-term population and distribution study funded by PBI; the data will be used to predict what might happen to these populations as the climate warms.
Another person had been live-streaming "Tundra Connections" to schools around the world, in which a panel of polar bear and Arctic experts sit in front of a camera in a Tundra Buggy and discuss the species and issues at hand. Kids are able to ask questions and participate in the discussion, and if a polar bear happens to walk by, they turn the camera to the tundra and let the classrooms watch these magnificent forces of nature.
Another PBI staff member had spent the day wrapping up the Climate Alliance program, in which zoo professionals gather in Churchill at the culmination of a nine-month training. During that time, they learn about bears and how to communicate the threats they face to zoo and aquarium visitors. They also work with zoo and aquarium professional organizations to set high standards for protecting the well-being of polar bears in enclosures.
Our dinner discussion also included talk of PBI's maternal den study that uses remote cameras in Alaska and Svalbard (an archipelago between Norway and the North Pole) to give PBI a better understanding of when polar bear moms enter a den, how many cubs they have, when they leave, and how that pattern is changing over time. Data from this study has been used by other organizations to fight oil and gas development in the Arctic National Wildlife Refuge in Alaska.
PBI is also involved in human-bear conflict studies and helps communities avoid negative interactions with polar bears. They are working with the corporation 3M to develop an adhesive tag that can be used on bears as a lighter, less invasive, and less expensive alternative to current satellite collars. From publishing scientific papers in journals and popular news media outlets to presenting polar bear talks to a homeschool group in Livingston, Montana, the list of what this little Bozeman-based organization gets done goes on and on.
Through my work as a PBI volunteer, I've had the opportunity to watch that mother with her cubs and others as they gazed out across a non-frozen Hudson Bay at seals popping their heads above the water and swimming with beluga whales. It's given me a deeper appreciation for the fragility and beauty of this Arctic ecosystem. And PBI helps to bring that to people around the world who may never be able to visit it in person, hopefully instilling a desire to protect this habitat and species.