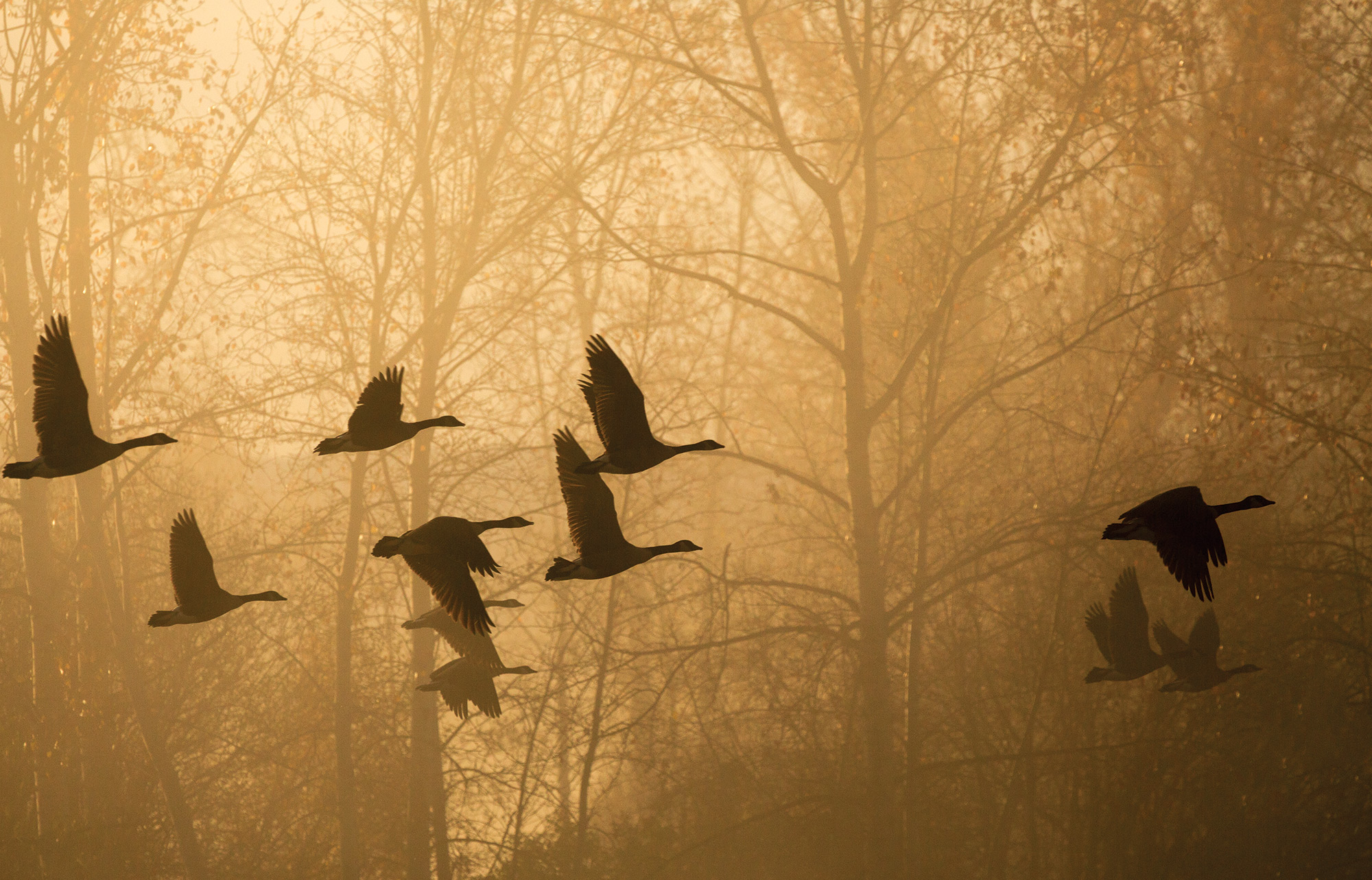 05 Oct

From the Editor: Nostalgia and Adventure

in

Fall in Montana. It's possible, at other times of the year, to imagine that better lives are being lived elsewhere. In May, when snowdrifts still clog the high trails and runoff has turned the rivers to coffee … somebody, somewhere is having fun. They're surfing in Laguna, for instance. In August, forest-fire smoke clogs the valleys, but they're playing jazz on Bourbon
Street. February, when a cold morning turns your car battery to stone, there are still those golf courses in Hawaii.

In fall, however, with the season's first snows inching down the Absarokas, and Yellowstone cottonwoods at peak yellow, a lace of ice in the shallows of the Gallatin, geese arguing above the clouds and brown trout finning through the shallows … this is it. Here, now. Overnight, the rivers all rise 6 inches as farmers turn off their pivots. And just like that, we're sitting on the hinge of the world.

It has something to do, I think, with transitions. With change. Leaves, frost, snow. It won't last, none of it. It's fleeting, which of course adds to the beauty. But it has more to do — at least for me and at least recently — with nostalgia. Thirty-some years in Montana, and autumn has always been the best part of each year. Deer hunting on Mission Creek as a 12-year-old; throwing out decoys in a grain field in college (about where the Bozeman Costco stands now), the smell of fallen leaves kicked up by wading boots and a late season cast-and-blast on the Bighorn. One of the virtues of sending out roots rather than rolling along is you find that narratives gradually attach themselves to the landscape. My wife, who is newer to Montana, is the polite recipient of my nostalgia. "We used to jump shoot ducks out of that pond over there. Owners didn't mind. We'd drive up right after high school and be back home in time for dinner."

"Uh huh. You did?"

"I got a double on geese one time."

I find a sense of security in the nostalgia. The security of context, the privilege of familiarity. But there's also an unfortunate and somehow parallel diminishment of excitement, of an essential sense of adventure. You wear grooves into a place, or the place wears them into you. Nothing much takes you by surprise. The trick, then, is to push yourself a bit, edge over into the uncomfortable, try something new, even if it's only out your own backyard. From a firmament of experience and nostalgia, you need to keep reaching out, find some fresh stories. It feels more important the older you get.

With this issue of Big Sky Journal, we're going for a bit of both: the sporting art of Shirley Cleary and the whitetail hunts of Greg Thomas; the photography of Brian Grossenbacher and the conservation work of Theodore Roosevelt. Nostalgia plays a role in some aspect of each. Then there's the activism of acclaimed author Rick Bass and the good work of the Owl Research Institute out of Charlo, Montana. Not to mention the ongoing success of Montana's bighorn sheep reintroductions, a model for what can be accomplished at the intersection of sport and conservation. Looking back, looking ahead. Admirable folks, admirable projects, larger goals. Feels like there are life lessons in there somewhere. Or at least a good read. We hope you enjoy spending time with this one as much as we enjoyed putting it together.