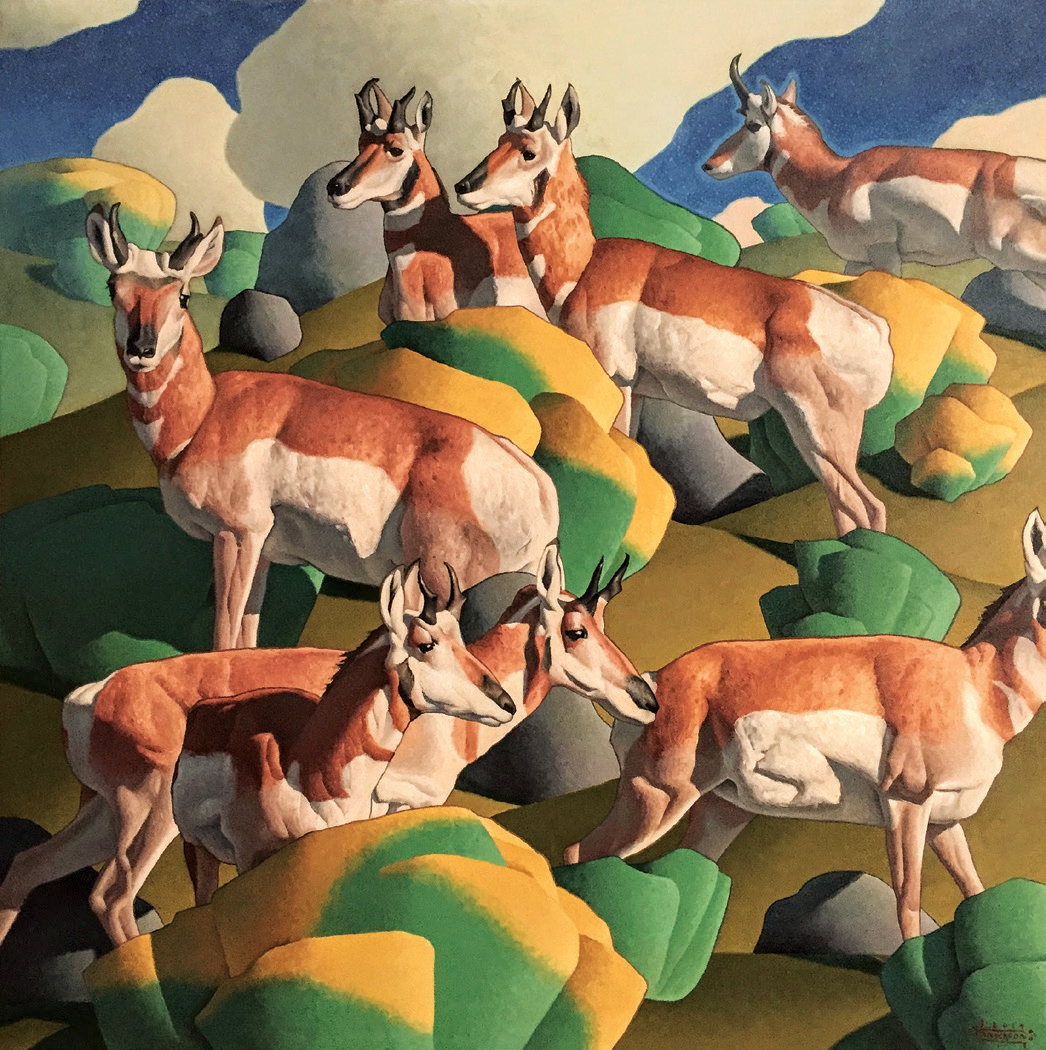 PLAINS CONVENTION Luke Anderson | Oil On Canvas | 40 x 40 Inches
09 Aug

From the Editor: Artistic Perspectives

in

One thing I've always loved about the Northern Rockies is the "cowboy casualty" if you will. There are few venues that require anything fancier than jeans — as illustrated by the general manager of Missoula's 1889 restaurant in our "Dining Out" column. "When people call about a dress code, I know they're not from here," she explains. "I say, 'If you can just be dressed, that would be great.'"

I've always imagined that many of us migrated here to enjoy a more relaxed lifestyle and the beauty of our surroundings. So, when I read that artist Luke Anderson describes the West as a "place of tension," my ears perked up. "It's at the meeting point of a lot of different cultures and ways of thinking," he says, "and it's been, at the same time, at the forefront of technological innovation and a hub for tradition and romanticism. So I think it's this very odd place of tension, and there's a pull between future and past."

Anderson's perspective is one I wouldn't have thought about until I saw his contemporary paintings, which express his personal views about the West. This got me thinking about the different ways other artists perceive and depict their own ideas about the region. What might appear to be just a pretty picture is often one that's infused with a deeper message.

Tucker Smith, for instance, paints the backcountry landscapes and wildlife of the Rockies, much like Thomas Moran did in Yellowstone before it became the country's first national park. Both artists offer glimpses of places few people will see in person, transmitting a visceral message that they are worth protecting.

In the same vein, artist Todd Connor strives to transport viewers to another place or time in history. "His goal is for people to feel like they can enter a world he's created, to visit the past in the mindset of someone who is living it," writes contributor Michele Corriel. Perhaps this is Connor's way of relaying the hardships endured in the development of the West, which paved the way for the easier life we have here now.

And through his work, photographer Jim Westphalen shares his views about the importance of rural America's vanishing structures — abandoned barns, schoolhouses, and churches — that, to him, also represent the struggles of creating a life out West.

You'll also read about legendary ceramicist Rudy Autio, and how his upbringing in Butte, Montana, influenced his work and the art world as a whole; how and why author and activist Rick Bass passes down his skills, enabling other writers to chronicle their ideas about the region; and the new Bozeman, Montana-based arts organization Tinworks, which supports local contemporary artists by giving them an outlet and the means to tell their stories.

This annual issue is a celebration of the art and artists of the Northern Rockies — along with the galleries and venues that advocate for them. But it's also a collection of different perspectives and viewpoints, whether it's the Old West that Connor depicts or the New West that Anderson focuses on. I hope these stories offer new ideas about our region and inspire you to consider your own views of the West that we know and love.