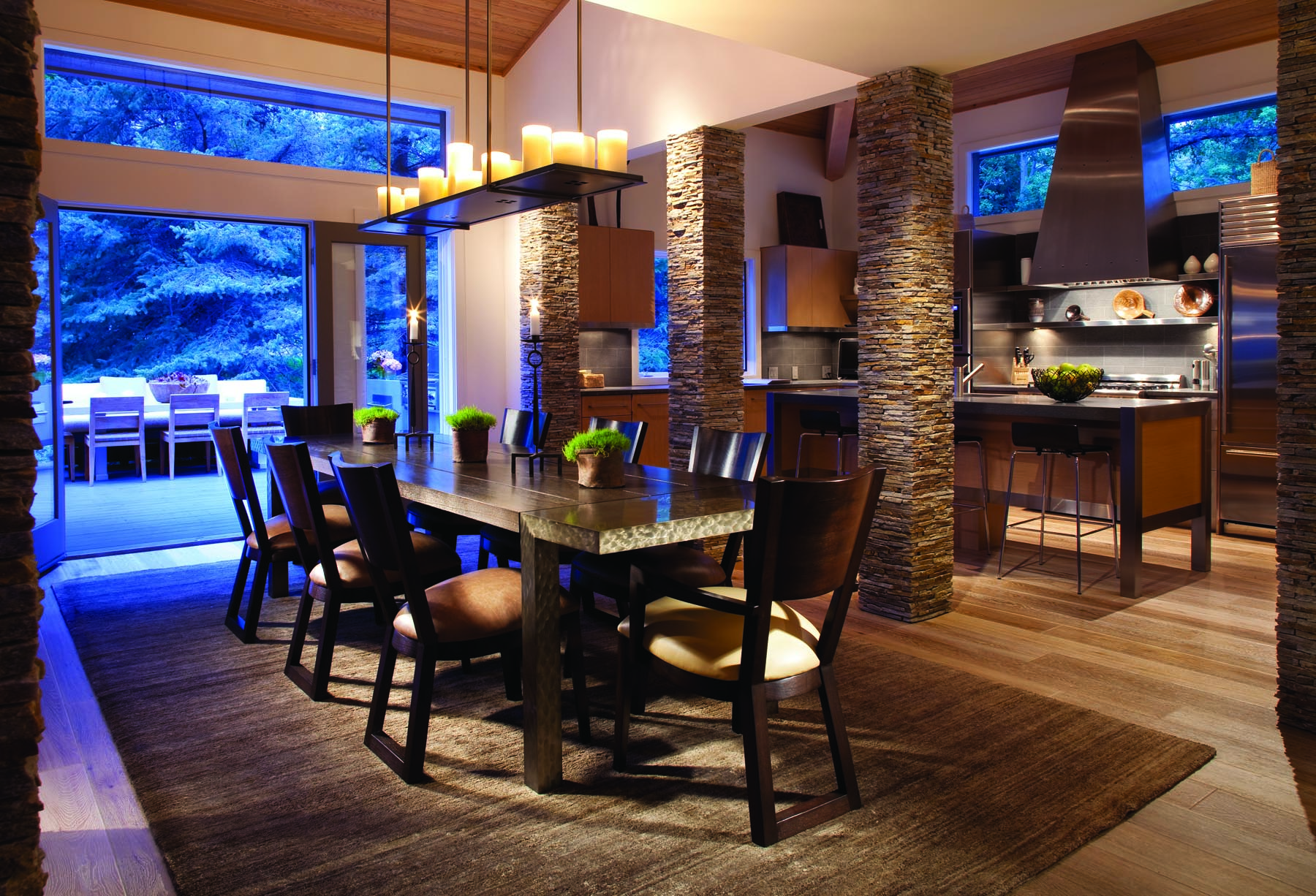 23 Aug

Form and Function

in

AN IDAHO RETREAT TUCKED NEATLY INTO THE EDGES of Ketchum and Sun Valley often lures Joan and Bill Feldman from their urban life in Los Angeles. Location, location, location drew them to Weyyakin, a planned community built several decades ago. Cul de sacs cluster small handfuls of homes off one meandering main road, offering privacy, safety for walking and biking, and a sense that one's own cul de sac is all there is — just a tiny village of neighbors in the mountains.

Although attractive to many transplants, the Wood River Valley's rare beauty, the long, snowy winters and summer's intense brevity with fierce thunderstorms and the preciousness of water present challenges to all of us. Sensitive planning is paramount if development is not to run rampant over such a place.

In response, the homes echo the mountain landscape around them, heavy with log and river rock details, earthy and subtle in color. By now, mature trees blend and tower to nestle the community into its location while still providing easy access to the valley's famous amenities.  It is literally seconds away from Sun Valley's famous Bald Mountain ski area, surrounding trails, world-class fly-fishing, golf, art galleries and exemplary dining.

The Feldman's recognized this and aspired to find a finely crafted home built of natural materials. Previously, the couple had enjoyed a comfortable, successful history of architectural and interior design projects with Nick Berman of Berman/Rosetti in southern California. When they asked him to visit Idaho and consider redesigning their mountain retreat, Berman didn't hesitate.  There he met Bill Sherrerd of Sherrerd & Wall Construction, a local, well-respected general contractor with a reputation for easy communication and extraordinary detailing. Due to homeowner association requirements, creating a whole new interior experience without affecting the exterior of the structure became the challenge. The magic began in the melding of visions, ideas and solid hands-on experience.

Given the homogeneity of planned subdivisions and their requisite design review standards, single-family homes blend in with each neighboring home. Quiet. Unobtrusive.  Predictable. That is, until combustion strikes between inspired design, innovative craftsmanship and clear vision.

In contrast to the local vernacular of river rock and chunky log, Berman and Sherrerd removed existing log, rock and drywall to pair stone, wood, leather and sheepskin in a textural palette that refers to the valley's landscape and history with a sophistication that transforms the materials into a calm and tranquil environment. Walls that previously enclosed smaller spaces were opened with meticulously crafted stone columns.  Those same stones were also used as echoes in precisely placed tiles cut from the original materials. New wall structures were designed to follow the forms of Tansu cabinets in the kitchen, visually opening the stairwell.

With a nod to large Feldman family gatherings in the home, the kitchen was conceived as an indoor/outdoor space. Ingeniously detailed cabinetry refers to the custom furnishings designed by Berman, resulting in full functionality and pure visual lines. Carefully selected appliances fully support the demands of frequent and enthusiastic entertaining.

Entertaining for the Feldmans includes the presence of very young family members. For them, a bunkroom highlighted with bright orange color and fanciful art ties their comfort to the rest of the home seamlessly. Form meets function in a perfect dovetail.

As Berman notes, "This project was extremely symbiotic, and that energy manifested itself in the home. We all worked with great reciprocity, and the feeling resonates throughout." Berman designed many custom furnishings for the project; Sherrerd and his stable of master craftsmen blended the construction details to fuse with Berman's designs. The result is complete synergy in texture, palette, line and function.

Only a few details affected the exterior of the home and required the approval of the homeowners' association. The front entry way was subtly modified to retain the existing low courtyard walls while softening the impact of a custom glass pivot-point entry door. The new door then allowed revitalizing light to filter into the entry hall of the home. Above the kitchen stove, a large cooking range hood seems to be intersected by glass. Those new windows also required acceptance by association design review. Ultimately, both elements struck a fine balance between design restrictions and innovation.

The combination of new eyes and old hands, plus keenly sensitive observation of this valley, steeps the Feldman residence in a very clear spirit of family and sense of place.