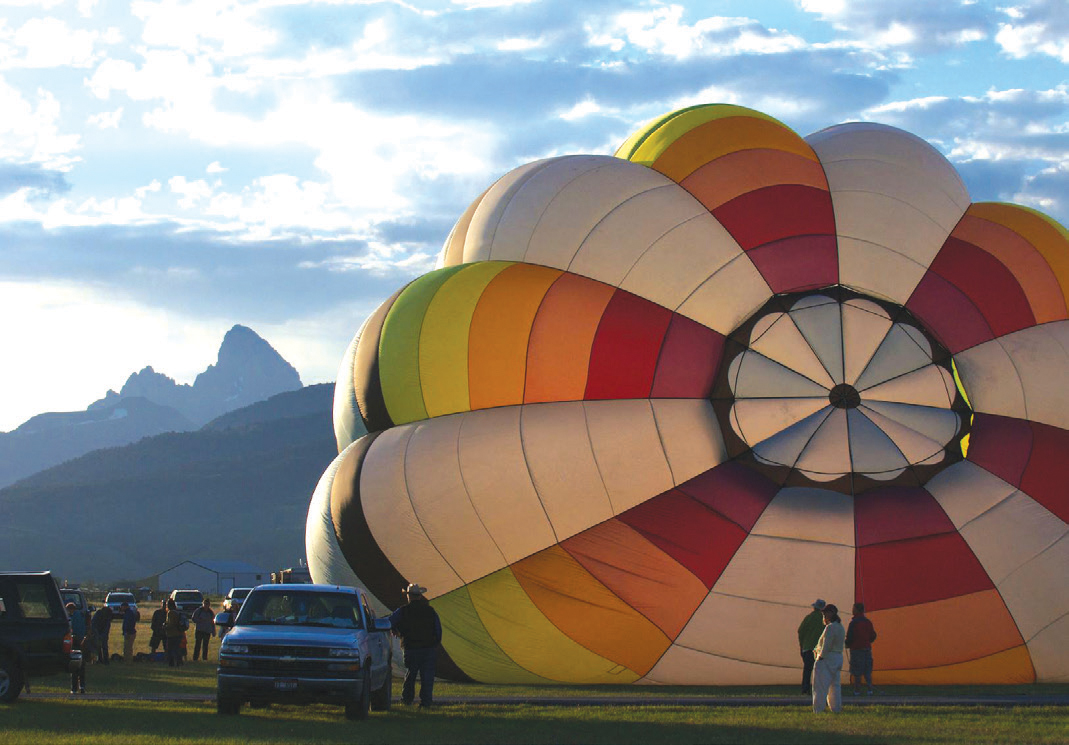 Learning about hot air balloons and how they work is a favorite part of the annual July event.
02 Jun

Flying High

in

THE SUN IS RISING IN THE SMALL TOWN OF DRIGGS, Idaho, and like most summer mornings in the Teton Valley, there's a distinct chill in the air that will fade as the day progresses. Sleepy spectators wander from their cars, making their way across the Teton County Fairgrounds as hot air balloon burners roar to life. Colorful balloons slowly inflate as pilots explain to onlookers the steps that need to be taken in order for their crafts to soar skyward.

The Teton Valley Balloon Rally is held over the Fourth of July weekend each year, and, in its 39th year, it serves as one of the region's most beloved traditions. Over four consecutive mornings, events include opportunities for both untethered balloon flights and tethered rides that max out at around 80 feet in the air.

Each morning of the rally, balloon pilots meet at 5:45 a.m. to discuss the weather — analyzing factors like wind speed, direction, and visibility — in order to make any safety decisions. If the weather isn't safe for flying, the balloons will stay on the ground. "The weather is the weather, and we make the safest calls," says balloonist and event co-director Margaret Rose Breffeilh. "We've had years where we flew every single day, perfectly beautiful flights, and a couple of years ago, I had to ground it every single day because it was not safe to fly."

Other kinds of fickle mountain weather can also put a damper on the event. In 1992, for instance, 13 inches of snow fell. In 1993, heavy rains caused issues, and in 1994, the wind kept balloons grounded. In these cases, on-the-ground activities take over and include educational displays; for instance, a balloon may be inflated with cold air to keep it on the ground, and spectators can come on board to check out the craft.

The early morning hours provide the best opportunity for balloons to launch, as it's the time of day that offers the most stable air (as the day heats up, thermal winds are more common). Spectators are advised to arrive by 6:30 a.m. so they don't miss the action. "We really encourage folks to arrive in time to be able to experience inflation," says event co-director Virginia Powell Symons. "When I say it's magical, I'm not joking."

Symons, an event planner by trade, didn't have extensive ballooning experience before she became involved with the rally. Breffeilh, on the other hand, has been involved with balloons since she was 8 years old. Her uncle runs a hot air balloon company in Jackson Hole, and in college, she worked as a "chaser," part of the ground crew that follows the balloons to their landing areas. She obtained her own license in 2005, began flying commercially in 2008, and became involved with the Teton Valley Balloon Rally for the first time in 2012.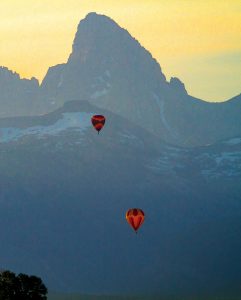 Fred Reed, owner of the Driggs-based Red Baron Flying Service and one of the founders of the Driggs-Reed Memorial Airport, became interested in hot air ballooning in the early 1980s. After attending the Albuquerque International Balloon Fiesta, one of the most well-known ballooning events in the world, he decided to host a Grand Teton Father's Day Balloon Race and Glider Regatta in Driggs in June of 1982. That inaugural event drew several hundred spectators who came to watch eight hot air balloons take flight. The following year, the Driggs Chamber of Commerce teamed up with Reed to help with the event, this time featuring nine balloons and an appearance by
Apollo 15 astronaut Jim Irwin. By 1984, more than 1,000 spectators came to see 17 balloons in action.
The following year, the decision was made to host the rally over the Fourth of July weekend, since mid-June weather was more unpredictable. That year, sponsors came on board, 20 balloons were on display, and $1.65 million was pumped into the local economy as a result. From there, the event kept growing in popularity; in 1990 there were 25,000 spectators, 45 balloons, and a visit from the infamous Budweiser Clydesdales.
A few years later, three Teton Valley chambers of commerce joined together as one and decided to make some changes to the event, including no longer working with some of the sponsors. Over time, interest declined and the rally was canceled in 2012.
However, a group of volunteers with very little funding decided they would hold a rally on their own, and they rounded up six balloons. In 2015, the group formed a nonprofit organization that still runs the multi-day event, which typically includes 10 to 15 balloons. Attendance fluctuates, but a day can bring between 750 to 2,000 spectators from all over the world. "We definitely have this incredible demographic of attendees who remember coming as children, and how it was an incredibly impactful part of their childhood," Symons says. "And now they're returning with their own kids and, in some cases, with their grandkids. It's really amazing to see how the event has touched people."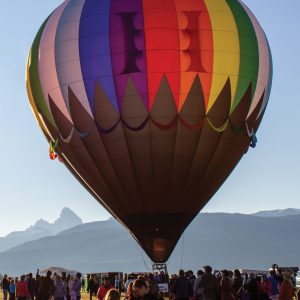 Organizers hope to pass on a love of ballooning to the next generation. Each year, they raise funds for one Teton Valley teenager to attend the Balloon Federation of America's Junior Balloonist Camp, which Breffeilh says is "like a science camp for aviation" with an emphasis on ballooning.
While organizing the rally can be a challenge at times, the event provides an opportunity to experience the pure joy and beauty of hot air ballooning. "It's this epic, unique, stunningly beautiful experience underneath some of the most beautiful mountains you're ever going to see. And it forces people who attend to slow down and be present and awestruck," Symons says. "In a really crazy world where there are a lot of things to be unhappy or stressed about, it gives us all a reason to just be happy."