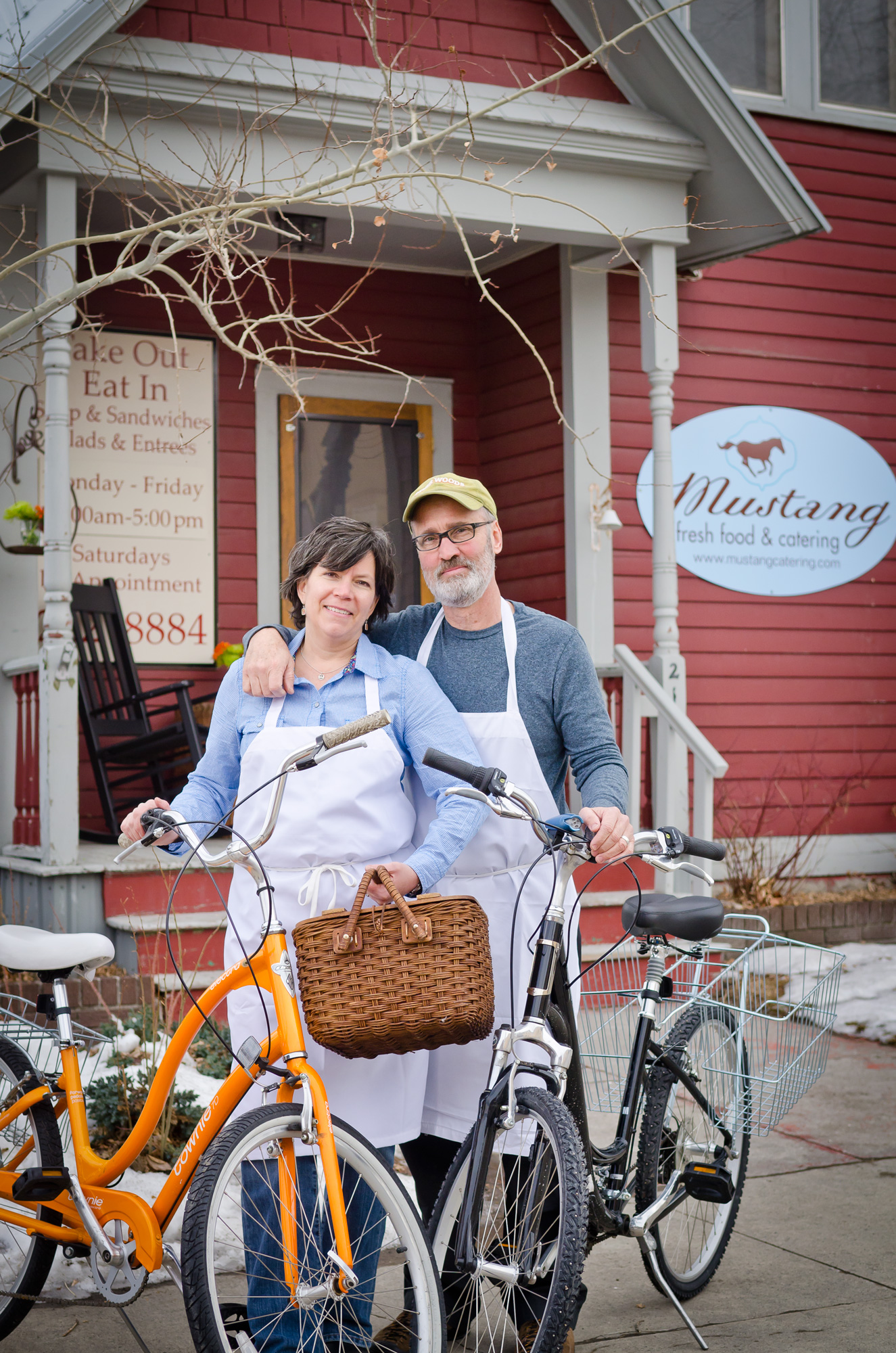 24 Jul

Dining Out: Fish Food

in
---
In a little red Victorian house just on the edge of Livingston, Montana's historic downtown sits a café that is a local favorite: Mustang Fresh Food and Catering. Open the front door and the aromas of the kitchen beseech you to step inside. Known to foodies and anglers alike, it's a place where you can find proprietors Carole and Dan Sullivan hard at work in the kitchen, making delectable fresh food to enjoy at a cozy table in the café or to go.
Inside, an inviting farmhouse atmosphere welcomes diners. Chalkboards list the sandwiches, served on locally baked bread and the deli case displays an array of salads, from a sweet and tangy broccoli and grape salad to grilled vegetables. Everything is prepared in the bustling kitchen and the freshness is evident in every dish.
While Mustang Fresh Food and Catering counts Martha Stewart and President Barrack Obama among their A-list customers, the folks who matter most are "the regulars." Those are the people who have been coming to Mustang since
Carole opened for business 20 years ago in Livingston — customers like Gillian Swanson, whom Carole recalls coming into the restaurant the other day for lunch praising the take-out dinner options: "What would we do without you in this town?" Swanson said.
Offering an assortment of standards and daily specials that include buttermilk-battered catfish, pulled pork and eggplant Parmesan, as well as a menu of sandwiches and salads, everything cooked in the Sullivans' kitchen is made from scratch. One of the longest standing favorites is Carole's Thai-inspired Evil Jungle Chicken; it's a dish that has its own fan club in Livingston. When describing her approach to cooking, Carole says, "It's classic cuisine with the freshest possible ingredients."
Cooking sauces, doughs and stocks from scratch, her menu ranges from international flavors to American comfort food. Fresh ingredients influence her classic style; she also draws inspiration from the traditional flavors of regional cuisines. Versatility and a passion for preparing beautiful, delicious food are among Carole's strengths.
"Whether it's chicken pot pie or Tandoori chicken," Carole explains, "I like it to be traditional with fresh ingredients that are true to the culture."
Carole first earned her chef's stripes in the trenches of a major commercial kitchen, D'Amico Catering, in Chicago. There, working with up to 15 other chefs, she learned to make hollandaise sauce for a party of 3,000 and many other essential culinary skills. Then, seeking a lifestyle change, she moved to Livingston and worked at Russell Chatham's Livingston Bar & Grill. Seeing that dining options in this small river town were limited to steak houses and burger joints at the time, she launched Mustang Catering in 1996.
Today, Mustang specializes in fresh meals prepared to take home, whether that is a gourmet box lunch for a daytrip on the nearby Yellowstone River, or a hearty lamb stew to rescue a customer from one night of cooking. The Sullivans work with local fishing guides to coordinate simple lunches or more elaborate catered river menus.
"One of my favorite jobs last summer was with a group of fishermen who were on the Yellowstone. They had us meet them throughout their trip at different beaches and takeouts for breakfast, lunch and dinner — it was really fun," recalls Carole.
While the Sullivans take pride in providing great food on the river or off, they can't guarantee the fishing. Even if President Obama loved the Mustang Fresh Food and Catering huckleberry bars, he still didn't catch a fish. But he wasn't hungry when he left Montana.
---
Chicken Pot Pie
– One recipe Mustang Catering pastry dough (or frozen puff pastry)
– ½ cup butter
– ½ cup flour
– 4 cups chicken stock
– 1 teaspoon dried or 2 teaspoons fresh thyme
– 1 teaspoon kosher salt
– ½ teaspoon fresh ground pepper
– 3 cups shredded roasted chicken
– 1 ½ cups parboiled diced carrots
– 1 ½ cups frozen peas
– 12 frozen pearl onions
Lightly butter a 9-inch pie or cake pan.
Roll ¾ of dough out to fit 9-inch cake pan with a ½ inch overhang.
Make a roux by melting butter. After it has melted, whisk in flour. After flour is incorporated (about 1 minute) slowly add chicken stock, whisking constantly as you are adding. Add sage or thyme, salt and pepper. After all chicken stock has been incorporated and you have a silky sauce, add the chicken, carrots, peas and pearl onions. Allow to cool, then spoon into prepared dough pan. Roll out remaining dough to cover and slightly overhang the pie pan, trimming some of the ends and then rolling dough to seal by crimping the edges. Make 3-4 slits in top of pie dough to allow steam to vent and then brush the pastry with egg wash. Bake at 400 degrees for 13 minutes and then reduce oven to 350 degrees and continue to bake for another 35 minutes or until the crust is nice and brown and you can see the sauce is bubbling. Serve with a green salad and enjoy.
---
Food on the Fly
Eating streamside doesn't necessarily mean you have to rough it. The days of eating cold Spam or stinky sardines from the can with some slices of pasty white bread are over. Look for these excellent restaurants to pack your meal for the day's adventure. There might be some days when your lunch is the only bright spot. Here are a few BSJ favorites:
Backcountry Provisions, Jackson, Wyoming
50 W. Deloney
307-734-9420; www.backcountryprovisions.com
Even if your adventure is a tame picnic in the park under the elk antler arch, the names of sandwiches at Backcountry Provisions will make you feel like a hardcore. Expedition includes roast beef, sharp cheddar, avocado, tomato, romaine and chipotle mayo. You'll have to discover your own favorite among other taglines, such as Summit; Bushwacker and Sherpa. The river-lover's choice, of course, is the Angler, stacked with smoked salmon, dill, Havarti cheese, sprouts, capers, red onion, romaine and honey Dijon mustard. Look out fish!
Ernie's Bakery, West Yellowstone, Montana
409 Firehole Avenue
406-646-9467; www.erniesbakery.com
Every sandwich is served on bread baked fresh at Ernie's. Peppered turkey, smoked turkey, salsa turkey — three different sandwiches that offer a different spin on your typical turkey sandwich. Or skip the "healthy" option and go for the gusto with The Yellowstone, heaped with four kinds of salami, cheese and all the fixins' on French bread. Enjoy breakfast while you wait for your box lunch.
Mama Mac's Bakery and Sandwich Shop, Bozeman, Montana
81809 Gallatin Rd, Four Corners
406-522-8690
A stone's throw from the Gallatin River, Mama Mac's is the perfect joint to grab a sandwich and head to the river. Nothing fancy. It's casual and the sandwiches, soups and wraps are simply delicious. Open daily at 6 a.m., you can hit the river by sun-up, with coffee to-go and lunch on the fly.
Perry's Restaurant, Ketchum, Idaho
113 W. 4th Street
208-726-7703; www.perryssunvalley.com
Known for a scratchmade bakery and artisan sandwiches, Perry's has been serving gourmet breakfasts and lunches in Sun Valley for 25 years. They offer special "Excursion" breakfasts and lunches boxed for any outing, be it river, trail or saddle any time of year. Whether is a grab and go breakfast wrap with the makings of a Denver omelette (ham, cheese, red peppers and onions) or pastrami on homemade marbled rye bread, you can bet you won't go hungry.