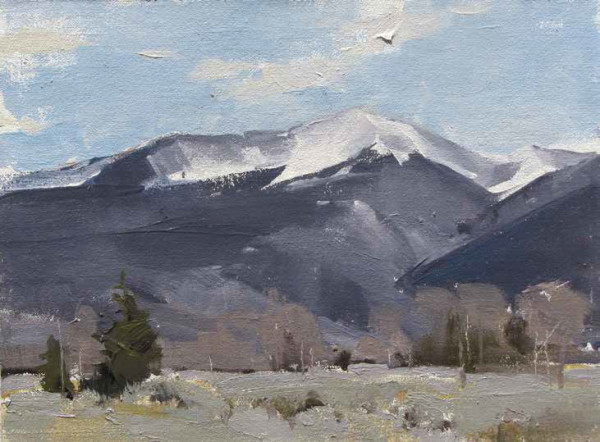 21 Aug

Artist of the West: Fine Lines

in
---
When we try to pick out anything by itself we find that it is bound fast, by a thousand invisible cords that cannot be broken, to everything in the universe.
— John Muir
---
KATHRYN MAPES TURNER IS DRAWN TO THE EDGES, to the risks and the rewards of skirting the fine lines of her own making. Behind every stroke, every composition is an act of fearlessness that reads like an expedition into the unknowable. Every painting, a map of discovery, made even harder because her subjects are the places she loves, the mountains and landscapes where she grew up, the skies and vistas that made up her childhood. Guided only by her own daring, each step takes her further from her own comfort level and yet closer to home.
"The work I'm doing now is distinguished by its evolving nature," Turner says. Having worked in watercolors for years, she now concentrates on oils and trying to combine the two. "Working in watercolor, I was attracted to the inability to really control them. I love the way the water and paint on the surface react. It's fun to explore the spontaneity that happens. I've tried to retain that same feeling of letting the paint do the work in the oils by letting it flow or puddle."
The more she paints, the more she finds the versatility of oils outweighs the immediacy of watercolors.
"Thanks to materials development I've been able to get 50-foot rolls of Arches paper and I've been doing these massive oil paintings," she says. "They really resonate with my watercolor feeling — I can let happy accidents happen. They're fresh and free, which is the experience you get with watercolor."
Born and raised on a dude ranch in Jackson, Wyoming, the Tetons are imprinted on her soul and her work. Her connection with open space and wildness is central to who she is as an artist.
"There's an influence of what I gained from the landscape and also the emotions and memories become the other sources of inspiration," Turner says. "My work is like a stream: You can't step into the same one twice. I'm letting the art carry me, trying not to fall prey to what the market demands, or what's been successful in the past. I'm grateful for the opportunity to do that. It's taken me to some great places I never would've experienced if I tried to hold on too tight."
Her current project is a direct response to her love of the Jackson landscape. As a way to participate in sustainability and preservation, Turner is working with other artists to paint the properties protected by the Jackson Hole Land Trust throughout the valley of Jackson Hole: family ranches, wildlife corridors and significant open space.
"We are painting them to highlight the creative resources that they are," she says. "These properties are so loved and it's a way for us to celebrate them through art."
The reception will be held at Trio Gallery, in Jackson, a gallery she owns with two other artists, Jennifer L. Hoffman and Bill Sawczuk.
"It's a way for us to share our work and support one another," Turner says. "We're ambassadors for the landscape through our art. It's been great to have that artistic camaraderie as well. I've enjoyed having artistic freedom as opposed to a representing gallery; I don't have any outside pressures of what I should paint. I can explore my own voice. I have all kinds of freedom. It's been good for the evolution of my art."
There are two timbres to Turner's style. One is the plein air, in the moment, emotional responsiveness to being outside. For the most part these are portraits of the Tetons, personal and raw. In some of these, like Tetons in April, her response is so immediate it feels like the paint is still wet, yet in other areas of the painting parts of the canvas beneath show through.
"I have to work quickly on location, because the light's going to change lickety split," she says. "I love to be inspired by direct contact with nature — witnessing the clouds, fresh rain, the wildlife wandering about — it feeds the seed of inspiration. Each painting has its own clock; I just try to listen. The small voice of the painting tries to tell me what it needs to say. And I always try to stop just before the last stroke, to keep the freshness in the piece."
On the other side of the spectrum are Turner's studio pieces. Although they are landscapes as well, there is a studied feeling, a pushing of boundaries that seeps across in color, line and composition. In her painting, A Single Thing, it's not immediately obvious that the single thing in the painting is the horizon: not one tree, or one day, but rather the endless unrolling of the mind that lingers like a remembered dream.
"To me it's a painting that's all about my love of the West," Turner says. "We have a saying in Wyoming, 'You don't have to look up to see the sky.' That's been important to me, those wide open spaces, you can wander all the way through the painting."
Art writer and author of The Jackson Hole Arts Blog, Tammy Christel, has watched Turner's work evolve.
"Each year I come to respect her work more and more," Christel says. "I admire the way she can move back and forth between tonalism, warm colors and summer skies, and winter scenes."
Christel sees both spirituality and a contemporary style in Turner's work.
"There's a lot more left to the imagination, rather than a straight up landscape," she says. "There's a lot of drama but there's also a meditative quality as well."
Although Turner has the capability to render a perfect reproduction of something, that's not what her art is all about.
"Art is a communication tool," Turner says. "It's important to have a language that people can tap into, good drawing is a language and I guess I feel it's important to speak that language well … I try to balance that with a sense of mystery, so the viewer can bring their own experience to the piece. I want to communicate with the viewer and still leave room for interpretation."
The daughter of a research biologist who ended up as assistant secretary of state for the Bureau of Oceans and International Environment and Scientific Affairs under George W. Bush, and before that was president of The Conservation Fund, Kathryn Turner readily admits that her father had a big influence on her. But she's also had a few more painterly mentors, including Michigan painter John Felsing.
Felsing met her when he was at an exhibition in Jackson.
"I saw this little painting, it was my favorite painting in the whole place," Felsing says. "I was so taken by it that I sought her out. I heard she had a gallery in town and I introduced myself."
He went to the gallery, but found the painting he loved was the only one like it.
"I saw a blank slate," he says. "I simply told her to go back and do more of those kind of paintings, where she left some of the resolution up to the viewer. We started to talk and then continued with a phone relationship. I started pushing her. I saw she had guts."
Felsing also saw that Turner wasn't afraid. He encouraged her to be fearless and told her to keep moving forward. That became their mantra.
And move forward she did.
"Now other people are noticing," Felsing says. "She has all this talent and she's not afraid. I still expect a lot out of her. There simply are no rules, it doesn't matter how facile you are in paint, it's how rich your soul is, and you have to get that onto the canvas."
That's exactly the feeling Turner embraced.
"I haven't seen many like her, to be honest," Felsing says. "She's doing everything right. Beautiful destruction, when she leaves things out. She's headed down the right road, she's maturing and I'm very proud of her."