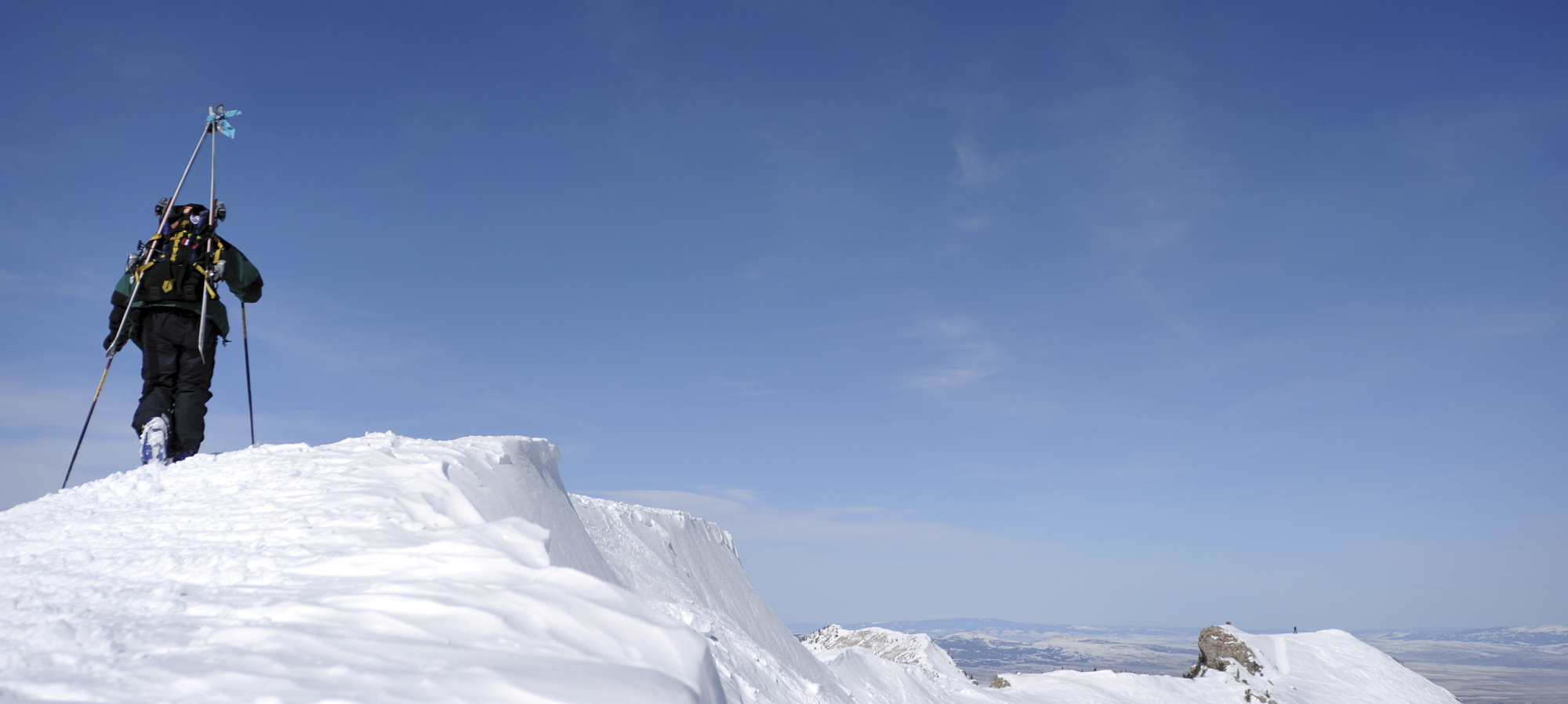 23 Jul

Extreme Local

in

ON A SUNNY SPRING DAY IN 2008, I AWKWARDLY SLOGGED up a steep, snow-covered slope just outside of Bridger Bowl's south boundary. This was Slushman's, as it was then known — 1,700 feet of mostly untracked powder, all saved up for those with juice enough and time enough to skin from bottom to top.

I had time, but hardly enough juice. My old tag-a-long randonee gear had skins made for skis that were skinny, not wide as barn siding, and I slid backwards repeatedly, particularly when negotiating the steep switchbacks. My partner implored me to keep up, that there'd be time for dilly-dallying when we reached the top. It was sunny and hot, but still morning, and the snow was heavy and crusty, not light and fluffy as I had hoped. I would have to settle for it being about manual exertion on a sunny day, and having a mountain to ourselves.

At the top, there were a handful of others who had also skinned up. The talk was about the new lift going in; the concrete platforms were already in place. Could it be good? Bad? It would be different, for sure. Though it was my first time up there, I empathized: We, the backcountry skiers, were being rendered obsolete.

My buddy and I made our hard-earned turns down the steep and wide open No Name Bowl, while the others continued their trek south to Saddle Peak. Clearly, Saddle was the prize. No Name was fine with me — easy to get to, and I didn't need a fear factor of 12 to add to my flailing. It was enough to hike and ski Slushman's before it was too late.

ONE YEAR LATER, Bridger is a different place. Slushman's, the quiet and pristine place, has been re-branded as Schlasman's, Bridger's new 337-acre expansion, and No Name has a name: Mundy's Bowl, after a ski patroller who died in 2005. The lift is complete, whisking skiers the 1,700 vertical feet to terrain deemed "extreme." Riding up the lift, rows of cliffs drained by narrow chutes punctuate the steep terrain. The runs are long and interrupted. There are no trail markers, and nothing is roped off. I've been warned about getting "cliffed out," by people who have experienced the concept firsthand. As with Bridger's celebrated Ridge, skiers and boarders are required to carry an avalanche transceiver. But unlike the Ridge, there's not an exhausting 20-plus minute hike to access it. The Schlasman's lift plops you off right in the middle of it.

"There's stobs, there's rocks, there's cliffs to fall off of, but it's all extreme terrain that people like to ski, and they don't want to be roped off of it," says Bridger Bowl General Manager Randy Elliott, adding that if ski patrol began to mark it, there'd be nothing left to ski. "We sign it at the bottom that you're entering natural terrain with no hazard or trail markings, and it's your choice if you choose to go there."

That has been the Bridger Ridge philosophy for years — but without the hike, what's to keep intermediate skiers from dropping in?

Bridger Bowl Ski Patrol Director Fay Johnson said it's a concern, but that injuries haven't been excessive. Of greater concern is the great mass looming just beyond Bridger's new southern boundary: Saddle Peak. The twin peaks of Saddle are a broad, white, treeless expanse, terminating in a fortress of cliffs spreading across its lower face. Extreme ski pioneer Tom Jungst told me that every year Saddle slides huge, right to the ground. And because it's not part of Bridger Bowl, there's no avalanche control, and rescues are channeled through Gallatin County Search and Rescue, not the ski patrol. As Elliott puts it, "We spend a huge amount of money and time making sure our little space inside the boundary is safe. There's nobody doing that for you out-of-bounds. The only thing that's guaranteed is that probably Search and Rescue's gonna come and try to find your body."

Johnson and I ski the narrow traverse across Mundy's Bowl, to an area along the boundary called Bitter End. There, we stop to regard a sign. It has a skull and crossbones and the words: "You are leaving the ski area. Are you prepared to die if you misjudge the avalanche hazard?"

Johnson points from the sign to Saddle's face: "Look at all the tracks, though. It's hammered."

As she says this, a snowboarder leaps the cornice on Saddle's summit, and two more fall in right behind him, not waiting till the first one reaches a safe area.

"You just don't know if people recognize the difference between controlled inside and backcountry, where all they have is their own judgment."

Johnson explains that because of the now-easy access, a lot of locals just lap Saddle all day long. "They're just streaming out. On any given day, there could be 30 to 50 people at one time hiking along the Ridge to Saddle," she says. Some call it the "slackcountry."

"People don't have to skin for an hour and a half to get there. Now they ride a lift and have a 10-minute hike. So in some ways I don't know if we've created a monster."

As we ski a narrow chute filled with heavy snow into the relative safety of Mundy's Bowl, I realize that, despite its dangers, I won't have skied Schlasman's until I've skied the Saddle Mountain slackcountry.

MY PARTNER IS A LANKY SKIER named Kyle Steger, a baker in the base lodge cafeteria who knows Bridger and the surrounding backcountry as well as anybody. Everyone calls him K-Y.

"I like going to find untracked powder — that's the best. Big, long runs of untracked powder," he says, adding that a big day for him might be four runs in the area outside Bridger's boundaries. "That's what you do all day long, but it takes you seven or eight hours to do that."

I had originally asked him to show me the ins and outs of Schlasman's. "You've got to hike, though," he said. "You've got to hike up the Saddle."

And so, here we are, on the narrow Ridge above Mundy's Bowl, skis strapped to our packs. The day is cold, gray and windy. We hike to the ski area boundary, and another sign. Are we prepared to die if we misjudge the avalanche danger?

I look at Kyle. "Are you?"

"Yes," he says without a blink. "Yes I would be, if it came down to that."

Me, I'm not so sure. K-Y has climbed and skied in the Beartooths, Tetons and Denali; his easygoingness is complemented by experience, so it sets my mind at ease. Plus, we're not alone. A handful of other skiers and snowboarders are making the hike up Saddle, too.

K-Y is philosophical on the way up. At 34, he's worked in the Jim Bridger Lodge for 12 years. He's dedicated his life to the pursuit of powder, and has no apologies. He rattles off sacrifices: He lives in a crappy house, he owns a crappy car, he has no health insurance, his schedule — skiing all day, working at night — is not conducive to having a girlfriend … but he calls baking a "killer job."

"I'll do what it takes to get to ski all the time."

His job also allows him the previously unknown perk of sleeping in the base lodge on powder days.

"They're used to it now," he says. "I surprised them pretty good the first couple of times I popped up in the morning."

I appreciate his light-hearted nature, but I'm still nervous — because of the steepness of the pitch, and because the top of Saddle is lined with tremendous wind-built cornices.

"Fear is part of it," he says. "When you're the first person to jump into a big, untouched powder field, you're skiing as fast as you can, you don't know if it's gonna break on you or not, you just want to get down and out to a safe zone."

He explains that being scared is a natural, acceptable part of life. "It's pretty exciting sometimes."

But this is not a big, untouched powder field. It hasn't snowed in several days, and the upper flanks of Saddle are scraped clean of fresh powder. The scariest part is the drop off the cornice onto the steep, hard slope. K-Y does it effortlessly, and I watch as he makes easy turns to a safe area below.

I follow, leaping off the cornice and landing solidly, making reasonably smooth turns to the safe zone. We ski along a ridgeline to a wide chute called Going Home, which skirts around Saddle's intimidating cliff band. The snow here is soft but heavy, a welcome relief from the harder stuff above. The run is long and tiring for me, but K-Y is excited to make another run. He wants to show me an area called Argentina, as far south as you can hike and still get back to the lift. As I board the chair, I wonder what I'm looking for. Fresh snow? Danger? A good story? I feel like I just want to get back home in one piece.

Back on Saddle's ridge, we hike to its southern peak. The wind continues to blow.

"I enjoy being scared sometimes," K-Y confesses. "Having to face my fears, or face the fact that I'm gonna die at some point. We tend to live and never think about that. … I think death is a part of life."

I ask him if he's trying to cheat death. "I want the good snow. I don't want to die," he says. "Ultimately it comes down to powder — fresh powder."

Cresting the cornice onto the south summit's face, the snow is twice as hard as on the last run, and I nervously skitter my way south to catch up with K-Y, making a long traverse. Finally, we reach a wide ridge marked with chutes. "If you can't find powder here, you won't find it anywhere," he says.

And sure enough, he's right. He guides me to a chute with only one set of tracks down it, while he goes off to find one for himself. Making my turns in the deep snow, it all starts to make sense. The slackcountry is really fun.

DAYS PASS, WITH NO NEW SNOW. General Manager Randy Elliott invites me to talk in his office, and I come at what appears to be an inopportune time — he's helping coordinate a rescue. A skier set off an avalanche on the backside of Saddle, and Gallatin County Search and Rescue sent in a helicopter. Elliott is finishing up with logistics.

"Sounds like they'll be sticking him in the ship and going straight to the hospital," he says into the phone. "I'll let you know if it's something different than that, but I don't have any idea, really, on injury or much of anything else, but [Gallatin National Forest Avalanche Center director Doug] Chabot should have the whole story for everybody tonight."

Talking to him about Saddle, it's hard to imagine the rescue isn't weighing on his mind. "Even though you've got skull and crossbones, and 'This is your decision point,' people still stream out there. We knew there'd be some of that, but it's been pretty amazing how clueless some folks are," he says. "It just goes right by them. They just don't get it, or they just are convinced it'll never be them.

"One of the reasons people love this lift and what we've done this year is just freedom. But with freedom comes responsibility. Or you're gonna die. I think people need to really be aware of that, and enjoy the freedom, but go and get the tools to understand what you're doing, know when it's good to go. 'Cause there are safe times to do almost anything. But there are also times when doing almost anything can kill you."

THE NEXT DAY I PAY A VISIT to a subdued K-Y in the base lodge kitchen. He hadn't skied that day, because he visited his buddy in the hospital. His buddy had ripped his quadricep from his knee; he was the one who had been caught in the avalanche the day before. K-Y was there, well below and safe, and had called in the rescue on his cell phone.

"He just slid out of sight, and we didn't know if he was buried or not," he says. Another friend, up high, had seen it happen, and called K-Y to say he could see the skier above the snow. The skiers below skinned up to him.

"I wouldn't say we didn't know what we were doing. We're taking chances sometimes. He happened to find the one little isolated pocket that broke, and that propagated and grabbed him. I'm sure he realized he was skiing in avalanche terrain. He wasn't expecting it to break, but it did."

K-Y says it's the first time he's ever had something like that happen. His friend will be off skis for six months.

"Oh, yeah, it definitely gives me pause. It's a terrible situation," he says.
Then he adds, "I'm not gonna stop skiing."

AT LONG LAST, THERE'S FRESH snow at Bridger. As the Schlasman's lift opens, a mass of smiling skiers patiently forms at the bottom. On the lift by myself, I consider my options. I could go left, and take my chances on Saddle. I recall the sign, and I think about what K-Y said about death being a part of life, and how it's sometimes good to be scared. As I get off the lift, I make my decision.

No.

No, I'm not prepared to die if I misjudge the avalanche hazard. What am I, crazy? I've got better things to do.

Instead, I shoulder my skis and head up the boot track to Slushman's Ravine, a run I skied earlier in the week with photographer Anne Sherwood. Then, the snow was scraped off and we were petrified as we picked our way through the narrow, icy couloir.

But now… it was a dream. The snow was soft and powdery, and my turns were confident and easy, straight through to the bottom.

There may be something to be said for fear. We all have our epics. Mine will have to wait.

__________
History of Extreme Skiing at Bridger Bowl
BRIDGER BOWL'S 8,800-foot Ridge first opened to the public in 1973, but for Bozeman skier Tom Jungst and his cohorts from the era, the deep-snow winter of 1979-1980 was when it really all began.
"It just coincided with all of us being as strong as we could be: We had climbing experience, we were all 21 or 22, so we had a little bit of common sense, and we had avalanche awareness, and it was a huge ski season — I mean, every day it just got deeper and deeper."
Jungst and friends Jim Connelly, Scott Schmidt, Emil Tanner, Dave Wachs, and U.S. Ski Hall of famer Doug Coombs, looked at the Ridge differently from those who just yearned for deep powder. They took a competitive approach, making 12 to 14 Ridge hikes a day, in what Jungst refers to as "mini-golfing." Influenced by local rock and ice climbers, the group sought out not wide powder runs, but narrow chutes and cliffs.
"If it included a rappel in the middle, a cliff, I wasn't afraid of that because I was already climbing ice and rock at a high grade. So that just made it more interesting to me. If it involved stair-steps of cliffs, that was even better," Jungst says. "Bridger had that terrain that was really complicated, and it translated really well when we'd go off to the Tetons, or any of the ranges around here, and then ultimately to Europe or Alaska."
Writer Tim Cahill and photographer Paul Dix chronicled the group's exploits in a Feb. 28, 1985 Rolling Stone article called "Going to Extremes — Adventures in the Endo Zone." Soon after that Warren Miller came to film a ski movie, and word of Bridger's intense Ridge was out.
Jungst notes that the opening of the Schlasman's lift marks a new chapter in extreme skiing at Bridger. "I'm nervous about the expansion, in a sense, but it's pretty awesome to see people skiing Saddle non-stop. That will create big mountain skiers," he says.
"The skiers will just be incredible in the next few years, I would predict. Stronger, and everything. I wish I was young!"