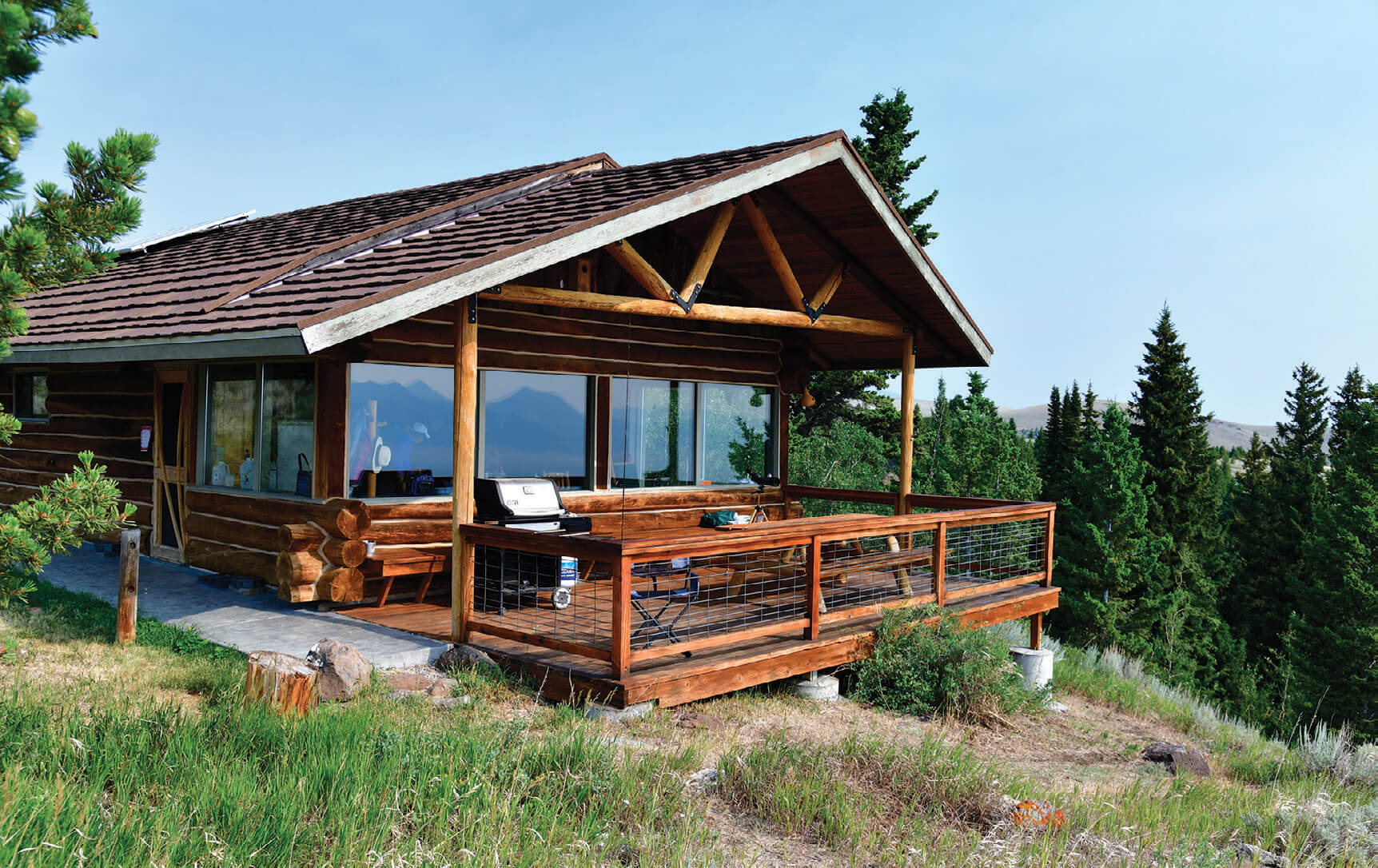 The Bureau of Land Management's (BLM) cozy rental cabin is tucked in southwest Montana's Gravelly Range and surrounded by the unusual Axolotl Lakes.
02 Feb

Exploring Montana's Axolotl Lakes

in

We gaped from our cabin deck as thunder roared and lightning stung the high peaks of southwest Montana's Gravelly and Madison ranges, 10,000-foot monoliths like Sphinx and Helmet. Rain strafed our roof — a deluge unseen in months — dousing intense July heat and wildfire smoke. Luminous meadows filled with wildflowers received the rejuvenating moisture required to persist into August. As the storm cleared far to the east, the fabled Madison River wound silently through a tree-fringed riparian area and vast, tawny valley, framed by trademark terraces and alluvial fans. To the west — unseen several miles over the ridge — slumbered Alder Gulch, one of Montana's most notorious historic mining districts.

 Once in a blue moon, life offers a serendipitous convergence between old friends, perfect lodging, and stunning natural landscapes, brought together in part by a landmark birthday and COVID vaccinations. That's what graced me, my wife Mary, and vintage friends Bruce and Tom, who drove cross-country from California and Minnesota for the rendezvous, reuniting more than a century of collective friendship for one more adventure together in a long book of interwoven stories. As the Greek philosopher Aristotle observed, "Wishing to be friends is quick work, but friendship is a slow ripening fruit."

We were surrounded by fertile lakes holding sizable cutthroats, rainbows, arctic grayling, and a rare salamander — the axolotl (pronounced ack-suh-LOT-uhl). These olive and lime green creatures are found in few other places, and they have increasingly rare relatives near Mexico City (the name axolotl is derived from an Aztec word for water monster). How these harmless amphibians arrived and developed in their namesake foothill lakes at 7,000 feet is among Montana's great bio-geographical mysteries. These odd beasts — with flamboyant, feathery external gills — are among the draws here, with kids and adults alike eagerly searching for one like the Holy Grail, trying for a quick catch-and-release snapshot.
Hanging at our ethereal Roost
His arrival temporarily impeded by the downpour that rendered the hill to the cabin treacherous, Bruce grinned and greeted me the next morning: "Hey, Jerry!" Deadheads that we are, he was referring to the exuberant, gray, Garcia-like beard I grew over the long pandemic winter, showcasing my elder status.
Basecamp for our explorations was the iconic Axolotl log cabin, owned by the Bureau of Land Management (BLM). This abode had been bucket-listed for years, but other trips and competitive booking challenges previously prevented us from visiting. We largely had this paradise to ourselves, like feudal lords on a mountainside manor, but the public lands surrounding us were open to anyone.
There was capacious room to roam, on the edge of a BLM wilderness study area, with peaks rising above 9,000 feet to the south in the Beaverhead-Deerlodge National Forest. We took informal trails to some lakes, otherwise trekking cross-country through patchworks of forest and subalpine meadows pulsating with kaleidoscopic butterflies.
At one lake, Mary and Bruce inflated a kayak and donned snorkeling gear, while I unfurled casts with my 5-weight wand and Tom relaxed on the shore. Delighted, Bruce and Mary floated dreamlike over impressionistic, Monet-esque cloud reflections and verdant gardens of aquatic vegetation, rich grazing for insects and the trout and salamanders feasting on them. 
We heard the prehistoric croaking of sandhill cranes, observed a freshly excavated badger den, and marveled at boulders that a bear had overturned, searching for ants or grubs. Fifty years ago, grizzlies were exterminated from the Gravelly Range, but they're back, still demanding to be addressed as "sir."
trout, axolotls, and transparent water
Arctic grayling, mountain whitefish, and westslope cutthroat trout are salmonids native to the Madison River drainage, connected to the Axolotl Lakes via Moran Creek. Today, the Madison watershed's cutthroats and grayling have largely been usurped by non-native rainbow, brown, and brook trout.
There are half a dozen or so pristine lakes in the Axolotl area, partly depending on how one differentiates lakes from ponds. There are shore casting options, but a canoe, kayak, or float tube opens more opportunities. These fish enjoy a buffet of natural food, so tempting them won't necessarily be easy; a scud — or freshwater shrimp — makes an excellent first fly choice.
  In the area's largest waterbody, Axolotl Lake, Montana Fish, Wildlife & Parks (MT FWP) previously stocked rainbows, grayling, and Yellowstone cutthroats, but since 2012, westslopes have been the primary focus. In addition to these local efforts, MT FWP has used Upper Twin Lake (north of Axolotl Lake) as a rearing area for arctic grayling reintroduced to other waters, including Grayling Creek in Yellowstone National Park.
  Axolotls seem to have disappeared from some lakes, perhaps due to trout predation. This has occurred in mountain waters elsewhere, with trout introduced to previously inaccessible lakes (due to waterfalls or other barriers), then preying on the vulnerable indigenous amphibians. Fortunately, the unique salamanders persist in two Axolotl Basin lakes, with adults averaging 6 to 10 inches in length.
The animals are idiosyncratic because, unlike other tiger salamander variants, they don't metamorphose beyond their juvenile larval stage to become terrestrial, although they do become sexually mature. Amphibians — meaning double life in Greek — were among the earliest life forms to develop lungs and adapt from water to land, so the axolotl is a kind of evolutionary throwback. That said, its flexibility to remain aquatic in places where a land-based existence might be tenuous provides an adaptive advantage, voracious trout notwithstanding. The beasts also have a remarkable ability to regenerate lost body parts, a trait medical researchers hope might offer future benefits to humans.   
old friends in a special place
After positioning his spotting scope on our deck to scan for elk, moose, wolves, or bighorn sheep, Bruce uncased his guitar and played some favorite Bob Dylan songs from his deep repertoire. The rest of us listened and enjoyed the view, sipping Zinfandel and barbecuing steaks on a perfect summer evening. 
Bruce and I have been pals since fourth grade, after haphazardly sitting together on a school field trip. Many friends and acquaintances have cycled through over the years — often naturally drifting on to new places and people — but my relationship with Bruce has endured and evolved through thick and thin. We've survived many precarious situations over the years, like when we nearly burned down his family's new Wisconsin trout stream cabin after some college road-trip shenanigans.
And then there was the awkwardness over a mutual French girlfriend in our twenties. We eventually talked it over, driving late at night, as good buddies often do: empathy, understanding, and mutual respect leading to many more escapades together. I also taught quick-study Bruce how to fly fish on a Minnesota spring creek, a preoccupation that he has continued to enjoy intermittently over the years, including a couple of five-day float trips on Montana's Smith River.
Years ago, I introduced Bruce to Tom; both being intrepid, well-read, free-thinking artists, they hit it off. I got to know Tom in college, when we both worked as token security guards at a large research/industrial complex near the University of Minnesota, in Minneapolis. We sometimes pulled all-night shifts together, guarding the empty behemoth, doing our 45-minute rounds through the building's dark, spooky bowels, scanning the emergency warning board, but mostly sitting around talking, reading, or working on class projects. Earning $4.25 an hour, I sometimes thought we were overpaid. Keeping things fresh at 3 a.m., Tom once completed a round wearing only tennis shoes. When I finally graduated, I bought a cheap around-the-world plane ticket and disappeared for 15 months, future employment be damned. One day, after collecting mail in Kathmandu, Nepal, I opened a letter from Tom. He had enclosed a montage of the entire front of his naked body, reduced and cobbled together, taken late at night on the company photo-copy machine. If a secretary pulled out a curious paper jam the next morning, the subject was unidentifiable.
Mary and I met in grad school, while I was renting a room in Tom's south Minneapolis house. She sat next to me and saved my ass in statistics, which enhanced my understanding that some people are vastly smarter and better at many things than me. Mary became a regular visitor at Tom's place after classes, perhaps not to Tom's great delight then. She and I dated for seven years, lived together for six, broke up and presumably moved on, got back together, and did a 1993 road trip to the Ozark Mountains, eloping in the tiny town of Jasper, Arkansas, where we got married for about $60. We spent our so-called honeymoon camped nearby in the limestone-walled Buffalo River canyon — smallmouth-bass paradise — before moving to Montana in 1994. I introduced Mary to fly fishing when we were dating; her skills were later enhanced by Joan Wulff's tutoring. She still picks up her sweet rods periodically, as the spirit moves her. 
Relationship hits and misses still confound me, tippets holding or breaking, last chance phone calls and conversations that repair damage — or not — perhaps somehow keeping things together. And the frayed strand that pulls these vagabonding renegades together is me. Before this get-together, it had been a tough few years, COVID and global malaise being the wide-angle context. But zooming closer into my personal world, it had been a rough period, too: my mother's death, the sale of the venerable family house, estate settlement nightmares, and a seemingly routine cataract surgery followed by detaching retinas in both eyes, which threatened cave salamander-like blindness. It seemed a powerful undertow, intent on sucking me out to sea, my trivial version of the Trials of Job. But I improved and endured, grateful to be with friends on another sojourn, fly rod in hand. As the renowned New York sports writer Red Smith once said at a colleague's eulogy, "Dying is no big deal. Living is the trick."
Fly fishing is certainly about catching colorful trout, but for me it's increasingly people, beautiful places, and story-generating memories. And if you don't put in the time together — increasingly harder as decades accumulate beyond our teens and twenties — it's tougher to make and retain the good friends that sustain us. If you metaphorically consider life as gradually moving from room to room through a palace — each marking different periods — Mary, Bruce, and Tom have fortuitously inhabited most of mine.
wild west culture: Ennis, Virginia City, and Alder
The Gravelly Range encompasses expansive, remote country, but little outposts of civilization like Ennis, Virginia City, and Alder, with deep wells of history and lively saloons, also beckon nearby. Ennis was added to the Montana map after Scottish-Irish immigrant, homesteader, and entrepreneur William Ennis established a post office there in 1881. Although Ennis was murdered in 1898 — ironically, by an old friend — his family continued to run the many businesses he established to support the growing population of miners and ranchers, helping the town thrive. Today, Ennis is the northern gateway to Madison River trout utopia, a place to stock up on provisions, hire a drift-boat guide, or purchase that fancy $1,000 fly rod you've been dreaming about all winter.
The first night at Axolotl, Bruce's arrival was delayed when he inadvertently stumbled into a raucous wedding celebration at Montana's oldest bar — Virginia City's Bale of Hay Saloon — and, by his account, became the life of the party, regaling partying bridesmaids like a mining camp raconteur, then performing impromptu harmonica fills with the band. Being a student of music, mining, geology, and humanity, this was Bruce's kind of place.
In 1863, the Virginia and Nevada city environs exploded into Montana's second major gold rush, a magnet drawing hundreds of miners from Bannack's boomtown. The area became Montana's most lucrative placer (stream bed) mining district, eventually producing $100 million in gold and holding 10,000 restless, wealth-seeking souls at its apogee. As historian K. Ross Toole put it in his classic, Montana: An Uncommon Land, "the rootless men were quickly poised and attuned to the rumors which were constantly boiling in the bars and hostels."
Though the village holds a rowdy, violent, vigilante history, it morphed into Montana's territorial capital from 1865 to 1875. Virginia City's fortunes ebbed after gold waned, but it remains a remarkable treasure, the Madison County seat, and a National Historic Landmark as of 1961. The State of Montana purchased many aging buildings in 1997, helping to preserve one of the West's most compelling old mining towns. A Depression-era road sign written by folksy highway history bard Robert Fletcher explained: "It was a trading point where gold dust and nuggets were the medium of exchange: Where men were men and women were scarce. … The gulch was once filled with romance, glamour, melodrama, comedy, and tragedy. It's plumb peaceful now."
On our last night together after leaving Axolotl, we camped near tiny Alder, overlooking an old dredge pond, tailings piled high on the other side. It was the perfect setting at the lower end of the Alder Creek mining district, which snakes more than a dozen miles up through Virginia City to the Gravelly Range and western edge of the Axolotl Lakes Wilderness Study Area. After all the mining mayhem, the creek astonishingly still holds trout, as do some dredge ponds. In the evening, we ambled down to the town's main social center — Chick's Bar — for beer and burgers, while dogs begged, neighbors visited, and local sharks brandished pool cues. 
Later, our campfire ebbing, Tom accidentally triggered his car alarm around 1 a.m., blasting interminably as he struggled to kill it, an early wake-up call for slumbering campers. The next morning at breakfast, before we all dispersed to our distant homes through thick forest-fire haze, some armed but friendly campers came over and asked if they could shoot down a giant hornet's nest above our picnic table, 20 feet up an ancient cottonwood tree. We convinced them the hornets weren't bothering anyone — yet — so they reluctantly relented.
Another birthday over — albeit a special one — I felt one step closer to bliss or oblivion. Through the right lens, life is an Axolotl-like regeneration, a celebration of the miracle that came to pass at all, an invitation toward gratitude that we friends made it this far together. It's seemingly improbable, given the hazardous rapids navigated; we're cats who've used up most of our proverbial nine lives. There seemed no better place to mark this milestone than the Axolotl cabin and its locale, surrounded by trout-filled lakes, butterfly galaxies, and astonishing amphibians. After all, the latter was merely an eccentric variant of the mellow, Minnesota tiger salamanders I kept as treasured, terrarium, boyhood pets seemingly a lifetime ago, proudly showing my new friend Bruce how they ate worms right out of my hand. Thirteenth century Italian philosopher Thomas Aquinas hit the deepest mother lode when he observed: "There is nothing on this earth more to be prized than true friendship."