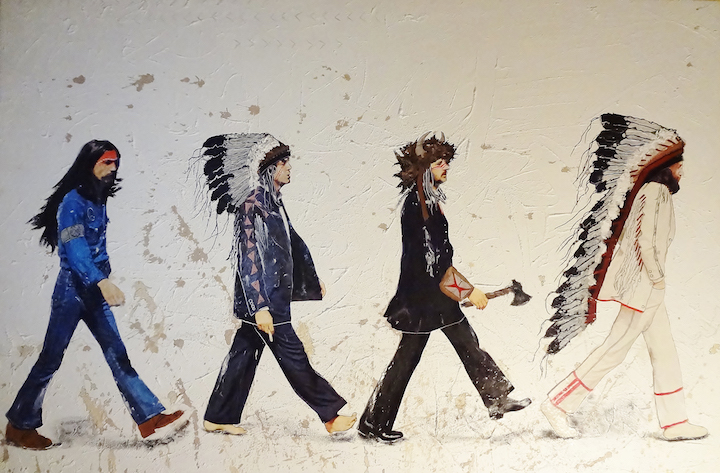 22 Dec

Exhibition at Old Main Gallery and Framing Features Contemporary Native American Artwork

in

Voices from the Plains: John Isaiah Pepion and Ben Pease Runs Through the Month of January

Old Main Gallery Gallery in downtown Bozeman, Montana is hosting an opening on January 5 from 5 to 7pm for a show featuring the works of contemporary Native American artists John Isaiah Pepion and Ben Pease, featuring the Honor Song by Bear Canyon Singers (Native American drum group) at 6pm.

About the Artists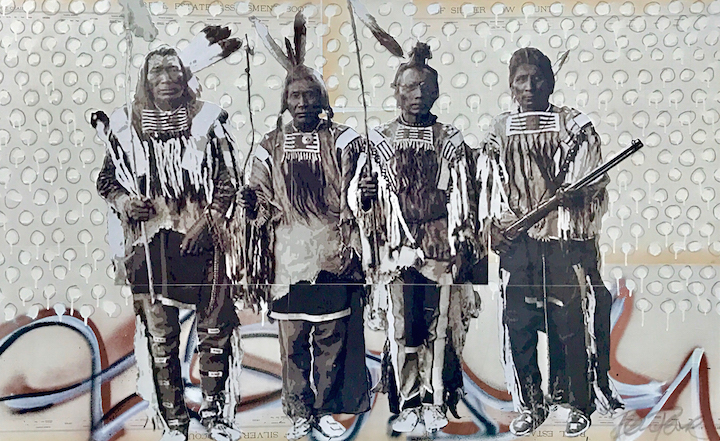 Ben Pease
Artwork by Ben Pease shows a merging of the traditional past and present of Plains Indian life and leaders. His practice of working with historic photographs, vintage posters, and antique ledger paper — then marking and altering them with graffiti style spray painting, India ink, graphite, and digital painting, produce provoking artworks that challenge and educate viewers.
Pease is from the Crow and Northern Cheyenne Nations in South Eastern Montana. In his artist bio, he states: "Throughout my journey I've acquired experiences through being a father, brother, son, husband, student, athlete, artist, actor, traditionalist, and much more. Currently, I'm in the midst of completing my undergraduate degree at Montana State University with an emphasis in studio arts with a possible minor in Native American Studies. I was born in 1989 and raised on the Crow Reservation. Throughout my life, I've tried to soak up as much cultural, societal, and traditional aspects of what it means to be an aboriginal from North America in the whirlwind of today. I find my definition of being Native to this land as an interpersonal physical and spiritual relationship which is connected to all surrounding entities, beings, organisms, and geological features. My work and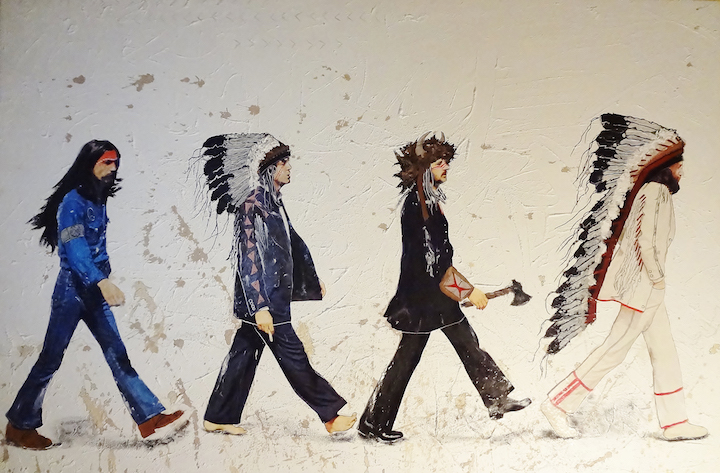 process are currently evolving, for the more I learn, the less I know. I've recently crossed paths with self-appointed task of narrating the Aboriginal struggles and aesthetics through my personal interpretation. Whether my art focuses upon statements drawn from the aspect of an activist or based on cultural recording, I feel the need to educate and speak volumes. I will continue my transition from a so-called "Rez-Kid" to a culturally rich Contemporary Storyteller. My journey as a storyteller stands as a continuation of my contribution to our contemporary cultures, as I will pass along the knowledge I earn. I am eager."
John Pepion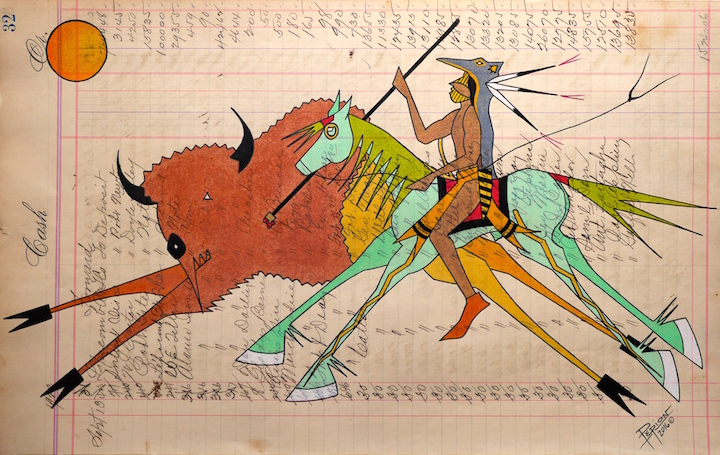 John Pepion's artwork follows in the tradition of the Plains Indian graphic arts style, which came about as a result of increased contact with soldiers and westward settlement. Using pen, pencil, and watercolor, drawings were made in bound ledger books commonly used by traders and military officers after tribes were confined to reservations, and buffalo hide was no longer a source on which to record their exploits and life events. Continuing this practice, John records scenes from his personal life in a bold and colorful Blackfeet style.
Pepion is an artist who hails from the Blackfeet Nation in northern Montana. The art journey has been ceremonial for John as his understanding of his past, family, and culture grows with his work. He descends from Mountain Chief, a Blackfeet leader who preserved history through numerous winter counts. Through art, John finds personal healing and cultural preservation. He speaks with troubled youth in public schools to promote the benefits of art as therapy. John holds formal degrees in Art Marketing and Museum Studies from United Tribes Technical College and the Institute of American Indian Arts,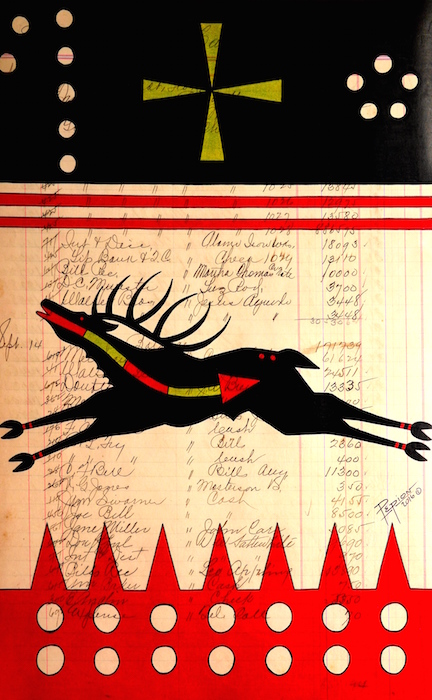 respectively. However, his education continues with every piece he creates and with every story he shares. John incorporates traditional design elements into colorful contemporary illustrations, leaving his work highly recognizable. Most importantly, John's art deepens his connections to self and place, providing him with a sense of strength.
The show will run through the month of Januray. Old Main Gallery & Framing is located at 129 East Main Street in Bozeman, Montana.