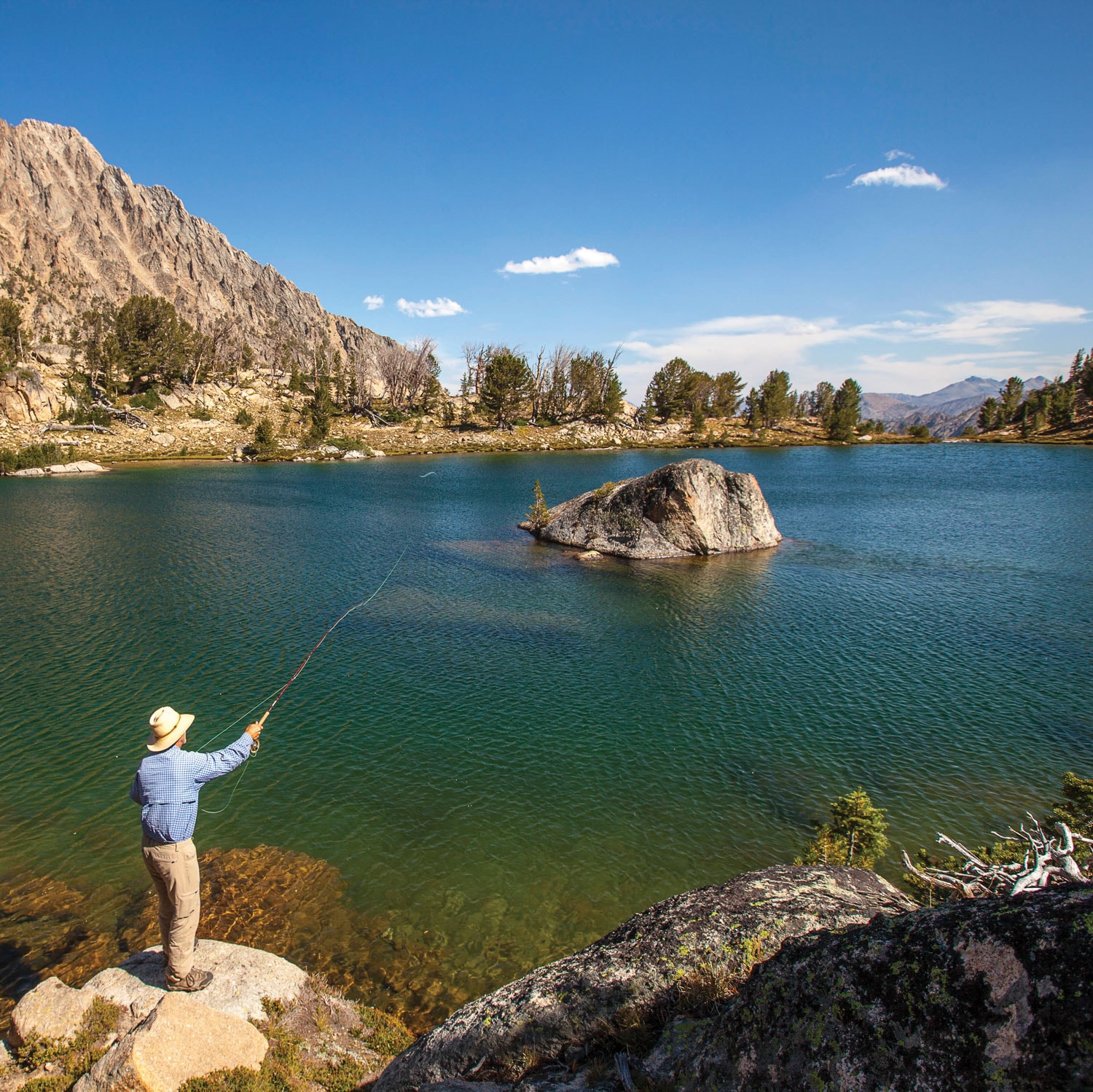 Photography by: Glenn Oakley
13 Feb

Earn your Casts

in
Fishing mountain lakes
As passionate as we claim to be, many fly anglers reach a time in our lives when that excitement wanes, and we yearn for a higher level of challenge and adventure. Some turn to the fierce steelhead of the Pacific Northwest, some fly to the salt for 100-pound tarpon, others pack up a van and drive the transcontinental highway to Argentina. For me, that next level was probing backcountry alpine lakes in search of grayling, cutthroat, and golden trout.
This challenge and adventure lies mostly in getting there, right boot after left, uphill for miles on sometimes-sketchy trails, hours from creature comforts. But there's also new challenge in the fishing: Mountain trout can be fickle, moody, day-to-day and year-to-year, as they often achieve a wise old age and a befitting skepticism.
It's not for every angler. Some of my closest fishing buddies are bored by alpine lakes. Others are dissuaded by the time and effort required to get to them. But even then, something about the endeavor usually holds some appeal. Maybe it's the wildflowers, huckleberries, and mushrooms, or the possibility of snapping a shot for Instagram. Perhaps it's the awe you experience when the blue-green water comes into view, the thrill of being miles deep in grizzly domain, or the endorphins produced after hiking 15 miles of sloped trails. Maybe it's the pleasure of a low-pressure mountain hike, the satisfaction of catching a pure Montana black-spotted cutthroat or a blue-finned grayling.
It's true that the fish sometimes are small or stubborn. And some days, you might not feel like a long drive and/or a big hike before fishing. Heck, sometimes the lakes turn out to be barren, and maybe that's not a risk you're willing to take.
And that's fine. Good in fact. Great, actually.
If all the anglers who float the mainstems went to these cirques, they would lose a lot of appeal. Solitude, it turns out, is my favorite thing about fishing mountain lakes. The isolation that has become increasingly difficult to find, even while fly fishing in Montana, is still abundant at mountain lakes.
It's a conundrum, selling the experience while pointing out that too many takers would ruin it. But I'm not too worried about crowding on our public lands. More users could mean more voters, which could mean more land for us all to spread out on.
Whether you do it for the exercise, the foraging, the satisfaction, or something else, maybe you too could kindle some passion at one of the Northern Rockies' many fishy mountain lakes.
WHERE TO GO
Cowbone / Darkhorse lakes
Near the Idaho border, 15 miles from Jackson, Montana, in the Beaverhead Range
Located in a sparsely populated and seldom visited part of the Rockies, Cowbone and Darkhorse could be the angler's quintessential mountain lakes. Both are scenic and downright gorgeous, accessible via a moderate hike, and host native westslope cutthroat trout. The fish aren't particularly sophisticated at either lake; Cowbone seems to host larger trout, but Darkhorse is prettier. Don't waste time on fly selection, as Woolly Buggers and scuds work well.
Access: Via the Continental Divide Trail or from Forest Service Road 7330 with a short hike. Sources say that 7330 is drivable with 4-wheel-drive, but I don't recommend it without scouting.
GPS Coordinates: Cowbone Lake: 45.158157, -113.575942 Darkhorse Lake: 45.162409, -113.584052 
USGS Quad: Goldstone Pass
Lake Louise
20 miles south/southeast of Cardwell, Montana, via South Boulder Road
Lake Louise might be the ideal highland fishing lake, but it's also the Tobacco Roots' most popular hike-in lake, owing to its wide and mild trail, rugged beauty, and large trout. But popular isn't ideal. One sunny August afternoon, we passed no fewer than 12 rod-toting hikers, including one young lady who indiscriminately boasted of the lake's sizable trout to passersby. Louise is stocked with westslope cutts and maintains a wild population of Yellowstone cutts. It's these wild fish that draw anglers. This is normally the kind of fishery that I am intentionally vague about, but the cat's out of the bag here. These large fish, upward of 2 feet, are typically reserved for skilled anglers.
GPS Coordinates: 45.595619, -112.047336 
USGS Quad: Noble Peak
Sawtooth Lake
25 miles northwest of Dillon, Montana, in the East Pioneer Mountains
Sawtooth Lake is a tale of two species: the brook trout, which is notoriously outgoing and unafraid, and the golden trout, which is notoriously the opposite. True to form, I've landed countless brookies and seen only one golden, which quickly swam away. Bring dry flies for the brookies, but don't expect any to sit out long enough to catch a golden. (I have no advice for catching the goldens.) A charming 3-mile hike through burnouts and berries will lead you to Sawtooth, which is named after the jagged ridgeline. This is another popular lake, but more for swimming families than anglers. Note: Look for the plane wreckage around the southeast corner of the lake.
GPS Coordinates: 45.432335, -113.032953 
USGS Quad: Elkhorn Hot Springs
Blue Danube Lake
3 miles northwest of Quake Lake in Montana's southern Madison Range
If brookies and goldens are not interesting enough, you might check out Blue Danube Lake, home to extremely rare cutthroat X golden trout hybrids (AKA gold-cutt combo). These fish occur naturally, as the progeny of previously stocked pure strains of the two species. The lake is currently stocked with pure westslopes, and might still have a few wild pure-strain golden trout. I've only landed one fish here, which could have been a gold-cutt combo. It was at least part golden trout; a strange hue of bright yellow and orange, with spotting more typical of a cutthroat trout. Nearby Avalanche Lake is also worth 
checking out for the views.
GPS Coordinates: 44.876778, -111.438594 
USGS Quad: Hilgard Peak
Pine Creek Lake
15 miles south of Livingston, Montana,in the Absaroka Range
Pine Creek Lake is well known to locals for being one of the most beautiful places in an area, riddled with incredible scenery. It's also known for its challenging 10-mile round-trip hike. The fishing here isn't particularly noteworthy, but it does host stocked Yellowstone cutthroat that grow to about 16 inches. Pine Creek, from the lake to the campground in the foothills, is basically one big waterfall, and the trail parallels the creek most of the arduous way. Go for the sights and the challenge, and also fish a bit.
GPS Coordinates: 45.486604, -110.465516; USGS Quad: Mount Cowen
Golden Trout Lakes
6 miles southeast of Big Sky's Meadow Village in the Gallatin Range
Maybe you've heard that golden trout are challenging. They are. They're often difficult to get to and difficult to fool. But sometimes they occupy relatively accessible places, like Golden Trout Lakes. These five lakes require a mild 2-mile jaunt from the end of Portal Creek Road, off U.S. Highway 191 in the Gallatin Canyon. As far as I know, two of the five host golden trout. But one thing about fishing mountain lakes: You always gotta go to know for sure. These fish rarely exceed 14 inches, so trophy hunters need not apply. But really, any golden trout in your net is a trophy.
GPS Coordinates: 
45.234026, -111.133870 
USGS Quad: Lone Indian Peak
TIPS
Seek Elevation: The biggest mountain lake trout are often at middle elevations, around 7,000 to 8,000 feet above sea level in Southwest Montana. This offers an optimal combination of long growing seasons, clean, cold water for the trout to thrive, and fertile fisheries that provide an abundance of forage food (high mountain lakes are often very cold, and thus do not support abundant bug life for the fish to feed on).
Stay the Night: Camping can increase your odds. Sometimes the fish are simply off, and patience is not always possible when half of your day is consumed by hiking. Fishing at dusk and dawn can make a big difference and is only an option if you're staying the night.
Try anything: If the fish are off, and you cannot stay the night, get wacky. Forget conventional methods. Strip nymphs. Fish foam hoppers under the surface. Float an egg. Try it all, because finicky mountain lake fish will often break their fast for offerings that pique their curiosity.
Stay connected: There might be an instinct to unplug, but I encourage anglers to take advantage of the tools that smart phones provide. In particular, an app called Avenza Maps is free, provides downloadable USGS quads, and will show your location without internet service. Smart phones also allow anglers to reference e-books (backcountry first aid, for example), provide light, tell time, take photos, and, sometimes, communicate.
Study up: Scour the internet, find some of the many books about fly fishing mountain lakes (such as my very own Flyfisher's Guide to Southwest Montana's Mountain Lakes), and talk to locals. These lakes are largely unknown, so you might have to do a deep dive. But you also might find your own fishing paradise.