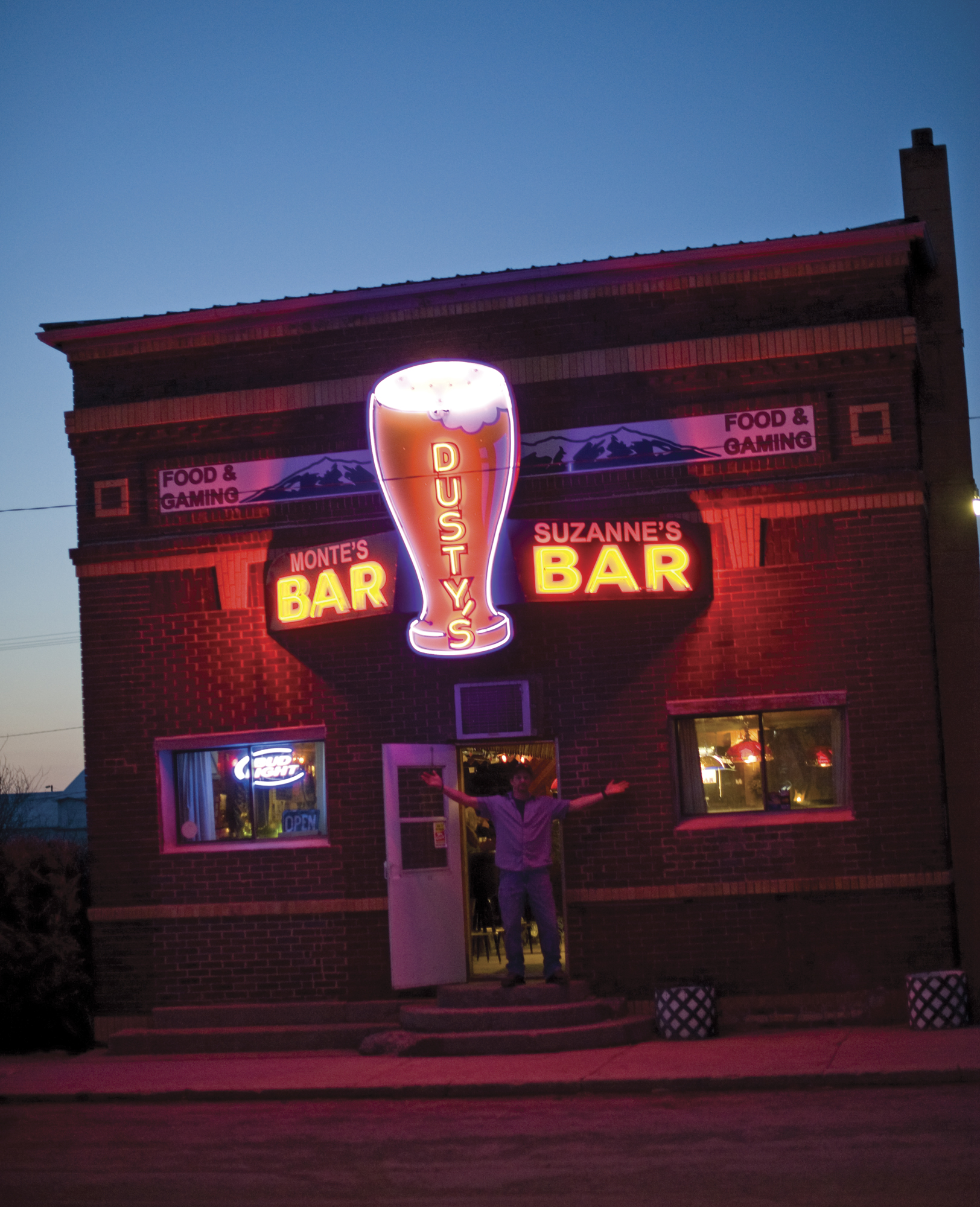 23 Jul

Dining Out: Dusty's Bar

in
---
Dusty's Bar in Brady, Montana, used to be a bank — the safe still sits locked downstairs — but the bartender's present day tab-keeping methods don't indicate any fiscal sensibilities. Patrons, regulars or just passers-through, hear a lot of "That one's on the bar," or "Here's a free drink token" or "This one's from Paul and Martha at the back table." Who are Paul and Martha? They don't know you either, but they're glad you're here at their home pub, and perhaps they like your style (muck boots folded down around your ankles, pheasant rump feathers falling from your Carhartt pockets when you dig for cash, hunting lid still pulled tight around your ears) or simply want to help you settle in. At Dusty's, a Brady Main Street mainstay since 1946, the ratio of drinks purchased by you to drinks purchased for you is often shockingly low. And you'll probably be pleasantly taken aback by the price of the first tall one you order, might even wonder under your breath, "That's it? For a double?" to which someone behind the bar will reply, "Yep. We're not trying to get rich here, just keep people happy."
That someone behind the bar is usually Mary or Roger Stinson, co-owners of Dusty's since 2000. A former nurse and farmer respectively, Mary and Roger, have lived near Brady for most of their lives and can recall and retell, quite laconically, countless stories from the bar's past. Like the time a canoe, loaded with a young man and woman, came cascading down a flight of stairs and into the barroom — "Guess they wanted to shoot the shoots," Mary says. What were they doing upstairs? "Probably dancing at some disco party. A couple of guys back in the 70s, Dan and Dale, renovated the upstairs and turned it into a disco hall, ran it for about eight or 10 years before it went out of style." Vintage — complete with bar, velvet wallpaper, floor lights and disco ball — the room upstairs waits for a disco revival, "but anymore we just use it for overflow on Friday nights."
Friday nights find the bar packed tight as a September grain mill with patrons pining for Mary's homemade slow-cooked spare ribs, which she serves with coleslaw and a roll for five bucks. As smoky as they are tangy, the ribs go perfectly with a pint of Beltian White brewed in nearby Belt, and poured slow and cold by Roger.
When he's not mixing drinks, Roger can be found at the south corner of the bar looking suspiciously like a customer with his trademark cigar and half-downed pint, or opening up the pool table for some guy who ran out of quarters, or shoveling fuel into the wheat-burning stove he installed last year to replace the traditional wood-burner. Why a wheat-burner? "Have you seen any woodlots near Brady?" Roger says. "Shoot, no one's even got a chainsaw around here." Barb-sharp, quick-witted, and wily as the rooster pheasants so many hunters travel to central Montana for, Roger has an unbelievable memory for faces.
Last October after bird hunting a scant mile away from Dusty's, I wandered up the steps, through the bar's screen door, and sat down on a stool below the Christmas lights (more on these momentarily) to order a round for myself and my hunting partner who was, as yet, outside admiring a whitetail buck in the back of a someone's pickup. Though I only get to Dusty's once or twice a year, Roger somehow remembered my face.
"How about those Tigers this year?" he asked, his cigar pointing to the Tigers-Cardinals World Series game on the television.
"I'm rooting for them, that's for sure," I said. "Grew up in Michigan."
"I know," Roger said, "I remember. We talked about the train-wreck Lions when you were here last year."
We had, of course, discussed the Lions, but a year's worth of new faces and conversations had elided, in my harried mind, that 10-minute conversation with Roger.
"You should buy a light this year," he said, looking up at the strands of lit bulbs above his head, "give you an excuse to come back in the spring." Now this, a traditional bar game played at Dusty's along with Shake-a-Day (but you get two shakes), I remembered. Each year, Roger and Mary buy two strands of Christmas lights, 25 bulbs to a strand. Customers buy bulbs (you write your name, nickname or slogan on a 3-by-5 card that sits behind the light) for $10 apiece, and then wait around, literally, for the lights to burn out. Depending on the year, this game, called, surprisingly, "Christmas Lights," can take several months: the owner of the bulb that burns out first on each strand receives $50 from the pot, and is declared a preliminary winner; the grand prize winners are the owners of the two bulbs that stay lit after all others have faded out. Someone once said he'd hate to be the guy who has to sit around watching all the lights burn out, but I'd take the job at Dusty's — where the people you always imagined meeting in rural Montana are usually a barstool down — any day.
I chewed the fat for a bit longer with Roger but the Tigers' fielding had me on edge so I told him, "Count me in on 'Christmas Lights,'" then walked outside to see why JL hadn't come in from the cold to retrieve his drink. In the parking lot beneath the wide spray of stars, he stood huddled beside the tailgate-perched propane grill, his headlamp shining on a half-dozen sizzling venison brats.
"You gonna eat all those?" I asked.
"Heck no," he replied, rotating the brats around the grill with a fork. "I'm cooking them for Todd and the Doctor."
"Who are Todd and the Doctor?"
"These guys I just met. Todd's taking us deer hunting on Sunday. He's got a honey hole."
I looked at JL the way a parent looks at a child who is telling stories about an imaginary friend: "Where are 'Todd' and 'the Doctor' now?"
"They're in their truck," he said, deadpan, "looking for a picture of some whitetail the Doctor shot."
Momentarily, two men emerged from a nearby pickup and ambled over, the shorter man holding something tight to his chest.
"Todd, Doctor," JL said, "this is my buddy CD. You guys want Coney Island mustard on these?"
They did want the mustard and Josh slopped it onto the brats he'd rolled up in serviceable slices of white bread, and we all four chewed until the Doctor, nonchalant, as if he'd just stumbled upon it in his pocket, furnished the 4-by-5 photo: "Oh yeah, I almost forgot. Take a look at this buck."
It was, truth be told, hard to see the deer for the antlers: in-velvet, massive, tines spilling out every which way. Unfathomably huge, the buck was so beyond my ken I couldn't even envy it, but I ooh-ed and ah-ed with JL and Todd until I could hardly breathe. Then the Doctor cut short our gushing:
"Yeah, I had an 8-by-10 glossy in the truck, too, but I didn't want you getting fingerprints all over it."