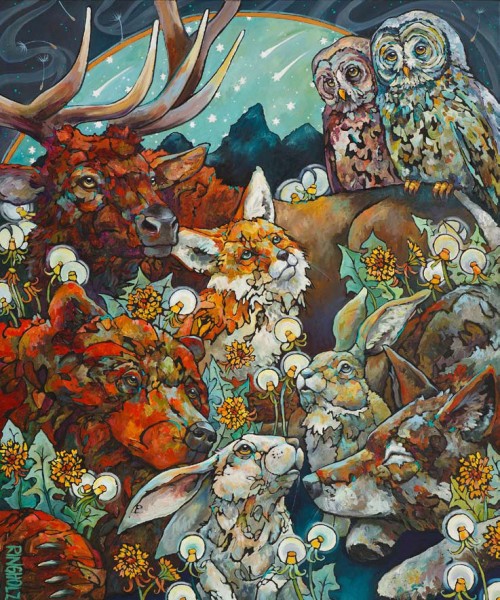 15 Jul

Dreamers Don't Sleep

in

AT AGE 34, WILDLIFE ARTIST Amy Ringholz has met all of the career goals she established a decade ago: She has been named the featured artist for the 2012 Jackson Hole Fall Arts Festival; she is among artists selected for Western Visions, the National Museum of Wildlife Art's prestigious show and sale; and she will mark her 34th solo exhibit in September.

Those accomplishments — and the talent and discipline that realized them — prove Ringholz to be that unusual mix: a gifted artist and savvy businesswoman. What is also true about the artist and wildlife paintings that spring to life amid bold, black-inked lines and many-colored oils is that they represent the fearless exploration of the human heart and a deep understanding of the animal instinct.

The masterwork by Ringholz for the festival in Jackson — the highlight event of every art season in that arts-inspired Wyoming town — is Dreamers Don't Sleep, an outsize artwork that portrays predators and prey at peace under a night sky lit by a meteor shower. The painting will be auctioned off September 15 on the town square in Jackson amid the festival's storied quick-draw event.

Dreamers Don't Sleep is a testament to the limitless imagination of the artist and to her high aspirations. In a series of strokes, Ringholz brings forth the mystery and the beauty of the cosmos and the harmonizing appreciation it evokes in creatures here below.

Ringholz is not painting for her own edification; she is painting for you. The rising contemporary artist has a few old-fashioned ideas, steeped in a tradition where creativity is a spiritual, as well as, vocational calling and art is imbued with the power to shape attitudes, enlighten hearts, change lives.

The artist's tireless energy, the freshness of her art and the strength of her vision constitute a compelling force.

"Amy's artwork touches and moves people in as many different ways as there are people who view it," says Dean Munn, sales director with Altamira Fine Art in Jackson, one of four high-end galleries that represent Ringholz.

Armed with a degree in art education, Ringholz left her native Ohio and followed her heart to the West in her early 20s, accepting a job on a Jackson Hole guest ranch where she cleaned toilets and made beds in the morning and painted in the afternoons in the plumbing-free shack she occupied.

Well-heeled guests made their way to the makeshift studio, where they didn't disguise their admiration for the artworks. Ringholz sold 25 paintings that summer; more importantly, that period sowed the seeds for a career that today is in full bloom.

Ringholz and her works project a kind of radiance beyond the ken of this mortal coil. The coyote depicted in Be Fulfilled, a 40- by 30-inch painting in an urban wildlife collection Ringholz created to appeal to city-dwellers, exhibits a startling mix of age-old wisdom and childlike wonder on a canvas where soothing blues meet fiery reds. It is an apt description of the artist, who is unafraid to dream.

"Sometimes I think I dream for people," she says. "They jump on my little dream wagon and are happy to be on board."

Ringholz is the youngest artist to be featured at the Jackson Hole Fall Arts Festival in the show's history and she is prepared to take her chosen hometown by storm with a community-wide party and wildlife benefit, Something Wild This Way Comes, planned for the evening of September 15.

Maureen Murphy, director of special events for the festival, says Ringholz has engaged in planning and promotion on a grand scale.

"She's more involved than any artist," says Murphy, adding, "Her essential essence is a freshness that has nothing to do with age."

Dreamers Don't Sleep doubles as the title of the Ringholz show — with opening night September 12 — at Altamira. The installation, which marries paintings to sculpture to create multiple dimensions, is intended to deliver an art-immersion experience.

Such is the Ringholz manifesto: "I want to make art for all. It doesn't matter to me if you are a buyer or an admirer, art is for everyone to feel, be inspired by, be touched by, be changed by, to be a part of."

David Stein, an art collector in Austin, has acted as a mentor for Ringholz. The head of 10 car dealerships in that Texas city, Stein says that the artist expresses genius in her creations, in her business acumen and in the measures she has taken to give back where she has been generously given, including mentoring student artists.

A collector of original landscapes by legendary American painters, Stein could not resist the lure of animals animated by Ringholz.

"The intensity of the animals is unlike anything I have ever seen an artist capture," he said. "Her paintings provide personal freedom and space in the way only a masterpiece work of art can achieve. To take a creature from the wild and put it on her own palette with the intensity she does is nonexistent in the art world."

That world in the United States has granted star status to just a few female artists. Georgia O'Keeffe, whose landscapes and paintings of found objects in the American Southwest gave rise to a lasting movement in American Modernism, is the figure whom Ringholz seeks to emulate.

Similarities end at the canvas, save for a technique that magnifies images. Dream Big by Ringholz stretches a close-up of a wolf's head across a 72- by 60-inch canvas. The effect is mesmerizing; there are worlds and worlds within two eyes that stare out from the wild.

Also in the tradition of O'Keeffe, Ringholz aims to bring the West to metropolitan centers. The urban wildlife series serves as an artistic emissary between those cultural and geographical divides. Jackson and the West are the foundation — and the nurturing grounds — of an artistic vision that lends itself to the nation but borrows from no country.

"I fell hard for the West. And there's room for the love of the West in all places," says Ringholz.