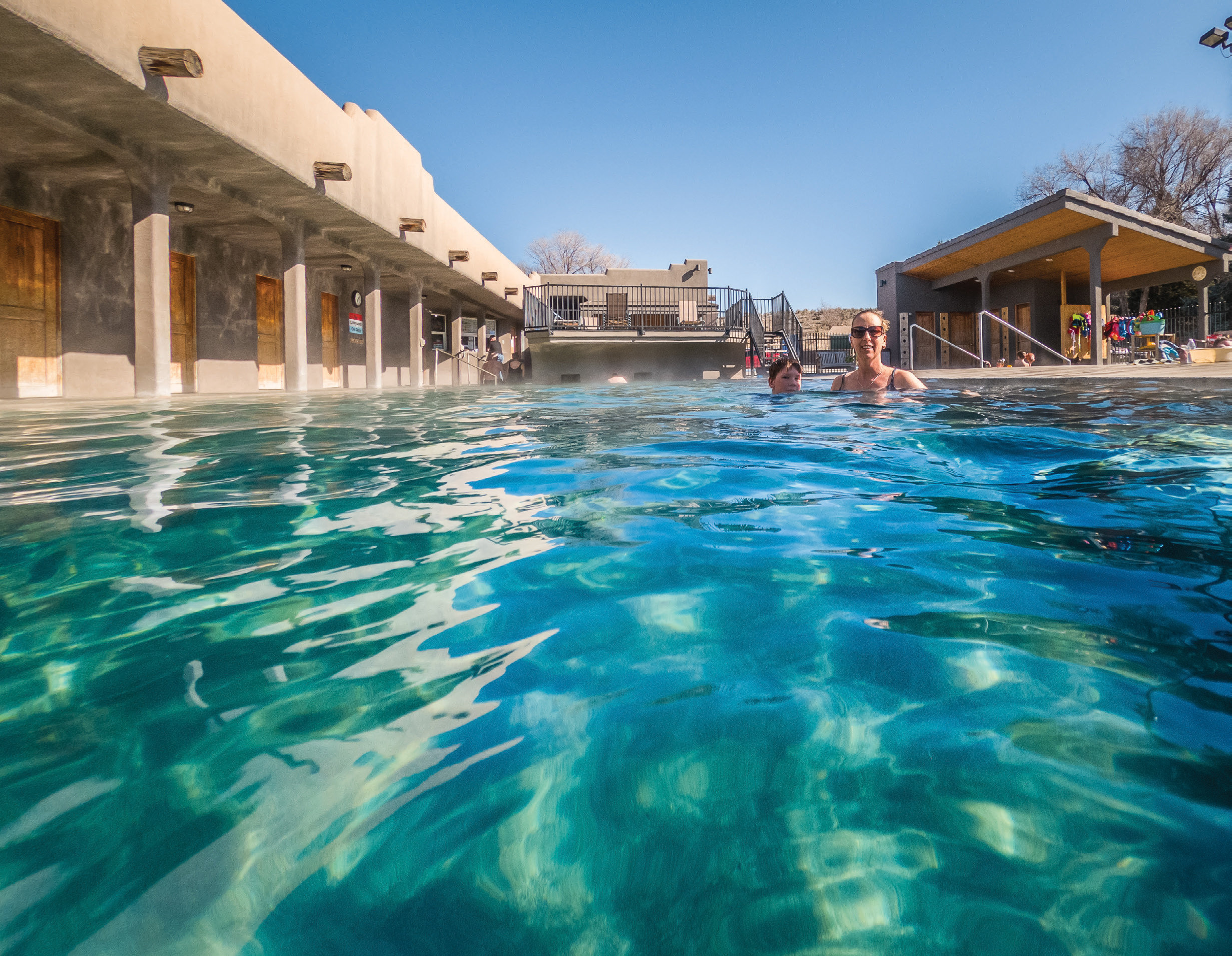 Located about 20 minutes from Twin Falls, a visit to Miracle Hot Springs tops off an outdoor recreation-centered visit to Southeast Idaho. opposite page: Kids jump into the pool at the Spa Hot Springs Motel in White Sulphur Springs, Montana, to sample the healing waters.
04 Feb

Dipping in

in

After a morning hike around Shoshone Falls and the Evel Knievel jump site (where the legendary daredevil crashed due to a parachute malfunction and suffered nothing more than a broken nose) in Twin Falls, Idaho, my family and I were excited to soak in a hot spring. I consider myself a bit of a hot spring connoisseur and feel that it's my duty to immerse myself in the thermal waters that are abundant throughout the West. Therefore, whenever we travel, I try to find a hot pot or two.

Idaho, Montana, and Wyoming are geothermal hot spots — pun intended. In Idaho alone there are more than 100 soakable hot springs, and after a day of hiking, skiing, or other outdoor adventures, it's not hard to find one close by. Whether it's developed, with man-made pools, or one found in the wild, these soaks add a luxurious and primal touch to any trip.

Miracle Hot Springs and its sister site, Banbury Hot Springs, are located in Buhl, Idaho, about 20 minutes from Twin Falls. When we arrived at Miracle, we discovered several large outdoor pools of varying temperatures sparkling in the bright winter sunlight. They were in a sort of courtyard, surrounded on three sides by Southwestern-style adobe structures.

We decided to rent a VIP pool, which gave us access to the main pools, plus a little private one and our own changing room. The private pool was walled in, but unroofed, and the four of us fit comfortably.

My two boys got restless pretty quickly and dashed out to the large pool to swim and splash each other in between dives to the bottom. Without them, the private pool felt more romantic. My husband and I chatted and relaxed until we figured we'd better check on the kids.

The four outdoor pools have enough size and temperature variance to please Goldilocks, so we all found a spot we liked. Families with small children filled the coolest and shallowest pool, while my tween and teen took over the large, deep one. Since I always go for the pool that's almost painfully hot, my husband and I scooted into a small, covered one with the highest temperature.

Buhl doesn't seem like a place that visitors would flock to, but with two natural hot spring resorts, camping and glamping options, and easy access to the Snake River, flock they do. We could have spent hours at the Hagerman Fossil Beds National Monument, located just a few minutes' drive north. This site dates back to the Pliocene Epoch, and hundreds of Ice Age Hagerman horse fossils (Equus simplicidens) have been found there.

Banbury Hot Springs is just a couple of miles from Miracle and under the same ownership. Here, along with a large spring-fed pool and a variety of smaller indoor ones, they also have rental kayaks and stand-up paddleboards that can be used to fish or explore the Snake River. For me, the joy of hot springing is due in part to all of the other fun activities that surround each one.

After our visit to Miracle, we drove back to Twin Falls for dinner at Milner's Gate brewery and a discussion about which hot spring we should visit next. Here's a selection of some of our favorite hot spots in the Northern Rockies, both developed and wild.
Developed hot springs
The Springs
Idaho city, Idaho
Just 45 minutes from Boise, this mountain hot spring retreat is Instagram famous for its private soaking tubs with picturesque views of the surrounding forest. The resort has a large main pool, a hot tub, cafe, and lodging. At night, stargazing from the hot pools is the stuff dreams are made of, and occasional live music adds a festive touch. Include a massage, and you may never want to go home. The hot springs have an adult-only policy three days a week. thespringsid.com
saratoga hot springs resort
Saratoga, wyoming
This elegant resort features several teepee-covered individual soaking pools and a 70-foot mineral hot pool, along with lodging, gourmet dining, a pub and Biergarten, full-service spa, fitness center, and golf course, providing guests with no reason to leave the grounds. For those who do want to explore, the surrounding Sierra Madre Mountains and Medicine Bow National Forest are rife with recreational opportunities. The resort's pools are for hotel or spa guests only.
saratogahotspringsresort.com
Astoria HOt springs
Hoback, wyoming
Astoria Hot Springs closed down in 1998 after centuries of use, but was finally acquired by The Trust for Public Land in 2016. The organization raised more than $6 million to revive the operation just south of Jackson Hole, and the pools reopened in September 2020. Part of their phase-one amenities include five pools of various sizes and temperatures, including a shallow children's pool and a larger Leisure Pool. Their River Soaking Pools are perched above the Snake River, providing privacy and exceptional views. There's also a snack bar with a variety of craft beers and other beverages for sale. Still in the planning phase, a 95-acre park and wildlife conservation area will add recreational opportunities for before or after soaking. astoriahotspringspark.org
chico hot springs resort
Pray, montana
This turn-of-the-century resort, snuggled into the Absaroka Mountains with Emigrant Peak serving as a stunning backdrop, features a large outdoor pool and a covered soaking pool for those who enjoy hotter temperatures. The legendary retreat is known for its classic restaurant that serves gourmet food, a saloon that features local bands and casual fare, and lodging options that range from rooms in the historic hotel and in the newer sections to cabin rentals and even accommodations in covered wagons. Their day spa offers luxurious treatments, and guests can add horseback riding, river rafting, or cross-country skiing to their stay for a complete vacation. chicohotsprings.com
quinn's HOt springS Resort
paradise, montana
Located northwest of Missoula, where the Clark Fork River is pinched between the road and the train tracks with canyon walls rising behind each, Quinn's combines soaking with upscale food, drink, and lodging with a touch of old Montana. The resort features six pools that flow into each other (each one hotter than the one next to it), and the cold pool is filled with refreshing river water. With two lodges and 25 cabins, accommodations range from rustic to luxurious, as does the dining. At the Harwood House Restaurant, diners can order local steaks, organic veggies, and fine wines, while Quinn's Tavern serves more casual options.
quinnshotsprings.com
Yellowstone hot springs
gardiner, montana
Montana's newest developed hot spring sits above the Yellowstone River, 10 minutes north of Yellowstone National Park. With terrific views of the surrounding mountains, there's a large pool that's typically around 102 degrees, with two smaller pools that include a cold soaker for the brave and a hotter option. There's also a therapeutic Kneipp Walk, in which guests can walk through cold water that hits just below the knees. There are a few snacks available for purchase, and a dining area for picnics near the pool. Hours are limited, so be sure to check before you go. yellowstonehotspringsmt.com
broadwater hot springs
helena, montana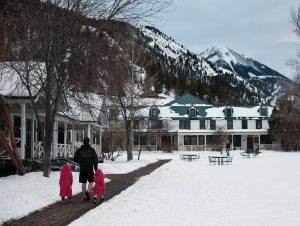 Set along the Broadwater River just outside of Helena, this resort features five mineral hot spring pools that range from about 97 to 105 degrees. The Rec Pool is perfect for kids who want to splash, play, and swim, while the Springs and Soaker pools invite one to relax and release tension. There's a taproom and grill onsite, and personal food and beverages (even water) are not permitted. A fitness center also sits on the property. broadwatermt.com
wild hot springs
sacajawea hot springs
idaho
A visit to Sacajawea Hot Springs, on the South Fork Payette River, feels like a true wilderness experience even though it's just a short scramble down to the river from a dirt road. There are several pools along the bank, which vary a bit from year to year depending on how past visitors have built them up, and temperatures can be adjusted by moving rocks around to let in more or less cold water.
Directions: From State Route 21, turn south on Forest Road 534 and travel 4.8 miles to Wapiti Junction. Stay straight for just over a half mile, find a place to park, and walk down the embankment to the riverside pools.
upper potosi Hot Spring
Montana
At Upper Potosi the water is a little murky, but the soaking area can fit about 10 people and is deep enough for one to be fully submerged.
Directions: From Pony, head south on South Willow Creek Road for 10 miles. Follow signs to the campground, and park there. Ford the creek to the trailhead in the southeast corner of the campground. Follow the trail about a mile. The hot springs are about 10 yards downhill from the trail.
Boiling river
yellowstone national park
A half-mile-long trail leads to a 6-foot-wide stream of hot water that pours over a travertine ledge into the Gardner River. Visitors have piled rocks to create soaking areas where the 140-degree water mixes with the cold river water, so the temperatures vary as rocks are moved around.
Directions: Two miles south of
Gardiner, Montana, in Yellowstone National Park.
---
Know Before You Go
• Call or check hours online, as they change with the seasons and health departments' covid-19 regulations
• Ask about food and beverage policies: Some welcome outside snacks, others don't.
• Always shower before entering pools.
• Drink plenty of water, as it's easy to get dehydrated while soaking.
• Wear a hat and/or sunscreen; the sun reflects off the water, making it easy to get a sunburn even on a cloudy day.
• Bring flip flops or sandals to wear in the changing rooms and on the pool decks.
• If you feel lightheaded or dizzy, make sure to sit out of the water for a while.
• At the undeveloped springs, test the temperature before entering, as they can fluctuate substantially day-to-day.
• Don't forget swimsuits and towels!