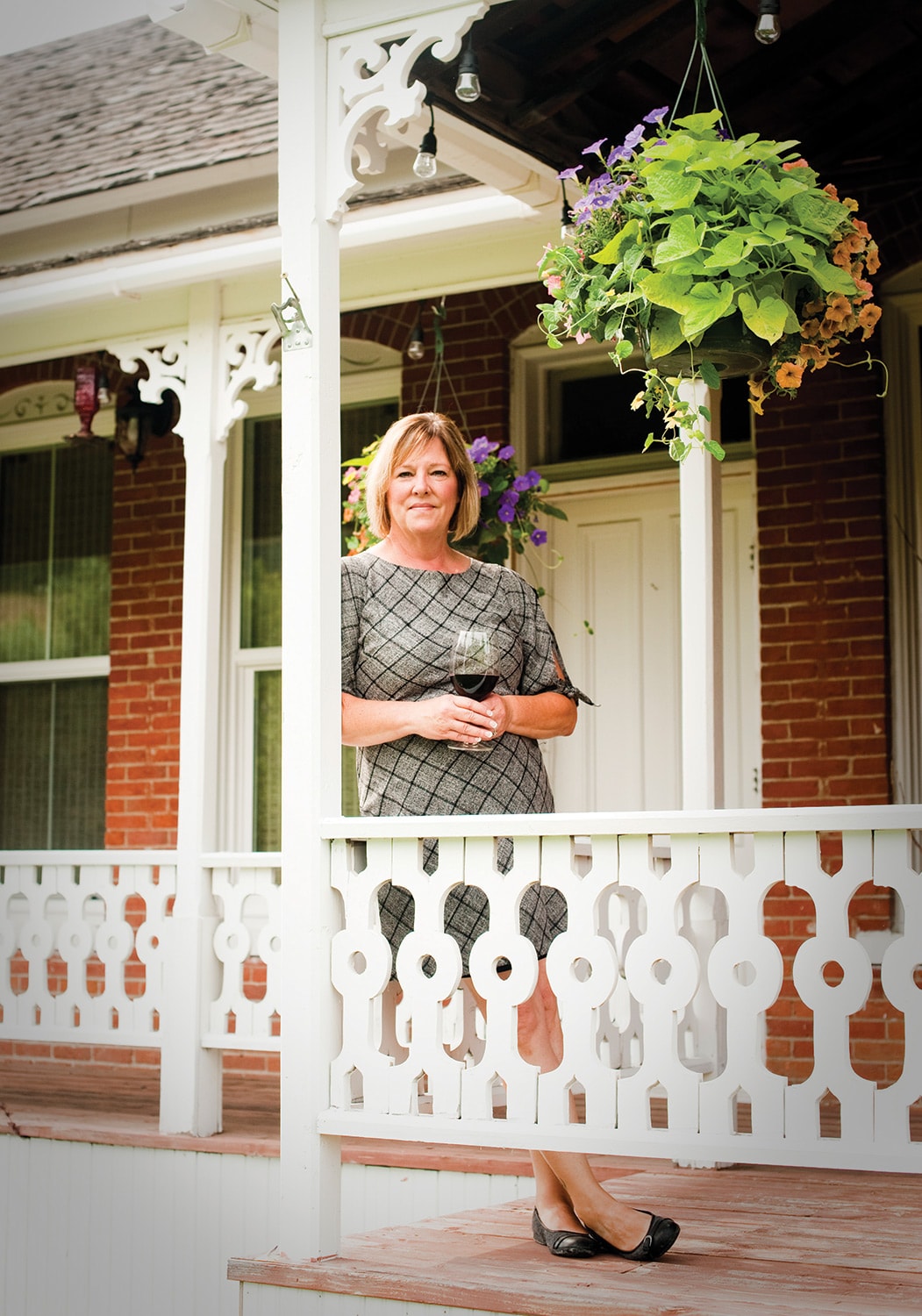 Owner Marci Andersen stands on the front porch of her meticulously restored restaurant, The Wassweiler Dinner House and Pub, outside of Helena. Built in 1883, the house originally served as the Wassweiler Warm Springs Hotel.
05 Oct

Dining Out: The Wassweiler Dinner House and Pub

in

If Marci Andersen was the bragging type, she might tell you that her restaurant serves the best steak in Montana. But she's humble and smart; bragging is not her style. Though more than one customer at

Wassweiler Dinner House and Pub

have told her as much.

"It's the infrared broiler," Andersen explains. Similar to what the national chain Ruth's Chris Steak House uses, this ultra-high heat appliance — which cooks steaks at 1,000 degrees in a matter of minutes — renders a perfectly seared exterior and an impossibly tender interior for premium cuts of meat. "Before I opened the restaurant, I asked as many people as I could what they wanted to eat in a restaurant, and over and over again, they told me they wanted a really good steak," she says.

More than a steakhouse, The Wassweiler offers food that is beautifully prepared and presented by executive chef Andrew Brosten. His professional experience started a decade ago at the Arizona Culinary Institute in Scottsdale, and burgeoned at the Sanctuary Camelback Mountain Resort in Paradise Valley and the ASU Karsten Golf Course in Tempe. A Helena native, Brosten returned to his hometown and worked at the Silver Star Steakhouse as executive chef, then at the Mediterranean Grill, before leaving to open The Aster. His skills in the kitchen and knowledge of the Helena market made him the perfect fit for Andersen's vision of serving an unpretentious, high-quality, fine-dining menu. Together they planned to fill a niche in the local restaurant scene that was missing — a place of quiet elegance. "We were going for a dining experience that centered on service, atmosphere, and food," says Andersen.

Reviving the historic Wassweiler Warm Springs Hotel was Andersen's dream. She drove by the decrepit brick house on Highway 10 west of Helena for years thinking about how she could transform the charming collection of buildings into a little boutique restaurant. "The front porch sucked me in," she says, as she stands in the shade of her painstakingly renovated restaurant, which opened in November 2017. "I kept thinking that it needed to be what it was originally intended to be: a gracious place that welcomed people for a relaxing experience and a fine meal."

When Andersen and her husband, Bob, purchased the property five years ago, she was thinking about retiring after a long and successful career as a caterer. Bob, who is a contractor, committed to restoring the property to help his wife fulfill her dream. The couple lived in what was then a drab house for two years while completing the renovation.

While that sounds straightforward, nothing about the restoration was simple. The building was constructed in 1883 and had been converted through the last century from a seven-room inn to a single-family dwelling with a whole lot of neglect in between. The floors were not square or level; the plaster walls were cracked; the central heating needed to be replaced, along with the windows, electrical system, flooring, and all the interior doors and window trim. "There was nothing opulent or architecturally outstanding in the original building," explains Andersen. "It was a challenge to create an authentic atmosphere."

Listed on the National Historic Register, the crisply finished brick house was once the pride and joy of German immigrant and gold prospector Ferdinand Wassweiler. The entrepreneur had purchased the property in 1863 and advertised the inn and bath house as the Wassweiler Hot Springs Hotel in 1883, offering rooms and baths drawn from two hot springs. He and his wife Caroline ultimately sold the water rights to railroad magnate Colonel Charles Broadwater, who opened the Broadwater Hotel and Natatorium, which failed famously and was demolished in the 1970s.

According to historian Ellen Baumler, legend has it that after selling the water rights to Broadwater, the Wassweilers converted the bathhouse to "cribs" and imported women to entertain miners. The Wassweilers' hotel and bathhouse, in its second life, operated until 1904. Since then, it has been a wool-dyeing business, a turkey farm, and an antique store.

Listed on the National 
Historic Register, the original building 
has been reinvigorated by contractor
Bob Andersen, who helped make his wife 
Marci's restaurant dream a reality.
Today, with Andersen's tasteful interior sensibility, the restaurant unfolds like a series of artful vignettes. The tables are set with white linens and vintage elements that recall both the pioneer and Victorian history upon which Helena was founded. Her version of retirement hasn't been one of leisure; she works in the restaurant most nights, greeting guests and retelling the story of the building and her passion for it. She works with a friendly, well-trained staff and often serves wine or dessert to customers.
There are easier ways to make a living, Andersen admits. But after owning a catering company for more than two decades, where she cooked for anywhere from 20 to 600 guests at a given event, owning a restaurant that might serve 100 people over the course of an evening is a breeze. "When you're a foodie, you just love the business," she says.
Being a foodie means that Andersen and Brosten have curated a menu that offers a short list of impressive dishes, featuring the likes of locally-made ciabatta bread, Maple Farms duck breast, and organic chicken with foraged mushrooms served in generous portions. It's a balanced array of choices that make it hard to order. "The entire menu is an amalgam of my past experiences," says Brosten. "It's an homage to the chefs and mentors I've worked with, and so I worked to create a composed selection of techniques and pairings that could be really unique."

Opened just this summer, the new patio welcomes al fresco diners to 
a spot behind the historic building that once offered hot spring "baths".
Whether you go for the 20-ounce cowboy cut ribeye or the house-made spicy carrot gnocchi, no Wassweiler meal is complete without the signature bouquet of bacon — cooked to a perfect crispness, candied, and served with a spicy maple glaze; it's irresistible. Finish with the triple-berry cobbler served warm in a mini cast iron dish topped with homemade vanilla ice cream, and the meal is complete.
"People are still discovering the restaurant," Andersen says, "but if this building could talk, I'm sure it would say it is very happy."
---
Rosemary Crusted Venison Tenderloin
With roasted fingerling potatoes, salsify puree, baby mustard greens, king trumpet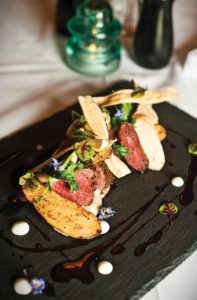 mushrooms, and a chokecherry reduction | Serves 6
The Wassweiler Dinner House and Pub Venison
2 ounces fresh rosemary, finely chopped
4 ounce kosher salt
4 ounce freshly cracked
black pepper
Six 6- to 8-ounce venison tenderloins
1/4 cups vegetable oil
Preheat oven to 400 degrees. Combine rosemary, salt, and pepper into bowl and mix thoroughly. On a cutting board, thinly spread rosemary mix, and roll venison in mixture. In a saute pan, add oil and allow it to heat until slightly smoking. Add venison and sear on all sides, then place pan into oven and cook for 10 to 12 minutes or until desired internal temperature is achieved. Allow meat to rest for at least 5 minutes before slicing.
Fingerling Potatoes
1 pound fingerling potatoes, sliced lengthwise
1 ounce vegetable oil
Salt and pepper to taste
Toss potatoes in oil, salt, and pepper. Arrange in a single layer on sheet pan and roast at 400 degrees for approximately 12 to 15 minutes, or until easily pierced.
Salsify Puree
12 ounces whole milk
6 ounces heavy cream
4 ounces unsalted butter
4 garlic cloves, crushed
1 medium shallot, thinly sliced
1/4 pounds salsify, peeled and cut into large rounds (or substitute parsnips)
Kosher salt and black
pepper to taste
In a large saucepan, combine milk, cream, butter, garlic, and shallot, and heat until almost boiling. Add salsify, reduce heat to a slow simmer, and cook approximately 30 minutes or until tender. Strain and reserve liquid. Add salsify to a food processor and blend, slowly adding liquid until desired puree thickness. Add salt and pepper to taste.
Chokecherry Reduction
4 bay leaves
2 tablespoons whole black peppercorns
8 sprigs fresh thyme
4 whole garlic cloves
Cheesecloth
Butcher's twine
1 pound fresh chokecherries
4 cups red wine
2 cups red wine vinegar
2 cups granulated sugar
1 tablespoon kosher salt
Add bay leaves, peppercorns, thyme, and garlic to cheesecloth and form a bag; tie with butcher's twine. In a medium saucepan, add chokecherries, wine, vinegar, sugar, and salt. Add bag and cook over medium until sauce thinly coats the back of a spoon. Discard cheesecloth and transfer chokecherry sauce to blender. Puree for 30 seconds, then using a fine mesh sieve, strain into desired container. If reduction is too thin, continue cooking until desired viscosity; if reduction is too thick, add filtered water and adjust seasoning.
Mushrooms & Greens
1 tablespoon oil
2 teaspoons unsalted butter
8 ounces king trumpet
mushrooms, sliced 1/8-inch thick (or substitute portobello mushrooms)
1 teaspoon minced garlic
1 teaspoon minced shallot
1 ounce chardonnay
6 ounces baby mustard greens
Kosher salt and pepper
In medium saucepan, add oil and butter, and heat until lightly smoking. Add mushrooms and saute for 2 to 3 minutes over high heat, then add garlic and shallot. Saute until fragrant then deglaz pan with chardonnay. Once the pan has little to no wine left, add baby mustard greens and cook until just wilted. Take pan off heat and season with kosher salt and pepper to taste.
To Assemble
Place salsify puree onto plate then place roasted potatoes on top. Using tongs, place mushrooms and mustard greens on top of potatoes. Slice venison to desired thickness and place around or on top of mushrooms and mustard greens; drizzle reduction over the top and around venison. Garnish if desired.