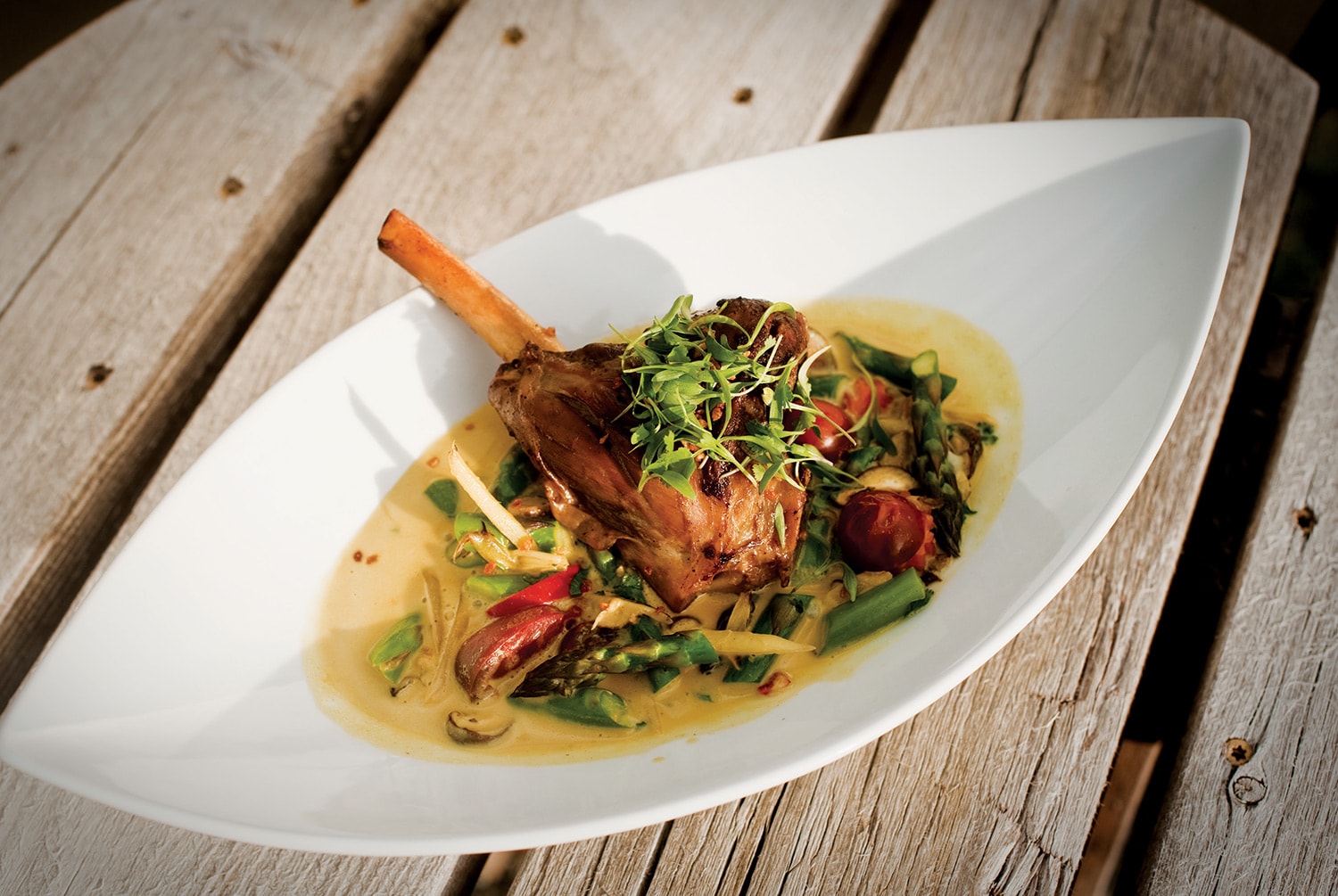 The signature lamb shank at Yellowstone Valley Grill (YVG) features a mild yellow curry that Marcos and Sari Mustain discovered on a trip to Thailand.
07 Jun

Dining Out: Seasoning Time

in

When chef Marcos Mustain talks about his signature braised lamb shank dish, he's not just referring to dinner. He talks about the curry stand in Bangkok that he and his wife, Sari, discovered while on vacation in Thailand. He talks about the local Montana ranch where the animal was raised. He talks about the experiences, the flavors, and the real-life connections that blend together in order for him to feature this item on the menu at the Yellowstone Valley Grill (YVG) near Livingston. "Tasting food firsthand from its home country makes all the difference," says Marcos.

Dedicated to a farm-to-table approach, the Mustains have transported flavors from their travels to the Yellowstone Valley Lodge, overlooking the Yellowstone River. Tucked beneath the fishing lodge, near a dozen high-end cabins sitting on the bluff in the center of Paradise Valley, this fly-fishing destination attracts visitors from around the country. And while most guests are pleasantly surprised when they discover the high quality of fresh food served at YVG, locals have embraced it fervently.

When asked to define his style of cuisine, Marcos jokes that it could be called "Frasian," for his fusion of traditional French techniques with the broad base of international flavors from Southeast Asia, Thailand, and Japan. Trained at the Le Cordon Bleu in Portland, Oregon, Marcos has had a full spectrum of culinary experiences, from an internship at Emeril's in Las Vegas to teaching culinary skills to high school kids in Seattle. What he kept from each experience was the value of fresh ingredients in any style of cooking. At YVG, that's what he and Sari prioritize over any other factor: fresh, local, seasonal food. "We don't need to do much to prepare the food," Marcos insists. "Because the ingredients are so fresh, there are no tricks; we just serve it hot and seasoned well."

Marcos and Sari are partners in every way. The couple travels together, cooks together, and has worked shoulder-to-shoulder in the YVG kitchen since 2010. This husband-and-wife culinary team literally met at the door of the restaurant when they both began working for YVG's previous chef. They started dating five years ago, have been married for a year and a half, and continue to work side-by-side every day. "Even when it's the off-season, we are completely immersed in the restaurant," says Sari. "But when we're in the kitchen, we know that work is work, and we don't have issues that cross over from personal to professional."

Through the years, they've grown in the kitchen, working together to blend world flavors with Montana favorites. That means the meats are from local ranches and the trout is caught just downriver.
The dining room fills up fast with guests who typically book reservations two weeks in advance.
Now in his seventh season as executive chef at YVG, Marcos has built a following of friends and fans. When the sliding glass doors reopen for the season each spring, he and Sari invite "the regulars" to try out the new menu for two nights. "That's our re-entry to the season," says Marcos. "In a small kitchen like ours, it's always a puzzle of timing."
The first night of service each April is like a reunion for locals who have been in social hibernation all winter. It's a time to reconnect with summer friends and get a taste of what Marcos and Sari will have on the menu for the next few months. What diners look forward to most is the sashimi-grade fresh fish featured nightly, from bigeye tuna marinated Hawaiian-style and served as a poké appetizer, to fresh Ora king salmon from New Zealand.
Because the restaurant is open just 26 weeks out of the year (from April to October), it can be a challenge to get a reservation. Tables are usually booked two weeks in advance, backed up with a waiting list, and there aren't many cancellations. Many residents book a standing weekly reservation. "It's usually Thursdays that our regulars come in — it's 'diners' night' and we know everyone's favorite dish, what temperature they like their steak, what allergies people have, and we try to rotate the evening specials so they don't eat the same thing two weeks in a row," explains Marcos.
Each night, from their bustling open kitchen, they work with precision to crank out 50 to 75 meals. They greet guests throughout the evening and gauge the pace of each table in an attempt to make everyone happy. "The open kitchen connects us to our guests; they see us every time they come in, and that makes every meal very personal," says Sari.
Arguably, demand for a YVG table is strong partly because of the restaurant's location. The only riverside dining in the whole county, it's just 100 steps from the Yellowstone. From this spot, folks say, the only thing better than the view of Paradise Valley is the food.
Chefs Sari and Marcos Mustain work shoulder-to-shoulder, cooking up to 75 meals each night of the season.
---
Grilled Salmon with Black Bean Salsa and Avocado Crème Fraîche | Yellowstone Valley Grill
Salsa
1/2 cup dried black beans, soaked overnight in cold water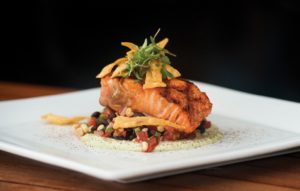 8 Roma tomatoes, seeded and diced medium
1 cup fresh corn, cut off the cob and dry-roasted in a sauté pan until browned
1/2 medium red onion, diced small
1 tablespoon fresh garlic, finely chopped
3 jalapeños, seeded and diced small
1 tablespoon roasted ground cumin seed
1 to 2 limes, juiced
Kosher salt and fresh ground black pepper to taste
Soak black beans overnight in 3 cups cold water. Rinse beans and simmer in plenty of fresh water until tender, 1 to 2 hours. Chill black beans, add diced Roma tomato, roasted corn, red onion, garlic, jalapeño, cumin, lime juice, and salt and pepper. Refrigerate for up to one day in advance.
Cilantro Avocado Crème Fraîche
1 bunch cilantro, washed and chopped roughly with the stem
1 garlic clove
1 ripe avocado
1/2 jalapeño with seeds
1 cup crème fraîche or sour cream
1 ounce fresh lime juice
Kosher salt and fresh ground pepper to taste
Add chopped cilantro, garlic clove, jalapeño, and lime juice to blender until emulsified, scraping down the sides. Add crème fraîche or sour cream, and avocado. Blend until incorporated in a smooth, bright-green cream Add salt and pepper to taste, then transfer to a container and refrigerate for up to one day in advance.
Salmon
Six 5-ounce portions of salmon filet
Lightly salt and pepper salmon. Grill salmon, rotating every 2 minutes for a total of 6 to 8 minutes on medium-high (don't let the salmon flare up). Add 1 ounce of cilantro-avocado crème fraîche to each plate and spread it in a circular pattern with a spoon. Add salsa to the top of crème fraîche. Add cooked filet, and garnish with tortilla chips.