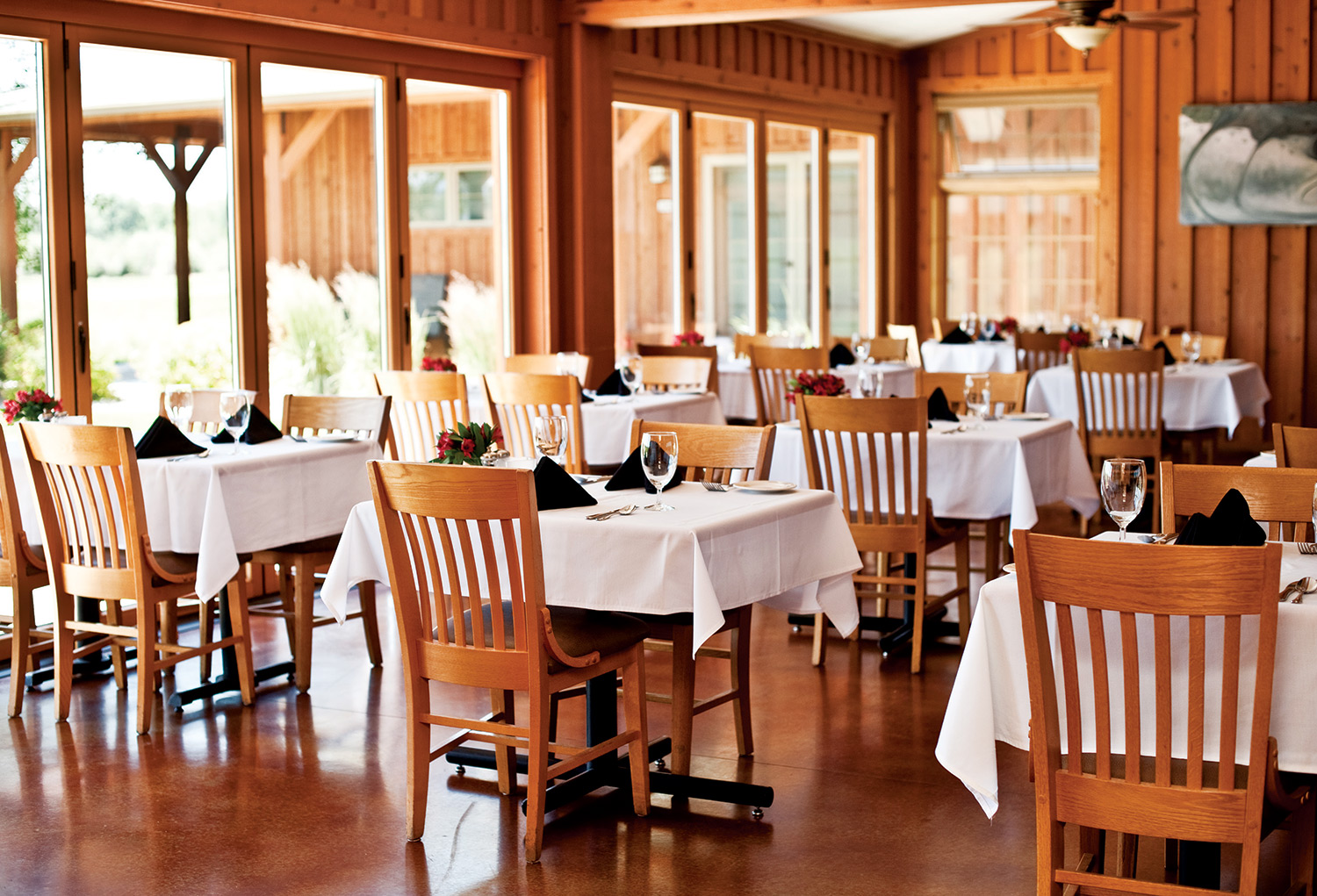 For 19 years, the Gallatin River Lodge has welcomed guests to their simple, elegant dining room overlooking a trout pond near the Gallatin River.
08 Feb

Dining Out: Revisiting an Old Friend

in

Eating at the Gallatin River Lodge and Grill is a lot like reconnecting with a long-lost friend. The kind of friend you have always loved but lost touch with over the years. The kind of relationship that is rooted in a foundation of nostalgia but is even better now.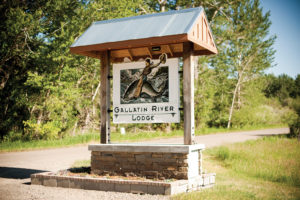 Yet, as my husband and I headed to the restaurant just west of Four Corners, between Bozeman and Belgrade, Montana, a few months back, I worried that a reunion with my "old friend" would be an awkward disappointment. I had forgotten why we'd lost touch. Would we still have a connection?
But as we turned onto the cottonwood-lined lane that parallels the lodge, I felt the familiar warmth of returning to a place I love. Recollections filtered in of meals shared on the back patio. I remembered buttery chardonnay toasts in the summer, and an autumn hike that ended with appetizers overlooking the trout pond. The memories piqued my taste buds with hope.
The lane wound toward a board-and-batten building that resembles a barn, settled in the bottomland not far from the Gallatin River. A creek welcomed us, running along the path from the parking lot. A sizable kitchen garden was in the early stages of planting. White linens on the patio tables moved in the warm breeze as the sun went down behind the lodge.
Artfully combining the freshest ingredients, chef Scott Myers serves red quinoa salad, garnished with pickled wild ramps, pea shoots, and flowers from the Gallatin River Lodge kitchen garden.
Inside, the sound of pint glasses chinking at the bar greeted us, as the cozy wood and stone entryway wrapped us in Western warmth. We hugged our dinner partners and were seated at a corner table in the grill, overlooking the pond and the distant mountains. A glance at the menu showed a creative list of uncommonly good flavor combinations — fresh shucked oysters with a celery and pink peppercorn mignonette; braised rabbit with sage spätzle; grilled quail and thyme bread pudding; pan roasted black grouper with roasted fennel — that could serve as conversation-starters in that long-lost friendship.
"The menu offers traditional flavors with a modern, refined technique," explains executive chef Scott Myers. A New England Culinary Institute graduate, Myers blends flavors from his personal experiences as a chef, which range from Southern influences to classical French methods. That means all the sauces and stocks are made from scratch, and the menus are developed with seasonal inspiration.
Opened to guests in 1999 by fly-fishing guide Steve Gamble, the Gallatin River Lodge, for a time, was out in the middle of nowhere. Now, skirting one of the fastest growing sections of the Gallatin Valley, it's a respite in the midst of rapid expansion. To find this place is to discover a retreat that is close enough for a special weeknight meal but a world away from the frenzy of daily life. Situated on the outskirts of Bozeman but on the way to fishing the Madison, Gallatin, Jefferson, and Missouri rivers, and countless activities in Big Sky and Yellowstone National Park, the lodge is a treasured basecamp. Six comfortable and contemporary rooms complete the cozy package of a Montana hideaway, with the bonus of beautiful meals coupled with premium accommodations.
What many people don't realize is that they also open their doors to diners who aren't staying at the lodge. The menu centers on fresh and local ingredients that are accessible throughout the season — that means Paradise Valley-raised rainbow trout; grassfed beef that grazed in the neighboring county; greens plucked from the dirt just 20 miles away; and cheese cultured on a goat farm in the next town.
"Visiting farms and ranches inspires my food," says chef Myers. With a farm-to-table philosophy, Myers is working with garden manager Brianna Dudek to offer the best in regional cuisine. He takes field trips to local creameries and gardens, and has relationships with producers who work with him to develop menus that use the most abundant ingredients. The lodge menu changes monthly and is driven by seasonal availability.
Some classic items remain on the menu, such as the 100-percent Montana cheese plate, but other dishes may change based on what's available from farmers and ranchers. The bison in the tangy bison tartar is sourced from the nearby Turner Ranch throughout the year, while the daily ceviche preparation is only offered during the summer months. There is always a burger, but I might have to wait another year to enjoy the creative preparation of fresh escolar.
Chef Scott Myers creates modern cuisine that showcases seasonal and local ingredients in a regularly changing menu.
And there will be a next time, because like a good friend, the Gallatin River Lodge has gotten better with age.
I promised not to let so much time pass. After dinner, as my husband and I walked toward the door, we didn't say goodbye but rather, "See you later!" We will be back soon.
Kuri Squash Risotto
Serves 4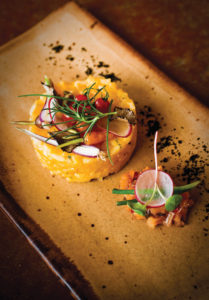 Ingredients:
6 cups chicken stock, vegetable stock, or water
1/4 cup olive oil
2 cups Arborio or Carnaroli rice
1/2 cup white wine
1 cup roasted butternut squash or pumpkin
1 cup Lifeline sharp cheddar cheese, grated
1/4 cup pecorino grated
1/4 cup heavy cream
2 teaspoons fresh thyme, chopped
1 shallot, minced
1 clove garlic, minced
Salt and black pepper to taste
1 small apple, diced and pan roasted
Toasted pepitas or butternut squash seeds for garnish
Directions: Put stock or water in a pot and bring to a boil, then reduce to a simmer. In another pot, add the olive oil and turn heat to medium-high. Once oil is hot, add rice and stir to coat completely,lightly toasting but with no color. Add wine and continue to stir. Once the wine has started to thicken the rice and evaporated, add the stock or water. Keep stirring until more liquid is needed. Continue adding liquid and stirring until rice has reached the desired doneness. It shouldn't be too dry or too loose. Next, add the roasted pumpkin and continue to stir until smooth. Turn your heat down to low and add cheese and cream. Once all of the cheese is melted and the rice starts to thicken a bit, add thyme, shallot, and garlic, and season with desired salt and pepper to taste. Garnish with the roasted apple and pumpkin or squash seeds. If you have a little white truffle oil or fresh truffle to shave, it adds great flavor.
Each of the six rooms at the lodge offers privacy, comfort, and views of the Gallatin Valley.