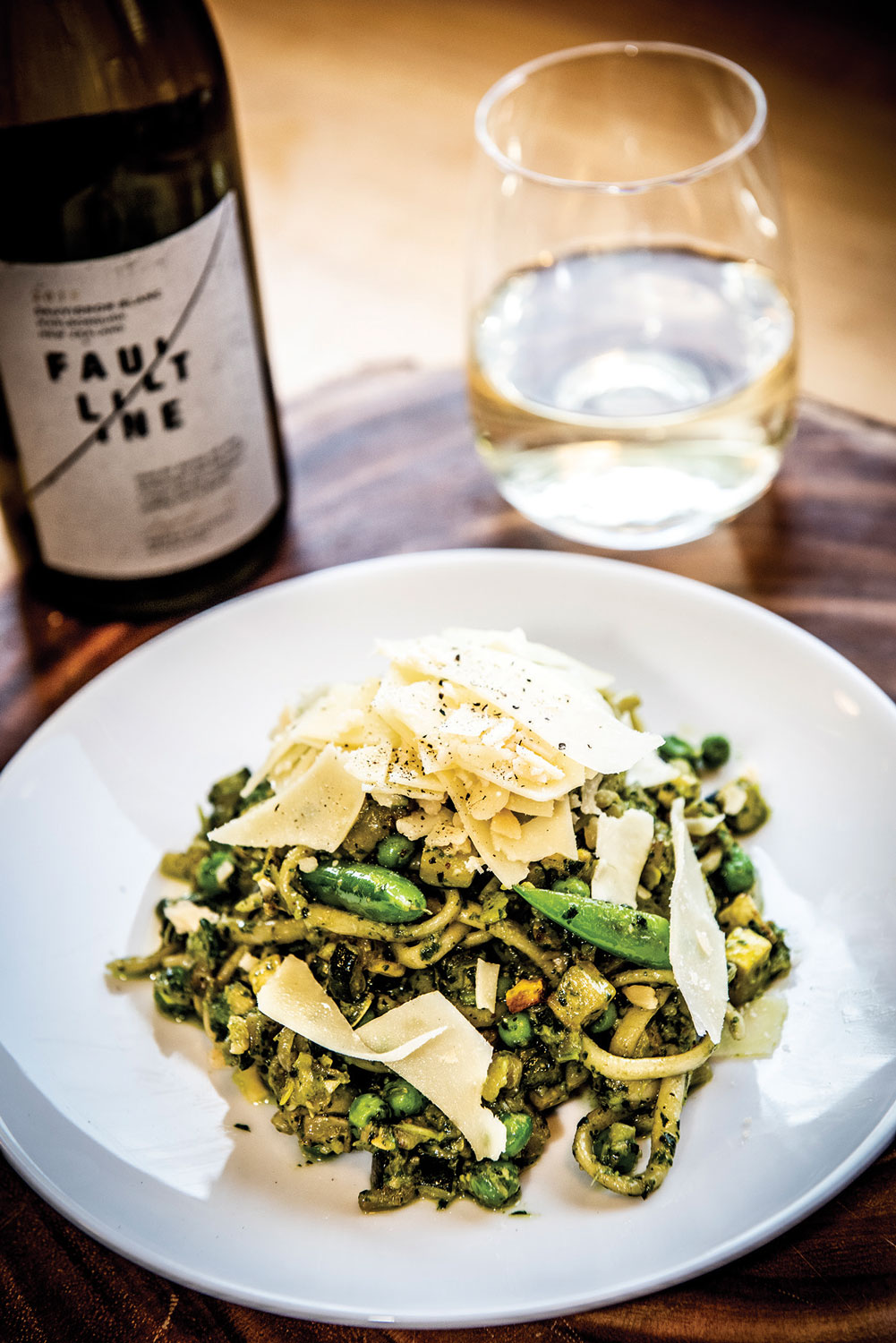 Wild Flower Kitchen's vegetable pasta consists of house-made linguini, seasonal vegetables, parmesan cheese and cream sauce.
12 Aug

Dining Out: Wild Flower Kitchen

in

Sometimes a restaurant is more than a restaurant. So it is at Wild Flower Kitchen in Absarokee, Montana, where two chefs and a charismatic maître d' chose to build not just a business, but also a community. 

"It's just a little pub serving curry in Montana," says chef and owner Nick Goldman.

Pub is short for "public house" and, typical to British culture, refers to a casual community bar that serves good food. That's what Goldman, along with his wife Wendi Reed and younger brother Benji Goldman, have set out to create: a setting with no frills and no fancy expectations. "We don't like calling ourselves a restaurant," Goldman explains. "We're just an honest, simple business in a small town that serves fresh food."

To that point, the menu at Wild Flower is approachable but unexpected. It emphasizes what's in season and also what ingredients are local. But the unwritten ingredient is the talent in the kitchen. Goldman won't tell just anyone that he uses five different types of salt, and he won't wax poetic about cooking techniques. Yet he trained at Le Cordon Bleu in Portland, Oregon, and has worked at high-profile restaurants where the only talking allowed in the kitchen was the response, "Oui, chef." 

Reed attended Johnson & Wales University in Denver, Colorado, and worked with a prestigious celebrity chef whom she prefers not to name. She and Goldman verbally spar in the kitchen and balance each other when it comes to creating dishes. "He's salt, I'm pepper and spice," she quips.

Benji adds an element of service with gracious style. He has worked in restaurants from London to Los Angeles since he was a kid, and trained under Michelin-ranked servers. Along with that, he's started four of his own restaurants over the years.

The result of the team's combined experience is an energetic and youthful approach to food that belies the roadside setting. Reed describes Wild Flower Kitchen as "global cuisine with a Montana twist." The menu reflects touches of Mexican (steak tacos), Italian (house-made gnocchi is a staple), Asian (shrimp tempura), and Indian (a secret blend of curry made by Reed). Even the Montana Burger, made with wagyu beef from the Gallatin Valley, has a French flair, as it's served on a brioche bun. The pasta, including that in the mac n' cheese, is made fresh daily with Wheat Montana flour.

They could rail on about how it takes three days to make the hand-cut french fries that anchor the fish and chips on the Wild Flower menu, when most restaurants these days use a premade freezer-to-fryer product. It's true that nearly every item in this seasonally focused kitchen is made from scratch; Goldman is proud that he orders more fresh herbs than any restaurant in Billings. Yet those things are background noise for this crew. When it comes to food, all that matters is that it tastes good. "The thing about food is that you eat it, you taste it, but you can't take it with you," Reed says. "What you take is the experience, and we try to create a great experience with every meal."

Although they clearly are passionate about food, what excites them most is that they can live in Montana. The Goldman brothers grew up in London, but spent summers visiting cousins and their grandfather here. Those summers stayed with them and shaped a lifelong dream to one day live here. "I came here to chase my grandfather's spirit of peace," says Goldman.

Located on the Absarokee-Fishtail line along Montana Highway 78, there is no direct route to Wild Flower Kitchen. Most of the diners are local residents or lucky travelers who've wandered into a sweet discovery. That's just the way the owners would like to keep things. Goldman is not interested in advertising and shies from any type of publicity. He and Reed moved to Montana from urban restaurant jobs to work with his mother, Paula Halverson, when she owned a bed-and-breakfast in Absarokee known as The Big Yellow House. After it sold, he and Reed launched a food truck and catering business in 2015, and signed on as the caterers for the nearby Tippet Rise Art Center.

As word of Wild Flower's delicious food spread throughout the area, fans begged the couple to open a restaurant. Opportunities unfolded, and the culinary team had a chance to buy a roadside building which previously had been a bar, casino, and pool hall that served frozen pizza. They opened Wild Flower Kitchen last year with little fanfare and without a sign on the building. By word of mouth, the restaurant started filling up with hungry guests.

Today, the rustic style of the building beckons guests to have a seat and enjoy a meal, with the most popular item on the menu being whatever is the special that day. "Our guests trust that what we make for them will be delicious," Reed says.

In the future, the trio hopes to cultivate a kitchen garden and use the 5-acre property for small events. And they plan to continue their culinary mentorship with Absarokee public schools. But their first priority is to keep the restaurant strong and to build a good life.

"When [Montana] is in your soul," Goldman says, "all you want is to get back to it. When I worked on the line in a hectic urban kitchen, all I could think about was coming back here."

A good life and good food in Montana; for this trio, it makes for a dream come true.