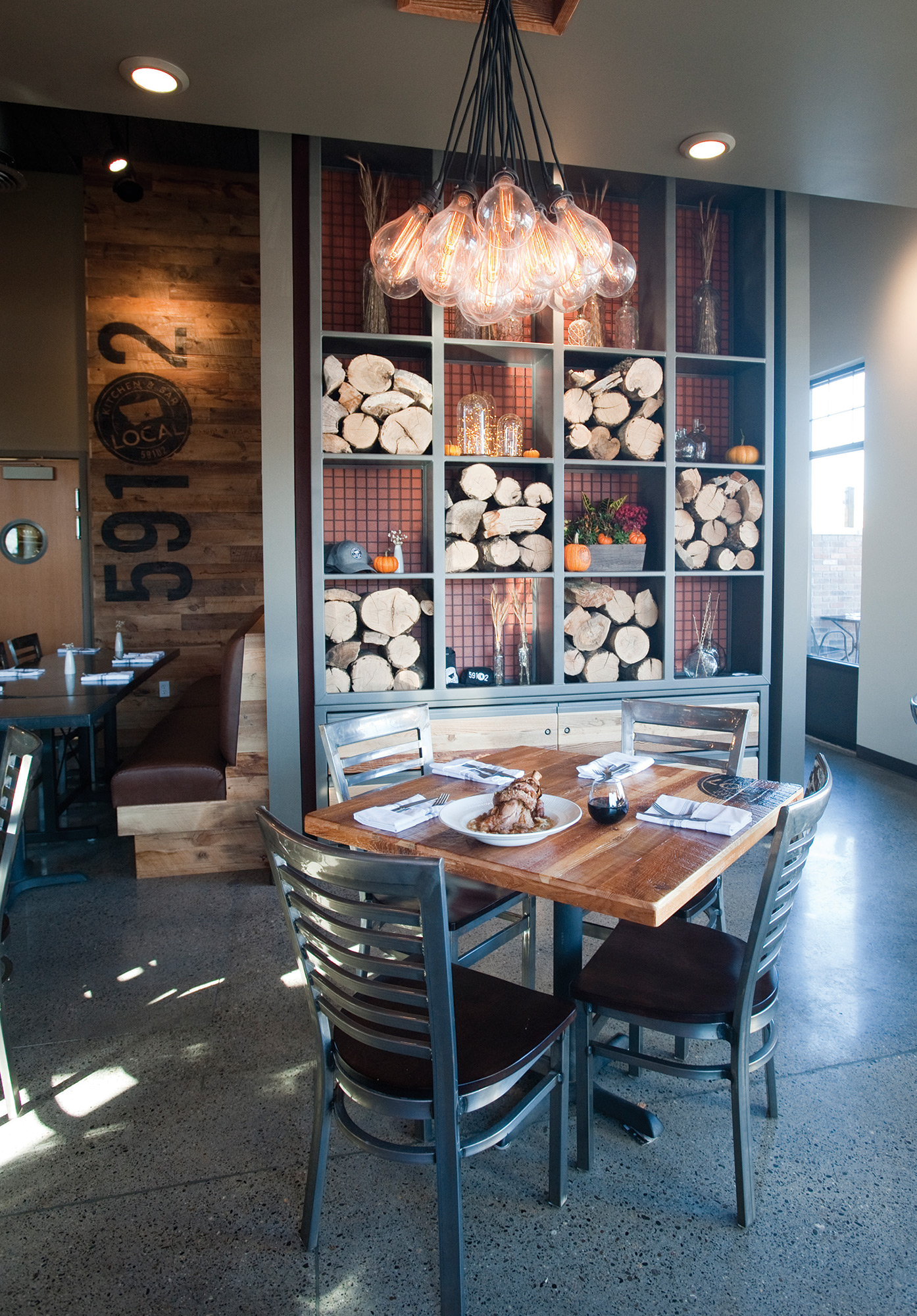 08 Jun

Dining Out: Tradition, with a Twist

in
---
Chef Travis Stimpson grew up cooking with his mother and grandmother on their family's cattle ranch near Lodge Grass, Montana. Back then, dinner was pot roast and potatoes.
"Where I grew up, you basically had three different options for a job off the ranch: There was the gas station, the grocery store, or the cafe," Stimpson says frankly. "I was interested in cooking, so I worked at the Trading Post Cafe in Crow for eight years." From there he went on to gain his culinary training in the trenches of Billings' most notable eateries, including Walker's Grill, Grains of Montana, Cafe Italia, and Lilac.
Today Stimpson heads up his own restaurant, Local Kitchen & Bar, in Billings, where he reimagines some of those timeless ranch meals with clever twists of flavors and ingredients. You might find foie gras or a vegetarian roulade, but the triple-cooked fries come with a side of house-made ranch dressing and the New York steak was created with Stimpson's third-generation rancher father in mind.
On trend with the gastropub style, Local Kitchen offers an upscale approach to comfort food standards in a casual environment. That means gourmet food in an unpretentious setting. Serving dinner six nights a week and brunch on weekends, the restaurant opened quietly last September in an unlikely location. Situated on Billings' suburban west end in the Country Manor Plaza next to a couple of casinos with a Town Pump on the corner, Local Kitchen is an unexpected beacon of originality in an otherwise homogenous field of sprawl. It's small (just 36 seats). It's unique and delicious (every menu item is made from scratch). Its menu changes regularly (every two weeks).
"There's a big, open field across the street from us," Stimpson notes, "but this end of town is developing its own face."
That's partly due to Stimpson's efforts. Though Local Kitchen is off the beaten path, customers are seeking out his food (a dinner reservation is a must) and that's contributing to the identity of Billings' west side. While Stimpson is dedicated to using ingredients from Montana farms and ranches (all the beef on the menu is purchased from his family ranch), the name Local is as much a philosophy as it is a reference to the food. Local Kitchen's roots run deep, in that Stimpson and his partners, John and Megan Heenan, give back to the Billings community on several levels. All employees are fully paid to put in 10 hours of volunteer work per year for the local nonprofit of their choice. Also, once a month Stimpson selects a local charity to receive a donation of 100 percent of the restaurant's daily proceeds.
Local Kitchen features all Montana- brewed beers, a small but curated wine list, and a staff that is well educated about everything the restaurant offers. Brad Banks captains the wait staff, and service is the highest priority. "We don't ever want to get so big that a customer gets lost in the din," says Stimpson.
Local Kitchen serves up a menu filled with hearty homages to the early experiences on the home range, but with a contemporary twist. "I know how to feed Montanans," says Stimpson. While Stimpson pushes the taste buds of his local customer base (a hominy cake accompanies the roasted chicken) and pulls on the cravings for traditional dishes (poutine comes with a poached egg), he also keeps his food approachable. The pizzas have a smoky flavor that comes from the wood-fired oven (fueled with firewood harvested from the Stimpson Ranch), you'll always find a burger on the menu, the lamb shank is a staple, and there is always a friendly face to greet you when you walk through the door. If you are a regular, the chances are they'll call you by name.