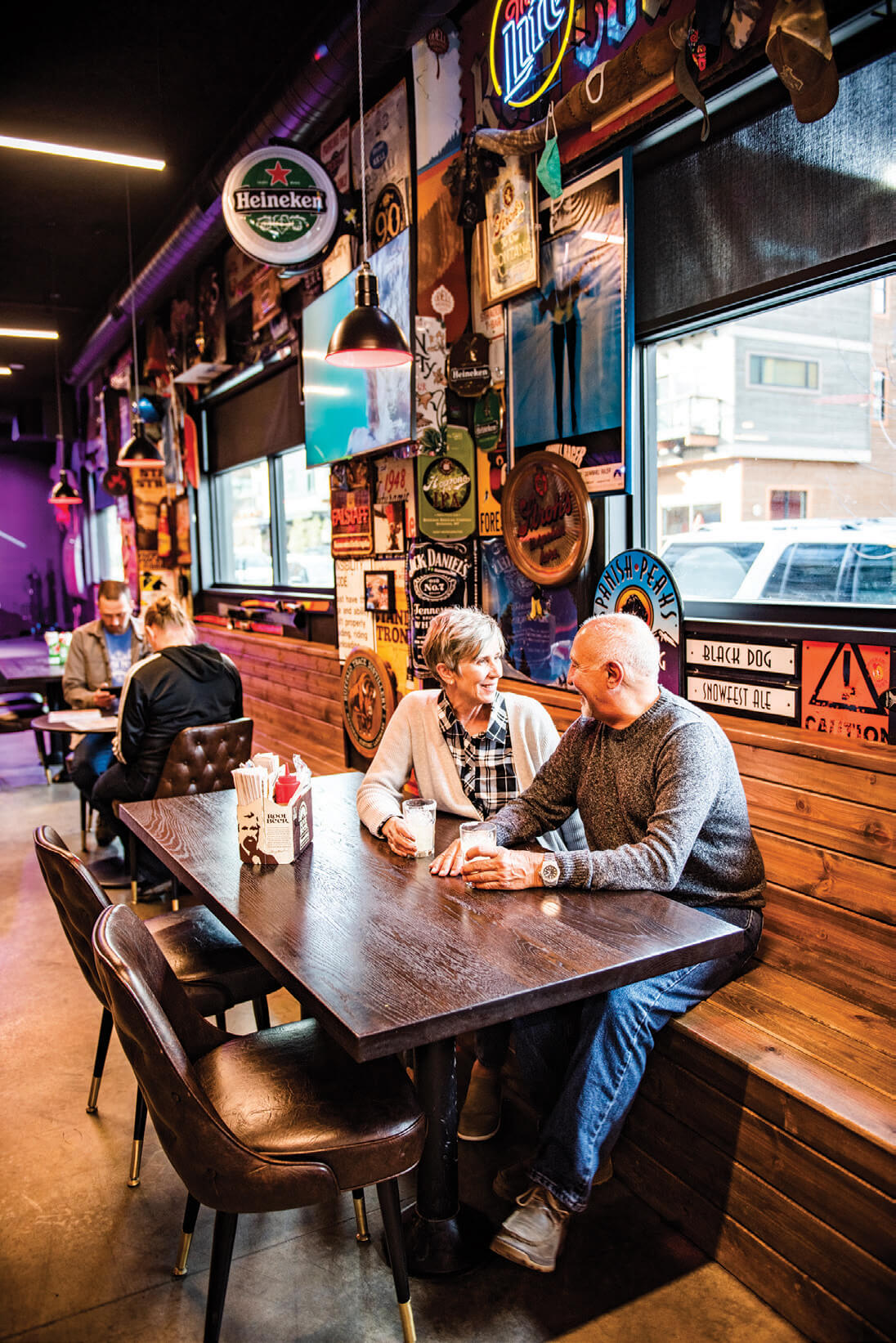 Tips Up has a casual dive-bar-meets-après-ski feel, with comfort-able seating that invites conversation, a simple menu of classic bar-food faves, and vintage ski paraphernalia that covers the walls.They also host live music on a regular basis.
23 Nov

Dining Out: Tips Up

in

As a resident of Big Sky, Montana for more than 20 years, I've learned to appreciate all of the recent additions to the area's commercial landscape. More restaurants and shops mean more choices and, overall, that's a good thing for those of us who live and work here. That said, many of the new ventures cater more to the throngs of tourists visiting this formerly sleepy ski town than they do to the locals. So, in the summer of 2020, when rumors started to circulate about a new après ski bar opening in Big Sky's Town Center — one that would feature live music and good food in an unpretentious atmosphere — I was intrigued.

It's not easy to create a dive bar from scratch, but that's what the management group behind Tips Up set out to do. Though the establishment has only been open since February 2021 — set in a large corner lot in Big Sky's burgeoning downtown district — it instantly became a hot spot that feels like it's been around forever. An old Big Sky Resort gondola car hangs above the outside entryway and a vintage John Deere snowmobile is suspended from the ceiling inside. The walls are plastered with old ski photos, memorabilia, and poster-sized trail maps. Skis and snowboards — lots of them — cover almost every part of the space, including the shuffleboard tables, ceiling, and stage. Even the cornhole games and the chairs on the large outdoor patio are made from old gear.

In short, the place lives up to the original concept. "We were asked to make it a 1980s ski-themed dive bar," says the lead interior designer for the project, Abby Hetherington, owner of the Bozeman-based Abby Hetherington Interiors. "It was a unique challenge to incorporate the dingy dive bar feeling with '80s neon colors."

Hetherington relied on her team of pickers to find the vintage items: Most of the light fixtures are repurposed (my favorites are the giant half-propane tanks hanging from the ceiling), the old signs and photos were gathered from all over Montana, and much of the ski collection came from the Big Sky community when the bar put out a call for old equipment in exchange for free drinks. And, although everything was curated, it still feels authentic. "We were able to engage the Big Sky public to create a memorable experience for people who donated," Hetherington says. "Many of those who donated also signed their skis, so now they can return to the bar and find their own repurposed gear."

Like any good dive bar, the food at Tips Up is intentially simple. The Okay Cool Group — also the management team behind the popular Bozeman eateries Copper, El Camino, and Brigade, among others — came up with the "Chicken Dude" concept. Designed to be tasty, fast, and filling, the family-friendly menu is centered around fried chicken sandwiches, something that, believe it or not, was hard to find in Big Sky before Tips Up came along. "Chicken Dude was created to bring a strong personality to our food program, compared to just bar food in most dives," says Casey Durham of Okay Cool. "It's very approachable, and we feel the concept gives Tips Up a very strong food identity."

Along with the Classic Crispy, Classic Spicy, and Grilled Baja chicken sandwiches, the menu features brown-sugar brined boneless wings, burgers, salads, desserts, and their signature "Totchos" — a nachos-meets-tater tots bit of après ski perfection. Like any good ski bar, Tips Up also offers a solid selection of local beers on tap and creative house cocktails. The Apré's Old Fashioned — made with rye whiskey, chocolate and orange bitters, and cherry — is deliciously memorable, while the Magic Carpet Mojito — made with rum, mint, lime, and triple sec — is a beach vacation in a glass.

Live music is also a mainstay: The space features a big stage in the back corner with a sound system that's capable of handling everything from local singer-songwriters to nationally touring artists, something Big Sky desperately needs as it builds out its Town Center development. During the winter, music is offered at least four nights a week, enough to keep the place bustling well into the night. Most importantly, the atmosphere can make just about anyone, locals and tourists alike, feel right at home. "I think Tips Up fits in great and gives us the place we've all been missing," says Durham. "The warm feeling and live music component have been huge hits, and we're just starting to get our feet under us, to put ourselves on the map."

Alongside many others, one of my old snowboards hangs on the ceiling — complete with my signature and memories of the epic powder days and Big Sky adventures we've experienced together. It's also a reminder of memories waiting to be shared. And, yes, Tips Up is the perfect place for that, too.

In addition to Big Sky Journal, Brian Hurlbut has written for Montana Quarterly, Distinctly Montana, Western Art & Architecture, and Outside Bozeman, among others. He is also the author of Montana: Skiing the Last Best Place, which chronicles all of the Treasure State's ski areas. Hurlbut lives in Big Sky, Montana.

Photographer Lynn Donaldson shoots regularly for National Geographic, National Geographic Traveler, Travel & Leisure, Sunset, and The New York Times. The founder and editor of the Montana food and travel blog The Last Best Plates, Donaldson lives outside of Livingston, Montana with her husband and three children.