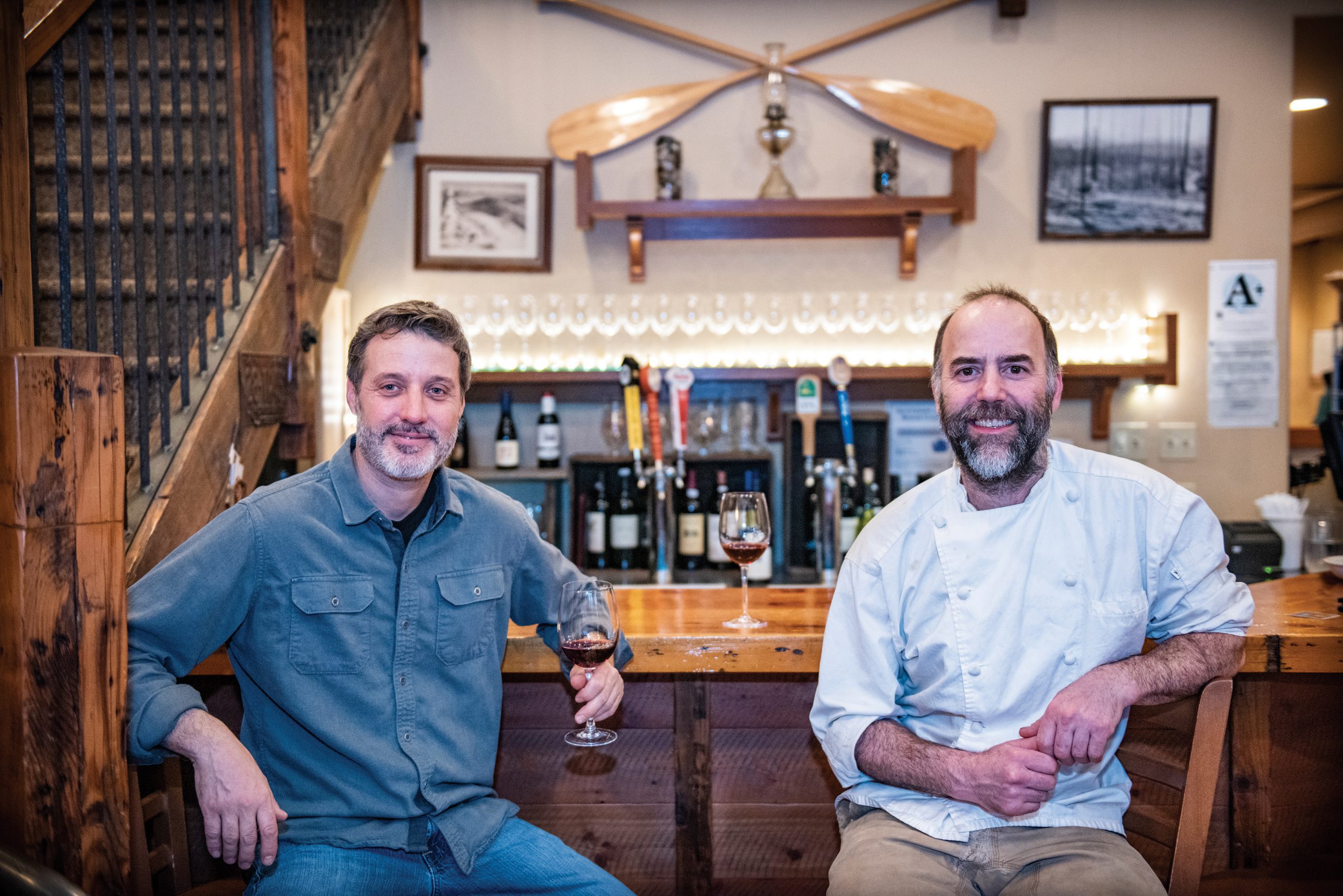 Three Forks Grille owner Tim Seward, left, and executive chef Chris DiMaio first met while working together at a restaurant in Whitefish, Montana.
04 Feb

Dining Out: Three Forks Grille

in

When he's not in the kitchen, Chris DiMaio, the executive chef of Three Forks Grille in Columbia Falls, Montana, is often out on the trail foraging for wild food: morels, boletes, chanterelles. When the mushrooms fade, he then looks for arnica, elderberry, and fiddlehead ferns. In tune to each changing season, DiMaio strives to keep the restaurant's menu fresh, as local as possible, and well balanced. "I always try to serve food that is interesting, sustainable, and healthy," he says.

To that end, you won't find a lot of exotic seafood flown in from New Zealand or Japan on the Three Forks Grille menu, although there are Willapa Bay oysters from Washington state. Instead, look for whitefish that was caught in nearby Flathead Lake, rainbow trout from Idaho, and Wagyu beef from Montana.

For DiMaio and owner Tim Seward, working with regional farms and ranches has been a priority since the restaurant opened 10 years ago. "Four different farms contribute about 90 percent of the fresh ingredients on our menu," Seward notes. "Serving food grown in the valley and from farms and ranches in the region just makes sense."

Unpretentious, the Three Forks Grille is welcoming from the moment you step through the door. Seward's easy hospitality and DiMaio's made-from-scratch cooking is the combination that makes this out-of-the-way spot so memorable. Most people think of Columbia Falls as a stopover town on the way to Glacier National Park, but when Seward opened the Three Forks Grille a decade ago, he found it to be the perfect place for a good restaurant.

Originally from Minnesota, Seward spent summers visiting his uncle in Whitefish. Between semesters at the University of Minnesota, he worked in Glacier for a couple of summers. Restaurant work came easily to Seward, and he spent stints working in Colorado, Florida, and Alaska. His experiences grew from one job to another, and he honed his craft in the hospitality industry by placing an emphasis on quality service and food, along with committing to the creation of cohesive staffs. Ultimately, the call of Montana brought him here permanently 20 years ago, for the skiing, the rivers, and the mountain community where he could "live the dream," as he says.
DiMaio'stake on a traditional caponata features cauliflower,golden raisins, and local microgreensserved over a squash puree.
Fried Willapa Bay oysters from Washington are served as an appetizer with creamed spinach, bacon, parmesan, and pickled chili relish.
The grilled Montana pork chop entree is served with bacon jam, bourbon pears, rosemary, and charred frisée lettuce.
Seward and DiMaio met while they were both working at the renowned Cafe Kandahar with chef and owner Andy Blanton at the base of Whitefish Mountain Resort. They shared a love of skiing and food, and when Seward asked Dimaio if he was interested in opening a restaurant together, the Whitefish food scene was already booming, with eateries that ranged from sushi to French fine dining anchoring the small mountain town. But real estate was pricey, so they looked to Columbia Falls where there was less competition and parking wasn't a problem.
Seward launched Three Forks Grille as much out of passion as practicality. He worked with a contractor to ensure that the restaurant would suit his needs. In addition to designing the features of a high-functioning commercial kitchen, he set out to create a contemporary version of a rustic mountain lodge.
Located on Nucleus Avenue, the main street of Columbia Falls' quaint downtown, the restaurant's emphasis on fresh, seasonal, and regionally sourced ingredients was a new concept for this community. But when DiMaio was creating the menu, it seemed natural to return to his roots. As a result, the Three Forks Grille touts a menu that features Rocky Mountain fare with an Italian flair.
"I grew up cooking with my Sicilian grandmother, and that gave me confidence in the kitchen," he says. He came west from Vermont after earning a bachelor's degree in biology. There's science in cooking, he jokes, but then admits that he chose Montana and a career as a chef for the lifestyle and the community.
Though DiMaio's food is influenced by his Italian heritage, you won't find pizza and pasta mainstays on the Three Forks Grille menu. Instead, it changes several times a year to reflect ingredients that are available, and there is more of a Mediterranean influence than a classic interpretation of Italian food. For example, DiMaio offers a house-made gnocchi in which he utilizes local beets to add dramatic color and flavor. In a riff on a traditional caponata, usually made of eggplant, he uses cauliflower and the lighter accent of golden raisins and local microgreens over a squash puree. Other staples lean on the farm-to-table theme, such as the Tuscan flat iron steak accented with an arugula and roasted red pepper salad, an item that has remained on the menu since the restaurant opened its doors.
Seward balances DiMaio's food with personal service and a wine list that is affordable and eclectic. "Food and wine bring out the best in each other," he says, standing behind the bar just before the restaurant is about to open for the night.
The Three Forks Grille has become a regular stop for fishing and whitewater guides who bring clients in after a day spent on one of the three forks of the nearby Flathead River. It's also become a destination for Whitefish and Kalispell locals. "I'm flattered that people make the drive just to have dinner here," Seward says. "There are a lot of good restaurants in the area, and we're lucky to be part of a community that enjoys great food."
Seabring Davis writes about what she loves: food, art, travel, and interesting people. The former editor in chief of Big Sky Journal and Western Art & Architecture, she has written several cookbooks, including The Western Kitchen: Seasonal Recipes from Montana's Chico Hot Springs Resort.
Lynn Donaldson shoots regularly for National Geographic, National Geographic Traveler, Travel & Leisure, Sunset, and The New York Times. She is the founder and editor of the Montana food and travel blog The Last Best Plates. Donaldson lives outside of Livingston, Montana, with her husband and three children.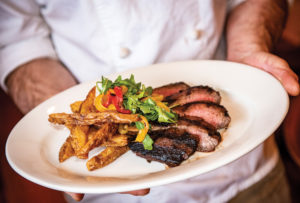 Tuscan Flat Iron Steak and Fries
Serves 2
Two 6- to 8-ounce flat iron steaks
Kosher salt and fresh ground black pepper to taste
1 tablespoon olive oil
MARINADE
3/4 cup Worcestershire sauce
3 tablespoons red wine vinegar
1 tablespoon chopped parsley
1 teaspoon fresh thyme
2 tablespoons minced garlic
TUSCAN FRIES
2 large russet potatoes,
each cut into 8 wedges
2 tablespoons kosher salt
1 teaspoon ground fennel seed
Mix the marinade and let the steaks sit in it for at least one hour or overnight. When ready to cook, remove them from the marinade and pat steaks dry with a paper towel. Season them with kosher salt and fresh ground black pepper to taste. Rub a little olive oil on each and grill over medium to high heat for about eight minutes on each side for a medium-rare temperature. Remove from heat, and let the steaks rest for five minutes. Then, slice each against the grain into four pieces, and serve alongside the fries.
For fries, preheat oven to 350 degrees Fahrenheit. Place potato wedges in a pot of cold water and bring it to a boil. While they're cooking, mix kosher salt and fennel powder and set aside for later. Drain potatoes and place them on a greased sheet pan, season them with a little kosher salt, and bake until just tender, about 30 to 40 minutes. Allow fries to cool. Now fries are ready to be crisped either in a traditional deep fryer at 360 degrees or in an air fryer. Home cooks can use a deep pan filled with 1 cup of high-heat oil, such as canola. Heat oil on a stovetop at medium-high heat until just before smoking, then add the potatoes four to five pieces at a time, and cook to a golden crisp on both sides. Toss cooked potatoes in salt and fennel mixture.