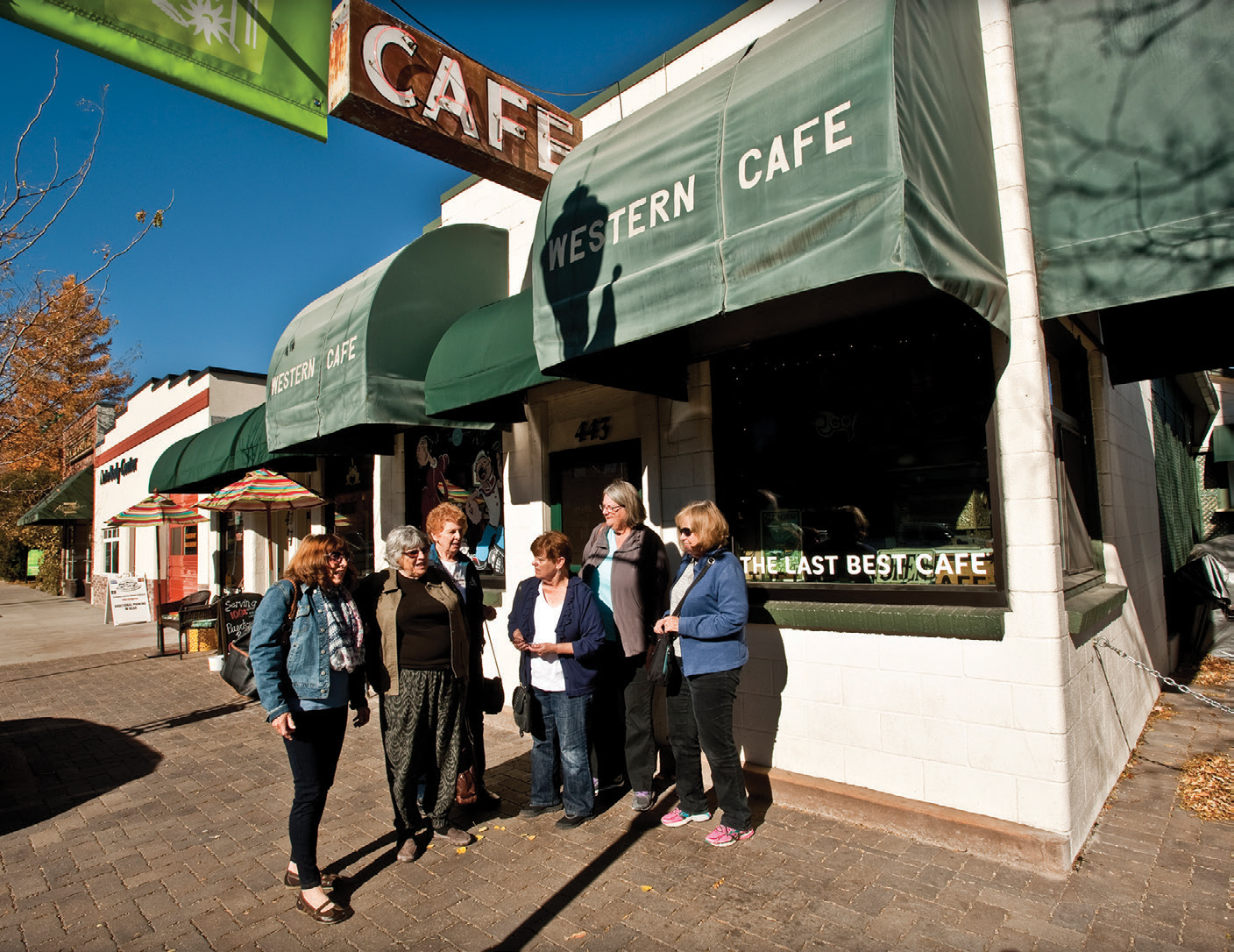 It's not uncommon to have to wait for a table at the popular Western Cafe, especially on weekends.
02 Jun

Dining Out: The Western Cafe

in

On the east end of Main Street in Bozeman, Montana's thriving downtown, where boutiques and galleries mingle with hip bars and restaurants, there's a diner that still functions — as if untouched by time — as a relic of the Old West. Here, at The Western Cafe, classic swivel stools are lined up in front of a linoleum covered counter and seats are typically filled with regular customers. Sitting behind the counter is a pie cooler displaying the picks of the day — peach, berry, pecan, among others — and the kitchen is visible off to the side with order tickets hanging on the original spinning wheel. The sizzling sounds of bacon and eggs hitting the flat-top grill mix with the chatter of a full house.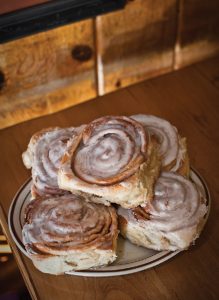 Located on the main floor of a small building that dates back to the 1870s, the first food establishment opened here in the 1940s, with the owner's living quarters in the back and just 10 stools at the counter out front. Since that time, it has expanded, gone through different family ownerships, and changed names, finally settling on The Western Cafe. And through it all, it has never lost the authentic charm that rings true from the decor to the locally sourced, made-from-scratch food.
"That's what we take a lot of pride in," explains Julie Gandulla, who has helped her mother Susan Sebena run the cafe since she bought it 12 years ago. "We really didn't change a lot, but we added our own flair."
That flair includes the addition of Sebena's family recipes, most of which came from her father who ran restaurants around the state, notably Bill's Drive-In and then Wimpy's Palace in Butte. Her father's hand-cut chicken fried steak and his signature biscuits and gravy are some of the favorites among many simple but hearty selections like French toast, pancakes, steak and eggs, omelets, and the Bobcat Special, which includes cinnamon roll French toast, eggs, hash browns, and bacon or sausage.
Keeping with tradition instead of trend, Sebena believes in sourcing food locally as much as possible, and the eggs, butter, honey, flour, and meats are all from area producers. "Back in the day, you would always buy from your neighbors," she says. "That's trendy now, but we've always done this. We use real food: half-and-half, real butter, organic jams."
Pastry chef Annie Robinson has been cooking and baking at The Western Cafe for more than 30 years, and she still uses traditional methods to create her signature pies, strawberry rhubarb and "Luscious Lemon" being among the favorites, along with her famous cinnamon rolls. "She's an old-school cook and very particular," Sebena says. "She has a stock pot going all the time, and she makes everything from scratch, including the cakes and frosting."
With an old building, Sebena's been faced with repairs, but she's managed to keep the character intact. Along with the same knotty pine walls that have stood the test of time, she's added a pressed-tin ceiling that matches the era, and some essential additions to the decor: local art that depicts the cafe over time, family heirlooms that customers have brought in to hang there, and ranch brands that line the top of the walls. "This allows people to be part of the experience," Sebena says. "I don't know a lot of places where people feel like it's their own, but they do here."
Many of the regulars are locals who have been dining at The Western for decades. Sebena points to one customer at the counter who is digging into a burger and fries. "He eats here every day," she says. "We're like another family for them, we call them by name, and they harass us a little bit," she laughs.
"And we harass them right back," Gandulla adds. That includes asking people to put their cell phones away; the cafe does not have WiFi on purpose, and Sebena's been known to introduce people to each other at the counter to spur conversation, just like the old days.
You can't help but imagine that Western Cafe customers turn into regulars because they yearn for the authentic, Old-West experience that oozes from every inch of the diner, as it anchors Main Street Bozeman to its historic roots. "I have so many people come up and ask me never to change it," Sebena says. "I'm hoping it will go for another 100 years; it's everybody's Western."