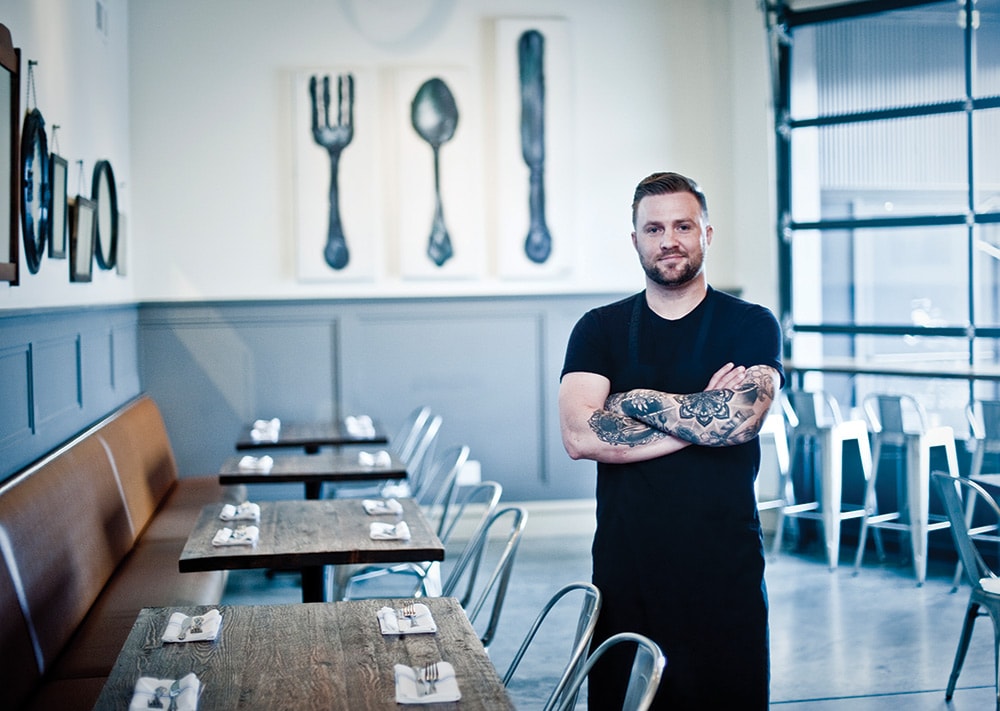 Chef and owner Ben Harman champions the use of fresh, seasonal ingredients with an ever-changing menu.
Photo by Lynn Donaldson
19 Jun

Dining Out: The Fieldhouse

in

Dinner at The Fieldhouse in Billings just might make you rethink Brussels sprouts. Chef Ben Harman doesn't dress up the old fashion staple with bacon and some heavy sauce to mask its natural flavor. Instead, he does something entirely different, topping the roasted vegetable with crumbled cashews, Parmesan, and a sundried tomato aioli. The result is a savory dish that you won't forget.

"We like to bring together diverse flavors using regional ingredients to reinvent the foods we all think we are familiar with; at the same time we want to invent new dishes that surprise people," says Harman.

Harman and his wife, Krystal, have reinvented more than just food in Billings. Their family-owned businesses have also revitalized a section of town that otherwise was forgotten. Opened in 2012, The Fieldhouse repurposed the historic Mintana Mills building on Minnesota Avenue, which was originally a meat packing plant. It was built in 1916, but had been defunct for decades until Harman's parents, Steve and Joni, bought and restored it, as well as the adjoining Swift Building, with a vision for ground floor businesses and upstairs lofts. With The Fieldhouse and The Annex, a café and bakery Ben and Krystal opened next door in 2016, the Harmans have chicly extended Billings' downtown to include this hip eastern block along the railroad tracks and across from a power plant. Other businesses have also opened and added to what's known as the Old Town neighborhood.

Embracing the industrial quality of the neighborhood (diners on the outdoor patio can literally feel the hot whoosh off the freight trains as they barrel past bistro tables), Harman incorporates the former railroad loading dock into the main dining room and leaves the patina of crumbled plaster, the concrete floors, and the original brick walls exposed. Urban garden beds just off the kitchen's back door supply fresh greens and herbs in the summer, and provide a buffer between the outdoor seating and the busy tracks. The result is an eclectic blend of rustic and contemporary style that is as creative as the farm-to-table inspired menu.

Harman studied culinary arts at the Art Institute of California and worked at restaurants in Orange County. Where he really learned to cook, he claims, was on the run when he and Krystal opened The Fieldhouse doors. Born and raised in Billings, he returned with the idea that a restaurant with local, seasonal, and regional ingredients was the missing link in the town's food scene. Planning his menu meant asking a simple question of his staff: What would we like to eat?

The answer was: made from scratch, seasonal, local. In response, The Fieldhouse menu is constantly changing, and it features a long list of Montana farms and ranches that grow and raise everything from greens to buffalo. There are staples, of course, (those Brussels sprouts) but the preparations change seasonally, such as the meatloaf that is currently offered on a potato roll, or an unforgettable burger with housemade Thousand Island dressing.

But Harman isn't afraid to experiment when it comes to exploring food combinations, and more often than not, he's looking to combine unexpected preparations in delicious new ways. That might mean a Caesar salad with Parmesan ice cream dressing, or fresh halibut with blueberry ice cream as a sauce. Some dishes work and some don't. The luxury of a changing menu helps keep things interesting, and Harman can attest that The Fieldhouse clientele are open to his experimental offerings.

"We are adventurous, and because of the seasonality of our ingredients our kitchen can experiment with our food based on what ingredients are available," he says. "Once we get comfortable, that's when we need to change things up."

Billings has responded whole-heartedly to Harman's culinary approach; his business has blossomed. The Fieldhouse is open for dinner, serves a mighty memorable Sunday brunch, and will soon be open for lunch. The details of that menu will remain a secret until the moment you take a seat. If it's from Harman's kitchen, it's sure to be delicious.