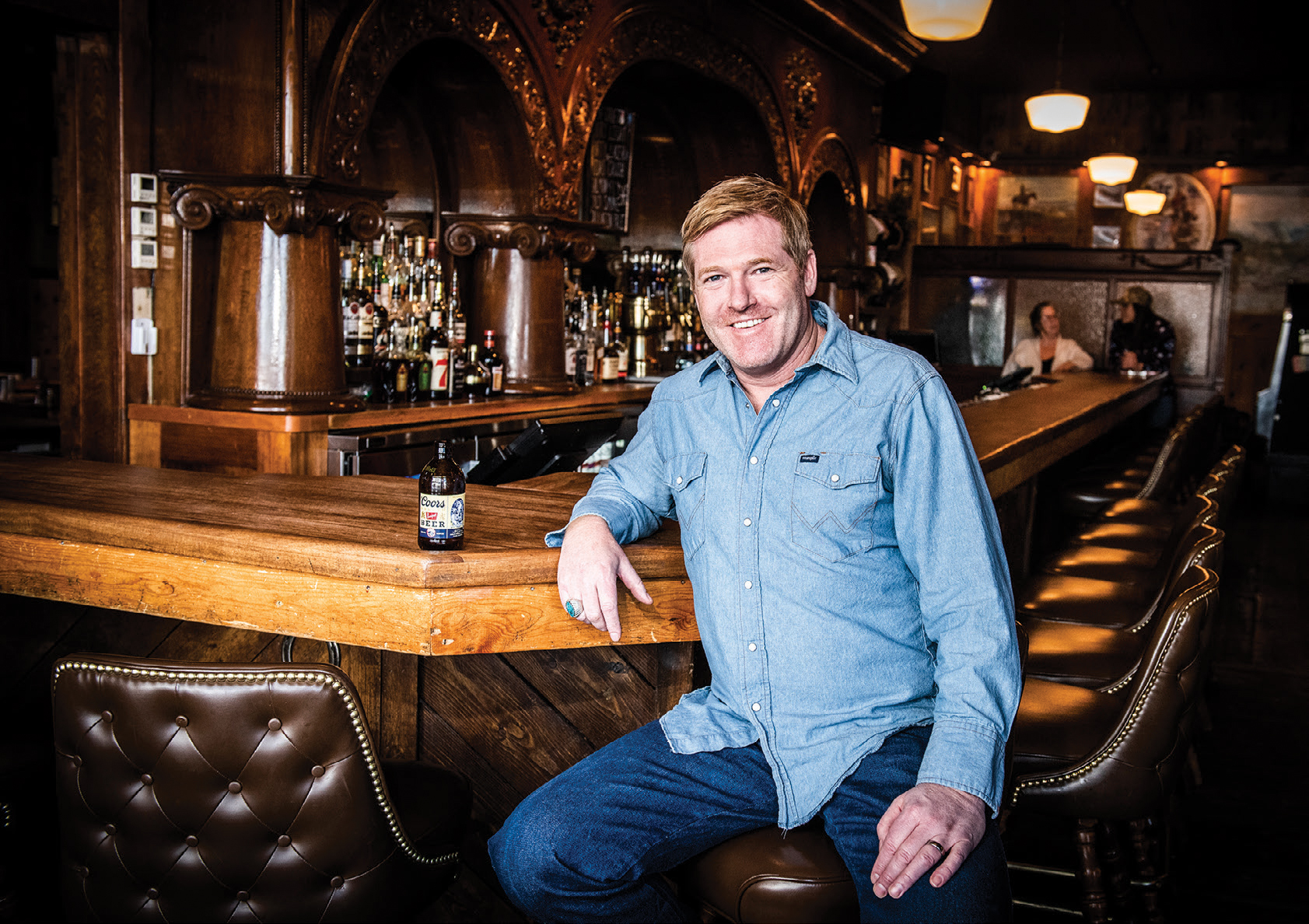 Bozeman restaurateur and fifth-generation Montanan Brett Evje officially reopened Stacey's on December 17, 2020, after completing much needed renovations.
03 Feb

Dining Out: Stacey's Old Faithful Bar & Steakhouse

in

Thirty miles north of Big Sky and just south of Bozeman, Montana, a fabled landmark started a new chapter in the fall of 2020. Today, Stacey's Old Faithful Bar & Steakhouse offers a combination of history, community, good food, and camaraderie with the charm of a rustic bar and the appeal of a contemporary eatery.

May Ping Sellards established the Old Faithful Bar in 1937 — just a few years after the small town of Gallatin Gateway changed its name from Salesville — converting a butcher shop and bank into a gathering place for loggers, ranchers, and locals that featured live music, cold beer, and a brothel conveniently located upstairs. Thirty years later, in 1963, Stacey and Phyllis Crosby bought the establishment, closed the brothel, renamed the bar, and created a legend in its own right. From that time on, Gallatin County locals flocked to Stacey's on Friday and Saturday nights for honky-tonk music and a wide-open wooden dance floor.

Kitchen manager Lisa Hake, an employee with Stacey's for over 40 years, remembers those early times being "wild." She recalls many late nights when someone fortified with liquid courage would ride their horse through the front door, around the bar, and exit out the side. "It was filled with good people," says Hake. "The music was always great, and everybody knew each other."

Brett Evje, a Bozeman-based restaurateur and fifth-generation Montanan, took over Stacey's with the goal of keeping the reputation intact, but fixing some deteriorating foundational elements, such as the kitchen and bathrooms. "First and foremost, Stacey's has been an icon since the '30s," Evje says. "It's one of those places I grew up in, and it's important to the history of our state."

In 2016, Evje and other partners took over the historic Old Saloon in Paradise Valley, renovating it while keeping it close to its founding concept. "These old country bars are slowly disappearing, and if we don't do our duty to bring them into the 21st century, we'll lose them for good," he says.

Walking into the establishment today, there's no doubt that Stacey's is still Stacey's. Located off U.S. 191 — the highway that heads toward Big Sky and the west entrance to Yellowstone National Park — the wood-paneled bar fills up most afternoons, the jukebox can be heard from outside, and the regulars greet each other while enjoying beverages after work. "These spots are important to Montana," Evje says.

"I want to keep the spirit as close to the original as possible. I think there's an obligation on my part to keep these alive. The previous owners did a fantastic job, but they were ready to move on. I can come in and implement the changes that I believe will be needed to keep Stacey's on the map for the next 50 years."

The food — mostly burgers, prime rib, and steak — reflects simple pleasures and deeply satisfying cravings for good grub. When I visited, I tried the Stacey's Burger, with melted cheddar, crispy bacon, caramelized onions, sautéed mushrooms, and a kiss of barbeque sauce to pull it all together. The fries — blanched in vinegar and salt water, then breaded and deep-fried — had a gratifying crunch and were cooked just right. With a selection of steaks (even a vegetarian cauliflower version), salads, appetizers (including Rocky Mountain oysters), desserts, and a kids' menu, Stacey's has something for everyone. But for me, when the urge for a well-made burger hits, nothing can compete.

For dessert, I tried the carrot cake (recipe below), which had surprising notes of chai spice that made the homestyle favorite more contemporary. "The carrot cake is something we added to the menu," Hake says. "People used to order the peanut butter pie, but the carrot cake has taken over as the favorite."

Evje explains that the menu was mostly inherited from Toni Donelly, Stacey's daughter, as was the family-friendly atmosphere and steakhouse feel on the restaurant side. "It's a straightforward menu," he says, noting the high-quality meats and excellent relationships he has with distributors, allowing them to charge fair prices. "But basically, it's a cowboy bar," he adds.

For the most part, the decor reflects Stacey Crosby's enduring love of all things rodeo, including the sepia-tinged photographs covering the walls. "We added a historic back bar that we found in North Dakota, and our plan is for an outside bar and covered deck with full service, and a lawn area with horseshoe pits, and, of course, great views," Evje says.

After Evje's success with the Old Saloon, Stacey's fit that model in many ways, as a historic bar on a main thoroughfare in Montana with the potential for instituting a few infrastructural changes. Although Evje discourages patrons from riding their horses through the front door, he is hoping the rough-and-tumble vibe hangs around. "We just want to offer a stiff drink or a cold beer and a fantastic burger," he says. "Since we reopened, the response has been great, and most people are happy to see Stacey's remain a Gallatin Gateway institution."

Freelance art writer and author Michele Corriel earned her master's degree in art history and her Ph.D. in American art. She has received a number of awards for her nonfiction and poetry, and she is currently working on her latest book, The Montana Modernists.

Photographer Lynn Donaldson shoots regularly for National Geographic, National Geographic Traveler, Travel & Leisure, Sunset, and The New York Times. The founder and editor of the Montana food and travel blog The Last Best Plates, Donaldson lives outside of Livingston, Montana, with her husband and three children.