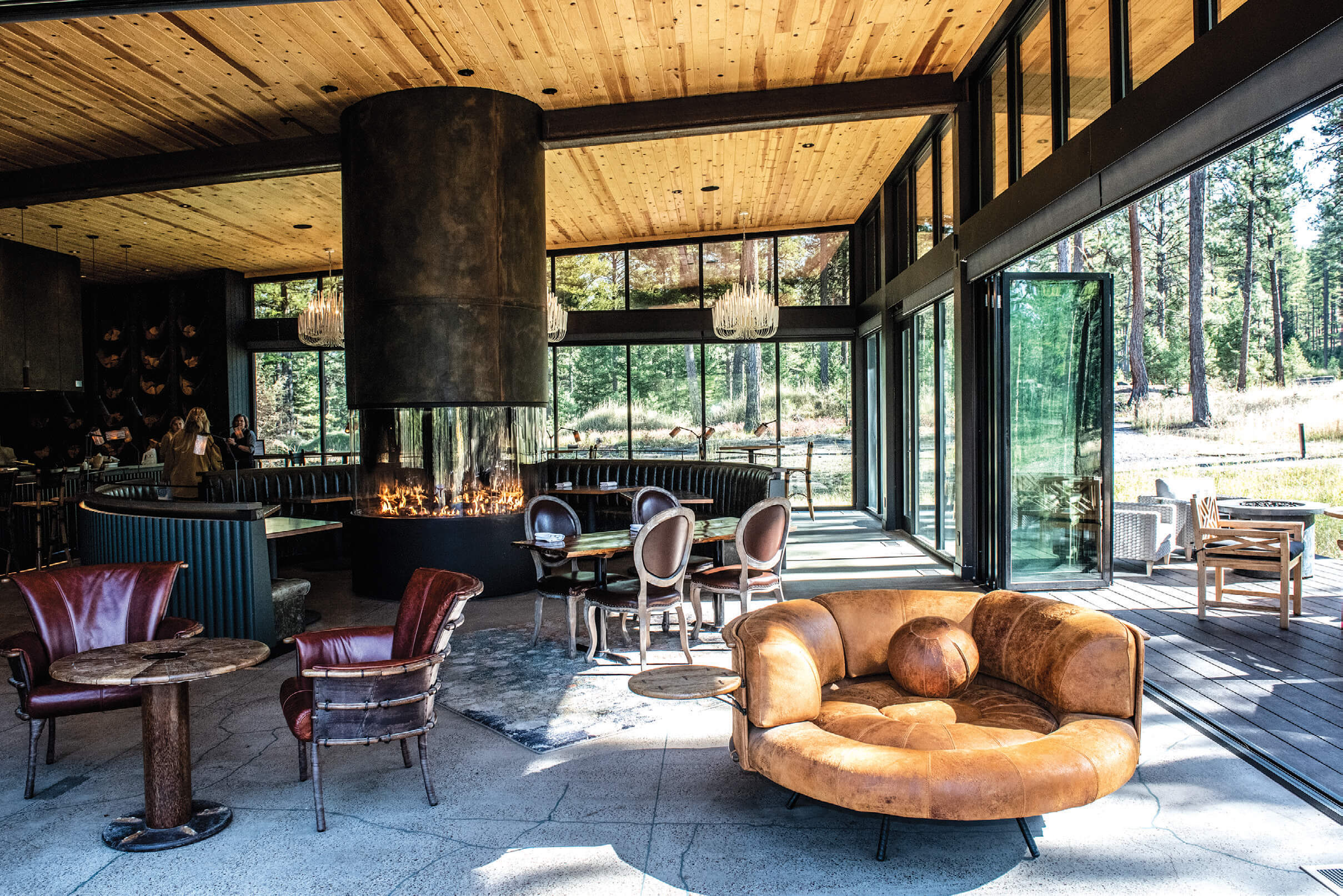 The Social Haus, with its Scandinavian style and indoor outdoor design, fits the forested solitude at the Green O.
24 Nov

Dining Out: Social Haus at the Green O

in

The Social Haus experience is like one of those strange dreams where two worlds merge. I'm sipping an elderberry cocktail under the warm glow of chandeliers, watching artisanal chefs prepare cuts of meat, fresh herbs, and broths at a bustling open-kitchen bar. I could be in a hip downtown restaurant — maybe in Seattle or Portland. But if I turn to scan the inside of this modern space — with its high, light-wood ceilings and tall, charred Japanese wood siding stained to match the surrounding pine trees ­— the vibe feels different, like I've been dropped into a world untethered from time and reoriented in space. A few couples occupy high-top tables or nestle into the seating that encircles the central fireplace. Past the fireplace is a whole section of folding glass walls that seamlessly open onto a small wraparound deck, beyond which is the forest.

The moon has arrived and the dusky sky is filled with stars. We're about to experience a nine-course tasting menu and no one has to go home. At least, not tonight. It's the perfect dreamscape for tasting good food; more specifically, good food without pretension. The Social Haus is part of a new boutique resort called the Green O, which opened a little over a year ago and is located on the 37,000-acre Paws Up Ranch in Greenough, Montana. Its secluded nature, hidden in the pines, gives it the magic of an undiscovered secret.

The restaurant occupies the margins of fine dining, where creativity is encouraged and surprise is the intent. On this particular evening, Executive Chef Brandon Cunningham and his team have concocted a diverse tasting menu that, as usual, gives very little information away: Just two ingredients are listed for each course. "It helps us stay focused on those two ingredients, so the dishes don't get too convoluted with too many touches," Cunningham says.

That's not to say the actual food is simple; it's just thoughtful. Each chef whose dish is showcased brings it to the table and provides the full story to the guests. For instance, the prawn and cucumber course, created by Chef Robbie, turns out to be something between aguachile and ceviche. It features Alaskan spot prawns cooked in pork bouillon with achiote, a little marinated cucumber, and sweet potato, all topped with avocado mousse and bright nasturtiums. The sturgeon and squash, we learn from another chef, features poached sturgeon in aromatized butter and ham fat, topped with pickled delicata squash. At the bottom is a charred and butter-poached delicata squash ring and red curry squash with ham hock made into a puree.

The storytelling approach behind each tasting makes eating at the Social Haus feel active, but not exhaustingly so. There is a subtle relationship between guest and chef that adds to the experience: Here's the person who made the dish, telling you about the dish, about their art. And that extra interaction makes everyone feel a little more invested. There's nothing too showy about it, though it's worth noting that the Green O website refers to the restaurant as "Theater for the Hungry." The simple Scandinavian architecture might even resemble an airy, light-filled blackbox in which the character of each dish can be showcased, without distraction, to a hungry audience of just 24 people. The intimacy of the space is enhanced by a wall decorated with striking black-and-chrome portraits of the Green O's builders — not the architects, but the people who actually constructed the buildings with their hands. It's a rarity to see such a tribute to workers.

Each night offers a different tasting menu, though there are some favorites that get heavier play, like the venison and xo. Xo is an iconic Chinese-style sauce, and the Social Haus chefs create theirs from the trim of country ham and the restaurant's homemade beef bacon. The meats are cooked down, with lots of vegetables and marinated venison, and the dish is topped with fresh broccoli sprouts and served in a clever Chinese takeout box.

The revolving tasting menu often speaks to the culinary team's cheeky dedication to lowbrow-highbrow fare. The ham and cheese amuse-bouches are meant to riff on a ham and cheese sandwich. Sometimes the menu includes foie gras hot dogs. Pheasant "chicken nuggets" are also popular. The fish sticks are another fun offering. Prepared with trim from quality cod packed in salt for two weeks, the fish is rehydrated; made into a brandade with potato, olive oil, herbs, and fresh halibut for binding; and then beer battered and fried. "We're a little playful in that way," Cunningham says. "There's a lot of nostalgia worked into what we do. People get kind of a chuckle out of it. We just don't take ourselves too seriously here at all. There's no ego. Food tastes a lot better when it's presented with humility."

Still, the trio of dessert courses is anything but humble. One dish showcases sweet raisins in fresh carrot puree, with pumpkin seeds, roasted white chocolate crunch, carrot chips, whipped white chocolate, and cream cheese frosting. Another includes orange and vanilla crumble with fresh blackberry sorbet. The final dish features caramelized chocolate almond sponge cake infused with 18-year-old Scotch, combined with amaretti cookies dusted in sea salt.

Cunningham started cooking in Ashland, Oregon while taking psychology and history classes. He worked his way up from washing dishes, with no particular intentions. But once he started learning how to cook, he began seeking it out. When he moved to Portland, he gained experience in fine dining and cooking over live fire. By the time he moved to Montana with his wife, he had the range of experience and the requisite drive for excellence that secured him the position of head chef at the Social Haus. A child of the 1990s, Cunningham grew up with many lowbrow foods, which is why he loves playfully preserving the nostalgia, but improving the taste. "The memories of fish sticks are good because of what was going on around you, but the fish sticks themselves were never, you know, amazing," he says.

He jokes that the bar is so low when it comes to reimagining things like fish sticks, it's hard to go wrong. That's the humility speaking, of course. The Social Haus team is precise with their target: It may feel like a joke, but it won't taste like one. Nothing here relies on gimmick alone. The kitchen's goal is to source as many ingredients as possible out of Montana's short growing season, or at least to source ingredients sustainably.

Green O provides guests with a uniquely intimate experience; just as there is seating for 24, there's lodging for 24. The hideaway caters to couples and, while it allows access to many of the activities Paws Up provides — like snowmobiling and cross-country skiing in the winter and horseback riding in the summer — the serenity is key. After the meal, guests retire to one of 12 two-person luxury cabins, each featuring a distinctive design, but all created with elements of timber and glass that highlight the elegance of forest dwelling. There are no vehicles — they are valet parked at check-in — or televisions to interfere with the natural quietude.

My accommodation, the Green Haus, offers an indoor- outdoor fireplace, wraparound deck with a sunken jacuzzi, mid-century modern furniture, shower and tub fit for royalty, and a king-sized bed with a skylight above it.

Before I close my eyes, I remember to check the freezer as advised. It would be a travesty to miss out on the homemade semifreddo ice cream sandwich (mine was strawberry) waiting inside. It's definitely the stuff of dreams.

Erika Fredrickson is a longtime journalist and the former arts editor of the late Missoula Independent newspaper. She currently writes for various publications, including the Montana Free Press, and often focuses on architecture, art and culture, technology, and sustainability. She is a co-producer for the crime history podcast Death in the West.

Photographer Lynn Donaldson shoots regularly for National Geographic, National Geographic Traveler, Travel & Leisure, Sunset, and The New York Times. The founder and editor of the Montana food and travel blog The Last Best Plates, Donaldson lives outside of Livingston, Montana, with her husband and three children.