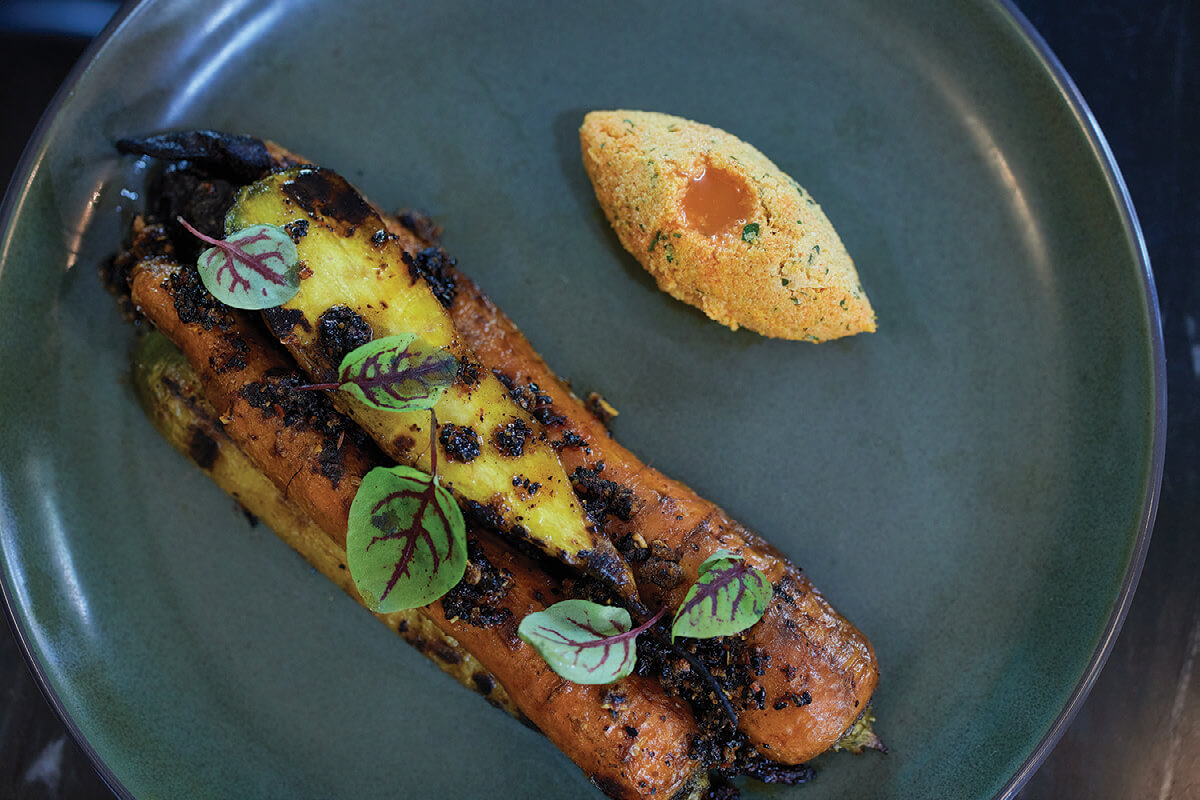 These roasted carrots are served with a rye chile crisp, fermented carrot-cashew remoulade, and honey glaze.
29 Sep

Dining Out: Snow-Line Cuisine

in

Ringed by majestic mountain ranges and located at more than 6,200 feet in elevation, Jackson Hole is the perfect place for restaurant Coelette to showcase its snow-line cuisine. Focusing on techniques and flavors from mountain communities and cultures around the globe, Coelette merges its alpine-inspired vision with a farm-to-table ethos. 

Executive chef Samuel Dawson joined the team soon after the restaurant opened in 2020. After enjoying a memorable meal enhanced by the distinctive atmosphere, décor, and staff, he left a note for the chef with his number, and it didn't take long before he was working there. 

"Snow-line cuisine is rooted in mountains," Dawson says, adding that this could include food from the mountains of Japan, China, Peru, or Chile — "Anywhere there are mountains and people preserving summer produce for winter."

The restaurant sources a variety of ingredients from Huidekoper Ranch in Wilson, Wyoming and Canewater Farm, which is just over Teton Pass in Teton Valley, Idaho. Around 70 miles south of Jackson, Shumway Farms in Afton, Wyoming provides dairy products like raw milk and cream, as well as proteins like lamb. "We really wanted to take the notion of local and show off what can be done here, focusing on 99 percent local ingredients, produce, and ranch protein," says Ali Cohane, who owns Coelette along with her husband, Kevin Cohane. The couple also owns Persephone Bakery (in Jackson and Wilson) and Picnic, also located in the valley. Of Coelette, Ali says the restaurant offers "something new to the community that's not just farm-to-table, but is really about both the food and the technique." 

Some ingredients, like chile peppers, aren't necessarily known for growing in the local mountains, but they are sourced from within a 300-mile range extending to Idaho, northern Utah, Montana, and parts of South Dakota and Colorado. "We feel like the 300-mile radius is still very local, especially in the West where distances are a little bigger than on the East Coast," Dawson says. "We can have a dual purpose: highlight snow-line cuisine, and also really emphasize local providers and farmers and support them." 

Accordingly, the food varies with the seasons. "The summer menu is about simplicity; it's about letting ingredients shine themselves," Dawson says. In summer, they focus on fresh ingredients for dishes like summer salads that feature baby greens along with radishes, herbs, local cheeses, and a simple vinaigrette. 

They take a different tactic during colder times of year. "In wintertime, we're doing more composed dishes, more brothy, soupy things, more hearty things," Dawson says. A summer lamb might have a simple preparation, whereas a winter dish might incorporate braising for richer flavors and a different texture. Elk might be grilled in the summer, but is transformed into pâté, ground with other flavors, set into a mold, and sliced as terrine in winter. The cuisine and ingredients also change within each season, and observant diners will notice subtle changes as the weeks and months of harvest season pass by, such as small, young carrots served early in the summer, followed by larger carrots with the approach of fall.

Extending the range of summer flavors for enjoyment all year is instrumental to Coelette. The kitchen staff preserves, ferments, pickles, and cans, and makes their own vinegars, jams, jellies, and kombuchas. For instance, black plums and red pluots from northern Utah are transformed into jam and kombucha, while Flathead cherries and pink raspberries from Montana are fermented and frozen.

Coelette's sense of place is reflected not only in its sourcing of local ingredients, but also in the physical structure where each meal is enjoyed. Housed in the historic Coe Cabin at the corner of South King Street and East Pearl Avenue, the restaurant incorporates elements from over 100 years of Jackson history. Once the home of a local blacksmith, the cabin was purchased by John Holland, who carefully preserved the building. This required dismantling the original structure — and denoting each log's individual location — then reassembling in the original formation.

When the Cohanes brought their idea for Coelette to the Coe Cabin, they worked with Nona Yehia of GYDE Architects, Christian Burch and John Frechette from Mountain Dandy, and Adam Connor of Remedy Design and Build to furnish the space, incorporating numerous historic elements including old photos of people on vacation in the area. They sought to "create the feeling that this was someone's curated home over years and years and years — not a brand-new restaurant," Ali says. "We really wanted to feel the history in the design."

Equally so, the restaurant's name is inspired by history: "Coelette" is a play off of Coe Cabin, the Cohanes' time in France, and the sense of hospitality they envisioned for the new space. 

"Names are the hardest part, and we really wanted to pay homage to the history of the cabin," Ali says. "We really wanted to connect to place. The style of hospitality we were looking to engender was like being at the dinner party of the best hostess you know. You feel at home; she is incredible at hosting, with the best food, wine, and conversation, but it's still casual and comfortable, not stuffy — very familiar and friendly. So, we started imagining, 'Who is this person?'" 

They decided Coelette was the perfect name.

As diners admire the cabin's comforts, enjoying a menu showcasing ingredients grown and raised in the region and prepared with time-honored techniques, they're likely to draw closer to place. To dine at Coelette is to become immersed in the mountains, all through the sensory experience of food.  

Kristen Pope is a freelance writer and editor who covers stories about mountain living, science, conservation, travel, and the outdoors for a number of outlets; kepope.com.

For David Agnello, architecture, interiors, and the people that utilize the built environment are his most common subject matter, from modern architecture in the American West to resorts in the Turks and Caicos Islands. The interaction between nature, structure, light, and human interface is the driving force behind Agnello's photography. Bikes, skis, his wonderful girlfriend, and a couple of rambunctious dogs keep him busy when not behind the camera.