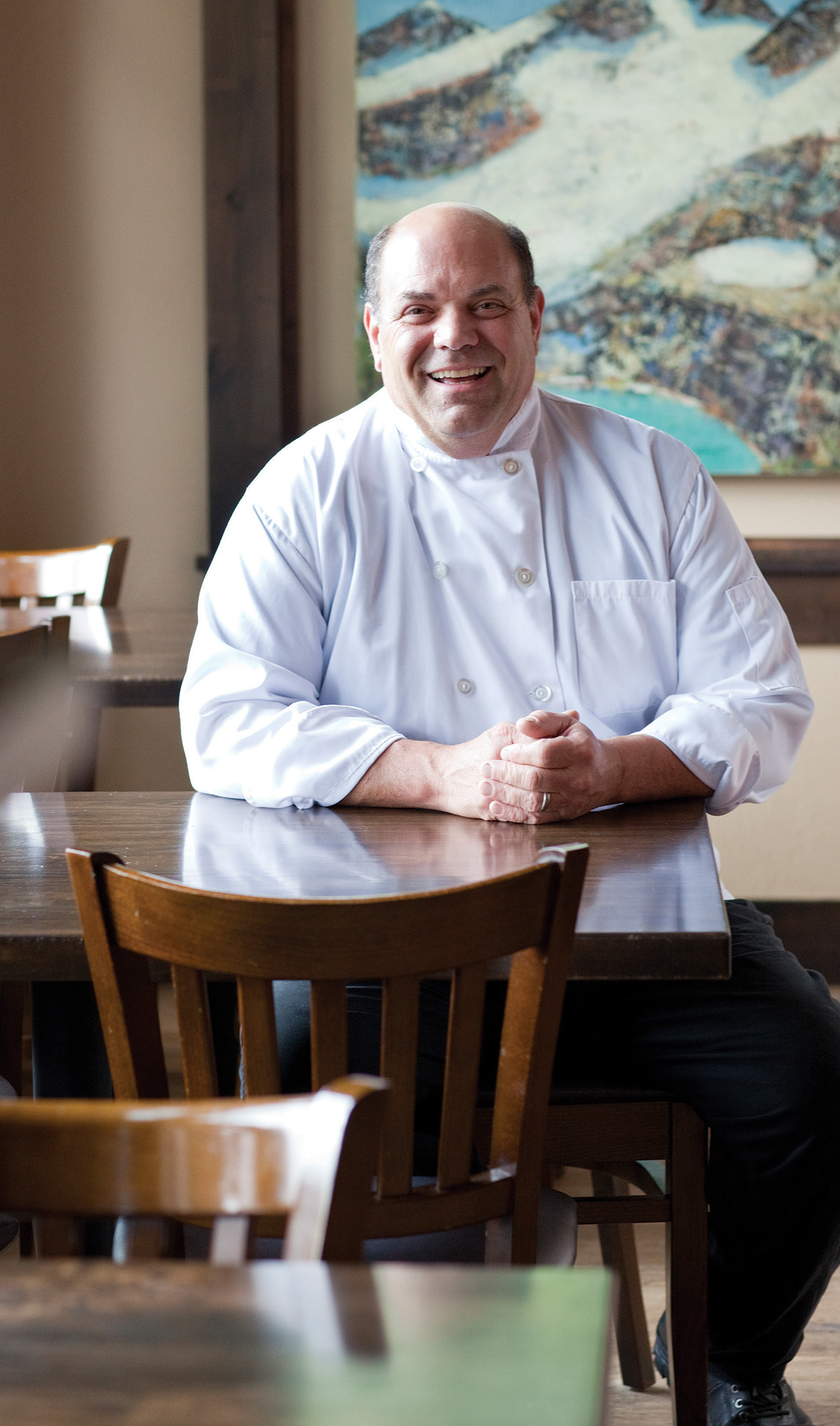 30 Sep

Dining Out: Simply Good Food

in
---
Chef Warren Bibbins' restaurant philosophy is simple: There is a demand for good food.
With that in mind, the menu at Olive B's Bistro in Big Sky features the kind of ingredients that peak both your curiosity and your appetite.
Think Bleu Cheese Crème Brulee, a starter on the dinner menu, that includes smoked duck breast, a grape relish, baby arugula with a shallot vinaigrette and ciabatta bread crisps. Or the Pork Prime Rib Chop, which comes with sweet potato and spinach hash and a pearl onion, red grape, Flathead cherry, apple chutney. It would be worth a drive through Gallatin Canyon just to eat beef tenderloin with Maine lobster truffle mashed potatoes. There's even a grilled tofu offering.
While Bibbins' business philosophy is simple, his plates are loaded with complex flavors. Diversity drives the offerings at Olive B's (named for his first daughter) and since opening the doors of his "Continental bistro," Bibbins has made his mark in Big Sky.
"Cooking is my passion," he says in a thick New York accent, "I don't know what I'd do if I wasn't in this business." A veteran restaurateur, this is his fourth restaurant and he's lived in Montana since 1990. He trained at the Culinary Institute of America at Hyde Park and trained from the ground up in kitchens back East. But since he counts his years by the number of season passes he's purchased at Big Sky Resort, the mountain lifestyle suits him better.
A regular day for Bibbins means, "doing 1,000 little things." That includes donning the chef's coat daily, ordering all the food, checking in a wine order, calling the "fish guy," taking reservations and making coffee. Not that his staff doesn't shoulder a lot of the responsibilities too — they do — but Bibbins is a DIY kind of owner and he isn't afraid to handle the minutiae as well as his grill. Along with his wife, Jennie, who is also the restaurant's dessert chef, Bibbins runs a well-managed small-town bistro.
Located in the meadow, across from the golf course, the dining room at Olive B's is oriented toward two community landmarks: historic Soldier's Chapel and the iconic Lone Peak. The restaurant, designed by Locati Architects and constructed by Blue Ribbon Builders, blends rustic mountain architecture with contemporary design. At the entrance, wine racks, featuring some of the area's best selections to be paired with Olive B's hearty fare, surround the host stand. The cocktail bar lines one end of the room, simultaneously providing the perfect amount of visibility for a lively social scene with the ideal amount of privacy to still have a conversation. The open kitchen is lined with brick, a nod to Continental cuisine's Euro roots, and guests love to watch Bibbins and his crew cook and assemble entrées from the bustle of the dining room.
Although Bibbins draws primarily from European culinary influences (French, Swiss, Italian), the appeal of regional ingredients is not lost to him. When in season, there are items such as bison burgers, fresh-picked chanterelle mushrooms and huckleberry key lime pie, or the staple of locally made pasta. But Montana is a tough place to produce food all year, so as a chef he doesn't want to be limited to simply what's available down the road. Oysters. Alaskan crab for crab cakes. Ahi tuna.
"The influences of Continental cuisine comes from all over the world," Bibbins explains. "A little bit of this from here, a little bit of seasonal ingredients there. I try to source the products that are the best so that I can make good food consistently."
It's just that simple.
---
Editor's Note: Olive B's is open Monday through Saturday from December to April and June to October.
---
Pheasant with a Sweet Corn Fritter and Grand Veneer Sauce
Olive B's Big Sky Bistro by Chef Warren Bibbins  |  Serves 6
Grand Veneer Sauce:
3 cups red wine
1 bay leaf
6 juniper berries
1 3-inch sprig fresh rosemary
6 black peppercorns
2 shallots, chopped
½ cup sour cream
Place all ingredients, except sour cream, into a saucepan. On medium-high heat, reduce by half. Pureé in a blender until smooth. Transfer to a mixing bowl; add sour cream, mix until combined. Chill until ready to serve.
Sweet Corn Griddle Fritter:
2 grinds fresh black pepper
1 teaspoon Kosher salt
1/8 cup butter
½ cup shallots, fine chopped
1/8  cup green onion, thin sliced (hearty ends)
1 ¼ cups corn
2 teaspoons sugar
1/3 cup cornmeal
1/3 cup all purpose flour
1/3 teaspoon smoked paprika
½ teaspoon baking powder
1/3 cup buttermilk
In a sauté pan sweat shallots, green onion, butter, fresh pepper. Add corn and sugar, sweat. In a mixing bowl, whisk together cornmeal, flour, paprika and baking powder. Next, whisk buttermilk and eggs into dry ingredients. Fold vegetables into wet mixture. Scoop ¼ cup rounded mixture onto a heated flattop griddle. Cook through, let cool and brush with clarified butter before serving.
Pheasant:
6  10-ounce pheasant breasts, skin-on airline cut
Salt and pepper to season
4 tablespoons Wondra flour
2 tablespoons olive oil
2 tablespoons canola oil
1 cup red seedless grapes
2 cups brandy
36 asparagus spears, grilled
Season pheasant breasts with salt and pepper. Coat with flour. Pan sear skin side down in hot skillet with olive oil, canola blend. Sear 4 minutes per side. Add red grapes and remove pan from flame. Next, pour brandy over chicken. Return pan to flame; be careful, it will ignite. When flame burns out, put pan in 450-degree oven for 9-10 minutes. Serve with grilled asparagus, corn fritter and grand veneer sauce. Enjoy!