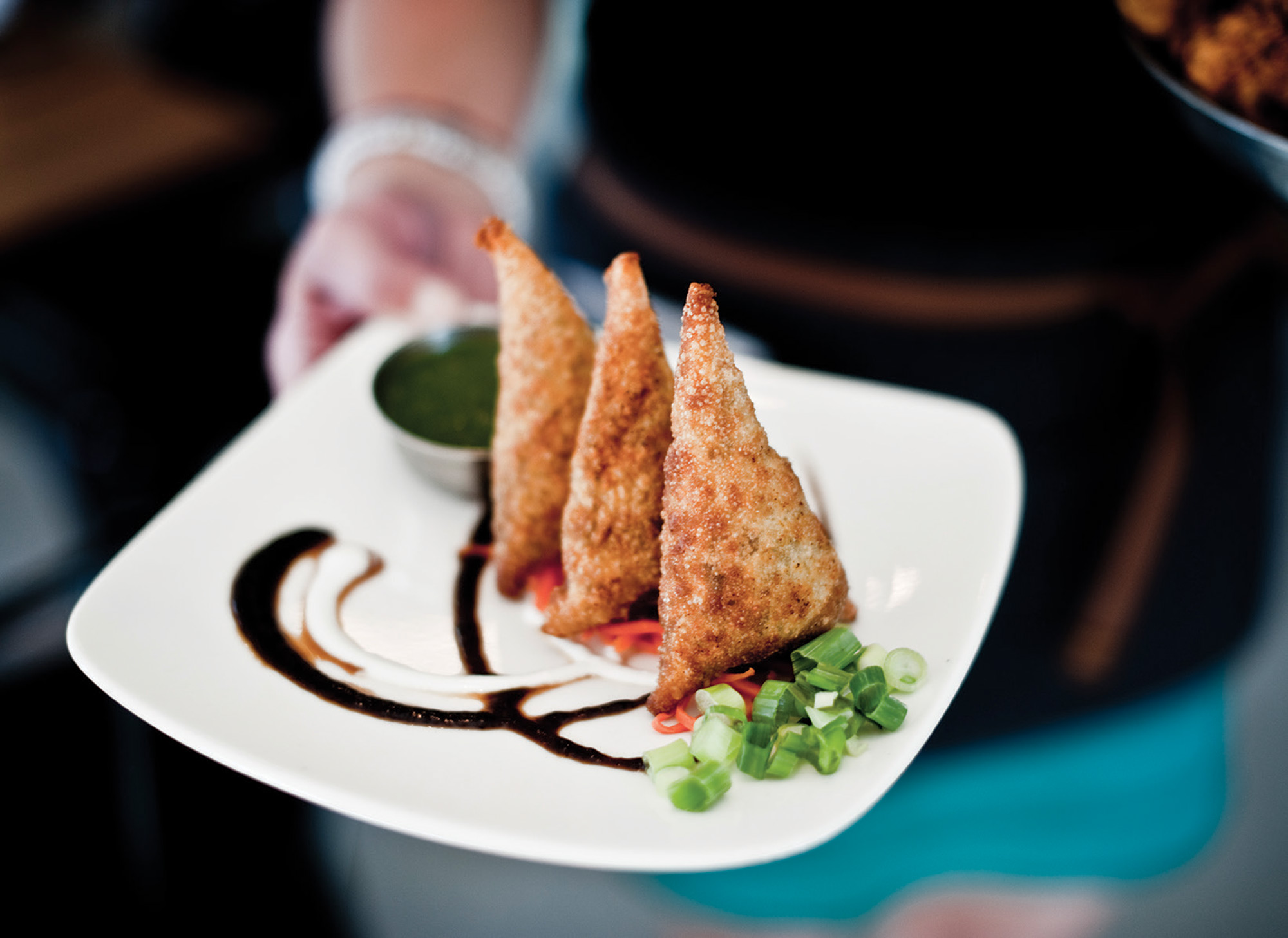 25 Jul

Dining Out: Saffron Table

in
---
Andleeb Dawood wants to make you smile.
Before I step into Saffron Table, I smell the velvety aromas of the kitchen wafting through the open door to the patio. The warm summer breeze seems to heighten the scents. Cardamom. Cinnamon. Fennel. Coriander. Maybe a little nutmeg. Like a Pavlovian trigger, the smell sets my mouth to watering.
Inside the restaurant is a contrast to what those spices conjured in my imagination. I'd thought of the bright yellow of tumeric, the smokey warmth of curry, silken textures of stews and their earthy colors, and how that would translate to a lavishly decorated dining room. Instead, the decor at Saffron Table is crisply modern in a Montana kind of way — wood tabletops pair with polished concrete floors and shiny black metal bistro chairs. It's spare and clean, hip and welcoming in its simplicity. The design palette matters, because it intentionally sets the tone for dinner here. It is authentic Indian food, with characteristic spices and timeless recipes made from scratch, yet it has a fresh ambiance.
"I wanted the restaurant to be approachable to people here in Bozeman," says owner Dawood. "It is something familiar even though the food is exotic."
Reading the menu at Saffron Table makes me yearn for a map of South Asia to mentally note the eight countries that inspire Dawood's rendition of contemporary Indian food: Afghanistan, Bangladesh, Bhutan, Maldives, Nepal, India, Pakistan, and Sri Lanka. The geography lesson would help me understand how Dawood concocts the buttery flavors of the Goan Seafood Stew, or how the city of Dehli adds unique spices to make the Mughlai Chicken and Mushroom Curry, or about the airy texture of the jasmine rice, which is harvested in Nepal at the foothills of the Himalayas.
Saffron Table opened in May 2014 with a strong business plan and clear philosophy: To make people happy through food. "I decided that if I could just make one person happy even for five minutes each day, then I was contributing something good to the world," Dawood says with a smile.
She grew up in Pakistan's coastal city of Karachi, and came to the United States to attend a university in upstate New York. She did not start out in the field of culinary arts, as one might expect given the crisp interpretations of classic Indian dishes at her restaurant. Instead, she successfully pursued investment banking, specializing in financing rural hospitals. Later she launched a company called Kidrobot. Before coming to Bozeman, she lived in New York City and commuted to Los Angeles and San Francisco.
Dawood is not afraid to take calculated risks. With a flourish of entrepreneurial spirit, she changed the trajectory of her fast-paced life, against the advice of friends, and opened a restaurant. With the support and vision of her architect husband, Nicholas Harris, she created a unique dining experience that bustled from the moment her doors opened.
At Saffron Table, Dawood recreates the recipes of her own family's table with a refined twist, using ingredients that are fresh and local. That translates to Yellowstone Grassfed Beef in the korma, Willow Springs lamb in the samosas, and Farm 51 goat for the kofta special.
"The style of food isn't fusion," explains Dawood, "It's contemporary South Asian cuisine."
The Mama's Chicken Curry is straight from her childhood table, Dawood says. Many of the dishes remind her of home in Pakistan, where there was always a feast at her house. "Our table sat 18 people," she recalls. Growing up in a big family meant helping in the kitchen; food was a big part of sharing time together. Her happiest memories revolve around the taste of home, where her mother tosses "a little bit of this and a little bit of that" into a pot, resulting in the most flavorful of meals.
The most important ingredient to any Indian food recipe is the spice blend. Most South Asian cooks mix their own spices, or masala, toasting seeds and herbs in oil and then blending the mixture to be used sooner rather than later. The spices lose their flavor quickly, so the shelf life is only about three months. The common ingredients include cardamom, dried chile, cinnamon, clove, coriander, cumin, fennel, fenugreek, mace, nutmeg, red and black peppercorn, poppy seed, sesame seed, saffron, tamarind, and turmeric. Dawood orders palettes of spices directly from a South Asian importer and has her team of chefs meticulously follow her recipes.
While Dawood isn't a trained chef, she is a fixture in the kitchen. Each offering on the menu is a rendition of a family recipe that she first perfected through practice and tasting in a home kitchen. She then works with her chefs to adjust for commercial quantities and fast-paced preparation on a busy night at the restaurant. From a relatively small kitchen, the cooks produce some really big flavors. The chef training, according to Dawood, is intense because it requires a different set of skills than Western cooking.
"Indian food is very involved," she explains. "The recipes and preparation require nuance and, really, the engagement of all your senses because the succession of ingredients is essential — being able to see that the oil is the perfect temperature, to smell the aroma of a spice as it opens up and browns but doesn't burn — it takes practice and skill."
While the restaurant offers the casual curry-house standards, such as variations of spicy vindaloo, samosas, and pakoras, the dining experience can be an elegant series of courses to be savored with assorted wines (the list ranges from spritzy proseccos to weighty California cabernets); a family-style smorgasbord of many-plated sharing accompanied with a masala chai and mango lassi beverage; or a lighter small-plate taster's feast at the sleek bar, while sampling a range of beer or wine.
The cuisine can be tidily summed up with the Saffron Table tagline, "Local Food, Exotic Flavors," but in reality that's a shallow description. To eat here is to engage all five senses. The dish that epitomizes the full-sensory experience for me is the Eggplant Chaat — crisp, delicately fried pieces of eggplant drizzled with spicy chickpeas, crispy chickpea noodles, roasted rice, yogurt, tangy tamarind, and cooling mint chutney — it's a beautifully presented textural rollercoaster of flavors that distinctly crunch and pop, burst and coat my mouth with every bite. Other dishes, from classic biryanis and steaming curries to the addictive naan bread made in the custom-built tandoor clay oven, are presented in little stainless steel pots and on pristine white plates.
I order lamb samosas and the halibut with hara masala sauce, served with a crispy cauliflower and chickpea fritter, and finished with smoked tomatoes. There is a creamy yogurt sauce bursting with cilantro and textured with green chilies; it was a good choice. And each bite makes me happy.
---
Saffron Table's Beef Korma
Serves 4 to 6
1 medium red onion, diced
4 Tbsp. cooking oil
2 lbs. of meat — beef chuck roast is great for this dish, also substitute lamb shoulder or boneless chicken breast
2 cloves
3 black peppercorns
2 green cardamom seeds
1 black cardamom seed (optional)
1 stick cinnamon
1 tsp. salt
½ tsp. turmeric powder
1 tsp. cayenne powder
1 tsp. coriander powder
1 – 2 cups water
2 Tbsp. whole milk plain yogurt
1 medium roma tomato
Fresh coriander leaves (also known as cilantro)
Put a heavy-bottomed pot on a medium flame and fry the onions in oil past the point at which they are transparent and until they start to brown on the edges. While the onions are frying, lightly crush the black peppercorn, cardamom, cloves, and cinnamon with a mortar and pestle.
As the onions start to brown, add the crushed spice mixture then continue to fry as the onions darken in color. You should be able to smell the aromas of these spices infusing the oil as they fry. When the onions are a nice toasty brown, add your meat along with all the remaining spices and salt, turning up the heat to sear the meat and quickly seal it with the flavors of the spices and onions.
Once the meat is browned on the outside, add enough water to cover the meat, cover the pot with a heavy lid, and reduce heat to a simmer. Simmer for an hour and a half to two hours depending on the type of meat (lamb will need to cook longer, for instance). After a couple of hours on a low simmer, the meat should be very tender so that it shreds easily without a knife. If it isn't fork-tender, keep covered on a low simmer, checking every 20 to 30 minutes until tender. Once the meat is cooked, uncover the pot and turn up the heat to reduce any excess water.
At this point, adjust the salt or cayenne seasoning depending on your preference for spicy heat. Gently stir in two tablespoons of yogurt to thicken the sauce, and one chopped tomato. Cover the pot again for about 30 minutes or until the tomatoes are softened and dissolved. The sauce should be fairly thick with a gravy-like consistency and it should coat the meat well. Give the dish a good stir, transfer to a serving platter, garnish with fresh coriander (cilantro) leaves, and enjoy.