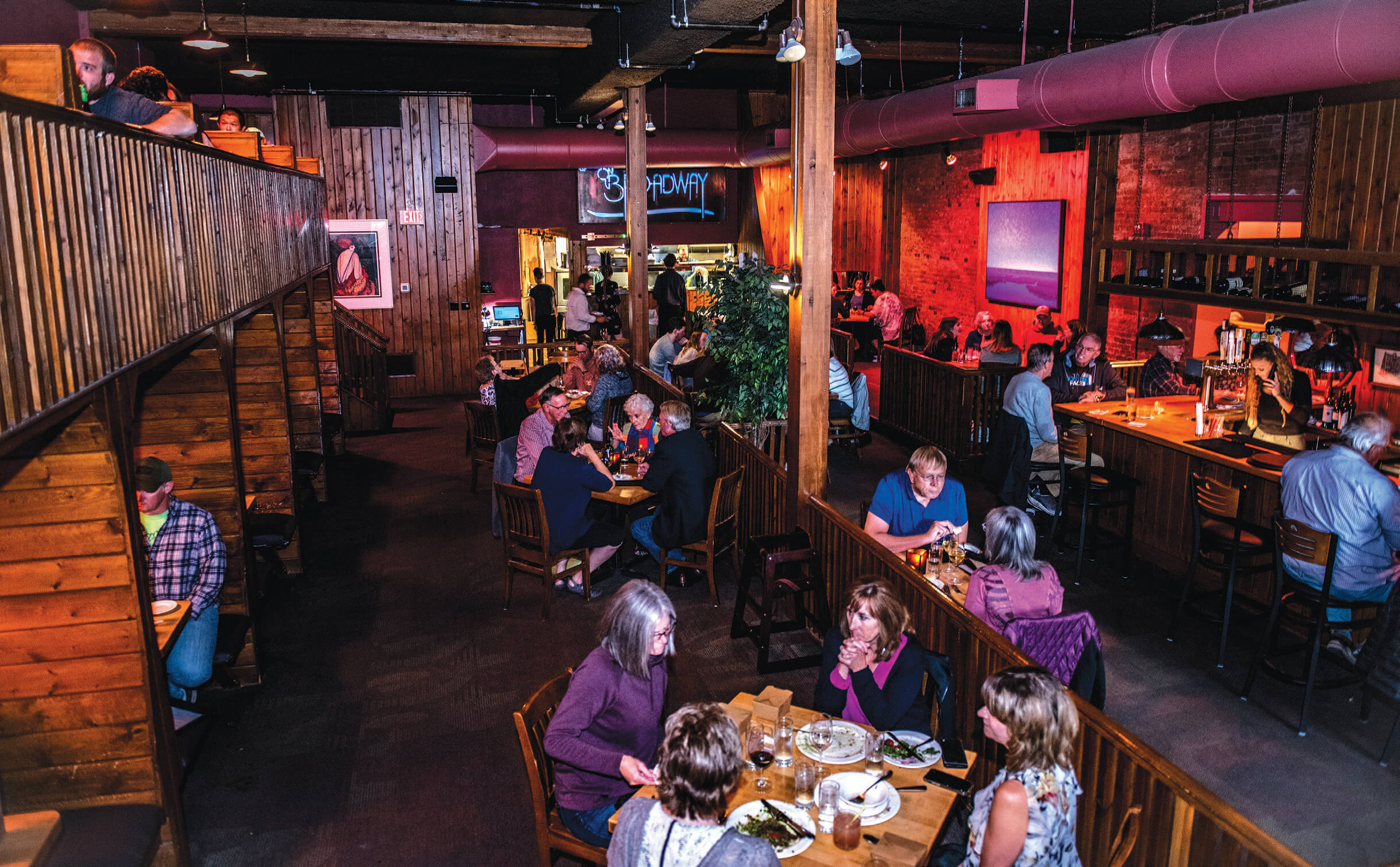 The restaurant's newly remodeled bar and spacious waiting area feature many of the same elements as the original space, including the Dale Livezey painting on the back wall.
28 Sep

Dining Out: On Broadway

in

Bigger, yet very much the same — down to the cozy wooden booths, the bar setup, and the enormous moody blue Dale Livezey painting on the back wall — the newly remodeled bar and waiting area of On Broadway in downtown Helena, Montana, feels like a familiar experience for those who've frequented the establishment over the years. The restaurant, which opened in 1980, has been a go-to for those in Montana's capital city, serving as a meeting spot for lawyers, legislators, and locals for more than 40 years. It's a place you can take your kids to on a weeknight, a regular meeting spot for happy hour drinks, and a venue for birthday dinners, anniversary celebrations, and other special occasions.

While planning the remodel, owner Patrick Cassidy originally intended to do something "distinctive and different" with the expanded space, which was gained by knocking out the wall between the main restaurant and the building next door. But he's learned over the years that it's not always a good idea to mess with something that's working. "We have 40 years of customers who are used to this look," he says, explaining that, ultimately, he decided to "just make it all look like On Broadway."

When I visited the establishment at 10 a.m. on a sweltering morning this past summer, it might as well have been happy hour. I was surprised to find a handful of people at the bar, laughing and talking as they tasted wines to accompany the specials that evening. The air was cool, the lights were dim, and the atmosphere was buzzing.

As the kitchen staff prepped food and delivery people bustled about, Cassidy explained how On Broadway — with the help of longtime staff and dedicated customers — finally pulled off an expansion that's been years in the making, survived the pandemic (just barely), and brought this staple of the Helena restaurant scene back to life.

Cassidy himself has been a part of the On Broadway story since its inception, when he started there as a prep cook. While pursuing a career in finance, he was always drawn back, working there on breaks from school, hosting, doing payroll, and eventually buying it in 1998. Not long after, Cassidy added Thursday jazz nights "to bump up the business," but it worked a little too well. "We were losing people every Thursday, Friday, and Saturday," he says, explaining that customers were perfectly happy to wait for a table, but there was no place for them to wait.

For years, Cassidy lobbied to purchase the building next door, but the owners wouldn't budge. Then, just when he was on the verge of retirement, it became an option, and with some encouragement from his wife Catherine, he took the risk. "I keep saying every five years that I'm done in five years," he says with a laugh.

While the pandemic gave Cassidy the chance to accelerate the pace of the renovation, other struggles came about due to the lack of in-person dining. He kept the kitchen open for takeout and set up online ordering, and while both were successful, it wasn't bringing in anything close to the revenue they needed to survive. They had to close down completely a few times when staff members were quarantined, had no cooks for a while, and lost quality employees who were concerned about getting sick. "I didn't know if we were going to make it," Cassidy says. "It was real touch and go."

But thus far, the newly expanded On Broadway is thriving. Well before 5 p.m. on a Thursday, the new lounge area was chock full. Under the lights' pinkish glow, while waiting for the dining room to open, lively customers enjoyed drinks and escaped the oppressive afternoon sun. At opening time, the scene unfolded like a dance: The entire crowd was seated and served soft Cuban rolls with salted butter within minutes.

Cassidy credits his highly skilled staff as one of the essential ingredients in the restaurant's recipe for success. While few have been there as long as him, it's not unusual for On Broadway employees to stick around for a surprisingly long time. (I haven't lived in Helena for more than 10 years, and some remembered me and even greeted me by name.) "Our wait staff is always incredible," says Cassidy. "They know what [customers] drink, they know what they like, and they know how to treat them."

Although the vibe and the service are a big part of what makes On Broadway special, the food also shines. Many customers are as loyal to certain dishes as they are to certain servers, and Cassidy doesn't touch the core menu — which includes rich and comforting favorites like Prosciutto Angel Hair Pasta, Chicken Broadway, and Eggplant Parmesan — because he knows he would lose business. "Some of the basic Italian dishes are the originals," he says.

When it comes to everything else, though, Cassidy gives chef Andrew Maynard freedom, letting his creativity and taste buds take him anywhere he likes. A recent on the specials menu — a printed list of additional dishes that changes every week — included Yellowfin Tacos and Bacon Chevre Pizza as appetizer options, a vegetarian eggplant entree, several featured wines, and a whiskey grapefruit cocktail.

As for me, after swearing I wouldn't choose the same thing I've always ordered there — linguine with meat sauce that's classic but, with a hint of spice, never boring — my friend and I shared the decadent fresh Shrimp and Scallops Pancetta with a to-die-for fennel cream sauce, along with their mouth-watering Chicken Broadway.

Next to us at the bar, two people sitting close together shared a sizzling shrimp appetizer followed by a steaming pasta dish. In a moment of downtime, the bartender leaned over to visit with a young couple that was celebrating their anniversary in the dining area below. They were dressed up and giddy about getting a break from their kids. "I knew it was coming up," the bartender said. "Happy anniversary!"

That sort of thing happens often at On Broadway; as much as the restaurant has changed, the tradition of quality food and service remains very much the same.