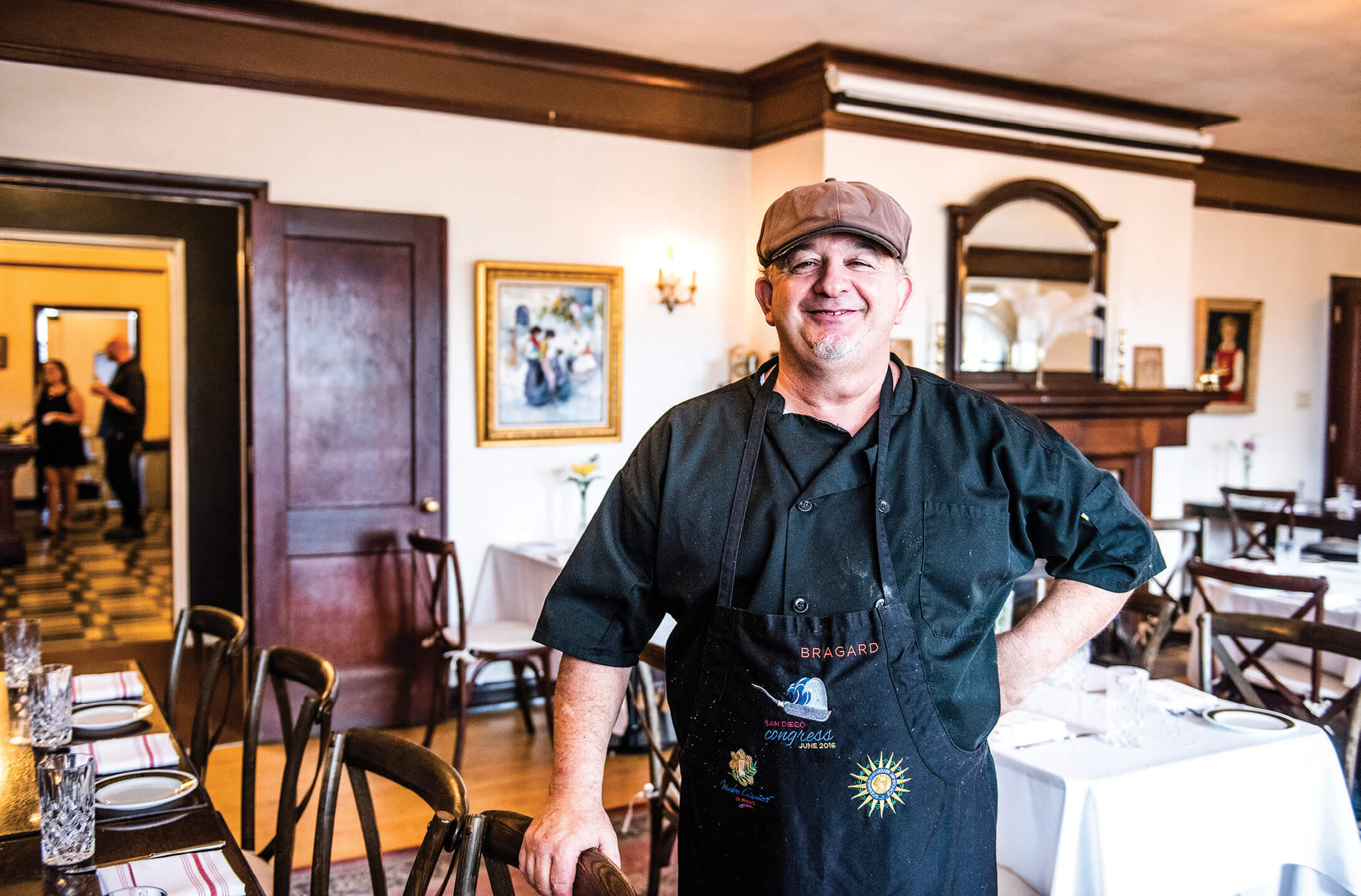 The only Master Chef of France in Montana, Fabrice Marcon earned a Michelin star at the Grand Hotel Stockholm in Sweden before crossing the Atlantic for restaurants in New York, California, and now, Helena, Montana.
28 Sep

Dining Out: Maison

in

The first time I dined at Maison, my partner and I couldn't stop laughing. It was April and the gunmetal sky promised rain. Maybe snow. We'd been trudging around in the mud all day, weeding, pruning, wrestling with winter-rotten rhubarb, hoping spring might someday come. Then, we drove the hour and a half from Belgrade, careful to kick the mud off our boots before we walked in.

We'd come for the chef's tasting, and our table for two was at the center of the elegant dining room. It was long, full, and set for royalty: gold flatware, maybe six sets for each of us; 12 gold-rimmed crystal glasses and goblets of varying shapes and sizes; fine china, white with gold edging; and ostrich feathers in a vase. We'd never seen anything like it.

Our waiter first appeared with a small plate that wasn't on the menu: a couple bites of delectable smoked trout mousse with perfectly crisp, still-warm golden Whitehall potato chips in miniature. We kept laughing. It was ridiculously delicious. Then, came the Montana crawfish bisque with brioche mouillettes for dipping. The sommelier paired it with a glass of French beer. The second official plate (but really, the third) was soft-boiled farm eggs with a salad of lentils and tarragon vinaigrette. A Chardonnay was poured. Next, came Alaskan halibut cheeks Provençale and a rosé pairing. Then, farm pork two ways with red cabbage and Flathead cherry sauce. A Chinon to sip. For dessert, there were macerated berries and honey madeleines with Champagne sabayon. And, naturally, a flute of Champagne.

It was the most exquisite and delicious meal we could remember, maybe ever. The preparation was as meticulous as the presentation — every ingredient chosen carefully and many of them, both vegetables and meat, grown onsite. The service was both elegant and friendly, not an easy pairing to pull off. And yet, the whole time we dined on this superlative fare, we knew we were in Montana.

Maison was established in 2020 by Paul Mabie and Jared Engels, the year after they bought the Oddfellow Inn & Farm. "Good food begins with farming," Mabie says. The couple had been looking around the state for a place to farm when Engels discovered the old Odd Fellows Lodge outside of Helena. Built in 1910 as a home for orphans, widows, and retirees, the stately Georgian brick building was rebuilt in 1928 after a fire. For 26 years, before Mabie and Engels found it, the building had been home to a family with six children. (Think of the stories!)

Though it was April, and there was six feet of snow on the ground in places, Mabie and Engels saw huge potential. Here, they could grow their own food and create a fittingly beautiful French bistro in which to serve it. People could stay the night and connect with the land.

Mabie and Engels closed on the property in July 2019 and set about farming and fixing up the inn for guests. That's when the pandemic hit. "It's not over. I'll start there," says Mabie when I ask how they got through it. "We still don't have a guarantee that we'll survive."

The challenges of starting a farm, restaurant, and inn during COVID times came fast and hard. The inn, which had 18 rooms upstairs and two shared bathrooms — "Chico- esque," as Mabie describes it — had to be reconfigured into suites, meaning more investment and fewer guests. As for socially distant dining on the patio, "that really isn't an option in Montana for up to six months of the year," says Mabie. The couple accumulated debt from government pandemic financing and, when they took out another loan to build a poultry processing facility so they could raise and harvest their own chickens, it took the state 18 months to license it — 18 months without a single chicken to roast.

In 2022, Mabie and Engels took another risk and hired "a very expensive chef," Mabie laughs. "We needed to find a talented chef that could not only understand and showcase the relationship between the farm and the restaurant, but one who could develop a real culinary program and processes that would define the kitchen."

Fabrice Marcon is that chef. A Master Chef of France — the only one in Montana and one of few across the U.S. — Marcon grew up on a farm in Rochelle, France. His accolades include a Michelin star for a restaurant in Sweden and a silver medal from the Scandinavian Chef of the Year competition.

In addition to their chef's tasting menu, which changes as often as you'd expect with a farm out the kitchen door, Maison offers à la carte dining Wednesday through Saturday evenings, and Sunday brunch. They also host a number of experiences, from a Bastille Day barbecue and a Francophile wine series to weekly live music on Thursdays, pig roasts, and quite possibly the state's only drag brunch to kick off Helena's Montana Pride week each July. "You can go have dinner anywhere," says Mabie. "We want to create something more than that. We want to transport you, give you a little bit of theatre, maybe." What they are doing is changing culinary culture in the state.

The next time I ate at Maison, I brought my daughters: One more thing to give them before they leave home. One more way to remember and love where they're from. We dressed up a little and made the drive. Seated this time on the front patio at a table with a red umbrella, we delighted in reading the menu aloud to each other. We made up accents and mashed them together, badly. Each of us ordered something different — les croutons au Brie, roasted golden beet salad, crispy pork belly, roasted farm chicken with mushrooms and potatoes — and passed our plates around. Justin, our waiter, gave excellent recommendations and advice. ("Don't cut the fat off the pork belly," he suggested to my youngest when he noticed her knife at play. "It's the best part.") And he brought a little surprise from the kitchen: a sip of wine from a just-opened bottle for me to taste. He'd been managing restaurants in Helena for years, he said, but this place made him want to serve food again.

At one end of the longest table on the patio, five or six kids sat with their parents: one starting to toddle, and the oldest just big enough to pick her up. Between courses, the kids ran off to play in the sprawling yard and visit the animals. We could hear them in animated conversation with the turkeys.

My girls asked if they could go find Lochness, the goat, after dinner. (They've been pleading for a goat.) Providing the best food in the world and a goat to pet after? This is exactly what Mabie and Engels had in mind. "We want to transport you back in time," Mabie says, "when farming was simpler, when communion and community were simpler."

Before we finished our entrees, storm clouds blew in from the north. One big drop splashed into my wine glass, another beside the fragrant plate of spiced chicken. We opened the red umbrella before the rain fell in earnest, smaller drops by then, but constant. My girls scooched closer to the table. The kids kept somersaulting on the lawn. One lady put on a jacket. A few people went inside where chandeliers glowed golden through leaded glass windows. We couldn't decide between the lemon tart, the chocolate torte, or the creme brulee, so we ordered all three and made a list of goat names, just in case.

Carter Walker was the very first intern at Big Sky Journal in 1993. Walker is a writer, editor, and mother. She lives with her daughters and an ever-growing menagerie of animals on an old homestead in the Horseshoe Hills.

 Photographer Lynn Donaldson shoots regularly for National Geographic, National Geographic Traveler, Travel & Leisure, Sunset, and The New York Times. The founder and editor of the Montana food and travel blog The Last Best Plates, Donaldson lives outside of Livingston, Montana, with her husband and three children.