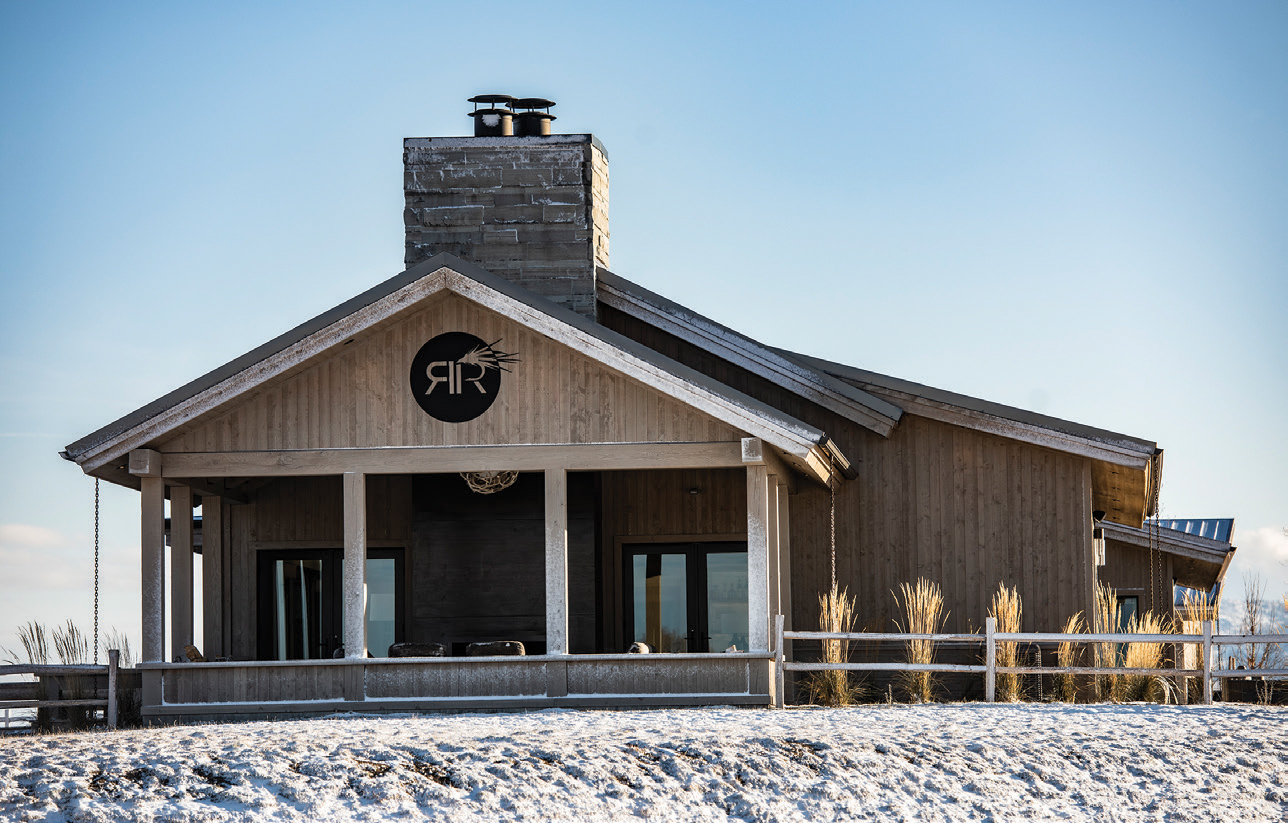 The north portion of the main lodge features a lounge, full bar, wood-burning fireplace, TVs, and a covered outdoor deck with an antler globe chandelier made by Russ Milam, MDR's head guide.
04 Feb

Dining Out: Madison Double R

in

Hunger. It's a word we use to describe our passions and appetites, and two of mine happen to be fly fishing for wild trout and dining on artfully crafted food. I was thus delighted to hear about a new place where I could indulge in both: the Madison Double R (MDR), a fly-fishing lodge upstream from Ennis, Montana, along the famed Madison River, a blue-ribbon trout run.

One late afternoon this past fall, I ventured to the MDR with my long-time friend and collaborator Lynn Donaldson. Last year, Lynn gave me a birthday card that read, "You're my favorite friend to make questionable decisions with." It still makes me laugh, and although we weren't plotting shenanigans on this trip, we were excited for our visit because we're both anglers and foodies. It did not disappoint.

The MDR's buildings fit perfectly into the landscape; elegantly modern, yet unpretentious, they were designed by architect Edwin B. Ugorowski of the Bozeman-based Design Partnership, with interiors by Teresa Kessler of TK Design Studio, also in Bozeman. The 3,500-square-foot main lodge is situated on a rise above a casting pond, where guests can watch osprey hunt and ponder views of the Madison Range. South of the main lodge is a saloon replete with a pool table, taxidermy, and an antique bar that was reclaimed from a local watering hole. Beyond it is a gym with an outdoor hot tub.
The MDR's five creekside cabins feature sublime views of the cottonwood forests. The two luxury duplex cabins face the singularly dramatic Sphinx Mountain. Each window in every building appears to frame a landscape oil painting, beckoning you outside for an adventure.

It was frigid on the day we visited, so, unfortunately, fishing was out of the question. Yet this didn't stop the MDR's water from calling my name. Half of the 1,286-acre property consists of deeded agricultural land with grazing cattle, and the other half is now under a conservation easement with the Montana Land Reliance. It boasts two meandering brooks, enhanced river diversions that look and fish like spring creeks, as well as 1.5 miles of frontage along the Madison River, offering pools, riffles, and channels.

John Sampson empathized with my desire to fish. He and his wife, Krista, own the MDR. They're both anglers with decades of experience in the fly-fishing and hospitality industries, and thus, experts at making people happy. This extends to their kitchen staff, an enthusiastic crew of four, whom they empower with the freshest ingredients, a well-equipped kitchen, and carte blanche to create both "dishes that are recognizable and dishes that are amazing," says chef Sam Hanssler, who also works seasonally at the Yellowstone Club.

In an unusual twist initiated by John, Hanssler is the co-head chef with Alex Deen, who migrated to Montana from Alaska where he cooked on a luxury motor yacht. The two pair well, just like the 2019 Rombauer Carneros Chardonnay and fresh Cotuit oysters they served us as a starter, much to my delight. Adding talent to their kitchen is pastry chef Jill Schweder and lead cook Bo Campbell, who help create deluxe "float lunches" for guides and guests to eat on the river, and gourmet breakfasts, such as French-style omelets with thick-cut bacon, avocado, Montana toast, and house potatoes.

Lynn and I were looking forward to catching up over dinner, and this one gave us ample time; it was a feast. We sampled a charcuterie board with delectables like boar salami, then Alex's delicious king crab custard with herb salad and crostini. It was impossible to resist a slice of house-made sourdough bread with sea-salted butter to accompany salads of roasted baby beets and mixed greens, topped with caramelized citrus vinaigrette, local Amaltheia chèvre mousse, and pistachio crumble. A superb bottle of 2017 Kenefick Ranch Cabernet Sauvignon replaced the chardonnay, while Lynn had me in stitches with a story about her husband mistaking frozen mountain lion meat for a pork roast.

Then, the entrée appeared. The joie de vivre of the kitchen crew was infused in every bite and rather put a spell over us, so we devoured the grilled Wagyu strip, served medium rare, with potato pave, grilled asparagus, sauce bordelaise, marinated mushroom, and charred onion. We even shared a bite of mascarpone honey cake, made with MDR honey. Delicious!

The other treat was meeting our comely server Alexandra Daems, whose ancestors founded Ennis and homesteaded what is now the MDR in 1883. She heartily approves of the Sampsons' dream made real. "There's no reason why we shouldn't try to be one of the very finest dining experiences in the state," says John. He understands that trout fishing brings people here, but a vacation at the MDR is an all-encompassing experience that includes some of the best rest and recreation Montana has to offer.

Lynn and I were reluctant to leave such luxury, and we're both hungry to return to the MDR. We're already plotting a long weekend with friends and partners. This time, I will fulfill my appetite for fishing, and the trout will have more than ospreys to contend with.