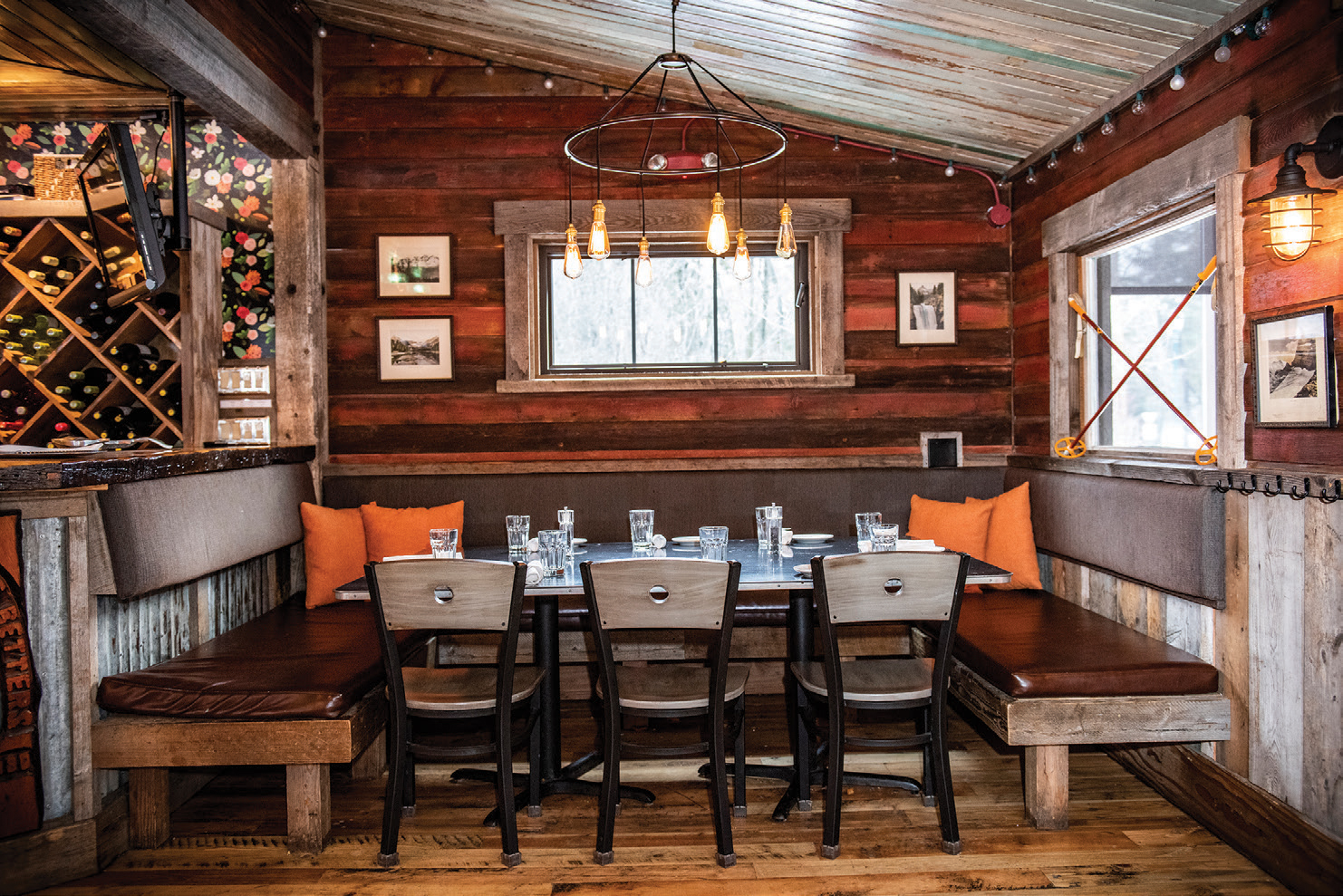 Tucked into a cozy corner, table 12 is the largest table in the restaurant and the most coveted spot for après ski groups.
23 Nov

Dining Out: Last Chair Kitchen & Bar

in

On most winter mornings, the parking lot at Last Chair Kitchen & Bar is full, even though the restaurant doesn't open until 5 p.m. Since it's on the way up to Whitefish Mountain Resort, skiers often use it as a carpool meet-up location during the daytime hours. Hence the restaurant's name — a reference to catching the last seat on the chairlift, and taking the final run of the day before carpooling back down for aprés-ski beverages and food at Last Chair. And on powder days, the establishment's chef and owner, Tim Good, is likely to be catching a ride back to the restaurant as well.

Last Chair serves up eclectic world cuisine with a menu that ranges from pad Thai noodles to Southern classics. They also focus on local ingredients as much as possible, including a mini Wagyu meatloaf and bison ragu — both made with local meats — and the use of vegetables from nearby farms and gardens. "There are people who look at the menu and say that it doesn't make sense," says Good. "But I love the variety, and I have always wanted my food to be accessible to anyone who walks in the door."

Originally from Wisconsin, Good moved to Minneapolis and started working in restaurants there during college. After earning a degree in biology with a minor in philosophy, he headed to Montana's mountain country and has been feeding the Whitefish community for the past 22 years. Good's first gig, cooking at The Northern Lights Saloon in the nearby town of Polebridge, is where he met his wife Ali.

In 2007, Good launched The Cuisine Machine food truck that was parked at the Whitefish Farmers' Market, and that soon led to catering jobs for weddings in the area. Four years ago, he and Ali opened the Last Chair Kitchen & Bar in order to have a brick-and-mortar catering facility, while also offering a unique dining option on the edge of town.
The Goods renovated the historic structure, aiming for a rustic-chic vibe that welcomes guests to dine at the bar (when social distancing is possible during COVID), in the cozy covered porch, or in the open dining room. In 2012, Good's chicken and waffle recipe won "Best Dish" at the annual Taste of Whitefish dining event (now called Feast Whitefish), and it's been a mainstay ever since.

While the Last Chair menu changes on occasion, there are staples that Good is afraid to remove, worrying that his regular customers would be upset. As a result, it's not likely that the walleye sandwich with sweet potato fries or the ahi poke bowl will disappear any time soon. While the steelhead trout and the vegetarian Goody Bowl vie for a close second place among favorites, he says it's the savory chicken and waffles that still take the prize. "What I love most is what I hear from guests," Good says. "That they had an amazing meal, and that they come back again and again. That makes all the long hours worth it."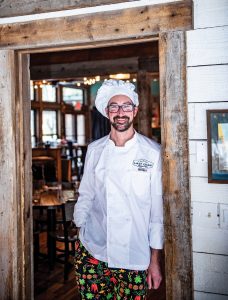 Outside, where the snow is piled high, Whitefish Mountain Resort carpoolers head back to the Last Chair parking lot at the end of the day. A group, some still in ski attire, swishes through the front door and takes a seat at a tall table in the center of the dining room. "What's the special?" one calls out to the server walking toward the table with menus. It's time for aprés-ski festivities.
Huckleberry-Gorgonzola Chicken & Waffles
Serves 6
Chicken Tenders
¼ cup lemon juice
1 cup buttermilk
1 tablespoon garlic, minced
4 teaspoons salt
2 teaspoons black pepper
18 chicken tenders
1 cup flour
2 cups canola oil
In a large bowl, mix lemon juice, buttermilk, garlic, 2 teaspoons of salt, and 1 teaspoon of pepper. Add chicken tenders and marinate in the refrigerator for at least five hours or up to two days.
When ready to prepare, mix the remaining salt and pepper with the flour, and dredge the chicken tenders. In a deep pan, heat the oil on medium-high, and fry several pieces at a time until golden brown. Place in a warm oven until ready to serve.
Huckleberry Gorgonzola Cream
1 tablespoon canola oil
1 yellow onion, diced
2 tablespoons garlic, minced
1 tablespoon sherry
4 cups heavy cream
1 cup Gorgonzola cheese, crumbled
¼ cup huckleberry jam
1 teaspoon salt
½ teaspoon black pepper
In a saucepan, warm the oil over medium heat. Add the onions and garlic, cooking until translucent. Deglaze the pan with sherry and stir. Add heavy cream and simmer for approximately 20 minutes or until it thickens. Add Gorgonzola and huckleberry jam and whisk together until thickened. Finish with salt and pepper to taste. Cover the pan and keep it on low heat until ready to serve.
savory waffle batter
1-½ cups all-purpose flour
½ cup organic rye flour
2 teaspoons baking powder
1 teaspoon garlic powder
1-½ teaspoons salt
¼ teaspoon ground black pepper
2 cups buttermilk
3 egg yolks (reserve egg whites in a separate bowl)
1 cup sour cream
½ cup canola oil
Thoroughly mix both flours, baking powder, garlic powder, salt, and pepper. In a separate mixing bowl, combine buttermilk, egg yolks, sour cream, and oil. Using a paddle attachment on an electric mixer, blend in dry ingredients until they form a creamy batter. With a rubber spatula, scrape the mixture into another large mixing bowl. Transfer egg whites to the used mixing bowl and, with a whisk attachment, whip until stiff white peaks form. Fold whipped egg whites into the batter.
Heat a greased waffle iron and pour 6 ounces of batter in, cooking until done.
To serve, place a waffle on each plate, top with a generous spoonful of huckleberry Gorgonzola cream sauce, and arrange three chicken tenders on top.
NOTE: On the Last Chair menu, this is typically served with a layer of collard greens.