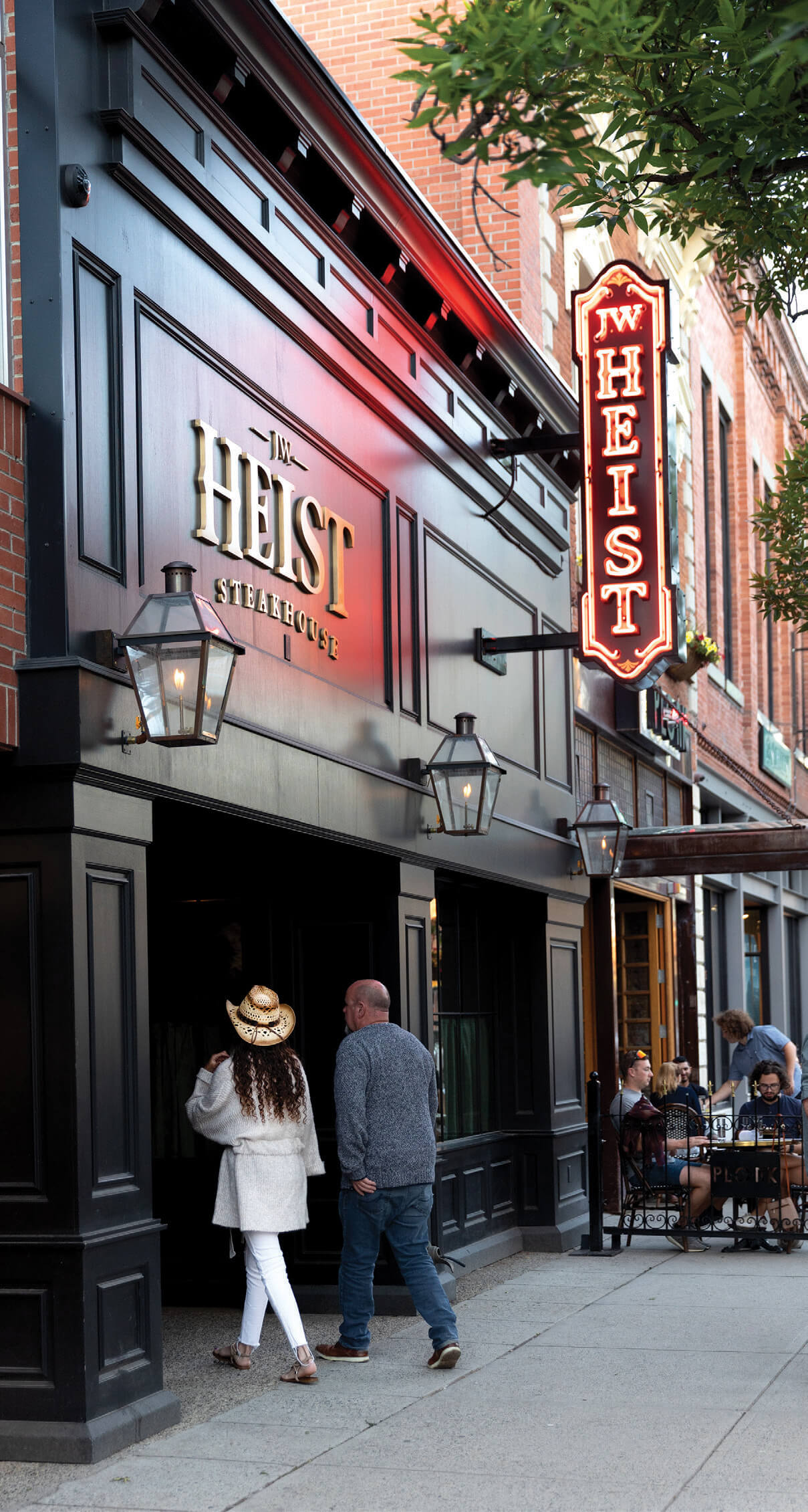 In the time it took for J.W. Heist Steakhouse to evolve from idea to opening, the landscape of Bozeman, Montana, shifted dramatically with an influx of new residents, says chef John Thayer. Heist has been a welcome and original addition to the fine dining scene. "There were steakhouses, but not that kind of steakhouse," he says.
04 Aug

Dining Out: J.W. Heist Steakhouse

in

It's hard to know which of your senses to focus on first when you walk into J.W. Heist Steakhouse. There's the smell of meat cooking over fire, a whiff of garlic and butter. Between the crystal chandelier and the dark wood tones on the ceiling and walls, your eyes adjust to the dimmed light. Richly colored paintings and exquisite animal mounts hang on every wall. Fingers glide across marble tabletops and, underfoot, there is the cushion of lush Oriental rugs. There's a low hum, conversation maybe, or just the sound of pleasured eating, punctuated by the clink of ice in a glass.

Restaurateurs Michael Ochsner and Brett Evje opened Heist in downtown Bozeman, Montana in January of 2023, right next to their first venture, Plonk, an edgy wine bar with a second location in Missoula. Heist is named for Evje's great-grandfather, who homesteaded in Montana's Cinnabar Basin north of Yellowstone National Park, then raised prize-winning Hereford bulls in Manhattan, Montana. It's a steakhouse in the classic American sense. Neither a European-inspired chophouse nor a Midwest supper club, Heist is a steakhouse the way Yellowstone is a Hollywood Western: traditional, if not exactly traditional. The new Bozeman. With more than a nod to the old.

"We wanted to elevate the culinary experience in Bozeman, and always felt there was a void in having a classic steakhouse since Boodles perished in a tragic accident years ago," Ochsner says, referring to a 2009 explosion on Main Street. Ochsner, Evje, chef John Thayer, and designer William Peace, founder of Peace Design, spent more than two years dreaming up, designing, and building the restaurant, which Thayer explains is recipe- rather than concept-driven.

What that means, Thayer says, is that diners will know exactly what to expect when they walk in the door. It's about getting things just so, every time. "It's about how perfectly we execute something," he says, whether it's the temperature of a steak or the degree to which the cheese is melted. Thayer, who was the head chef at Bozeman's Plonk for years and still oversees the shared kitchen at Plonk and Heist, describes how diners are excited for a new experience when they visit Plonk. There, the restaurant offers daily specials and a frequently changing menu. "It's dominated by concept," he says. "It can be different every time." But Heist needs to live up to the expectation of a classical steakhouse every single night, and with every single dish.

If steakhouses, like Westerns, are a genre, then Heist has all of the required elements: mid-century glamour, wood paneling, banquettes, exquisite cuts of beef, raw seafood, quintessential sides, elegant cocktails, and big-bodied wines. The servers wear crisp white shirts and ties, and are tableside before you think to ask.  

The menu is time-honored and offers the comfort of familiarity to anyone who's ever been to a good steakhouse, whether in New York City, Chicago, or further West. Starters include oysters Rockefeller, shrimp cocktail, beef tartare, and Atlantic blue crab cakes. Salad offerings are the classic standbys: wedge, chopped, Caesar. Sides, too, are old favorites: creamed spinach, grilled asparagus, and crispy fingerling potatoes. There are composed dishes — a meat, fish, or pasta entrée with a vegetable and starch — and à-la-carte entrees from the hearth, including filet mignon, a bone-in filet, prime ribeye, and a 32-ounce porterhouse for two, among others. These are the showstoppers, culinarily speaking. And with price tags ranging from $38 to $150, they should be. But Heist, it turns out, is more than a traditional steakhouse.

Indeed, if what makes Heist great is adherence to the tried-and-true formula of the country's best steakhouses — high performance in the dining room and kitchen — then what makes it special are the ways in which Thayer and his kitchen team get creative within the strict parameters of the steakhouse conventions. It's as if they get to be more creative because of the constraints, not despite them. While the emphasis on food and service is de rigueur in any steakhouse worth its salt, at Heist this attention verges on the theatrical. The wedge salad, for example, is served on a knife with fried pork belly and egg mimosa. Thayer is not afraid to keep rethinking a thing, perfecting it until it reflects Heist's personality.

One key element of that personality is the Argentinian-style basalt hearth at the center of the restaurant, where all of the meat — and much else — is cooked. "It's a way to have our own fiery take on things," Thayer says. The rich almond-wood smoke is infused into so many of the offerings, from vegetables in the chopped salad to fire-grilled mushrooms to the smoked flake salt on the butterscotch budino.

The fire is very much at the center of the restaurant's ethos as well, says interior designer Peace. "The open firewood grill is a visually exciting feature, and the aroma adds to the romance of the space," he says. The hearth adds warmth and character, as do the other elements, which include rustic oak, original brick, and regional stone (the basalt was quarried in Paradise Valley).

For his part, Thayer sees the design of the space complementing the daily work he and his team do in the kitchen and dining room. "All of the milling was done here," he says, still in awe of the time and effort. "They didn't have to do it that way, but people from Montana love this place for all the effort we are putting in. Service is a huge part of that," he adds, referencing the sommelier who oversees the wine service and the secondary server at every table. Beginning with the coat check at the entryway, guests know they are going to be taken care of. 

As is true of any good meal, and any dramatic place, the experience relies on the senses. How it smells. How it tastes. What it feels like to be in the room. At Heist, the pleasure is in the details. 

Carter G. Walker is the author of several guidebooks, including Moon Montana & Wyoming (November 2022), Moon Montana (January 2023), Moon Wyoming (January 2023), and Moon Yellowstone to Glacier National Park Road Trip (May 2023). She lives in the Horseshoe Hills with her two daughters and a motley collection of well-traveled animals.

Janie Osborne's experience with covering the West began over 20 years ago when she published a small alternative newspaper in Bozeman, Montana. Today, a photojournalist, she is still based in Montana (with a family), and continues to cover projects that explore life in a rural mountain state. Janie is a longtime contributor to The New York Times, The Wall Street Journal, Associated Press, and others.