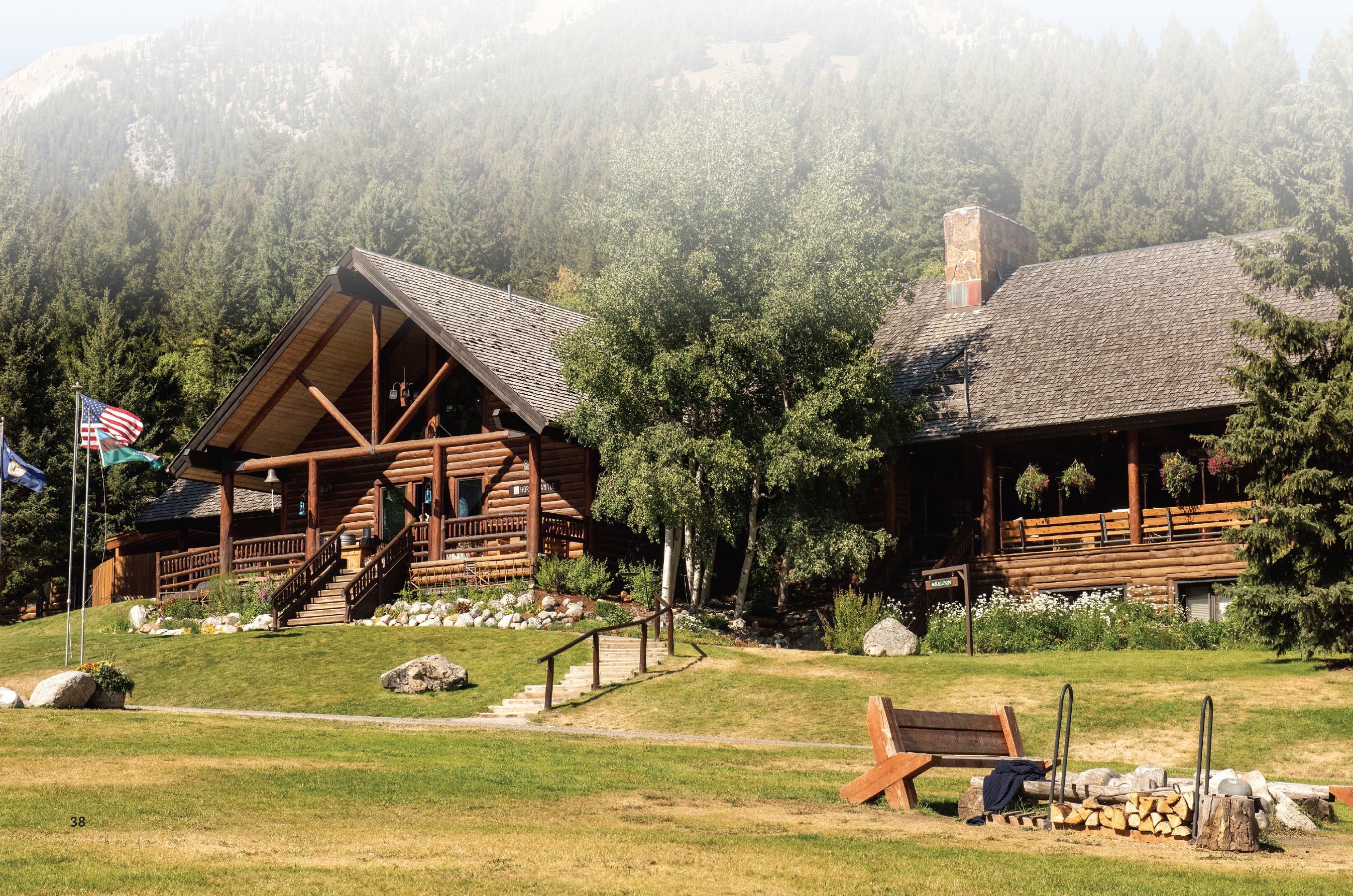 17 Oct

Dining Out: Horn & Cantle

in
AT LONE MOUNTAIN RANCH IN BIG SKY, MONTANA, A RESTAURANT SERVES HISTORY ON EVERY PLATE
TRUE CONFESSION: I'M A SUCKER FOR DUDE RANCHES.
Maybe it stems from the first experience I had back at the Flagg Ranch in Wyoming when I was a kid. Cowboys with chaps and spurs. A brown and white paint horse named Buddy that was all mine for the week. Campfires and hot cakes right out of a cast iron skillet, fishing for trout, and all-day horseback rides. For a 12-year-old from Hawaii, that first adventure on a ranch endeared the West to me forever.
So when the suggestion to have dinner at Lone Mountain Ranch's Horn & Cantle restaurant came my way, I answered resolutely: yes. Maybe it's the nostalgia for simpler times that a dude ranch conjures in my psyche, all that hokey, open-frontier pioneering, westward ho! charade. I love it.
Since I moved to Montana in 1990 for college, Lone Mountain Ranch in Big Sky has been one of my favorite getaways. While I've never spent a whole week on the ranch (as so many guests do), I have used it as an overnight retreat many times. A fall fly-fishing trip with one of the ranch's guides still makes me smile at the memory of catching so many rainbows one morning that we genuinely lost count. On an overnight getaway with my husband last summer, we took advantage of a local's special for VIP tickets to the Professional Bull Riders event that ended with a rather raucous gathering of friends around the campfire late into the night. The next morning our early breakfast at Horn & Cantle was the perfect starter to launch our hike for the summit of Lone Peak. In the winter, I've cuddled up with my family in a rustic log cabin before enjoying a sleigh ride dinner under the stars. Yes, there were bells jingling, and I was in heaven.
"We like to offer a lot of different culinary events throughout the year so that the locals can enjoy the ranch, too," says Michael Jacquard, Lone Mountain Ranch's food and beverage manager. The ranch features theme weeks for guests, such as the all-women's Cowgirl Getaway, Adult Week, and Taste: A Feast of Music + Food + Spirits, along with a wide range of seasonal activities, from hiking and spa experiences to Yellowstone Park expeditions and skiing.
Lone Mountain Ranch is unapologetically Western: from the soaring chaparral at the entrance, to the humble, historic cabin that doubles as the guest check-in; from an espresso bar, concierge, and activities center, to the tidy cluster of log cabins around the main lawn and lodge. Homesteaded in 1915, the ranch has been entertaining dudes for more than a century. Through the decades, the owners of the ranch have tried to honor the original connection to Big Sky and the heart it took to set roots down here.
When he envisioned the menu, Eric Gruber, executive chef at Horn & Cantle, drew upon the ranch's historic foundation, looking to Montana's past to develop flavors and ingredients. The Char Siu Pork Belly is an ode to when the mining and railroad industries brought Chinese immigrants to the region; at one point the territory claimed to have a 10 percent Asian population. The Bison Short Ribs pay homage to indigenous food sources, while the Steak Tartare tips a hat to the West's ranching tradition. Patronizing Montana farms and ranches is a priority in the Horn & Cantle cuisine, and the menu proudly lists local providers. There's something for every type of eater, from returning regulars who belly up to the bar, to the Montana neophyte looking to splurge on a succulent steak. "A lot of our ranch guests are here for seven days," says Gruber. "We try to keep it interesting and diverse so that they feel excited about the offerings each night."
Seasonal Fruit and Sabayon, a light and fresh Horn & Cantle dessert featuring stone fruit, berries, citrus sabayon, and carmel tuile.
Char Sui Pork Belly with steamted bao buns, sriracha mayonnaise, spiced cucumber, and pea shoots, complemented by champagne.
The Steak Tartare features Montana-raised beef, quail egg, fried capers, house mustard, and truffle root chips.
To that point, changing nightly specials highlight locally sourced and seasonal ingredients. The menu is also designed to be flexible from night to night for the full-time guests. For instance, the "Sharables" section features a tapas-style format with generous portions. Order the Smoked Montana Trout, a bright and creamy dip served with homemade crusty sourdough bread, add the Cedar Plank Mushrooms, and Char Siu Pork Belly with bao buns, accompanied with crafted cocktails and there's a light, mouth-bursting dinner for two. The rest of the menu is just as tempting, ranging from a bucket of fried chicken to a 40-ounce rib eye.
On the night I dined with my friend Sarah, we were committed and hungry for a full meal. We started with a 2002 vintage of Salon Champagne, breezed through appetizers and augured into our main courses. My dining partner ordered the Alaskan black cod, and I watched her roll her eyes in taste bud-ecstasy at the first bite of the naturally rich fish. I ordered the pappardelle and elk bolognese; the thick, toothsome pasta in a traditional meat sauce was the ultimate comfort food for a chill evening.
Gruber sums up Horn & Cantle's food with one word: honest. "We offer the best ingredients we can find and pass that on to our guests," he says. "A lot of the things on the menu are simple, but the techniques we apply to prepare them are complex."
In other words: What you see is what you get. Like any true dude ranch, that's what Lone Mountain Ranch offers. Unpretentious and true to its roots. Maybe that's what brings me back year after year.
---
Seabring Davis writes about what she loves: food, art, travel, and interesting people. The former editor in chief of Big Sky Journal and editor emeritus of Western Art & Architecture, she has written several cookbooks, including a new collection, The Western Kitchen: Seasonal Recipes from Montana's Chico Hot Springs Resort.
Lynn Donaldson shoots regularly for National Geographic, National Geographic Traveler, Travel & Leisure, Sunset, and The New York Times. She is founder and editor of the Montana food and travel blog The Last Best Plates. Donaldson lives outside of Livingston, Montana, with her husband and three children.
---
Montana Rainbow Trout
with Warm Root Vegetable Salad
………Serves 4
4 whole fresh rainbow trout
2 tablespoons olive oil
1 pound assorted root vegetables, cut and blanched
¼ cup tarragon mustard sauce (recipe follows)
4 cups baby kale
Salt and pepper to taste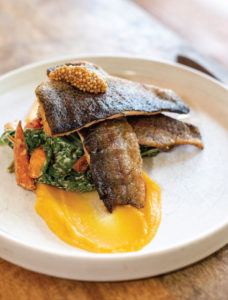 Place trout on a cutting board and remove the head. With tweezers, remove all bones or have butcher remove bones before you bring the fish home. In a large sauté pan over medium heat, add 1 tablespoon olive oil. Add root vegetables and sauté for 4 to 5 minutes. Season with salt and pepper. Add tarragon mustard sauce (reserving some for drizzle) and toss to incorporate, then remove from heat. Add baby kale and toss to wilt. In a cast iron pan over high heat, add 1 tablespoon olive oil. Season both sides of trout with salt and pepper, then place skin-side down into hot cast iron pan. Cook for 2 minutes, flip the trout and cook for 1 more minute, then remove trout from pan. Place wilted root vegetable salad on the center of the plate. Place trout skin-side up over kale. Drizzle plate with 1 teaspoon tarragon mustard sauce and serve.
Tarragon Mustard Sauce
1 shallot, minced
2 garlic cloves, minced
1 teaspoon fresh oregano, minced
1 tablespoon tarragon, minced
2 cups red wine vinegar
4 cups canola oil
2 tablespoons salt
3 tablespoons black pepper
¼ cup Dijon mustard
1 egg yolk
Add all ingredients except canola oil to a large bowl and mix well. Drizzle oil into bowl while whisking until incorporated.