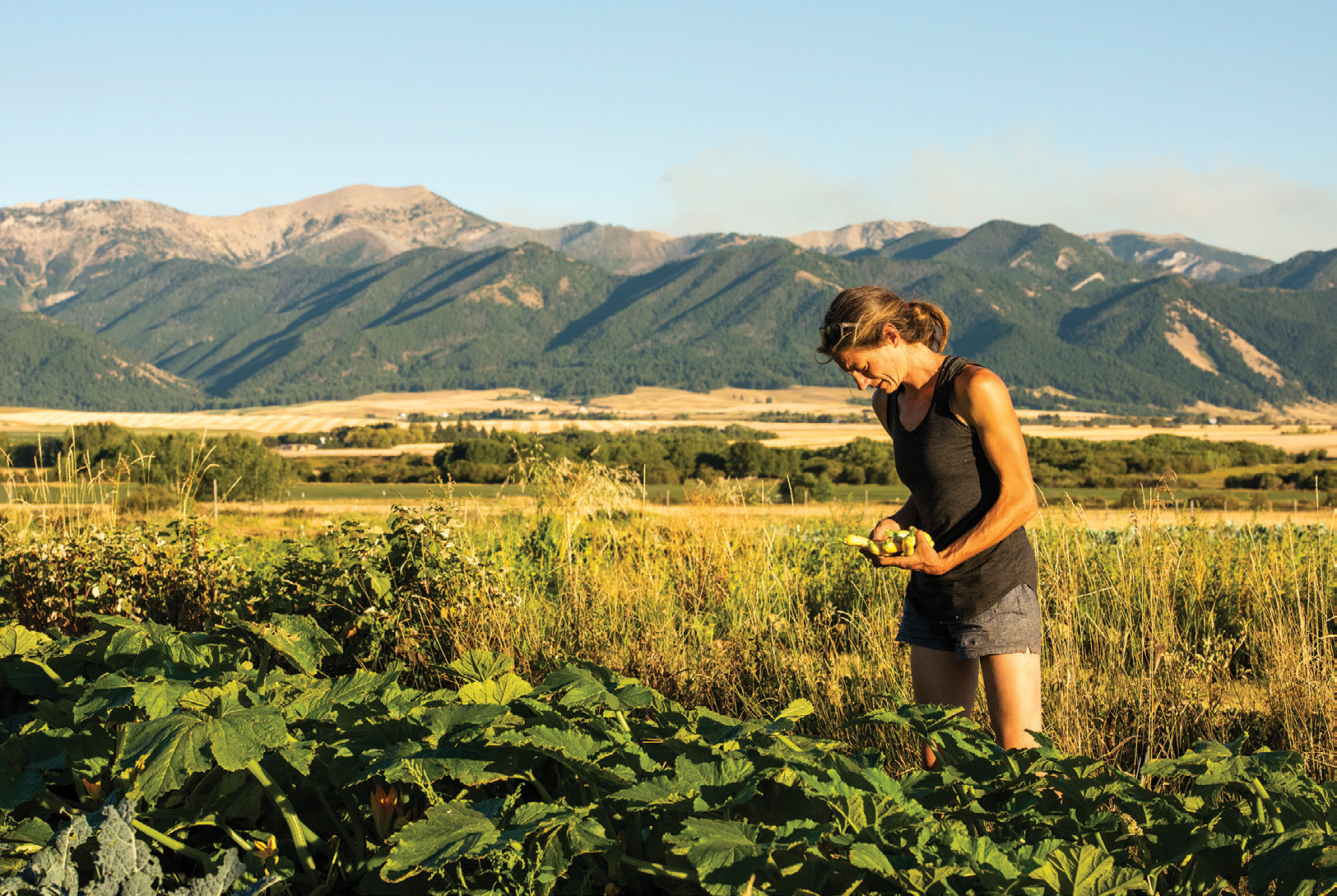 Little Star Diner owners Charley Graham and Lauren Reich grow a lot of their own produce in their one-acre garden at 13 Mile Farm off Springhill Road in Bozeman, Montana. The couple plans to expand this fall onto their new Star Pudding Farm, located on 12 acres in nearby Gallatin Gateway.
29 Sep

Dining Out: Heirloom Tomatoes and Rapture

in

My friend Jane told me about Little Star Diner when it first opened three years ago just one block off Main Street in downtown Bozeman, Montana. We were sharing dinner with a group of foodie friends and talking about our best recent meals. "I had an heirloom tomato on the rooftop at Little Star Diner that was rapturous," she said.

Rapturous? We guffawed at her drama. We all laughed at her openly. But it was clear she was earnest about that tomato, and I filed it away in my mind as a place to check out.

Months later, I finally dined at Little Star with my husband and his family. It was January, and fresh tomatoes were non-existent on the menu. That's because this small, family-owned restaurant is a genuine farm-to-table eatery, so seasonal ingredients steal the show for brunch, lunch, and dinner. Chef Charley Graham and his wife Lauren Reich have designed a venue to feature ingredients from their own farm as well as other Montana farms and ranches. "The ingredients drive the menu," Graham explains. "Lauren lets me know what will be coming out of the farm in the next couple of weeks, and we decide how we want to use that ingredient."

As a result, the menu at Little Star Diner is a dynamic mix of ever-changing dishes. That day in January, I discovered their radish salad with mint vinaigrette and hazelnuts. It wasn't rapturous, but it was delicious and oh-so-pretty. Our group had ordered a bunch of appetizers to share, and I found myself hoarding the gorgeous watermelon radish rounds at my end of the table, even ignoring my sister-in-law's first request to pass them. I ate one more, dabbed the homemade bread in the dressing, and reluctantly sent the wooden dish down the table.

Graham and Reich are as comfortable in their one-acre garden on the outskirts of Bozeman, at 13 Mile Farm off Springhill Road, as they are in the kitchen. Graham develops the changing menu, and Reich bakes the bread and desserts for the restaurant. Their commitment to using local food allows Graham's style of cooking to be artful, yet straightforward, which lets the taste of each ingredient shine.

Reich has been growing produce for restaurants for a decade, and Graham acquired his cooking experience on the job, working at Desert Bistro in Moab, Utah, and Claire's Restaurant and Bar in Hardwick, Vermont, which he credits as being a "neurotically farm-to-table restaurant." It was there that he learned to source local ingredients from a large array of small farms. When the couple moved to Bozeman, Graham took a position at Blackbird Kitchen, where he worked for five years and learned how to organize and run a busy kitchen.

This fall, the couple is preparing to expand their growing operation, opening Star Pudding Farm on 12 acres in Gallatin Gateway. The goal is to bring Graham into the daily farming operations, and he hopes to continue to deepen his seasonal cooking skills by creating more inventive dishes into the future.

While fresh vegetables are wonderfully prominent at Little Star, savory meat offerings are on the menu as well. The double cheeseburger and the beef tenderloin are both tempting options, and each uses meat sourced from Montana ranches. The summer brunch menu offered a porchetta sandwich served with chimichurri mayonnaise and French fries that made for an unforgettable meal. And Graham adds that their kamut noodle dish — with sungold tomato sauce, basil, pork sausage from Black Dog Farm, and sheep cheese from Tucker Family Farm — is a signature menu item. "We love the concept of a place that serves everyday food but with a modernized take on it," Reich adds.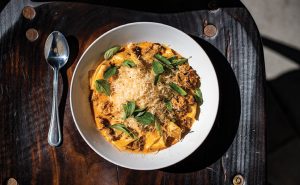 That idea is especially evident during brunch at Little Star Diner. Sour cream donuts with Flathead cherry jam, anyone? In place of a tortilla, their huevos rancheros feature a house-made semolina cake. And their take on fried rice includes pickles, zucchini, and summer greens, all topped with a poached egg.
According to Graham, the couple's vision for Little Star Diner was simple: "Start with vegetables that Lauren grows, and build them into dishes that regular customers know and love and come in to eat over and over again."
On another visit last spring, my friend ordered an entree with house-made tater tots. I really liked those tots, but on recent trips back, I haven't seen them on the menu. This is the caveat with true farm-to-table restaurants, Reich admits: You may not be able to find the same dish on the menu again. "Seasonality allows our regular customer base to look forward to the menu throughout the year," she says.
The fact that the menu changes often is also the boon of a farm-to-table diner; it's impossible to be bored by the cuisine. Every dining experience is like going to a new restaurant and discovering a new array of flavors. So far, I have not necessarily discovered rapture like my friend Jane, but with a menu that varies with each visit, I will definitely keep going back. Maybe next time…
Heirloom Tomato Toast with Grilled Snap Bean Salad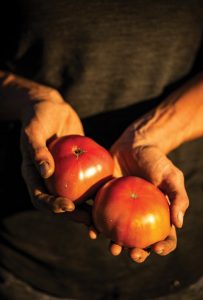 Serves 4
1 loaf crusty sourdough bread
3-4 heirloom tomatoes
¾ pound fresh green beans, trimmed
2 tablespoons extra virgin olive oil
1 teaspoon sea salt
Mayonnaise
4 tablespoons fresh basil
4 tablespoons fresh parsley
2 tablespoons fresh mint
Feta-buttermilk Dressing
1-1/2 cups buttermilk
1 cup feta cheese, finely crumbled
2 limes, juiced
1 tablespoon medium-ground black pepper
In a small bowl, combine the buttermilk, feta, lime juice, and black pepper. Whisk until well mixed, and refrigerate. Cut the bread into 3/4-inch slices, and grill both sides to your preferred char. Set each slice on a plate.
Toss the green beans in 1 tablespoon of olive oil and salt to taste, and place them on the grill perpendicular to the grates. Grill for approximately 5 minutes, turning them occasionally. Slice tomatoes thickly for a variety of shapes and colors. Cover toast with mayonnaise and layer each with three slices of tomato. Sprinkle with sea salt, pepper, and olive oil.
Transfer one-quarter of the grilled beans to each plate, next to the tomato toasts, and drizzle 3 tablespoons of feta-buttermilk dressing over each portion. Garnish the toasts and salads generously with the mixture of fresh herbs.