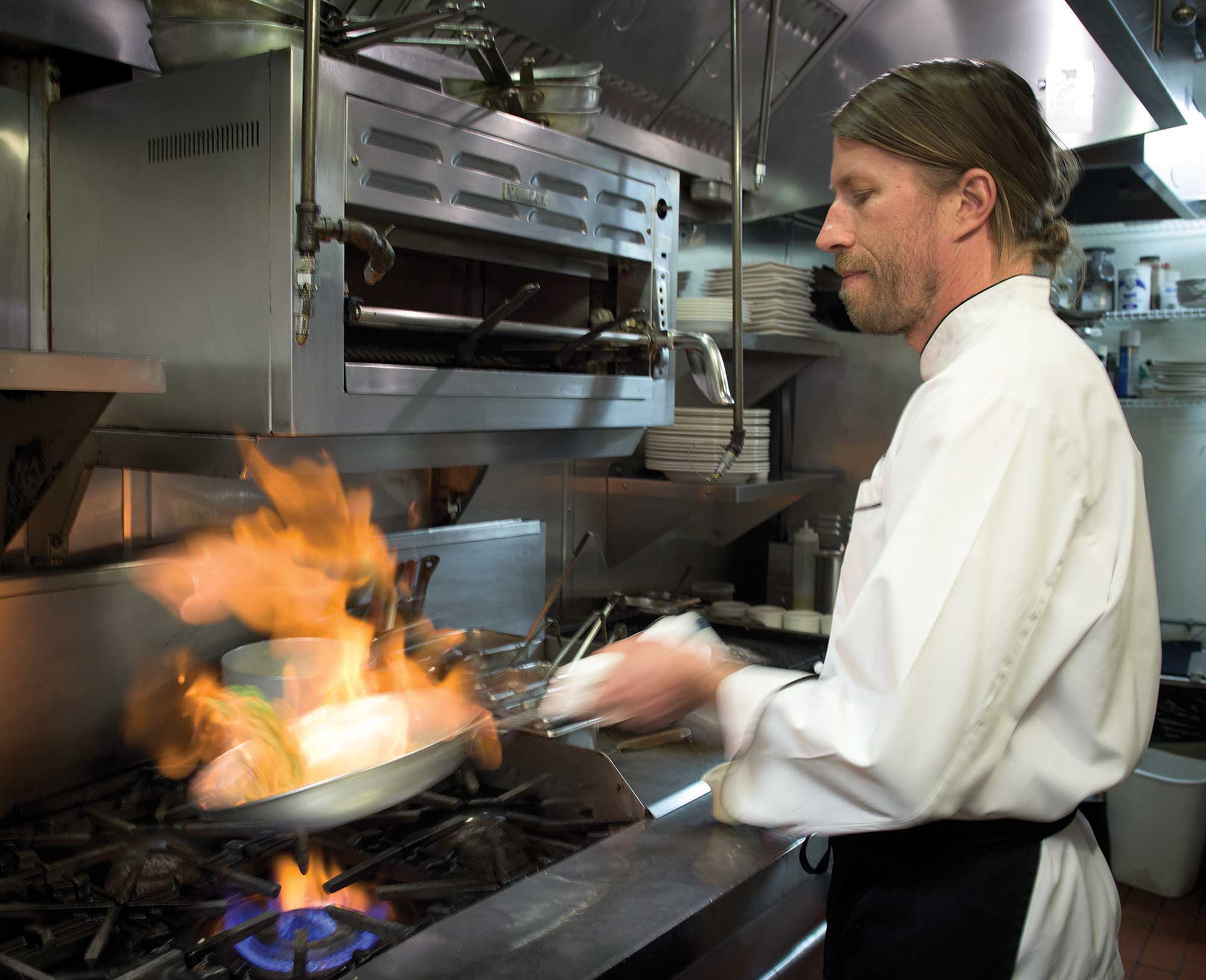 01 Dec

Dining Out: Café Kandahar

in
---
Step off the pavement. Leave the trail. Explore. These phrases are frequently tossed around in Montana, but rarely in connection with dining. At Café Kandahar, award-winning chef Andy Blanton is waiting to be your guide on a culinary trek.
Tucked into the corner of Kandahar Lodge at the edge of Whitefish Mountain Resort, Café Kandahar offers an intimate dining experience that focuses on wine-paired tasting menus of five and seven courses. The menu varies nightly according to what's on hand and what's in the chef's head. "First and foremost is utilizing peak freshness," says Blanton, who buys 80 to 90 percent of his ingredients from local and regional purveyors. He works closely with Terrapin Farms, where he gets fresh fava beans, artichokes, squash blossoms and more. Wagyu beef comes from the Thompson River Ranch in Marion. The buffalo, elk and pork are also local. "It's in our nature as chefs to create," he says, "to seek out special ingredients." He adds fennel pollen and pickled fennel to his roasted quail with duxelles, poultry jus and quail egg. "How did they do that?" is what Blanton says he wants to hear diners ask.
I stand at the door of the restaurant. Jenna greets me with a smile that can't be faked. Like the food they serve, this maître d' is Montana born and raised. She leads me to a table set with white linens, black starched napkins and silverware seemingly laid with calipers. An alcove at the end of the room frames a view of the valley below. Juan explains the menu. Greg offers drinks.
I have come to explore, and so order from the à la carte menu. The Halibut Lox arrives coiled around yuzu crème fraiche sorbet. Seasoned with fish sauce and sorrel, the dish is full of nuanced flavors: sweet, salty, savory, delicate and sharp. The fish sauce is aged in bourbon barrels until this relatively common condiment takes on oak and whiskey overtones, becoming tremendously complex.
"There's no substitute for the process," says Blanton, who uses many artisanal ingredients. His approach to cooking is to present a balance of flavors. Sometimes this is achieved in a single dish (like the halibut), in which no single component is dominant. Other dishes, like the Forest Mushrooms in Madeira Crème, Montana Chevre and Thyme Pastry, highlight the main ingredient. The menu offers a full spectrum of tastes to sample: game with fruit sauces or savory complements, lean seafood with rich crème, and unexpected twists like the addition of squid ink to the Alaska Weathervane Scallops with heirloom tomatoes, sweet peas, Brabant potatoes and truffle oil. A black swirl of ink adorns the dish. Blanton recommends stirring in the ink before eating, to get the full flavor throughout. Curious, I sample a portion with no ink, then stir as directed and try again. The robust ink complements the subtle sweetness of the peas and potatoes, highlighting the scallops. How did they do that? This isn't the addition of an exotic element for the sake of hype. Blanton's ingredients have purpose.
Blanton gives much of the credit to his staff: "They're key players in guiding our guests' experience here." Everything that happens both up front and behind the scenes is focused on producing the meal. For his part, Blanton went to culinary school and then worked in New Orleans, first interning with chef Frank Brigtsen, then working under Jamie Shannon at Commander's Palace for about a year. After moving to the Flathead Valley in 1999, he delivered newspapers and worked at another restaurant before securing the chef position at Café Kandahar. Eventually he bought the place with his parents in 2006. His mom takes dinner reservations from the East Coast, relinquishing the telephone line when the doors open at 5:30.
Wine here is an equal partner in the overall experience. Dennis Hertrich, the lead captain and sommelier for 13 years, keeps 200 to 250 wines on the list representing all regions and varietals. "The food has so many components. Something broader happens when you're able to pair each course with a specific wine," says Scotty, a seasonal sommelier on loan from New York City. "This is a wine destination for connoisseurs, but a very approachable collection for others."
Café Kandahar is open from mid-June until the end of September, then reopens from mid-December through March. As a casual alternative, the Snug Bar serves a modified restaurant menu in the Kandahar Lodge's lobby starting at 5 p.m. During the offseason, Blanton travels and dines for inspiration. He also offers his services as an in-home chef for private gatherings throughout the country. Yes, you can wow your friends and family with this James Beard Award-winning chef at your own dinner party … or come back in the winter when Café Kandahar re-opens. When you do, order the Flathead Cherry tart if it appears on the menu. Hiking boots and high heels are not required, but reservations are highly recommended.
---
Sautéed Quail 
with Duxelles, Fennel and Arugula
Café Kandahar  |  chef Andy Blanton serves 5-6 as an appetizer
5 to 6 semi-boneless whole quail
2 Tbs. clarified butter or duck fat
1 pound mushrooms (chopped finely or pulsed in food processor)
1 Tbs. olive oil
1 Tbs. shallots (minced)
1 tsp. garlic (minced)
1 Tbs. olive oil
¼ bulb of fennel (sliced thin)
1 c. of duck or chicken stock (broths will work also)
2 oz. unsalted butter (cubed)
1 oz. arugula
Creole seasoning (Paul Prodhomme's Poultry Magic works great)
Kosher salt and black pepper to taste
1.  Heat oven to 425 degrees. Meanwhile, prepare the Duxelles by sautéing mushrooms in a large, heavy-duty skillet over medium-high heat with 1 tablespoon olive oil until they begin to brown slightly, stirring consistently, about 5-7 minutes. Reduce heat to low and allow mushrooms to cook slowly, so that the moisture content begins to dehydrate. This is a long, slow process, taking a bit of attention to ensure the mushrooms do not brown (caramelize) too much, which takes roughly 30-45 minutes, with frequent stirring, for even cooking. About half way through the cooking process, or 15-20 minutes, add shallots and garlic to the mushrooms, continue to stir. Be sure the mushrooms do not stick to the pan by using a wooden spoon while stirring, continuing to remove the moisture through the slow cooking process. Once the mushrooms are dark brown (not black) and somewhat dry to touch, season with a touch of the salt and pepper. Set aside to cool.
2.  Season both sides of the quail lightly with creole seasoning. Heat the clarified butter (or duck fat) in a large skillet over medium-high heat, until hot. Place the quail, breastside down, in hot skillet. Sear each side of quail over medium-high heat. Allow 1-2 minutes to sear and to develop an even, browned crust. Flip quail, sear for another 30 seconds or so, remove quail from skillet and place into the oven for about 5-6 minutes to finish cooking.
3.  In the same skillet as the quail, add second tablespoon of olive oil, warming over medium-high heat, add sliced fennel, tossing for about 15 seconds. Then add a touch of salt and pepper and the stock, continuing to cook until the liquid begins to thicken or has reduced beyond the halfway point. Add Duxelles, be sure the sauce has thickened slightly. (Note: If sauce is thin, continue to reduce over heat until desired consistency is reached.) Remove from heat and whisk in cubed butter, stirring constantly, until emulsified. Season to taste if necessary.
4.  Place arugula on a plate, put quail on top of arugula, distribute the sauce evenly amongst the quail, serve immediately.