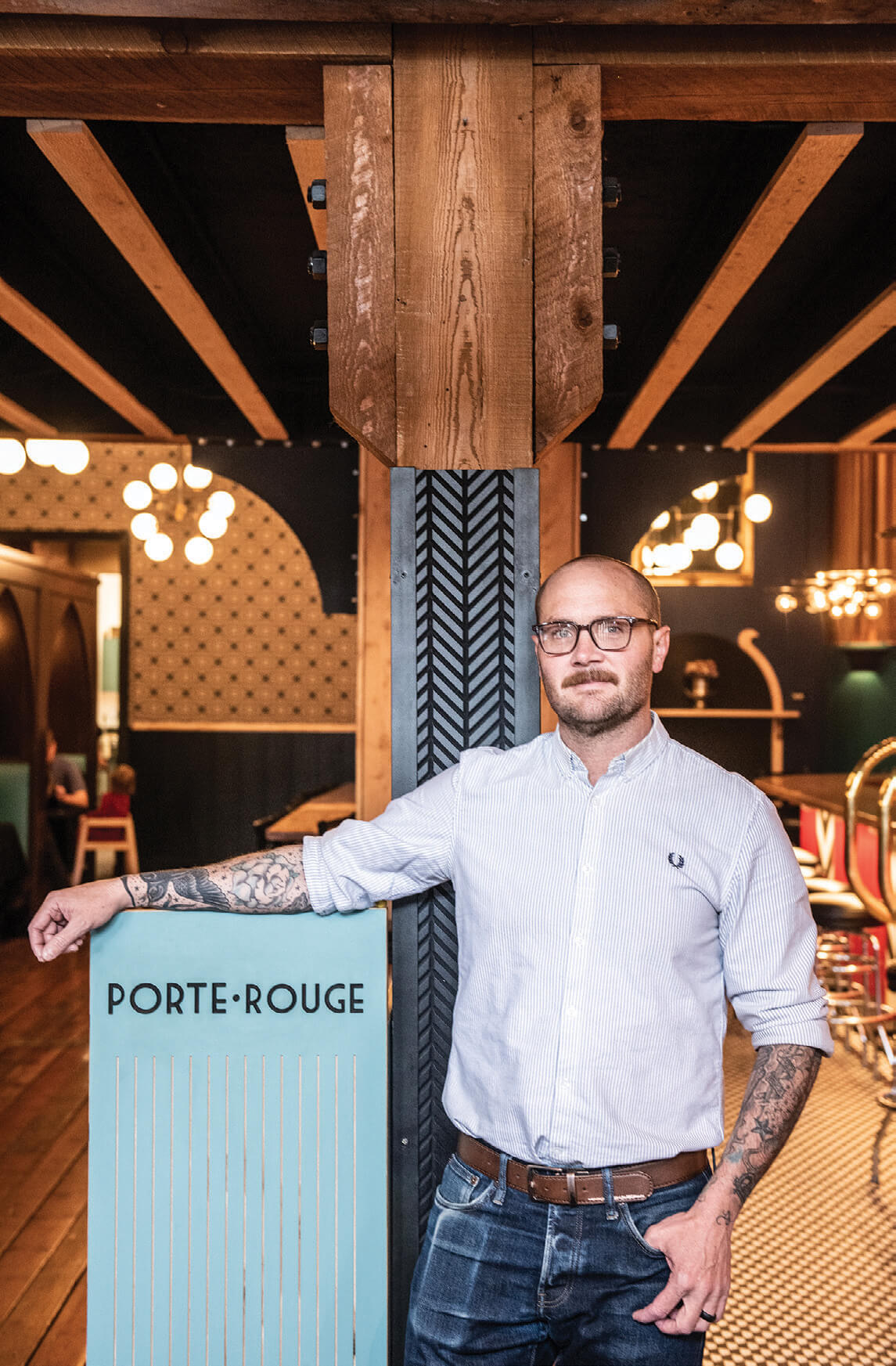 Executive chef Walker Hunter (pictured here) partnered with general manager Jason McMackin and chief financial officer Cameron Williams to open Brasserie Porte Rouge in early 2022.
01 Jun

Dining Out: Brasserie Porte Rouge

in

"We're not mad geniuses, that's for damn sure. We just know what we like and what we feel dignified in producing. And also what we're good at."

On a recent Wednesday morning, two of the three owners of Brasserie Porte Rouge sat in the filtered light of their restaurant, which was empty and quiet at such an early hour of the day. "I think we've always been keen to shoot from the hip and do what we feel is rewarding," continues executive chef Walker Hunter. "We don't necessarily do things smart; that's not our approach. We do things with heart, 100 percent."

Hunter, who opened Brasserie Porte Rouge in Missoula, Montana in early 2022 alongside general manager Jason McMackin and chief financial officer Cameron Williams, may be understating the trio's skills. But he accurately captures the gestalt of this place and the people who make it run: excellence without pretension, genuine passion and pride, and a healthy dose of levity.

Tucked away on a downtown side street, the brasserie began as a nebulous plan in the minds of these three friends, who already had experience running a restaurant together as the owners of Burns Street Bistro, a local favorite for brunch and catering. They were eager to build on their success. "We'd been head-on-a-swivel for the past six years, just waiting for the right place to open up," says Hunter.

Their patience paid off when The Pearl Café, one of Missoula's culinary institutions, shuttered in 2021 after decades of serving fine French cuisine. Pearl Cash, the café's founder and owner, reached out to Hunter, who cut his culinary teeth in her kitchen years earlier. "I'd been a cook for most of my life before working at the Pearl, but I hadn't worked fine dining," recalls Hunter, crediting the Pearl for teaching him the art of cuisine. It's also where he met his wife and some of his best friends. "So there's this legacy aspect, and it was nice for [Pearl and me] … that I could come back and take this on and give it a new attitude, but maintain similar standards and fare. I just love the narrative of this space and returning home."

The team began a substantial renovation while brainstorming about the new restaurant's direction. Both Hunter and McMackin agree that they didn't plan to feature French cuisine, and Cash had no expectations of that either. "It could have been a burger shack, or a food hall, or a dive bar," they recall. "We kind of backed into the brasserie thing," says McMackin, recollecting the circuitous route they took. "We just had this space, and it was like, 'Well, this could be whatever we want!' So then, of course, we couldn't think of anything."

But they did have some ideas: oysters, beer and wine, a casual-yet-upscale atmosphere, and a commitment to outstanding food. "Then, one day, I was out riding my bike, and I just happened to remember being in Germany and going to a brasserie, and I said, 'Oh, right, of course:    There's a name for everything we've been talking about,'" says McMackin. Brasserie is the French word for "brewery," but it also encompasses an approach to eating: ample drinks and hearty food served in a comfortable setting.

Brasserie Porte Rouge checks all three of those boxes and does so with panache. Though the restaurant has only been open for a year, it has already cemented its reputation for truly superlative fare and an atmosphere that strikes the right balance. "I think the term that I keep coming back to is 'elevated experience,'" says McMackin. "It's not casual, it's not fine dining, but it has trappings of fine dining, and you don't need to know all the manners, the rules of fine dining. We wanted to hit that sweet spot, where you can get dressed up and come here for your birthday, or you can get off the river after floating all day and come here in your sandals and eat a bunch of oysters."

And there are, indeed, oysters. Fresh and tasting of the sea, they are a rare and delightful treat in this landlocked state. A recent offering included Pacific Higata and Shinsei from Washington State — nestled in an aluminum bowl of ice — paired with cocktail sauce and a perfect mignonette.

The team's love of shellfish extends far beyond oysters, though, and the menu is so rich in seafood that diners could easily forget where they are and expect to find the ocean just outside the brasserie door. There is, in fact, an entire section of the menu dedicated just to "shells." Moules frites, of course, is a staple, with fresh mussels cooked perfectly, luxuriating in a broth nuanced with hard cider and cream. An overflowing bowl of clams comes decked out with merguez sausage, pearl couscous, and white wine broth. And their penchant doesn't stop at the water's edge: The escargot persillade is divine, a modern nod to a French classic.

To use words like "divine" and "perfect" sounds perhaps hyperbolic, but after numerous visits and a variety of dishes, it's clear: The food at Brasserie Porte Rouge is consistently exquisite. The steak frites arrive precisely medium-rare, with an unctuous brandy peppercorn sauce and an unapologetic mound of fries. The confit duck leg takes a cue from classic New England flavors and comes paired with smoked duck bacon, cider-sage beignet, maple candy crumble, and braised black kale that nearly steals the show. The lamb duo includes a rack of lamb and house-made sausage, along with a rosemary white bean puree and truffle-artichoke pesto that is astonishingly good. It's easy to expect the proteins on a plate to be the star, so it's a bonus when something as innocuous as beans or greens truly shines. "That's what happens when you care about everything on the plate," says Hunter.

And that, it seems, is the crux of it: The team at Brasserie Porte Rouge cares — about everything. Not just the food, but the decor, people, wine, music, and lighting. Because going to a restaurant shouldn't just be about what you eat, it should be about how you feel while you're there. And here, it feels fun. Enjoyable. Relaxed. Fancy, but not too fancy. The atmosphere is refined but also a little quirky: Art Deco pairs with rough-hewn timbers, paintings of oysters and chickens grace the brick walls, and the bar itself is a bold statement of chevrons, tile, and theatrical lighting — a work of art in its own right.

Equally impressive, the front-of-house staff are polished, personable, and genuinely engaged. "One of the nice developments over the past year has been the staff that has arrived here," says Hunter. "We just have such an amazing crew of both front- and back-of-house people. We're just stacked with talented cooks and chefs, and diligent stewards up front. They aren't automatons, and we don't want them to be. They bring their personality, and I feel like Missoula responds well to somebody who's really focused on taking care of them, but not at the expense of their own character."

Excellent staff may be less a happy accident and more a testament to Hunter, McMackin, and Williams' long-standing reputation in Missoula's culinary scene. In fact, many of the team at the brasserie worked, or still work, at the trio's bistro as well, including chef de cuisine Ryan Smith and Jenny Fawcett, who creates truly exquisite confections (the tarte au citron is, perhaps, the perfect dessert). "Over the years, we've picked up a lot of talented strays, and this place became a kind of good home for all of them," says Hunter.

He and McMackin joke about the perils of opening a restaurant mid-pandemic, about their ever-developing vision, about the lengthy list of potential names that didn't make the cut, about painting the front door red so people could find the restaurant — in case their sign wasn't ready when they opened (it wasn't). They finish each other's sentences like the old friends and business partners they are, and share stories about the antics and pitfalls of launching this place. But beneath all the laughter and self-deprecating recollections, their pride in what they've created is clear. And perhaps that balance — levity alongside passion — is its own kind of mad genius after all.

Melissa Mylchreest is a freelance writer and artist based in western Montana. When she's not at her desk or in the studio, you can find her enjoying the state's public lands and rivers with her two- and four-legged friends and family.

Photographer Lynn Donaldson shoots regularly for National Geographic, National Geographic Traveler, Travel & Leisure, Sunset, and The New York Times. The founder and editor of the Montana food and travel blog The Last Best Plates, Donaldson lives outside of Livingston, Montana with her husband and three children.