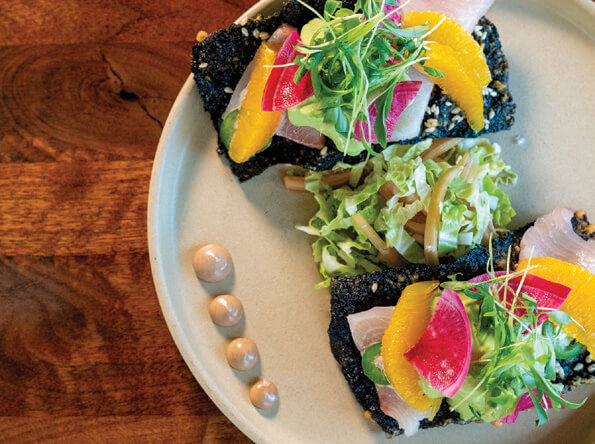 1889's popular Yellowtail Crudo appetizer features yellowtail onfried nori "tostadas,"topped with cilantro crema and orange slices.
09 Aug

Dining Out: A Steakhouse for the Masses

in

The atmosphere of 1889 encourages variety: On any given night, you'll see everything from steak-and-wine dates to boisterous gatherings of sun-kissed river rats sipping microbrews. The steakhouse on the corner of Higgins Avenue and Front Street in downtown Missoula is housed in the historic Mercantile building, whose fate was argued over for years until it was bought by the Marriott chain and turned into a hotel with retail and restaurant space. The explosion of shops on the first floor has ushered the city's downtown into a vibrant new era. "The Merc" now features establishments that are serving up Thai and Mexican cuisine, an art bar, spa, and other big-city offerings. But 1889 holds the anchor spot, with a prominent corner position and tall glass walls that provide a fish-bowl view.

Melissa Mooney and her husband Reed opened the steakhouse in 2019, just months before the pandemic hit. To get that spot, they had to compete with other restaurants — including some franchises — but they won in the end, resulting in a triumph for local food. Melissa, a self-proclaimed history nerd, came up with the 1889 concept as a tribute to the year of Montana's statehood and Missoula's birth. The restaurant's interior is composed of reclaimed wood pulled from the original Mercantile and metal accents that pay tribute to Montana's mining history. "It's a rustic elegance," she says. "We wanted to be approachable but still compare to a Seattle steakhouse."

The Mooneys also own the Missoula-based fine dining establishment The Keep Restaurant, which is nestled in the South Hills and serves as a cozy neighborhood eatery as well as a destination for date nights and events. And when they created 1889, the couple intentionally switched it up. "It's a different energy down here," Melissa says. "A little faster, a little more modern-urban, but without a pretentious feel."

Instead of the stereotypical hot-tempered culinary artist, 1889's executive chef, Bert Gahagan, has a laid-back quality to him. He graduated from Missoula's Hellgate High School in 2003 — located just across the bridge from the restaurant — where his senior project involved cooking breakfast for his friends during the weekdays. "One teacher asked me, 'How is this senior project going to impact the rest of your life?'" he recalls. "I said, 'I'm going to culinary school next year, so I think it's going to be my job.'"

Gahagan went on to train at the California Culinary Academy in San Francisco and then sharpened his skills as a chef in Jackson Hole, Wyoming, before landing at 1889. His aim is classic steakhouse fare with a contemporary twist. A great example is the restaurant's steak tartare, in which New York steak end cuts are finely diced and served with fresh herbs, sitting on top of warm homemade roasted garlic focaccia bread. Instead of the classic raw egg, the dish is topped with a tangy, rich egg yolk jam made of emulsified white balsamic vinegar and extra virgin olive oil. "It kind of tastes like a cheeseburger, like a Big Mac," Gahagan says, grinning. This illustrates how 1889 and its staff take risks to avoid pretension, making the eating experience both adventurous and comfortably familiar.

Then there's the Yellowtail Tostada, a current favorite, and, according to Gahagan, one that came about from an experiment. For this dish, sheets of rehydrated Nori are fried with black and white sesame seeds and topped with thinly sliced hamachi (yellowtail), fresh orange segments, and cilantro crema.

The star of the dessert menu (at least when I was there) is the Lemon and Blueberries — an understated name for a complex, multi-textured lemon oil cake that's topped with blueberry-lemonade gelato, fresh blueberries tossed in buttermilk whey and crème fraîche, puffed wild rice, and candied lemon peel.

The steakhouse is also armed with wines, cocktails, and spirits to pair with the meals, and like the cuisine, their drink list embodies a careful mix of experimental, contemporary, and classic options. The cocktail menu includes non-alcoholic and low-octane beverages that, as general manager Renee Somerset-Mucha says, "go beyond the soda gun."

One of their signature cocktails, "Waiting on Thai," a mix of Plantation pineapple rum, brandy, Banane du Brésil liqueur, and citrus, was created when the restaurant Zoo Thai first opened next door. Because 1889 was where people waited for their takeout, they developed the drink as a wink to the phenomenon, and customers took notice.

The steakhouse wines include Old World and domestics, but the biggest surprise is the orange wines, which are white wines fermented with the grape skin still on. "They have all the beautiful aromatics of the white varietal but also the grippy structure and tannins of a red wine to go with that fattiness of the steak," Somerset-Mucha says. Her role model is Danny Meyer, the famous restaurateur and hospitality guru, and she quotes him in the 1889 training manual. Her favorite is, "Customer service is a monologue. Hospitality is a dialog." And 1889 is shooting for that dialog, where the experience is tailored to the desires of the diners.

Somerset-Mucha has years of experience working in Seattle restaurants but grew up in Missoula, so she understands how Missoula-casual and Missoula fine dining intersect. "When people call about a dress code, I know they're not from here. I say, 'If you can just be dressed, that would be great,'" she says, laughing. "We can provide that big-hype, Montana-steak-with-whiskey-finish dinner, or we can do Asian-inspired apps with weird cocktails and random beers from Belgium. We're really thinking about how we want our guests to feel. And we want people to feel great. I really think we kill it."

Erika Fredrickson was the longtime arts editor for the former Missoula Independent. She's currently a contributor to the Montana Free Press, the editor of a zine called The Garden City Beast, and a co-producer for "Death in the West," a podcast dedicated to strange crimes and historically resonant intrigues of the American West.

Jeremy Lurgio is a Missoula, Montana-based freelance photographer and videographer, as well as an associate professor at University of Montana's School of Journalism. His work has appeared in a variety of film festivals and numerous publications, including The New York Times, The Boston Globe, The Washington Post, USA Today, Big Sky Journal, and more.