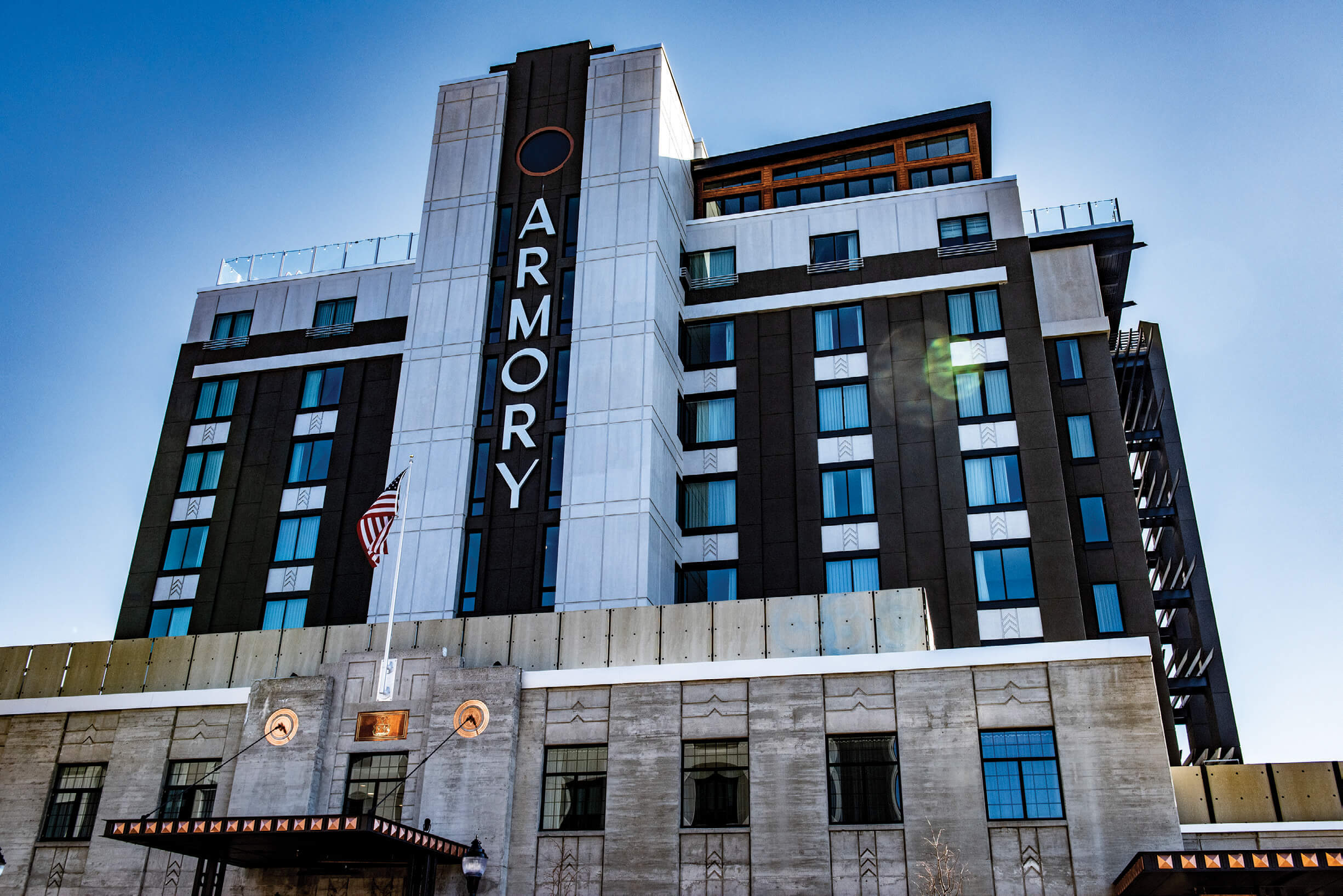 The historic Armory building in downtown Bozeman used to house the 163rd Infantry Regiment of the Montana National Guard during World War II. After a painstaking renovation, the Kimpton Armory Hotel is now the tallest building in the city
03 Jun

Dining Out: A Night at the Armory

in

I watched in wonder and anticipation as the historic Art Deco building on Mendenhall and Willson in Bozeman, Montana, stood covered: first in scaffolding, then draped with cloth. Built in 1941 to house the 163rd Infantry Regiment of the Montana National Guard during World War II, the Armory used to be a fortress-like, two-story concrete building. Now, it's the tallest building in Bozeman, boasting 121 hotel rooms, three eateries, a music venue and events center, and unique works of art by a number of area artists. In other words, the new Kimpton Armory Hotel, which opened in August 2020 with an updated Art Deco design, is the complete package. But I'm getting ahead of myself.

Let's start at the top… literally. The Sky Shed is the hotel's modern, glass-encased rooftop bar. Perched on the ninth floor, it features breathtaking views of the city and the mountains that surround it, with outdoor seating and areas for small private parties. As one of three dining experiences in the building, like the others, it has its own signature cocktails and culinary delights.

While sipping a Pearadise Sunset — made with pear vodka, elderflower liqueur, cinnamon, and lime — my companion and I reviewed the Sky Shed's Asian-inspired menu, tempted by the variety of salads, and also by the gourmet burgers and fries. (For me, it's always the fries; I think they tell a lot about the overall quality of a restaurant's food.) These came drizzled with a sweet and savory okonomi sauce (like a sweeter version of Worcestershire), a side of kewpie mayo (a Japanese version made with only egg yolk), and sprinkles of crispy garlic. Yum.

After soaking in the vibes on top of the city, we took the elevator to the lobby for dinner at Fielding's, which features new American cuisine rooted in French techniques and is named after Bozeman's legendary architect Fred Fielding Willson, the designer of the original Armory. Roomy leather horseshoe-shaped booths line the edges of the room, while other tables are sprinkled around the mosaic-tiled floors, giving the restaurant a comfortable yet exotic feel.

Our first dish featured imported Italian charcuterie accompanied by rich goat and sheep cheeses, charred bread, pickled fennel, and candied walnuts — and it wowed us both. More signature cocktails followed as we enjoyed slices of melt-in-your-mouth prosciutto and dipped our bread into a balsamic reduction.

Mark Musial accepted the executive chef position with the Kimpton Armory and moved to Bozeman before it opened in 2020. He had previously worked at The Broadmoor, a luxury hotel in Colorado Springs, which "put me on the path to come here as executive chef," he says. "I hit my glass ceiling after cooking in Texas, New York, and Colorado, and I like the comfort hotels offer. At this point in my career, I wanted to spread my wings and fly."

The Armory seemed like an ideal fit, for both the quality of life that Bozeman has to offer and the opportunity to lead the dining experiences at this boutique hotel. And while starting a new endeavor during a pandemic had its challenges, Musial knew what he wanted to do from day one. "My main philosophy for the menus is to source the best local ingredients and then [try not to] mess them up," he says. "Egos can get in the way of a great dish. I like to keep it simple; it's hard work to cook with restraint."

Musial helped create the concept of three separate dining experiences that are all tied together by location, understanding that guests might hit all of them in one evening. "Each restaurant emphasizes different concepts, and we want to keep those identities far apart," he says. When it comes to the food at each venue, Musial makes sure that the kitchen crew obsesses over the details: The vegetables need texture, the mashed potatoes must be presented with perfection, and the burgers have to be ones that everyone in town talks about. "Nobody is going to have a burger like the one we have at the Sky Shed," Musial adds.

Musial's goal is to present food that people understand: familiar menu choices that are delivered on a more sophisticated level. Examples of this philosophy include the Pappardelle Bolognese, which features ribbons of house-made pasta topped with a rich, earthy beef and veal Bolognese sauce that has simmered for days to create complex flavors. The Braised Bison Short Ribs are arranged on a bed of mashed potatoes and topped with crispy chiles and a red wine-reduced jus. The meat fell off the bone as I dipped my fork into the ribs, and the dark, roasted top added a deep umami layer to the dish.

After the main courses, we descended to the basement level bar, Tune Up, where a low-key band plugged in amps and set mics up on the small stage. The venue is designed for live music, paying homage to the "band room" in the old Armory that was in the very same spot.

Dark, with small enclaves and table seating, it feels like a contemporary speakeasy. And again, the menu features its own array of signature cocktails, including an extensive whiskey list and local microbrews, along with upscale bar food.

"We want people to start at the Sky Shed, go to Fielding's, and end the evening at Tune Up," Musial says. "At that point, they may even have to get a room at the hotel."

Freelance art writer and author Michele Corriel earned her master's degree in art history and her Ph.D. in American art. She has received a number of awards for her nonfiction as well as her poetry and is currently working on her latest book, The Montana Modernists.

Photographer Lynn Donaldson shoots regularly for National Geographic, National Geographic Traveler, Travel & Leisure, Sunset, and The New York Times. The founder and editor of the Montana food and travel blog The Last Best Plates, Donaldson lives outside of Livingston, Montana, with her husband and three children.
Sky Shed's Korean Meatballs
"We knew from the start that we wanted Pan-Asian food upstairs, and we knew we wanted to put meatballs on the menu because they're shareable," Kimpton Armory's executive chef Mark Musial says. Musial imagines they'll always be a solid staple on the rooftop bar's menu.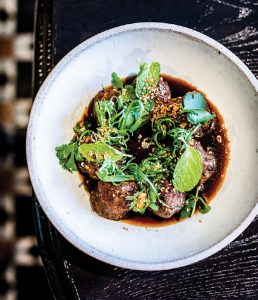 Meatballs
1 pound ground beef
1 pound ground pork
5 cremini mushrooms, finely chopped
1 yellow onion, finely chopped
3 egg yolks
¼ cup soy sauce
2 tablespoons garlic, minced
1-½ tablespoons ginger, minced
5 scallions, thinly sliced
Salt and pepper to taste
Preheat oven to 400 degrees.
Combine ingredients and mix until moldable.
Portion into 1.5-ounce balls and bake for 12 minutes, or until cooked through.
Makes approximately 25 meatballs.
Korean-style glaze
8 cloves garlic, minced
¾ cup soy sauce
¼ cup sugar
¾ cup mirin
½ cup honey
In a food processor, blend the garlic and soy sauce until smooth. Add the sugar, blend, then mix in the rest of the ingredients. After the meatballs are cooked, stir them in the glaze, garnish with your choice of greens, and serve.