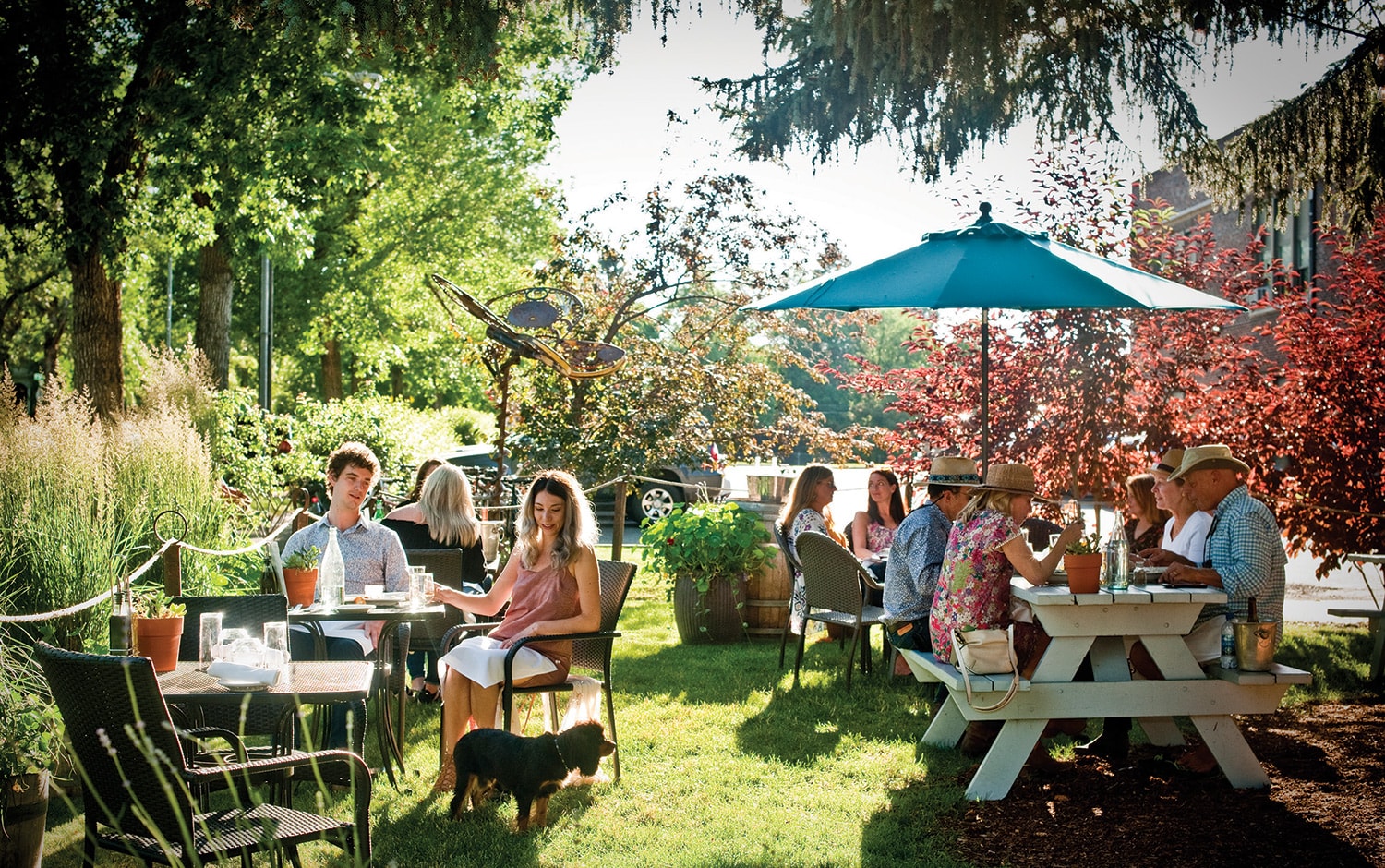 Dining al fresco at The Emerson Grill is the epitomy of summer.
09 Aug

Dining Out: The Emerson Grill

in

Robin Chopus is a pioneer of Bozeman's farm-to-table movement. When she opened The Emerson Grill in 2005, the popularity of using fresh, seasonal ingredients from local farms and ranches was burgeoning across the nation, and Chopus saw the opportunity to create that niche in the Montana restaurant scene. "All of the food on the menu is simple, country Italian, and the key to making that stand out is to use high-quality, farm-fresh ingredients," said Chopus.

When Chopus first opened, she worked with just a couple of small Gallatin Valley growers. Today, her menu lists a dozen purveyors who sell fresh greens, bison, cheese, and smoked meats. Serving up pizza, homemade pasta, and unforgettable focaccia along with a succulent list of fresh fish, chicken, and meats, Chopus has always prioritized sustainable and organic products.

While her vision for the menu was on trend, Chopus actually was following tradition. She was raised in Connecticut with four sisters and hardworking parents who farmed 2 acres of fruits and vegetables, raised animals, and cooked at home most nights. She laughs at the memory of hours spent, day after day, harvesting everything from strawberries to green beans with her sisters. After harvest came canning and preserving, so that the family of seven could eat healthy vegetables all year long. The results were delicious, according to Chopus. "Italian food is just the best," she said. "I grew up eating spaghetti and meat sauce made with the tomatoes from our garden. And eggplant parmesan — just talking about it makes my mouth water."

The fast-paced nature of working in the restaurant business suits Chopus. Although she has a geography degree that she put to use as a wilderness ranger with the U.S. Forest Service, her kitchen experience in Park City, Utah — where she managed restaurants and worked as a private caterer for exclusive clients — won her over 30 years ago. "I'm not a sommelier or a trained chef," she explained. "But I drink wine, and I know what I like. I'm a foodie, and I know good food is something that doesn't overcomplicate the palate."
Tucked into a corner of Bozeman's historic Emerson Center for the Arts and Culture, The Emerson Grill is decorated with vintage and antique furnishings creating a comfortable yet classy atmosphere.
Multitasking is a way of life for Chopus, who admittedly can't sit still. At the restaurant, she will answer the phone to take a reservation, conduct an interview with a prospective new employee, taste a sauce, and artfully fling together a sandwich of brie on fresh-baked bread. Her approach is a reflection of her multifaceted business, encompassing not only The Emerson Grill, but also a catering company, Ecce Fine Art Gallery (which seconds as a private dining room), The Emerson Grill North wine bar, and a specialty food line, Sweet Loretta's Cookstove, named after her mother.
"The business has evolved through the years," said Chopus. It started out as a little restaurant space, a hub in the Emerson Center for the Arts and Culture, a historic school building-turned-arts-center just off Main Street in downtown Bozeman. The interiors hold onto a cozy, timeless charm that features wooden booths, tables, and antique chairs, with big windows looking out to the corner of South Grand and West Olive streets. Chopus has expanded to include outdoor dining on an enchanting summer patio beneath the limbs of a large pine tree; the intimacy of private dining on a long harvest table in the Ecce Gallery; and a swanky, hallway-sized wine bar next door to The Emerson Grill that radiates eclectic charm.
The classic comfort food menu, however, has stayed roughly the same. The recipes Chopus and her sister, Megan, developed in the beginning are still hallmarks: lamb meatballs, grilled calamari, fettuccine Bolognese, eggplant parmesan. The regular customers who've been dining at The Emerson Grill since the doors opened wouldn't let her change some of the staples even if she wanted to. Even new items — such as the Italian Brick Chicken, with savory, crisply charred skin and grilled summer vegetables, or the Wild Boar Belly Ragù over homemade pappardelle pasta — hearken to her traditional family recipes. "Everything in this business is very personal to me," she said. "It's what I created, and I'm so proud of it."
The Ecce Gallery serves as an exhibit space and also as The Emerson Grill's private dining room.
---
Tutti Mare
The Emerson Grill Serves 6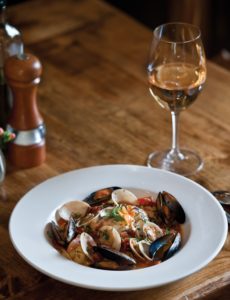 Ingredients
1 ½ to 2 pounds fresh fish (salmon, halibut, shrimp,or scallops), deboned, cut into 3-ounce portions
24 fresh mussels
24 fresh clams
1 ½ cups vegetable stock
3 cups white wine
4 tablespoons red pepper flakes
8 tablespoons unsalted butter, cubed
24 ounces cooked flat noodles (The Emerson Grill uses traditional housemade fettuccine)
Salt and pepper to taste
2 tablespoons parsley, finely chopped
Tomato base
½ cup onion, diced small
2 ½ cloves fresh garlic, chopped
3 tablespoons extra-virgin olive oil
1 tablespoon toasted fennel seeds
3 pounds canned Italian fire-roasted tomatoes, diced
1 cup white wine
1 cup fish stock
Generously salt and pepper both sides of fish. Sear the fish over medium- high heat in a sauté pan until golden brown on both sides, set aside.
For the sauce, sauté onions and garlic in olive oil until transparent. Add fennel seeds. Add tomatoes and deglaze with white wine. Add fish stock and let simmer for 30 minutes.
In a large pan, add mussels and clams and cook in the sauce until the shells open. Add vegetable stock, white wine, red pepper flakes, and butter, then cover and let reduce for 5 to 7 minutes, until the sauce thickens, stirring occasionally.
Add fresh pasta and cook for 2 minutes until the sauce is fully incorporated. Add cooked fish and salt and pepper to taste. Serve in large, warm bowls and garnish with fresh parsley.