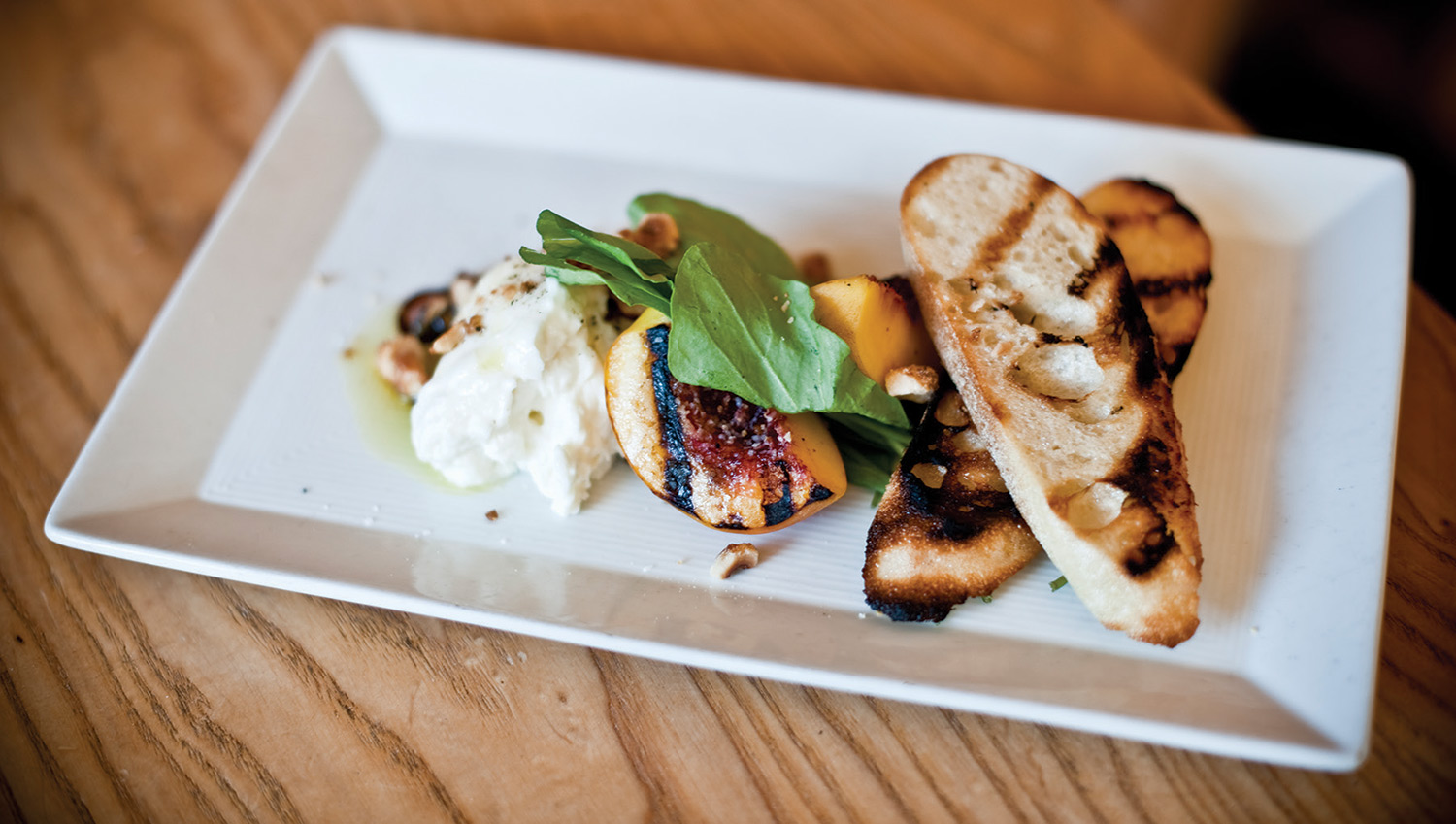 05 Oct

Dining Out: Defining the Experience

in

Whenever I step across the tile-floored threshold of PLONK, I'm struck by the craving for a cocktail. It's the rattle-slush rhythm of ice in a shaker that greets me as readily as the wave from a mixologist standing behind the crescent-shaped bar. It's the high tables perched along the blue-velvet banquette. It's the silky invitation of jazz notes playing on a Wednesday night at this downtown Bozeman bar and eatery.

I think: martini. The coldest gin. Maybe the smoothest vodka. The list of handcrafted drinks at PLONK reinforces my association with a tagline that reads: Happy Hour Every Day.

But after settling in at an intimate corner table on a recent visit with my husband, I realize that PLONK is so much more than a cocktail lounge. Across the room from us, the red brick of this late-1880s building displays a wall of wine. Cut metal signs call out regions of the wine-lover's world: France, Italy, Spain, Australia, California and the Northwest.

A glance at the menu reveals dishes that are as equally intriguing as the variety of concoctions from the bar: beef tartare; chanterelle mushroom ravioli; creamy burrata with grilled peach, arugula, candied hazelnut, espresso syrup, and olive oil served with crostini. (Hello? Are we in Bozeman, Montana?)

With three lists to choose from — evening, dessert, and cheese — my dining partner and I debate about what kind of meal we're in the mood for and what drinks are in order. The evening menu is divided into first courses that could stand as small plates for sharing. Second courses are more of a commitment, offering a full dinner portion. And then there is the cheese menu: debatably an appetizer or after-meal finisher, depending on where you are from. But in my book, cheese is appropriate at any time of day or point in a meal.

The high-ceilinged room is full of guests. Conversations hum. Outside, the bustle of Main Street becomes ambient noise that blends with the music and the ever-present martini-shaker percussion. The server greets us casually, friendly enough that we're encouraged to order a bottle of wine, a Bandol rosé (it's a warm night). We're in for a full meal, it seems.

"What I love about this place is that it can be whatever experience you want it to be when you walk through the door," says owner Michael Ochsner. "It is a wine bar, it's a place with a full-service menu, or a late-night social scene — you define it."

Named after the British slang for cheap wine, PLONK's offerings are anything but common. The wine list reveals breadth and depth that would impress any connoisseur and befuddle many neophytes. To the benefit of both types of guests, Ochsner is a certified sommelier and always on hand to offer guidance. Since purchasing the business in 2009 (it originally opened in 2003), Ochsner and his partners, Chris Lohss and Brett Evje, have set PLONK as an anchor of the restaurant scene in Bozeman.

"I've had the luxury to develop the depth and focus of our cellar," explains Ochsner. "It's been a passion of ours and a goal to bring the emphasis back to food and wine at PLONK."

To that end, chef John Thayer rounds out PLONK with refreshingly complex food that centers on what he calls "ingredient-based cooking." Basically, that means using seasonal, fresh ingredients, locally-produced whenever possible, with inventive flavors.

"My approach is to express the best of an ingredient without clouding its nature," says Thayer. "When people eat here, I hope they have a food pairing they've never had before; I want it to be memorable."

With a menu that changes four times a year, Thayer is endearingly obsessive about seasonal ingredients. He speaks passionately about the character of food, the importance of texture, flavor, and connectivity within a dish. His approach is founded in balance, but the results can also be surprising, providing a sensory experience that often runs the spectrum of sweet, savory, and even sour all on one plate.
PLONK's historic building serves as an artful context, a subtle blending of the old and the new.
Thayer attended culinary school in Portland, Oregon, where he interned at the notable farm-to-table restaurant Clarklewis. Add to that training degrees in botany and biology, a penchant for adventure and soul searching, and the result is a well-traveled, well-seasoned eater with the expertise to create food that pushes boundaries without being too esoteric. He easily expounds on the perfect way to slice a French radish or render bones to stock in minute detail, but never loses track of what's really important.
"Ultimately, every bite still has to be yummy," Thayer says.
We choose octopus as a starter, follow it with hearty rabbit pasta and a smoky kurobuta pork chop from a Gallatin Valley ranch. The shaker shakes. The music flows. Friends drop by our table to say hello. Chef Thayer stops over to shake hands and ask about our meal. My husband orders another glass of wine. It's a Wednesday night at PLONK, just the way we like it.
Plonk's Montana Pork Chop

with popcorn polenta, braised dandelion and spinach, and smoked maple syrup pork sauce with pickled asparagus tips
Ingredients:
8 bone-in pork chops
Vanilla brine:
½ gallon cold water
¼ cup sugar
¼ cup kosher salt
1 tablespoon vanilla extract
1 tablespoon ground black pepper
Smoked Pork Stock:
3 quarts water
2 slices bacon or pancetta
4 smoked ham hocks
2 onions
1 large carrot
2 stalks of celery
Bouquet garni
(3 cloves of garlic, 1 bay leaf,
2 sprigs of thyme, 5 parsley stems)
Pickled Asparagus:
1 bunch slim asparagus, tips reserved
½ cup sugar
½ cup white vinegar
½ cup hot tap water
1 teaspoon of salt
Popcorn and Polenta:
2 cups polenta
6 cups water or stock
½ cup white wine
3 bags microwave
buttered popcorn
½ stick butter
½ cup grated Parmesan cheese
½ cup heavy whipping cream
1/8 cup chopped garlic
2 tablespoons chopped shallot (divided)
5 sprigs of thyme
Pinch of red pepper flakes
Salt and pepper to taste
Blond Roux:
¼ cup plus 2 tablespoons butter
¼ cup flour
Sauce:
4 cups smoked pork stock
1/2 cup blond roux
¼ cup birch or maple syrup
1 bay leaf
3 sprigs of thyme
Braised Greens:
1 pound adult spinach
½ pound dandelion or other bitter greens, such as collard or mustard
1 clove garlic, minced
1 tablespoon olive oil
¼ cup chopped shallot
½ cup chicken or vegetable stock
¼ cup white wine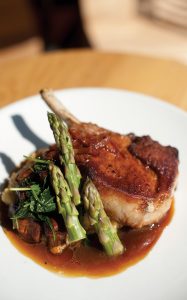 BRINE   In a large stock pan, simmer 1 cup of water while keeping the rest chilled; add sugar and salt and mix until dissolved. Add the rest of the cold water and vanilla, then add pork chops, and leave for 2 to 5 hours.
STOCK   In a large stockpot, render two pieces of bacon, add chopped vegetables, then sauté until browned and caramelized. Add fluid, ham hocks, and bouquet garni, then simmer for no less than 6 hours. Reserving the stock, drain the vegetables and the hocks, holding them back to add to the sauce later if desired. Put the stock back on the heat, then reduce to approximately 4 cups. It's best to prepare the stock one day ahead of time.
PICKLING LIQUID   In a mixing bowl, add hot tap water, sugar, salt, and vinegar, then mix until dissolved. Cool the mixture and add asparagus tips. Let pickle for 2 hours or as long as overnight.
POPCORN MIX   In a large sauté pan, add popped popcorn (making sure there are no unpopped kernels), butter, 1 tablespoon shallot, and wine. Sauté on low heat until the popcorn absorbs the butter and wine. Remove from heat and place in a food processor. Process to a rough paste.
POLENTA   In a large saucepot, add a little cooking oil, the remaining 1 tablespoon shallot, garlic, red pepper flakes, and thyme. Sweat for 2 minutes on high heat. Once the aromatics are translucent, add fluid and polenta. Lower heat and stir until fluid is absorbed and polenta is smooth. When the polenta comes together, fold in cream, Parmesan, and popcorn mix. Salt to taste and keep warm for service.
ROUX   In a sauté or saucepot, add butter and melt on low heat, then add flour. Cook for 10 to 15 minutes on medium heat while stirring. Blond roux is done when it is a light brown color and has a nutty fragrance.
sauce In a medium sauce pot, add bay leaf and thyme to pork stock and bring to a simmer. Once simmering, add roux and whisk until the mixture reaches a velvet texture. Season with salt, pepper, and lemon.
BRAISED GREENS   In a large sauté pan, add shallot, garlic, oil, and greens. Sauté for a minute, moving greens around in the pan. Add stock and cook until tender, but still green and fluffy.
FINAL COOKING AND PLATING   Grill or sear pork chops to desired doneness (recommended at medium, or 140°F to 145°F in the thickest part of the meat with an instant-read thermometer). Remove from heat and rest chops for 10 minutes before service. Can be served either family style or individually plated.