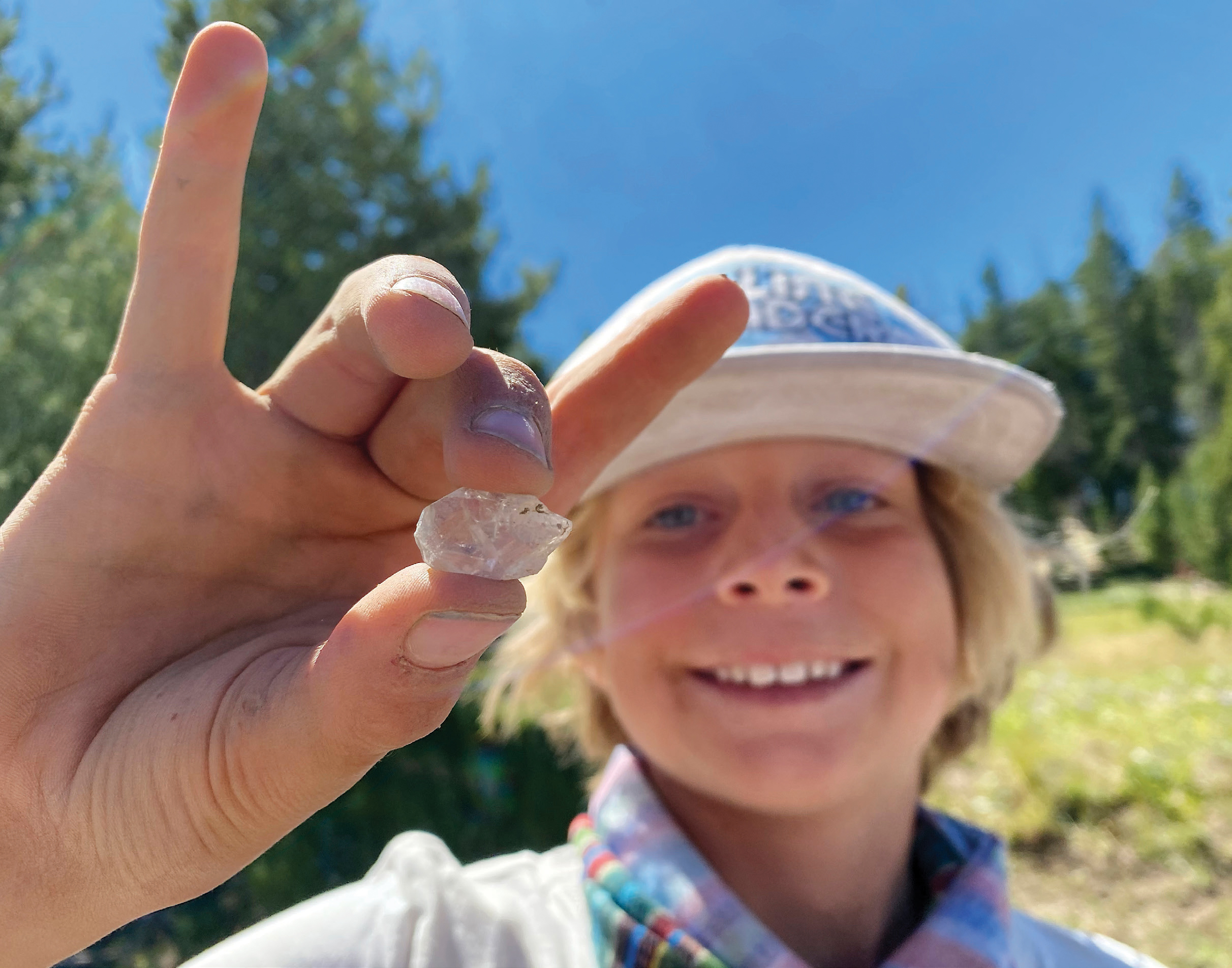 29 Sep

Dig It: Rockhounding in the Northern Rockies

in

One of my favorite driving expeditions in Idaho is to follow the Salmon River from the Stanley Basin downstream to Challis. On this trip, the abundance of hot springs and mountain views are accompanied by an undeniable sense of nostalgia, a reminder of what the Wild West was like back in the gold mining days. Old homestead tracts and imprints of the region's mining history are at nearly every pullout as I make my way over to Interstate 15, the route to Helena, Montana, and back across the Beartooth Pass into Wyoming.

In the post-Civil War era, soldiers headed west with hopes of making their fortunes. The legends of Lewis and Clark, John Colter, and the trappers who traded in the famed Pierre's Hole are well-known and well-marked with historical signs that explain the area's significance. But the stories of individual miners and the pioneers who came to pan for gold are cloaked in more mystery. And those secrets can still be discovered throughout the Northern Rockies if you know where to look and what to look for.

The geology-rich states of Idaho, Wyoming, and Montana are like a pirate's treasure chest; gold, sapphire, opal, amethyst, jade, quartz, garnet, and topaz are just a handful of the many gemstones that can be found around the region. Idaho, after all, is called the "Gem State" for a reason: 72 varieties of precious stone can be found there. Montana is known as the "Treasure State" due to its plethora of mineral deposits, including two desirable varieties of blue sapphire: the Yogo and the Fancy Montana Sapphire. And the complex geology in the Greater Yellowstone area includes everything from dinosaur bones to petrified forests; samples spanning 540 million years from the Cambrian to Cenozoic eras have been found in Yellowstone National Park.

Often referred to as "amateur geology," rockhounding includes searching for and collecting minerals and fossil specimens. Not only is it a fun and oftentimes rewarding way to spend a day, it's also a great way to learn more about the region and the minerals that call it home. For those interested in giving it a try, here are some starting points.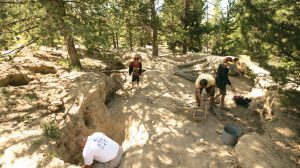 Yankee Fork
Challis, Idaho
Directions: Turn at White Otter Adventures
on Yankee Fork Road at Sunbeam in Challis
ROCKS: GOLD
The Yankee Fork is a 28-mile-long tributary of the Salmon River that flows to the Sunbeam Dam, the only dam ever built on the Salmon. With a rich history of gold mining, the area is still home to a few private mine tracts, the remains of the gold-digging and milling glory days from the 1870s to 1900s, when the Stanley Basin was settled. There are three ghost towns on the Yankee Fork that visitors can tour: Bonanza, Bayhorse, and Custer. At its peak during the area's gold rush, Custer was home to about 600 residents.
Besides the standard rock hammer, beginning gold prospectors will need several different-sized pans, half-inch and quarter-inch classifiers (also called sieves or screens), a sluice box (optional), some vials, and a snuffer bottle. (Also known as sucker bottles, these suck the gold out of the pan, and can be made with a plastic straw and bottle.) Lastly, you'll need a few buckets to collect water, mud, and — hopefully — gold. Gold is heavy, therefore run-off season deposits it in eddies, behind trees, and under rocks. Fall is the best time to visit, when the current is mild, and the inside corners of the river can be inspected safely.
Crooks Mountain
Jeffrey City, Wyoming
Directions: Seven miles northwest of Rawlins on U.S. 287, exit at Jeffrey City and head south on
Crooks Gap Road
ROCKS: JADE
Many rock formations can be confused for jade, but this mineral has a few distinct features: It doesn't show an external crystal structure, and its boulders will ring when struck with a hammer. Jade ranges in color, including shades of green, black, and white, depending on the amount of iron present. Wyoming features nephrite jade — the state gem — which is composed of jade and actinolite. The combination makes for a tougher stone that's more resistant to breaking. Specimens have been found in the pebbles and boulders throughout the area, including along the highway into Jeffrey City. If you're not up for a big hike, just park on the side of the road and start looking for little glints of green in the cobble.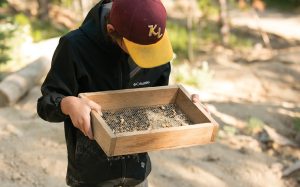 For those interested in a backcountry experience, the Chain of Lakes is a perfect base camp and the only place in the U.S. where the Continental Divide splits, creating a circular basin where the water doesn't flow in the direction of the Pacific or Atlantic oceans. From there, Crooks Gap is a 30-mile loop of pure Wyoming wilderness, filled with sagebrush, pines, ponds, and salt flats that make up the Chain of Lakes formation. The area is famous for the Red Desert's feral horses, and hikers can enjoy a diverse population of migrating birds. And, of course, along the hike, there is much jade to be found. These specimens are green in color and found in alluvial fans and in the soil as pebbles and boulders. Jade has a smoother appearance than ordinary rock, and looks almost as if it's been through a rock tumbler.
Gem Mountain
Phillipsburg, Montana
Directions: A few miles off Montana Highway 1 (the Pintler Scenic Route) between Anaconda and Drummond
ROCKS: SAPPHIRE
Located almost exactly halfway between Glacier and Yellowstone national parks near the historic mining town of Phillipsburg, Gem Mountain is a managed sapphire mine that's open to the public for a fee. Here, amateur rockhounds can dig through the "Sapphire Gravel," and pour their loads into metal trays to be washed, hoping to reveal a rainbow sparkle of gems. For those lucky enough to find sapphires, Gem Mountain offers stone cutting onsite for an additional fee. Though it's not the same as prospecting in the wilderness, the likelihood of finding a stone here is pretty good. And visitors can top it off with a picnic, with tables provided. Bring appropriate layers of clothing, sunscreen, bug spray, and a hat. There is also a free campground at the mine with six sites.
Calvert Hill
Wise River, Montana
Directions: Six miles west of the Wise River from Montana Highway 43, turn onto Bryant Creek Road and follow it to where it merges with Forest Service Road 70648
ROCKS: Epidote, Garnet, quartz
As you head southwest of Butte — once known as "the richest hill on earth" for its mining exploits — following the Wise River to the old Calvert Red Buttons Mine, the drive takes you through the area's rich history. Referred to as the Calvert Hill region, located in the Pioneer Mountains, it's infamous among rockhounds.
Follow Bryant Creek Road up the canyon and you'll find the Calvert Red Buttons Mine, which was once a source of tungsten, a rare metal that's stronger than steel and nearly impossible to scratch. The mine closed in the late 1950s, when the government's purchasing program was abandoned. It reopened briefly from 1960 to 1962, and when it closed for the second time, it was left to flood with groundwater and snowmelt, creating a 90-foot-deep, crystal clear lake.
Along with the main pit, which is too deep to mine, there is a smaller adjacent one where epidote, garnet, and quartz can be found, along with aquamarine for the very fortunate rockhounder. Epidote and garnet can be searched for in the walls of the pit. Garnets feature a brownish to orangish hue and are sometimes a reddish-brown. Epidote has a pistachio color.
There's also a nearby rock-dump where the diligent rockhound can poke around to find quartz. There are steep sections and caution needs to be taken, but Calvert Hill is a great place to bust out your tools and investigate the larger rocks.
Crystal Park
Polaris, Montana
Directions: From Montana State Highway 43 West, take the Pioneer Mountains Scenic Byway to
Crystal Park
ROCKS: AMETHYST, SMOKY QUARTZ
Crystal Park is a popular rockhounding destination located in the Pioneer Mountains. Because of its high elevation, at 7,800 feet, the site offers expansive views of the Pioneers and the Big Hole Valley, and the collecting season is dependent on snowfall. Crystal Park remains a favorite for all ages because of the well-formed, prism-shaped quartz and amethyst in the area. Most of the crystals found will be no more than 2 inches long, but the scepters tend to be high-quality gems.
There's a $5 parking fee, and visitors need to bring their own equipment, such as a sifting screen, a small shovel, and a pick or screwdriver. This is a popular destination on summer weekends, and weekdays are better for avoiding the crowds. There's a campground a couple of miles away, Elkhorn Hot Springs is 5 miles to the south, and the Coolidge Ghost Town is to the north, which makes for a great itinerary to complement a dig day.
Strawberry Butte
Clancy, Montana
Directions: Six miles from the Clancy exit on Interstate 15, south of Helena
ROCKS: TOPAZ
Strawberry Butte is a rewarding location to dig for pale yellow- to sherry-colored topaz. The cavities around the many rock exposures are made up of rhyolite, a rock with a gray and light-maroon banding. The budding rockhound needs to take a 4-pound hammer to the banding to expose the topaz. Further breakage will reveal more cavities and places to search. Gems have been said to be the most abundant along the road and further up the butte.
On top of Strawberry Butte, a short and moderate hike to 6,100 feet of elevation in the Elkhorn Mountains, sits the four-person Strawberry Cabin, a Forest Service cabin built in the 1940s that can be reserved through recreation.gov. From the peak, there are spectacular views of the Elkhorns, Montana City, and the Helena Valley.
Basic Rockhounding Equipment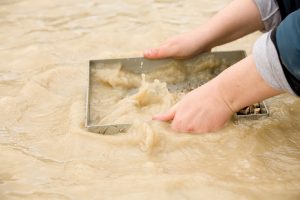 • Crack hammer (2, 3, or 4 pounds) for breaking  medium-sized rocks and driving chisels
• Hand chisel to split specimens
• Toothbrush or paintbrush for cleaning rocks
• Screen for sifting sediment
• Bags or boxes for collecting and transporting your finds
• Goggles for eye protection when breaking rocks
Mineral Education
To learn more about the minerals and gemstones around the Northern Rockies:
THE WORLD MUSEUM OF MINING
155 Museum Way, Butte, Montana
(406) 723-7211
miningmuseum.org
NORTH CUSTER MUSEUM
1211 S Main St. Challis, Idaho
(208) 879-2846
facebook.com/ChallisID
GUIDEBOOKS
Gem Trails of Idaho & Western Montana by Lanny Ream
National Audubon Society Field Guide to Rocks and Minerals: North America, National Audubon Society Field Guides
Roadside Geology of Yellowstone Country by William J. Fritz and Robert C. Thomas