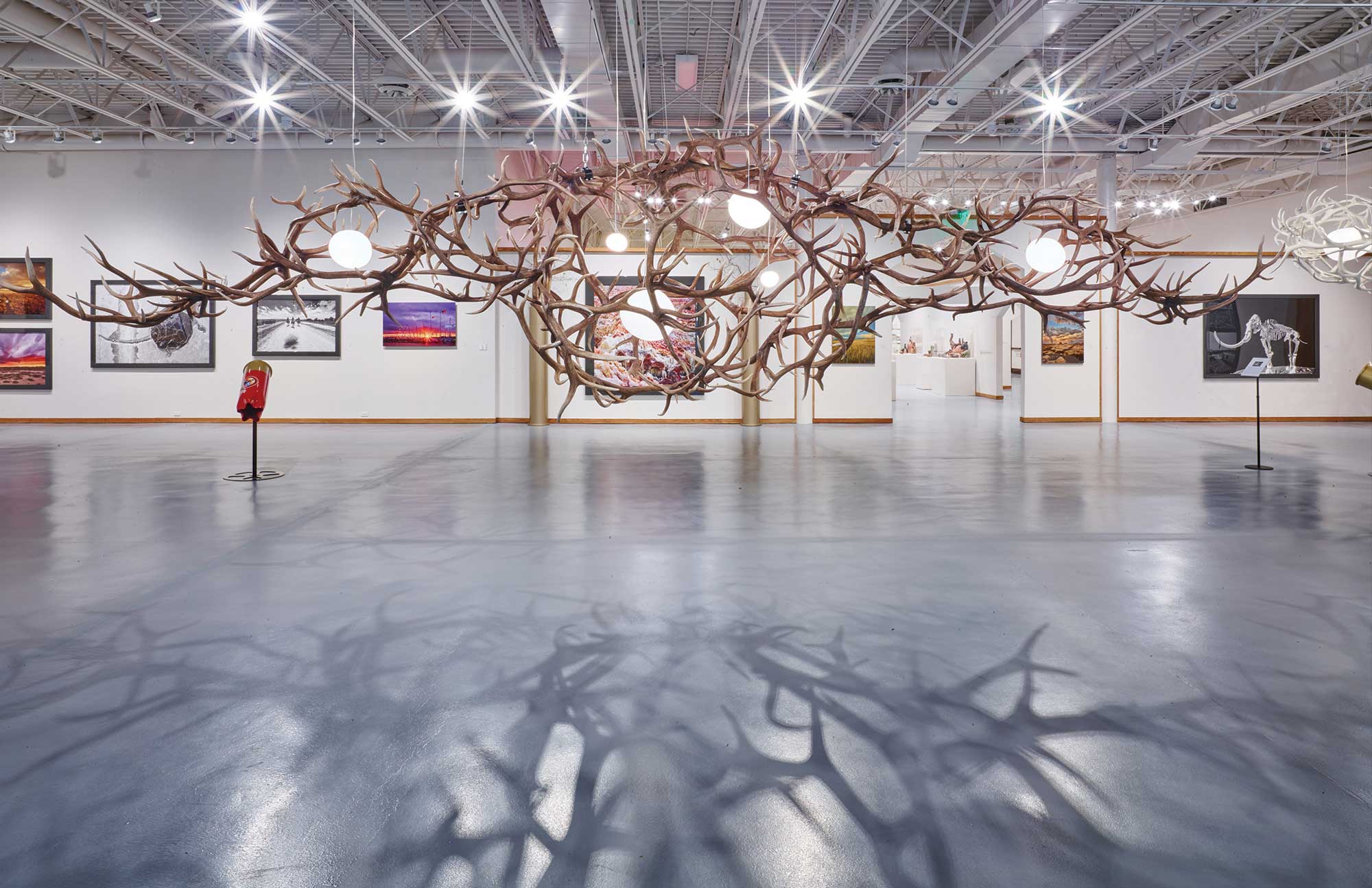 14 Apr

Design Elements

in
---
Western Artist
Shawn Rivett, Antlers & Art Q&A
Casper, Wyoming-based artist Shawn Rivett could be described as a self-taught Renaissance man in the world of design. He started with a passion for photography, then dipped his toes into interiors when he designed a friend's vacation property. When word of his tasteful and adventurous interiors spread, he scored more design projects and began creating custom art and accessories to fit into his overall visions. While still dabbling in all of the above, his signature antler sculptures and light fixtures have become the keystone for his portfolio. On the heels of a solo exhibition at Casper's Nicolaysen Art Museum, Rivett chatted with Big Sky Journal editors.
BSJ:How did you start working with antlers?
Rivett: I made the antler chandeliers to fit certain spaces for design projects. There was nothing on the market like this at the time, so I just got creative and built one.
BSJ: Where are the antlers sourced?
Rivett: We're lucky here, there are so many hunters. I can hang out at sporting goods stores or hang signs and can pretty much get what I need for a piece in a weekend. For a larger piece — like a 29-footer I recently did — it took three weekends.
BSJ: How do you compose your designs?
Rivett: I'll see a space, or an interior designer can send pictures. Then I figure out what would fit well there and create hand sketches or AutoCAD designs to send to the clients. They are all one-of-a-kind; you really can't mass-produce these, and that's what makes them special.
BSJ: How do you decide
on the style?
Rivett: It really depends on the style of the home. If it's contemporary, I might finish the piece in a high gloss; if it's more traditional, I might use a natural tone. It's such a statement piece, and if you use the right lighting with it, it really stands out.
BSJ: How would you describe your overall style?
Rivett: I'd say it's a modern twist on Wyoming life. I love mixing wood and steel, like a high-gloss steel or high-polished concrete floor next to walnut slabs; when combined the room is a showstopper. I also like to make oversized pieces; people really take notice and fall in love with them, although I have to be careful because they can get too heavy to move.
---
Western Artisan 
Thirsty Lake Tileworks
If you've visited Plonk, fine wining and dining establishments in Bozeman and Missoula, Montana, you've probably seen mosaic artist Sarah Anderson's work, or maybe even stepped on it. On the ladies' room floor of the Bozeman location, there's a tile mosaic of fish swimming in swirling waters; in Missoula, it's a wall mosaic of a blooming cherry tree.
For clients throughout Montana and beyond, Anderson creates tile mosaics that range from intricate designs to subtle inlays, adding an artistic flair and pops of color to just about any space imaginable, from shower walls to hanging art. "I make some accent pieces that can really liven a room, or I might make a few leaves and drop them into a slate floor to add a little touch," Anderson said.
Originally from New Zealand, Anderson has been in Montana for almost 20 years. With an interest in clay, she started making her own tiles as a hobby and eventually worked with a company to lay flat installations. "People wanted more creativity in tile installations, and I said, 'Hey we have all this tile, can't we do something interesting with it?'"
That started her journey as a mosaic artist, and she now uses some of her handcrafted tiles for custom accents, and sources others from a variety of outlets. Patterns also come from different sources: some from homeowners or interior designers who fall in love with a picture or design, others she creates specifically to suit the style of a space, often inspired by nature. "Some people don't like surprises and some are more open to that," she said.
She creates most pieces in her Bozeman studio and typically travels to install them herself. And each creation is custom. "They're always different," she said. "Even if it's a pattern I've done before, like a traditional design, they are always going to have a different outcome."
---
Western Works
Brandner Design's Lake Creek Water Garden
Brandner Design has been making a name for itself throughout the country by designing, creating, and installing custom, functional art in the form of furniture, fixtures, staircases, sculptures, and even landscape features like their latest water garden in Jackson Hole, Wyoming. Using a mix of concrete, wood, and steel, company principal Jeff Brandner and his crew recently designed and installed a contemporary entryway water garden to replace an older, more outdated one. "The homeowner liked what we had done inside the home with some of our other designs, and wanted that carried through to the exterior," Brandner said. "The water garden linked the interior with the exterior by creating a similar cohesive aesthetic."
Fresh groundwater from the property's artesian well flows over small waterfalls into a larger rectangular-shaped steel pond and through a number of tiered steel channels, adding a welcoming, artistic touch to the front of the home. The water then flows under the structure and into another Brandner-designed water garden that was installed in the backyard three years ago. "It adds a great calming environment as you come into the house, and it's a great way to soften the entryway and create some interest," Brandner explained.
The water garden took approximately three months to install and incorporated many of the characteristics for which Brandner Design has become known. "Our design aesthetic is a crossover between industrial and contemporary; a more sophisticated approach to an industrial look with cleaner lines and a mix of wood, steel, glass, and concrete," Brandner said. "The common thread is really the use of those materials."
Brandner studied both fine arts and landscape architecture, and he has combined these two areas of knowledge to build a business that is rooted in art, yet carried by the principles of engineering and craftsmanship. With a 20,000-square-foot workspace in Bozeman, Montana, Brandner has wood and metal shops attached to a design studio with full-time engineers, architects, and artisans who handle every aspect of a project, from the initial sketch and rendering to installation. They work on everything from large commercial projects, such as restaurant redesigns and decorative steel panels for airports and offices, to custom furnishings, and they often have up to eight projects in the works around the country at any one time. "We're a one-stop shop, and everything goes together very cohesively because it's all under one roof," Brandner said. For examples of more Brandner Design projects, see brandnerdesign.com.
---
Books of Note
American Rustic by Chase Ewald Reynolds, with photographs by Audrey Hall
Logs, twigs, burls, and bark are elemental in the American Rustic style. Throughout the years, passion for rustic style has waxed and waned, but it has never gone out of fashion. Released in 2015 by Gibbs-Smith Publishing, American Rustic takes an intimate look at such style in homes, cabins, architecture, and decorating across America. By Big Sky Journal contributors, writer Chase Ewald Reynolds and photographer Audrey Hall, the book showcases everything from a New Mexico adobe to a New York lake house. From humble to grand, these dream retreats will carry away your imagination. The houses span a wide spectrum of rustic designs, and include everything from post-and-beam interiors and Thomas Molesworth chairs to museum-quality Native American art. You'll love going on this journey; American Rustic speaks to a simpler life and a return to nature's embrace amid a noisy, increasingly crowded world.
$50  |  gibbs-smith.com
Improvisations on the Land: Houses of Fernau + Hartman by Richard Fernau 
The architectural dynamic duo Richard Fernau and Laura Hartman, of the San Francisco Bay Area design group Fernau + Hartman Architects, have been in business together since 1981. They've made a name for themselves in sustainable design, and are known as leaders in green architecture. In their first monograph, the innovative designers give readers a firsthand glimpse into their thought and design process by highlighting 18 different projects, ranging geographically from the vineyard regions of California to Telluride, Colorado; including rugged ranch lands in Montana and picturesque hamlets in the Hudson Valley and Martha's Vineyard.
The "tension between providing comfort and cutting us off from where we are and what sustains us is at the very core of what architecture is and should be," wrote Fernau. "Green architecture is not to be found in a catalog or a spec book."
Since its formation, Fernau + Hartman has become renowned for its imaginative expansion of the possibilities of site- and region-specific architecture. Pioneers in these concepts, as well as in sustainable design long before its currency today, Fernau + Hartman's ongoing ambition is to develop a place-rooted sensibility that adapts to and innovates within diverse climates and environments. Instead of conforming to one "green" architecture style, they look to regional vernacular building traditions for hints on adaptive strategies and appropriate responses.
With essays by Beth Dunlop, Laura Hartman, Thomas Fisher, and Daniel P. Gregory, Improvisations on the Land creates a multifaceted portrait of the firm's history, philosophy, and practice — revealing as much about their process as the finished houses themselves.
$45  |  monacellipress.com
---
Product Roundup
Earth Elements: The Art of the Bathroom Fixture
Choosing bathroom fixtures might not seem like a design priority, but these days there's more artistry involved in these pieces than ever before. Faucets are an item in the home that get a lot of use, so homebuilders often choose to spend a little more on selections that include an elevated sense of design. With a huge selection of innovative shapes, finishes, and engineering, the world of sinks and showers has evolved from relatively mundane fixtures into pieces of functional art. "Some companies are hiring renowned designers, even sculptors, to create their designs, and then they engineer around that," said Erin Beaudoin, Earth Element's plumbing showroom manager.
When it comes to bathroom fixtures, Earth Elements displays a plethora of brands ranging from the industrial designs of a Brooklyn, New York-based company, Watermark, to the sleek and contemporary designs from VOLA in Denmark. They also run the price spectrum, from more affordable brands to the most upscale. To top it off, they have a "shower studio" where you can experience the whole setup in action, see a selection of the fixtures, and even turn them on to see how they flow.
---
Editor's Picks
Dornbracht: This German, family-run company spares no expense when it comes to engineering and art. "They take the golden ratio into consideration with their designs and include a combination of elements to make them visually appealing. In some collections, the water flow is intended to emulate nature by the way light reflects and the sound it makes coming out of the faucet," Beaudoin explained. They also set the industry standard for finishes, meaning the rose gold finish has rose gold in it, and it's all known for its durability. Dornbracht.com/en-us
watermark: Designed and created in the heart of Brooklyn, New York, some models take on an urban look while others are more classic. "They use famous designers and architects, and they use techniques that are more aligned to Old World craftsmanship," Beaudoin said. The company will customize any order, meaning that fauces and knobs can be mixed and matched. watermark-designs.com
vola: This Danish company revolutionized the world of plumbing fixtures by combining function with design to offer the first concealed wall mount faucet, a concept now offered by many. VOLA remains the standard among imitators with their attention to detail.  With a limited number of designs, they can be customized with a choice of colors. "Customers have a color wheel to choose from that's based on the RAL color chart, making each selection a little different," said Beaudoin. en.vola.com
cea: Earth Elements was the first dealer to carry this innovative Italian brand in the U.S. With simple, sleek, modern designs — including a new one that combines a wooden knob with a steel faucet  — they are also known for quality engineering. "The designs are hard to describe; they're so simplistic, but so unique," Beaudoin said. ceadesign.it/en/cea/portfolio
graff: Although Beaudoin explained that this brand has more value-oriented choices, they look no less upscale than the rest, and feature cutting-edge designs. "They have amazing designs and impeccable engineering," she said. "Their designs range from sleek and contemporary to classic and traditional, and they have something for most budgets." graff-faucets.com
Check out the 20,000-square-foot Earth Elements showroom in Gallatin Gateway, Montana. Earthelements.com